A friend gave me some sausages, so I started looking for a recipe to make with them. I couldn't find exactly what I wanted, so I just used what I had on hand and came up with this yummy, slightly spicy dish which is now one of our favorites: Sausage and Spinach Spaghetti.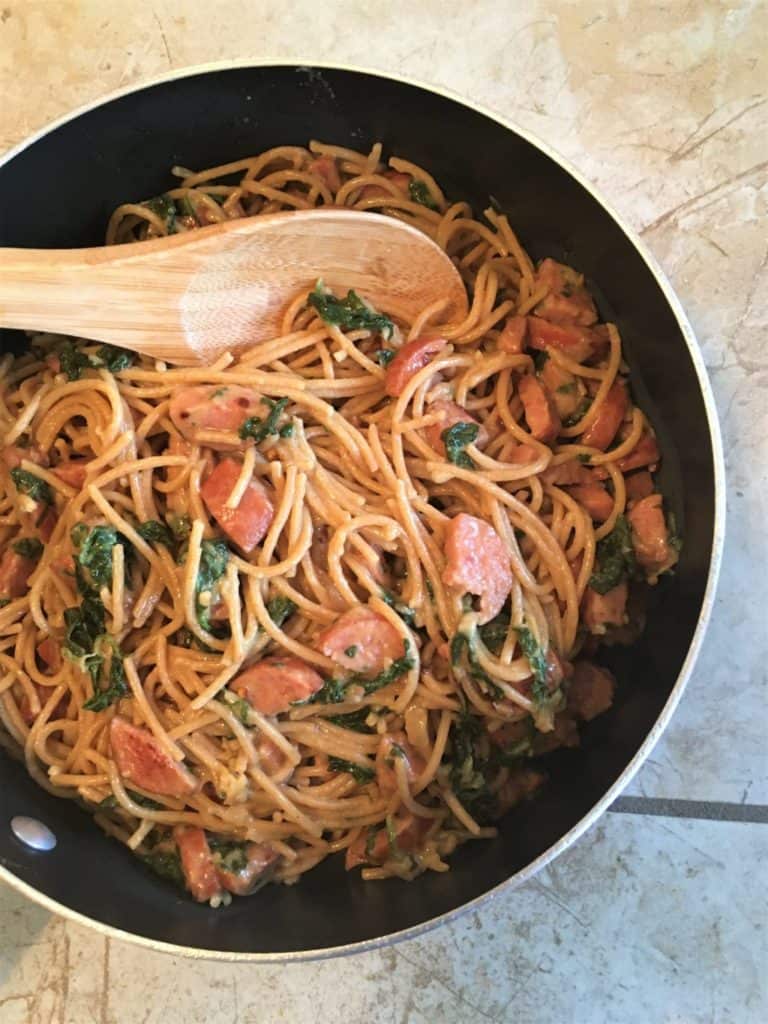 This post was originally published on 3/11/15 and updated on 1/19/20.
I'm so excited to share this recipe I created with you! Sausage and Spinach Spaghetti is one of my favorite "comfort food" meals to make and my husband is a big fan too.
I often use smoked turkey sausage for this recipe. I like to get turkey so that it's at least a little better for you. Smoked beef sausage is great as well though.
The first step is to cook your pasta.  For this recipe, I use a one pound box of whole-wheat spaghetti. I think it would be good with another kind of pasta as well, I just always use spaghetti because it's what I have on hand.
Once the spaghetti is cooked, drain it and set it aside.
Next, I cut up the sausage and sauté it along with some onion and garlic. I love onion so I use a good bit, but you can use less (or none) if you prefer.
These process pictures are several years old and show me making the recipe halved, but you get the idea!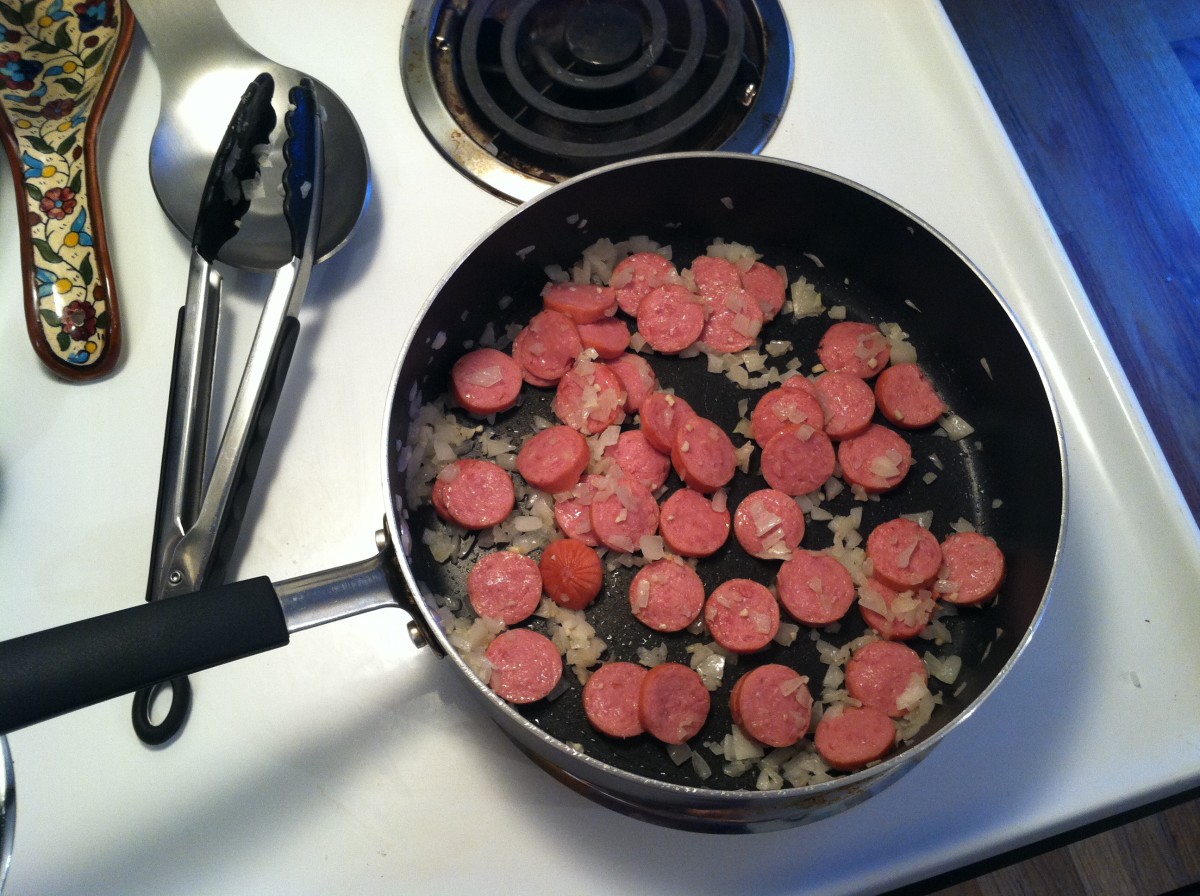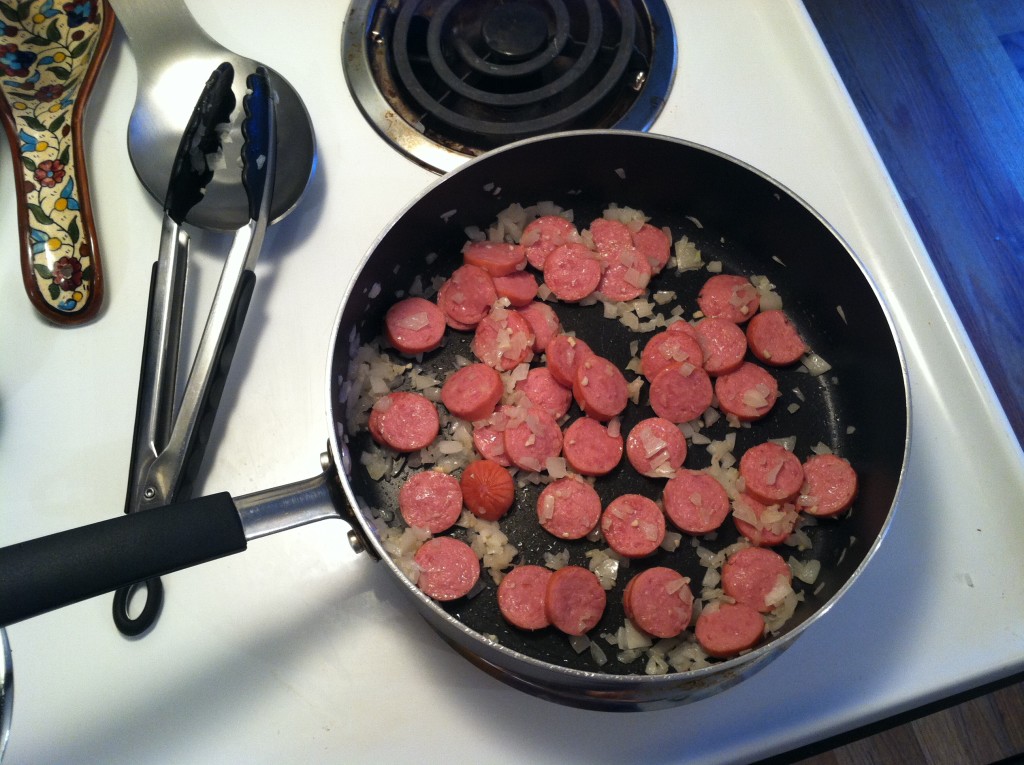 Once the sausage is getting nicely browned I add some chicken broth, a bit of milk, a couple shakes of red pepper flakes (be careful because a little goes a long way!) and half a bag of spinach.
Because spinach often goes bad in my fridge (oops!) I like to buy a bag of the pre-washed kind and just throw it in the freezer so that I have it on hand for recipes like this as well as green smoothies.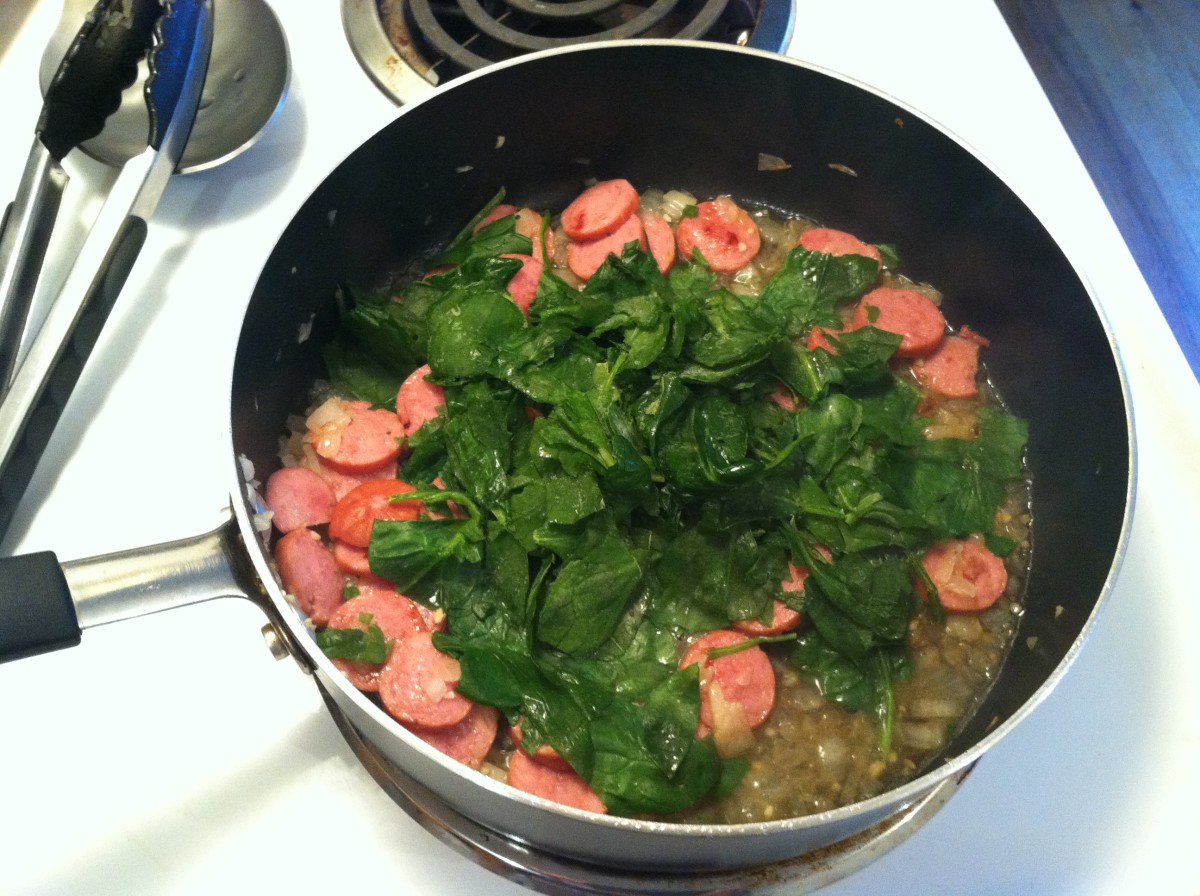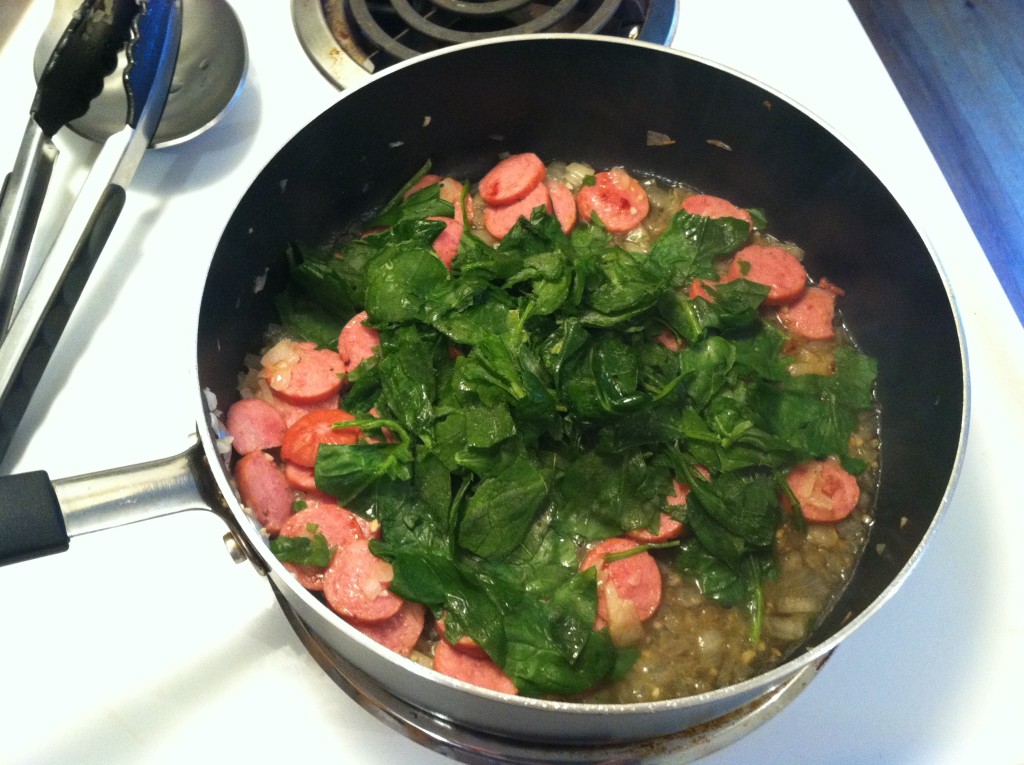 Once the spinach has cooked down I add in my cooked spaghetti and some Parmesan cheese, mixing everything well so that the spaghetti is well coated with the Parmesan cheese. And that's it!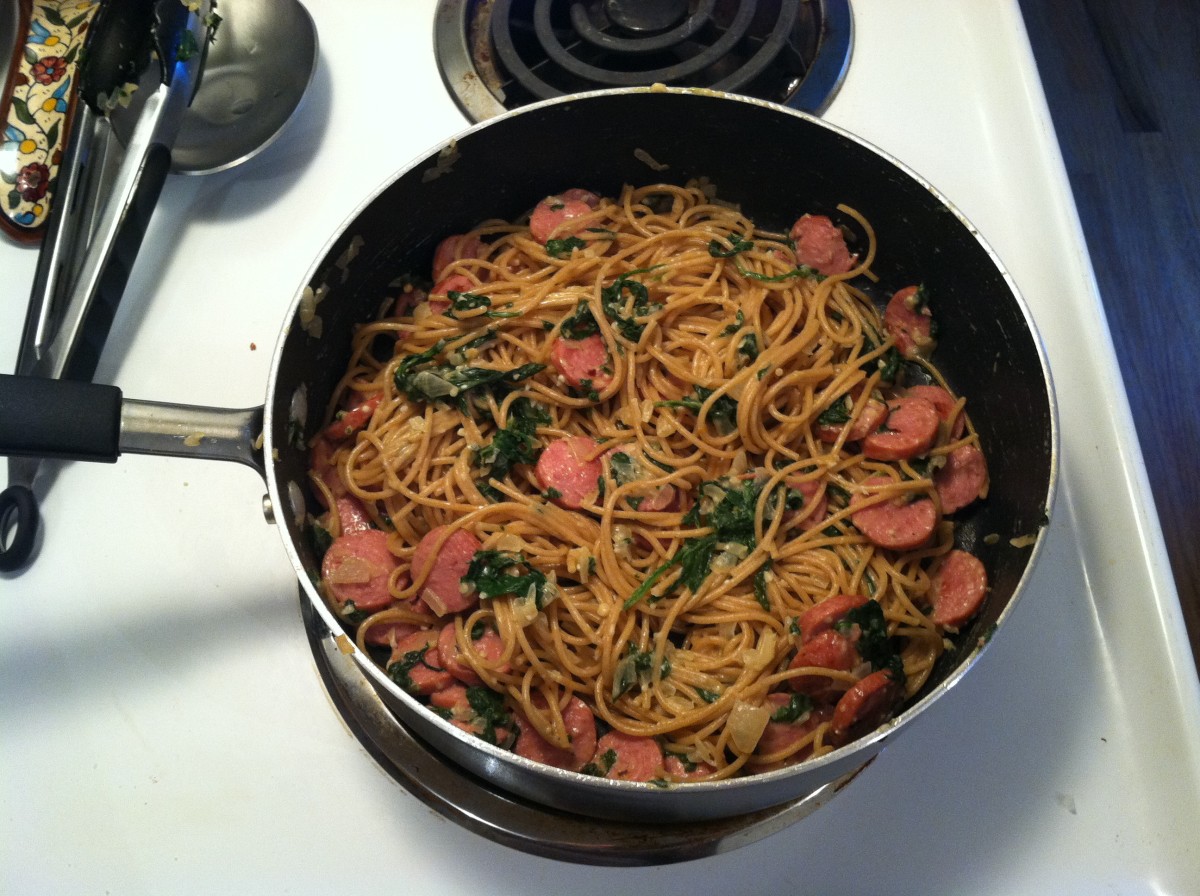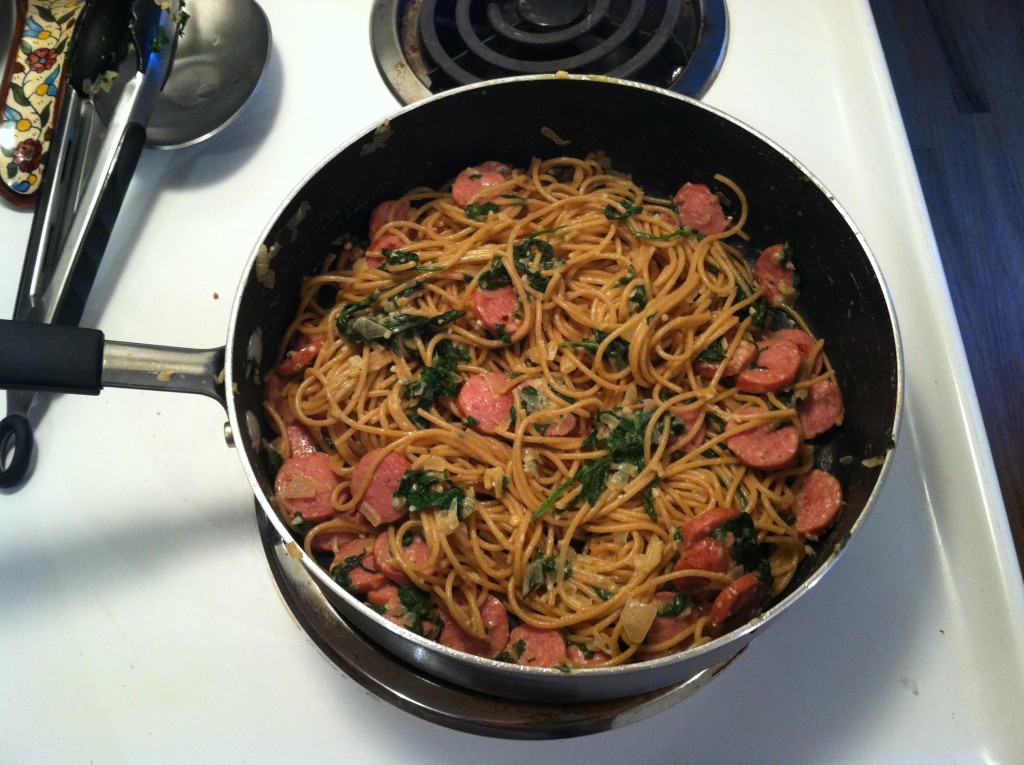 Easy peasy… and super yummy. Definitely a comfort food for me. 🙂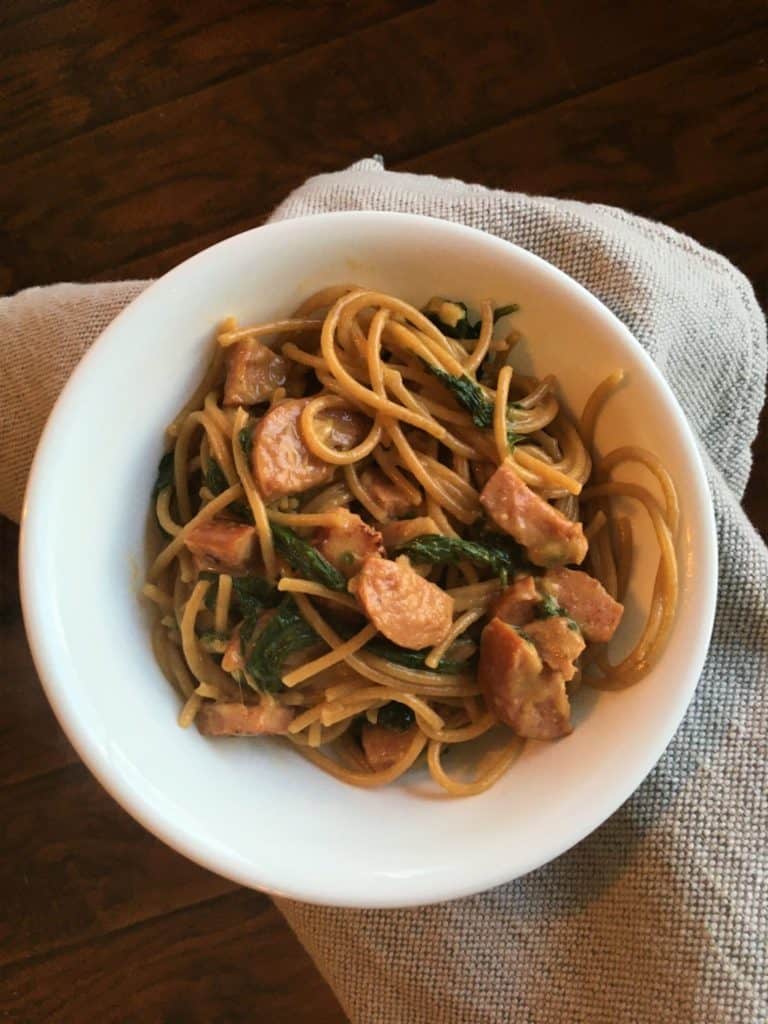 Here's the recipe: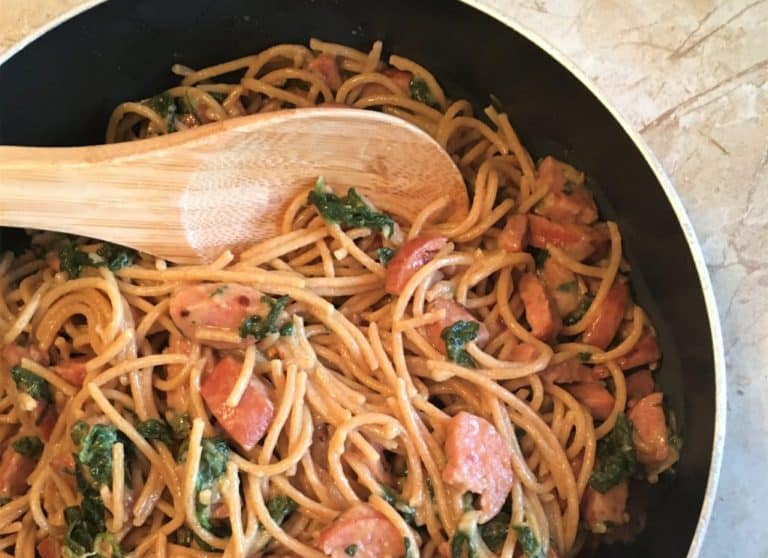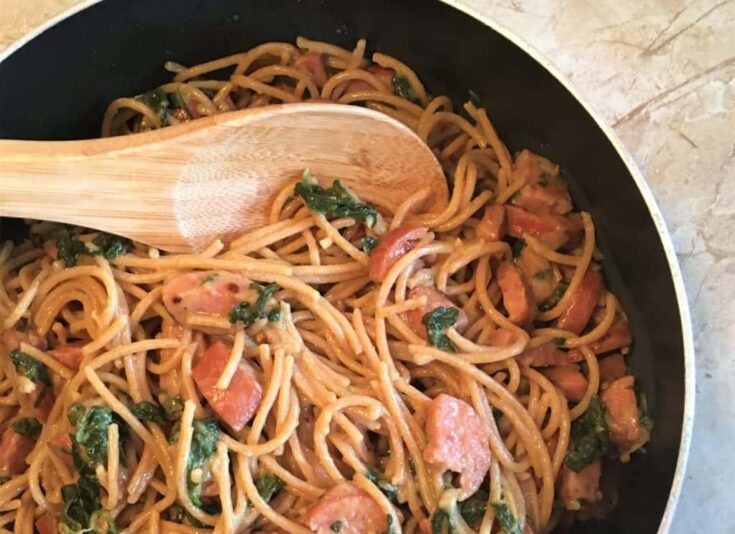 Sausage and Spinach Spaghetti
Ingredients
1 lb. spaghetti (I like to use whole wheat)
13 oz. sausage, sliced or chopped (I use turkey sausage)
1/2 c. chopped onion
1/2 t. minced garlic
dash of olive oil
1 c. chicken broth
1/4 c. milk
4 oz. spinach
a couple shakes of red pepper flakes
1/2 c. Parmesan cheese
Instructions
Cook spaghetti according to instructions on box. Drain and set aside.
Heat a dash of olive oil in a pan, then saute the onion and sausage, stirring regularly until the sausage is mostly browned. Add the minced garlic for the last minute or so.
Add the chicken broth, milk, spinach, and pepper flakes and let the spinach cook down.
Add the cooked spaghetti and the Parmesan cheese. Stir everything together well and simmer for a few minutes as the broth absorbs.
Enjoy!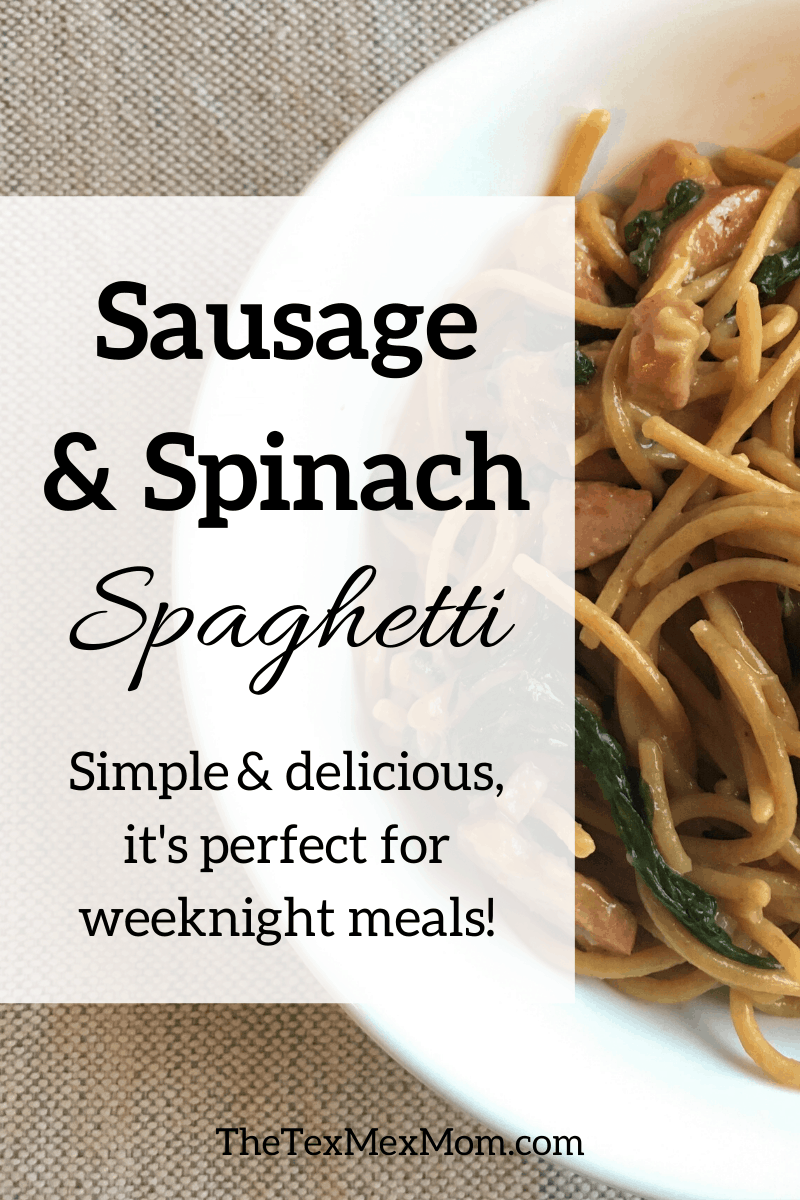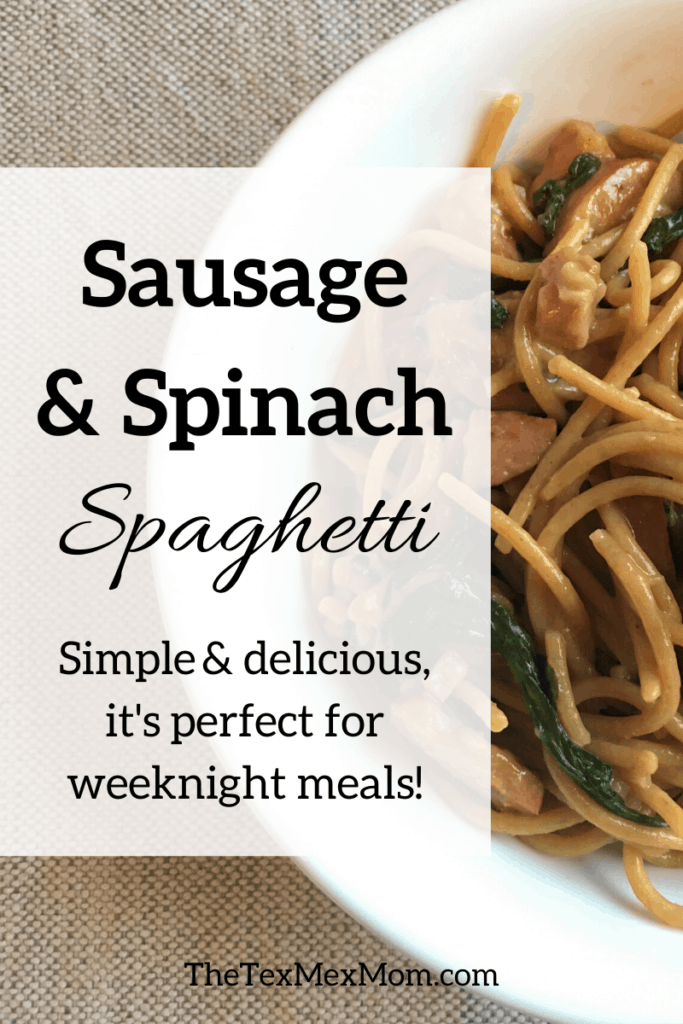 Save