No matter how much money you have, finding ways to make a little extra cash is always a good thing, am I right?
Last week Pablo and I made some extra money by doing just a few simple things. I thought it would be fun to share what we did with you guys in case you are looking for easy ways to make a little extra cash!
Here's what we did this past week – maybe you'll find an idea that you want to try this week!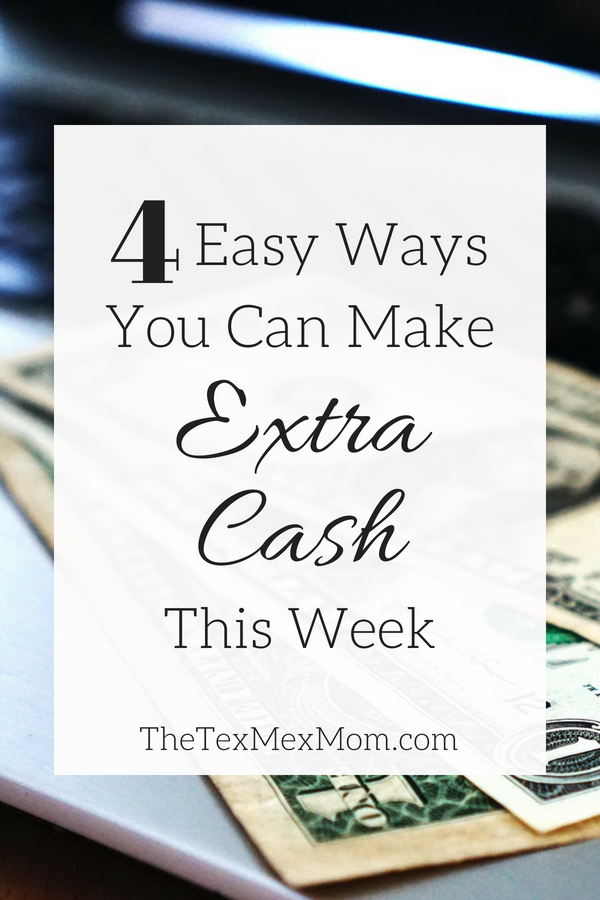 Took a Pinecone Research survey – $3
I recently signed up with Pinecone Research to take their surveys. When they have one available they send you an email to let you know. Each survey pays $3. The survey I took this week took me 10 minutes to complete. Super easy money and $3 for 10 minutes isn't bad at all!
I'm not sure if Pinecone is currently looking for more people or not but they are worth checking out!
Sold a couple items of clothing at a consignment store – $5 cash or $7 store credit
Every so often I like to take clothes or toys that we don't need over to our local "Kid-to-Kid" consignment store. This week I took a stack of clothes but they only selected two or three of the pieces to keep. Even so, that earned me $5 cash or $7 store credit for clothes I would have just donated otherwise! I always choose the store credit because I know that I will use it later on stuff for the kids.
Completed a small transcription job on Rev.com – $8.82
It had been awhile since I'd done a transcription job but one evening last week I decided to do a small one. My typing was slower than I'd like (I'm definitely a little out of practice!) but I completed the job in about an hour and fifteen minutes and made $8.82. Definitely not big money but better than the $0 I would have made otherwise just lounging on my couch!
If you are interested in learning more about transcribing for Rev check out this post where I explain a lot more about it. It definitely has the potential to make you a couple hundred a month if you are diligent to set aside some dedicated time each week to transcribe.
Sold a small desk and lamp on Facebook marketplace – $25
We bought a cute little desk and floor lamp for our bedroom about a year ago – and ended up never using them. Because Sofia still sleeps in our bedroom for her naps it just wasn't super convenient for me to use during the day, and we found that we prefer to work on things out in the living room when we are both home in the evenings. With the new baby coming, our bedroom will be occupied even more so it just really didn't make sense to have the desk and lamp in there anymore.
We were able to sell them for basically what we'd bought them for – a win for us and a win for the buyer since the desk was already assembled and both desk and lamp were barely used. Yay!
Grand Total = $43.82
While $43 and some cents isn't a huge amount, I think it's great for the small amount of effort that we had to expend!
Bonus suggestion – Ibotta app
Ok, so one more suggestion for you! Though we didn't make money through Ibotta this week, I have $17 sitting in my account and can cash it out once I reach $20. (Hopefully I'll hit that next week!)
If you've never heard of Ibotta, it's an app that gives you cash back on purchases – you just select the deals and scan your receipt once you're done shopping. Super easy. I mainly use it when I shop at Wal-Mart. Though it won't make you big bucks, it's an effortless way to make a little extra cash and it will slowly add up.
If you're interested in trying it out here's my referral link that you can use to get a $10 welcome bonus!
So, I hope some of these ideas have been helpful to you! If you enjoy this kind of post let me know – we are going to keep working to find ways to make a little extra cash here and there and I may jump back on the blog and share more another week. I'd love to hear your ideas too – what easy ways have you found to make a little extra on the side?
As always, thanks for stopping by my blog! 🙂 Be sure to share this post if you found it helpful!