Trying to cut back on your grocery spending? Today I have another grocery list and meal plan for you – and this one is two weeks of groceries for $100 or less!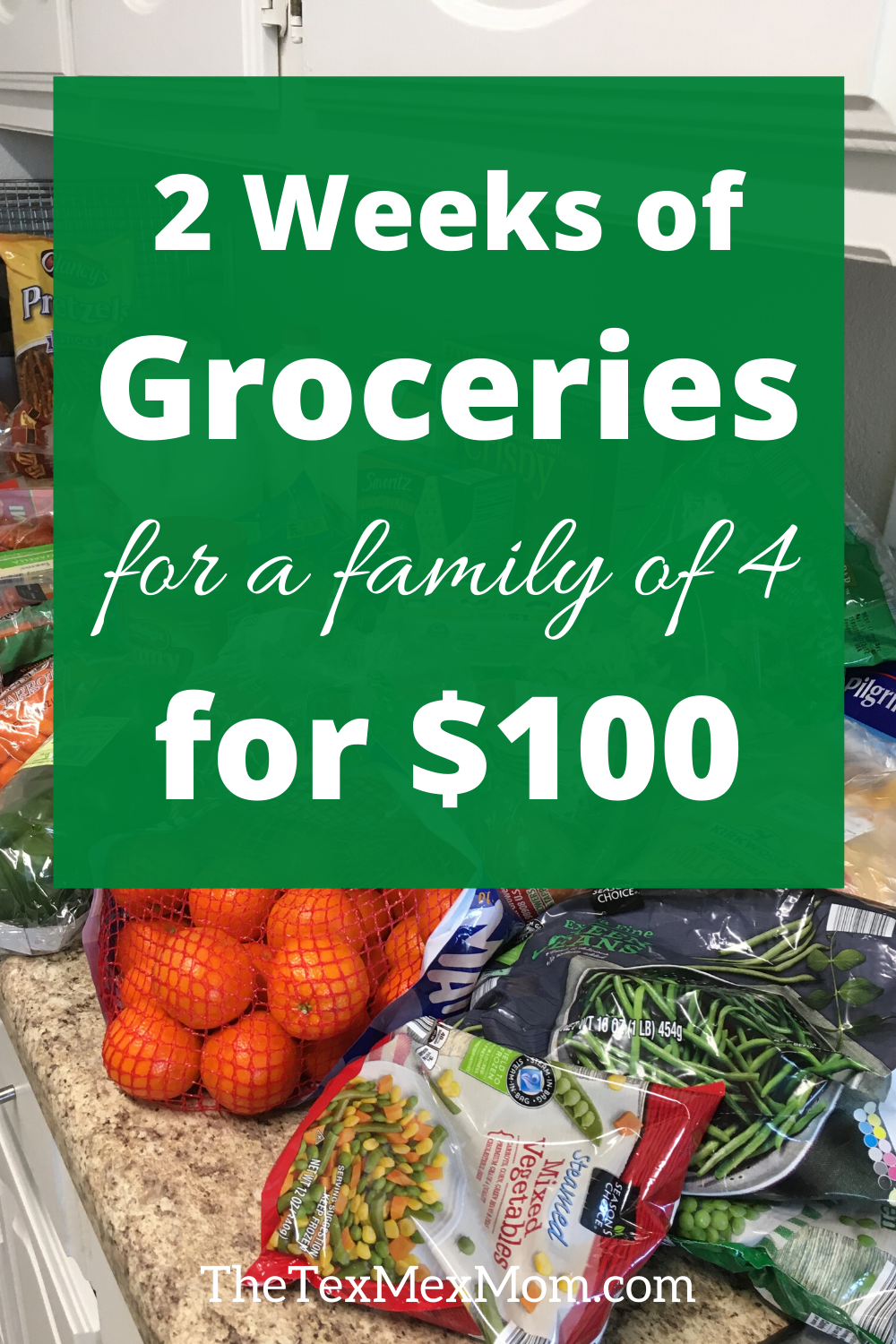 How often do you buy groceries? I'm pretty used to getting mine once a week. However, I've found that whenever I think ahead and grocery shop for two weeks at once I pretty much always save money.
It's always important to me to make a meal plan ahead of time because it helps me to save money when I grocery shop and it keeps us from eating out.
Today I'm sharing my most recent two week grocery list and meal plan. I'm cooking for myself, my husband, and my three kiddos, but since the kids are pretty little and eat less than say teenagers, I'm calling this a meal plan for four instead of five.
Prefer to shop one week at a time? Check out my previous grocery posts here: $50 Week One // $50 Week Two // $50 Week Three (low-carb) // $50 Week Four (no oven) // $60 Week One // $60 Week Two // $65 Meal Plan // $75 Meal Plan
My Two-Week Meal Plan
As I've mentioned in past posts, to simplify my meal planning I mainly plan for dinners and just keep some basic items on hand for breakfasts and lunches. (For help with your meal planning/grocery shopping, check out this post and snag my free grocery list printable!)
The dinners included in this meal plan are great for any time of year – spring, summer, fall, or winter!
Breakfast:
cereal, eggs, oatmeal (regular or baked)
Lunch:
lunch meat & cheese sandwiches, quesadillas, leftovers, pb & j (not on my grocery list, just something we typically have on hand)
Snacks:
apples, oranges, pretzels, crackers, homemade granola bars or energy bites (I planned for more snacks here than I have in some of my previous posts because my kids have been ALL about snacks lately and I've had to up my game haha!)
Week 1 Dinners
Fajitas, chips & salsa
Meatloaf, baked potatoes, green beans
Grilled chicken salad bowls
Taco Quiche, tortilla chips, carrots
Chicken Noodle Soup, bread/crackers
Leftovers
Week 2 Dinners
Mexican Chicken Rollups, salad
BBQ chicken sandwiches, potato wedges, carrots
Spaghetti w/ meat sauce, bread, green beans
Fajitas (again), chips and salsa
Chicken Noodle Soup (again), bread/crackers
Leftovers
If you're looking for more meal ideas, enter your email below to subscribe to my weekly emails where I always share my family's meal plan for the week!
Processing…
Success! You're on the list.
Whoops! There was an error and we couldn't process your subscription. Please reload the page and try again.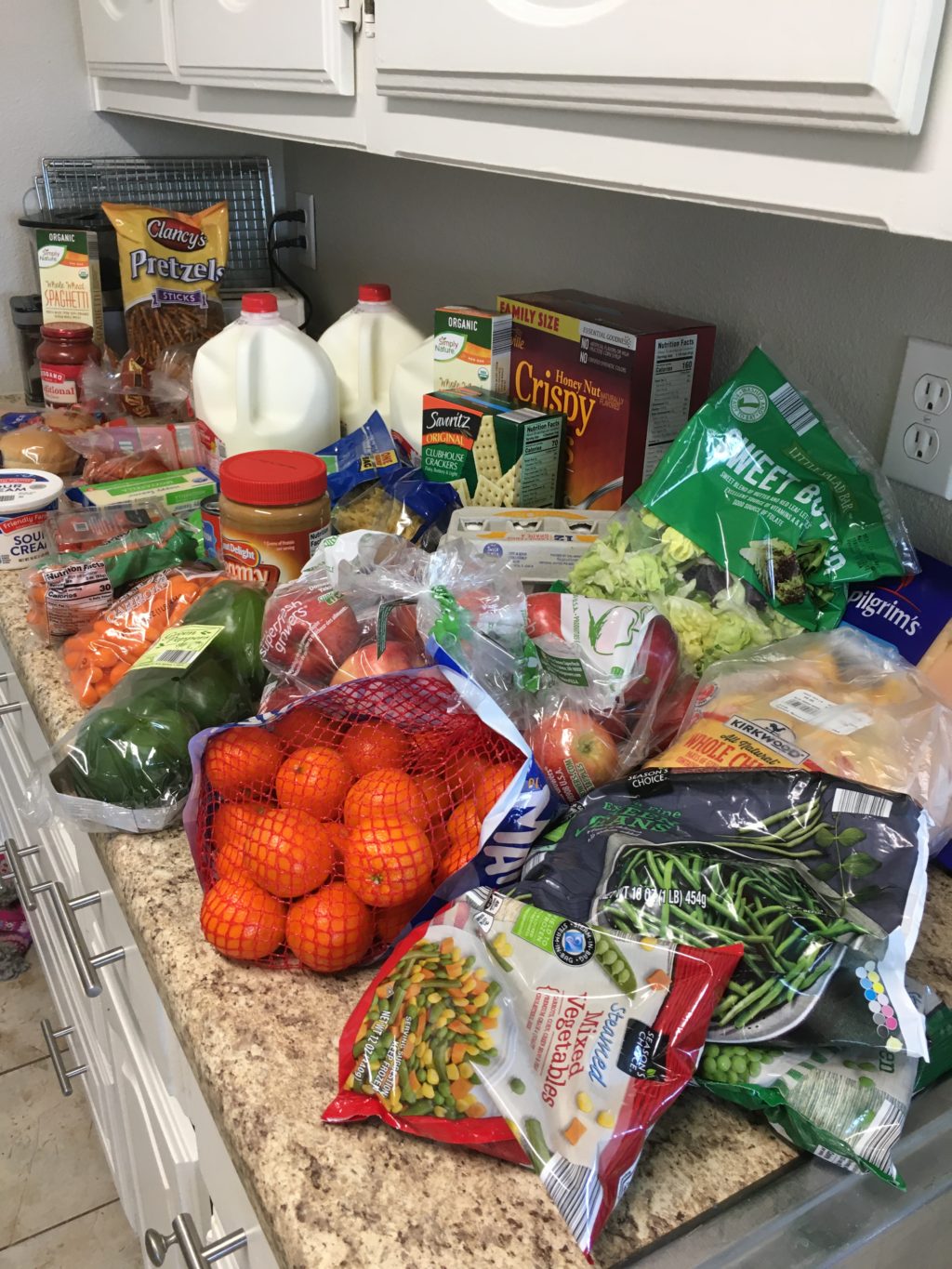 My Grocery List
When I make my grocery list I find it helpful to think in categories such as veggies, fruits, meat, dairy/other refrigerated things, and "center-of-the-store".
The prices below are all from ALDI.
**Please note that the prices below are from when this post was originally published and are no longer current, though the meal plan is still very frugal. For a more recent meal plan check out my $125 grocery list for 2 weeks of dinners.
Veggies
Romaine Lettuce – $2.39
Tomatoes – $0.64
Grape tomatoes – $1.69
Baby carrots – $0.95
Celery – $0.95
Bell peppers – $1.69
Onions – $1.69
Frozen mixed veggies (1) $0.79
Frozen green beans (2) $3.30
Fruit
Apples (2 – 3 lb bags) – $4.78
Oranges (1 bag) – $2.99
Meat*
Chicken breasts – $8.15
Whole chicken (5 lbs) – $5.23
Ground Beef (5 lbs) – $10.95
Package of pepperoni – $2.19
Lunch meat – $2.35
Dairy / other refrigerated stuff
Milk (3 gallons) – $5.97
Eggs (2 cartons) – $1.96
Sour cream (16 oz.) – $0.89
Mozzarella cheese (8 oz. block) – $1.69
Shredded cheddar cheese – $2.75
Sliced cheese – $1.79
"Center of the store"
Bread (2 loaves) – $1.90
Hamburger buns – $0.85
Tortillas (20 pack) – $2.56
Cereal (4 boxes) – $5.96
Oats – $2.39
Egg noodles – $1.09
Tortilla chips – $0.89
Pretzels – $1.29
Crackers – $1.59
Potatoes (5 lbs) – $2.19
Box of rotini pasta – $0.79
Whole wheat spaghetti – $1.09
Jar of spaghetti sauce – $0.85
Tomato sauce (8 oz.) – $0.25
Salsa – $1.19
Rice – $1.99
Canned soup – $0.49
Total: $95.33 (yay, under budget!)
*Meat is one of the most expensive grocery items. You'll notice that I kept things cheap by choosing a lot of chicken for these two weeks. I also got a great price on ground beef by purchasing the 73/27 variety. I don't love the fattiness of it (you're getting a bit less meat for sure) but it's fine for the recipes I'm using it for and I always make sure to drain the ground beef well after cooking it so that we're not eating all that grease.

Here's a break-down of how the meat is divided up for the two weeks of meals:
Chicken breasts – The package I buy typically has 6 breasts. That will be plenty for salad with chicken one night and two nights of fajitas.
Whole chicken – I'll cook this and shred it and it should give me 6-7 cups. I'll use 2 cups for the chicken noodle soup (I'll also make the broth for the soup from the chicken carcass), 2 cups along with some BBQ sauce from the fridge for BBQ sandwiches, and about 2 1/2 cups for Mexican Chicken Rollups.
Ground Beef – 1 1/2 lbs for meatloaf, 1/2 lb. for spaghetti meat sauce, 1 lb. for taco quiche, 1 lb. for ground beef fried rice, 1 lb. left over for another week (woohoo!)
So what do you think? Would this meal plan on a $100 bi-weekly grocery budget work for your family? Let me know in the comments!
Want to see more of this kind of post? Check out two of my other two-week meal plans here and here.
I also highly recommend this ebook from Crystal Paine at MoneySavingMom.com. It shares 25 simple and effective ways to cut your grocery bill and I found it very helpful. I'm an affiliate for Crystal's products because they are always well done and worth what she charges (which I can't say for a lot of ebooks and courses out there!)