Hey there friend! Ready for another $50 weekly grocery budget post?
Today's post is a bit different. Whether it's too hot outside or your oven is on the fritz, sometimes you need meals that you can prepare without an oven. Today I'm sharing a week of yummy meals that you can make for $50, no oven needed.
Missed the first three weeks? You can check them out here: Week One // Week Two // Week Three
If you have a grill you'll want to utilize it for several of this week's meals. If not though no worries, your stovetop will work just fine. Let's get going!
Not ready to only spend $50? Check out this $60 menu!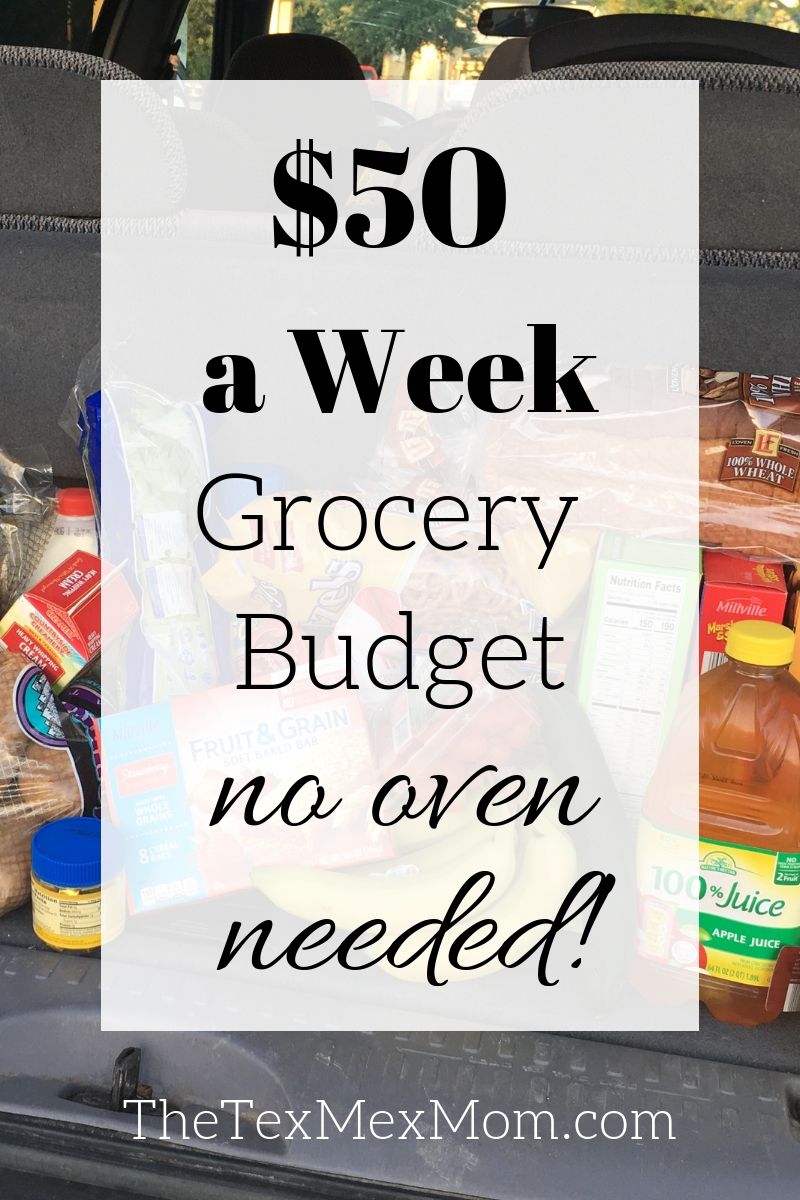 You may also be interested in: Easy Summer Meals on a Budget
$50 Weekly Grocery Budget – Week 4 Menu, No Oven Needed!

A couple things to note in case you've missed my past posts:

To simplify my meal planning, I mainly plan for dinners and just keep some basic items on hand for breakfasts and lunches. (For help with your meal planning/grocery shopping check out this post and snag my free grocery list printable!)
I've put an asterisk by the items below that we already had in the pantry or freezer. Obviously if you are starting completely from scratch you will have to spend a bit more than $50 to buy some of the basics.
Breakfast options:
Cereal, *oatmeal, *pancakes, eggs, fruit bars

Lunch options:
Leftovers, *PB & J sandwiches, quesadillas, eggs (my kids like doing hard boiled eggs for lunches)
Snack options: Crackers, tortilla chips, fruit
Dinners:
Grilled chicken, salad, applesauce and *muffins
Burgers, chips and *carrots
Southwest chicken wraps, chips and *salsa
Chicken ranch pasta (a simple 5-ingredient recipe!)
Taco salad
Leftovers
The plan is to grill up 5 lbs. of chicken the first day. Some is for that first meal (along with several sides so that we don't go overboard on the chicken) and the rest (at least 5 cups) is chopped up and saved for 3 more meals.
Days 2 and 6 call for ground beef – I'll buy 3 lbs. and use 2 lbs. for the burgers and 1 lb. for the taco salad.
Below is a list with prices of all the groceries I bought, all from Aldi. (More of a Kroger fan? Check out this post!)
$50 Weekly Grocery Budget – Week 4 Shopping List
Apples – $3.89
Bananas – $0.92
Blueberries – $1.19
Broccoli – $1.79
Romaine lettuce – $1.99
Cucumber – $0.49
Grape tomatoes – $1.69
Milk (2) – $2.98
Eggs (2 dozen) – $1.36
Feta cheese – $2.19
Shredded cheddar (4 cups) – $2.49
Chicken breasts (5 lbs.) – $8.95
Ground beef (3 lbs.) – $5.97
Applesauce – $1.95
Bread – $1.09
Hamburger buns – $0.89
Tortillas – $0.89
Tortilla chips -$0.89
Pasta – $1.09
Cereal (2 boxes) – $3.08
Fruit bars – $1.35
Crackers – $1.25
Rice (3 lbs.) – $1.79
Black beans – $0.49
Total = $50.66
And there you have it! I hope this post gives you some inspiration for feeding your family yummy food on a budget, no oven needed! 🙂 Leave a comment below if you want to see more of this kind of post or if you have some frugal tips of your own to share!
As always, thanks so much for stopping by my blog! Are you an email subscriber yet?? Sign up here for my (friendly, non-spammy) emails!