Hey friends! I'm back today with a new $60 grocery budget post!
As you know if you've read my blog for awhile, I do a lot of my grocery shopping at Aldi. I like that I can get in and out really quickly and of course I love the prices!
BUT I've had a lot of you comment that you don't have Aldi in your area (so sad!) So this week I decided to switch things up and I did my weekly grocery shopping trip at Kroger instead!
I'm still kind of a newbie to saving money at Kroger so I decided to stick with a $60 grocery budget at Kroger instead of a $50 budget. I may challenge myself and do $50 at Kroger another week, we'll see . . .
Missed my previous grocery budget posts? Here you go! $50 Week One // $50 Week Two // $50 Week Three (low-carb) // $50 Week Four (no oven needed) // $60 Week One
Anyway, let's dive in!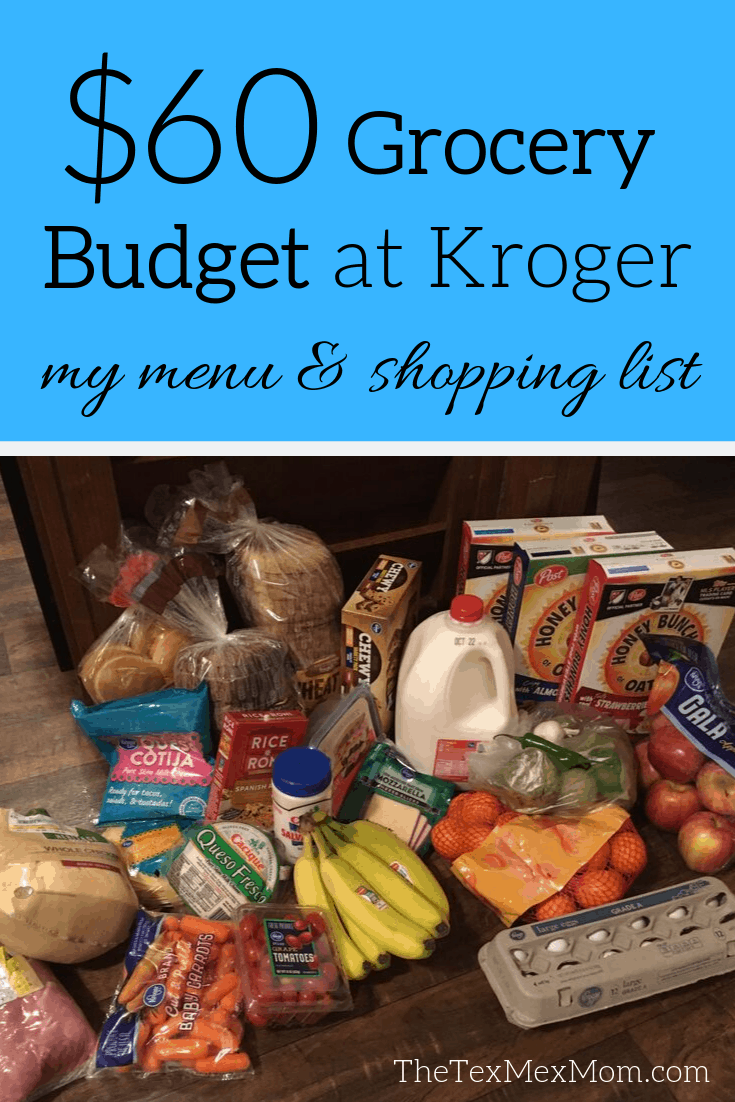 $60 Grocery Budget at Kroger – Menu
As I've mentioned in past posts, to simplify my meal planning I mainly plan for dinners and just keep some basic items on hand for breakfasts and lunches. (For help with your meal planning/grocery shopping, check out this post and snag my free grocery list printable!)
I've placed an asterisk by items that we already had in the pantry or freezer. Obviously if you are starting completely from scratch you will have to spend a bit more than $60 to buy some of the basics.
Breakfast options:
Cereal, Eggs, Toast, Fruit

Lunch options:
Sandwiches, Hard boiled Eggs, Leftovers
Snack options: Fruit, Granola Bars, *Pretzels

Dinners:
Enchiladas Suizas, Spanish rice, *salad
White Chili *I already have cooked beans in my freezer to use in the chili
Chicken Quesadillas, veggies
Crock-Pot Pork Roast, green beans
BBQ Pork Sandwiches, veggies
Frozen Pizza (for our family movie night!)
Leftovers
$60 Grocery Budget at Kroger – Shopping List
Apples (3 lbs.) -$3.99
Clementines (3 lbs.) – $2.99
Bananas – $1.03
Tomatillos (green tomatoes) – $4.40
Grape Tomatoes – $1.89
Baby Carrots – $0.99
Serrano Peppers – $0.09
Garlic – $0.50
Milk – $2.49
Mexican Crema -$2.50
Cheese for the quesadillas – $2.50
Eggs – $0.79
Sliced Cheese – $1.88
Lunch Meat – $2.79
Bread (2 loaves) – $2.50
Hawaiian Slider Buns – $3.29
Corn Tortillas – $1.19
Cereal (3 boxes) – $5.00
Granola Bars – $2.49
Boxed Spanish Rice – $1.00
Pork Loin (3.5 lbs) – $7.12
Whole Chicken (4.5 lbs) – $3.49
Total = $54.91
I came in under budget with these groceries. However, I didn't pick up a frozen pizza for our family movie night yet so that will bring it to $60. 🙂
Thoughts about grocery shopping at Kroger
The sale prices were good. I got the two main meats for the week – pork loin and chicken – for good prices. I also thought the 3 boxes of name brand cereal I got for 5 bucks was a good deal.
Some of the basics were higher priced than Aldi, like some of the produce ($4.40 for the tomatillos? That surprised me!), the apples, and the milk.
I despised the self-checkout at Kroger. I was extremely frustrated with it and don't plan to use it again anytime soon. I use Walmart's all the time and it's great but Kroger's was horrible. (In case you were wondering, haha!)
It took me a long time to shop, though partially because I was unfamiliar with the store. Once I'm used to the layout it will be quicker, although Aldi will always be faster just because it's a much smaller store.
In the end, although Kroger was a bit higher priced than Aldi, it was pretty easy to stick to my $60 budget. Sticking to your grocery budget is less about what store you choose to shop at and more about your prep work. Make a simple meal plan based on what you already have and what's on sale, then write out a grocery list and stick to it!
Instead of a $60 grocery budget at Kroger, I could've cut back to $50 by changing up a meal or two on my menu (Enchiladas Suizas call for a few ingredients I don't normally buy like the tomatillos and crema) or by skipping a few items that we didn't really need (like the 3 boxes of cereal, haha!)
For more help saving money at Kroger check out this helpful article I found.
Check out the frugal living section of my blog for more posts about saving money on groceries!
Where do you normally shop for groceries? Is a $60 grocery budget at Kroger something doable for you? Let me know in the comments!