Craving authentic Mexican food? Try this delicious recipe for Enchiladas Suizas, passed on to me from my mother-in-law in Mexico.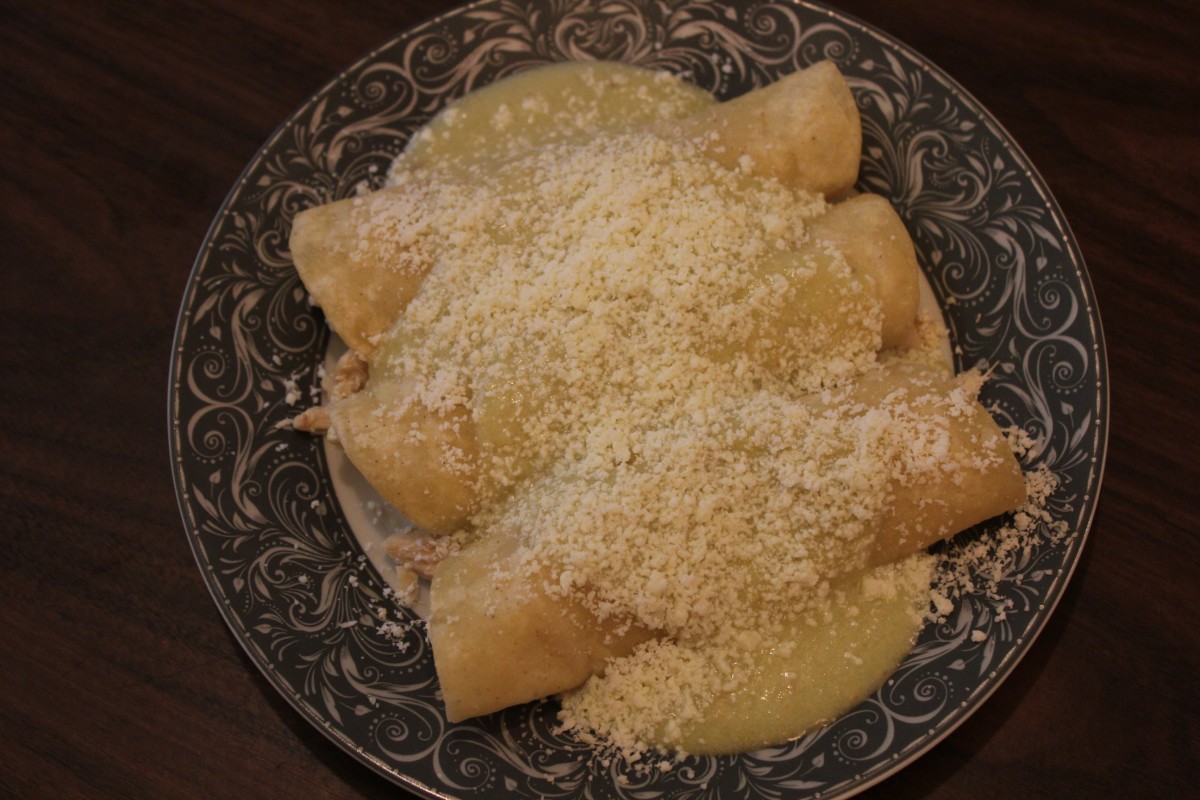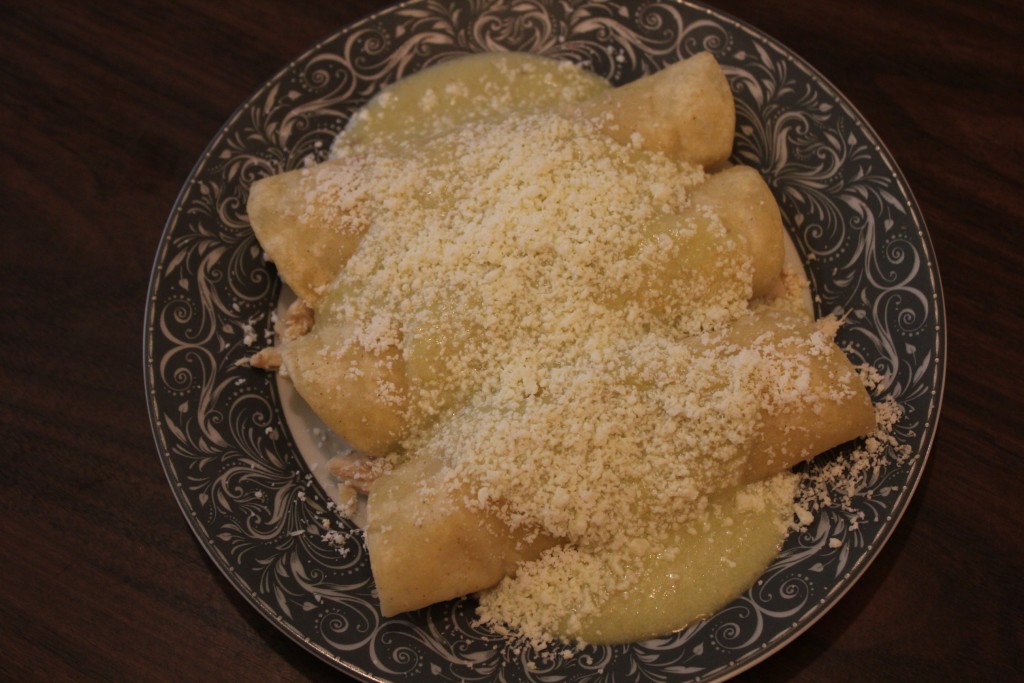 Today I'm really excited to share the recipe for Pablo's favorite meal, enchiladas suizas. This is a special recipe because it was passed down to me from my mother-in-law, who got it from hers! I tasted these enchiladas for the first time when I visited Pablo and his family in Mexico while we were dating. The next visit, when we were engaged, his mom taught me how to make them. 🙂
Before making enchiladas suizas I had never cooked with tomatillos (green tomatoes.) They are very unique. Underneath their husks (I assume that's what their wrapping is called) they feel quite sticky. The recipe calls for 1 kilo of them. A kilo is about 2.2 pounds but I tend to forget and I usually don't feel like bothering to weigh the tomatoes anyway haha so I usually estimate and use about sixteen or seventeen tomatoes. I used to always get them at a small Mexican store near our home, but recently our Wal-Mart has been carrying a small amount of them which is convenient. (When I buy my seventeen I almost wipe out their stash though haha!)
I snapped a bunch of pictures on my iphone of the enchilada-making process so here you go: (scroll to the bottom for a complete list of the ingredients!)
First, remove the husks and wash the tomatillos.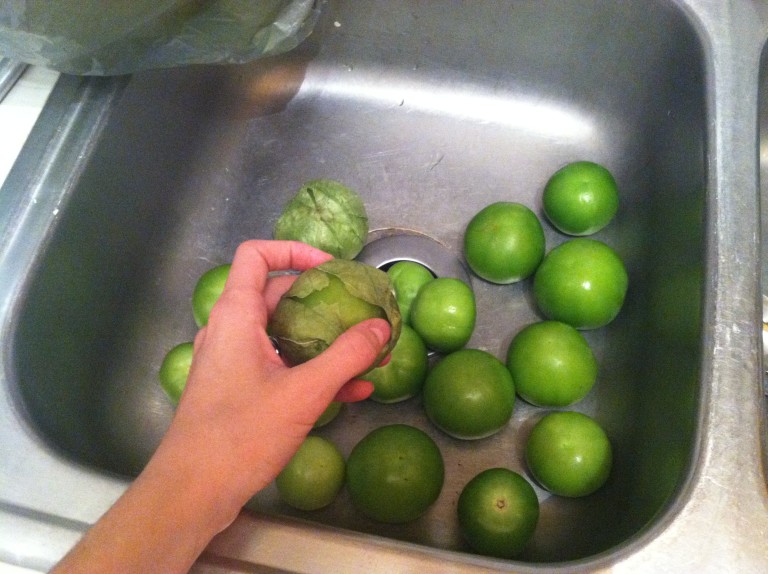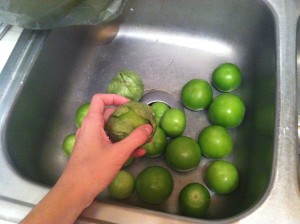 Put them in a pot with water, bring to a boil, and then let them simmer until soft.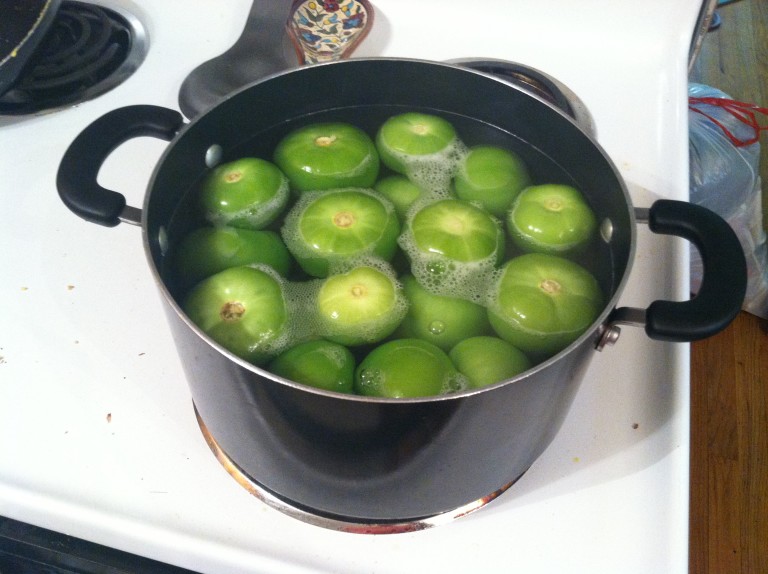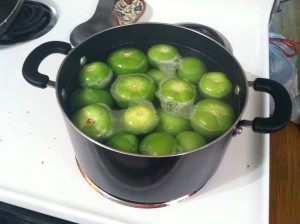 While the tomatillos are simmering roast some serrano peppers and then carefully remove the skins. I just used two this time and the recipe was barely spicy at all. That was perfect because I wanted Caleb to be able to try some. Normally though we prefer it a bit spicier, so next time I'll use at least another half of a pepper.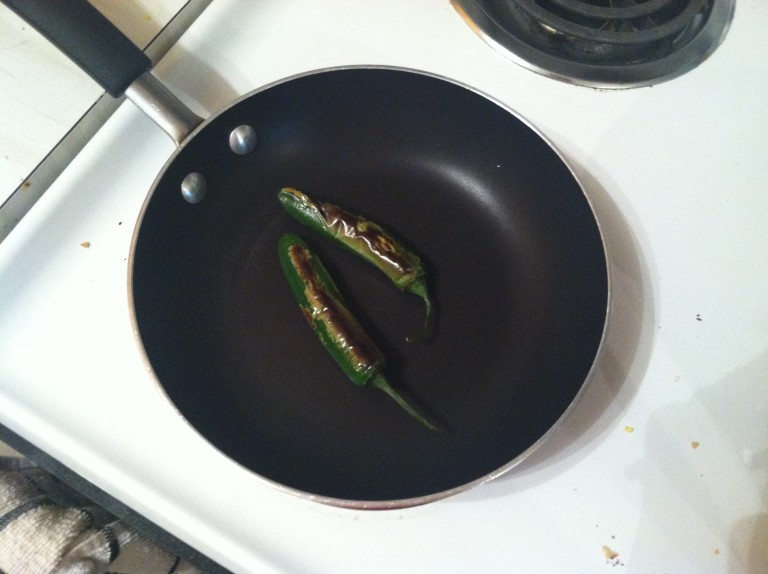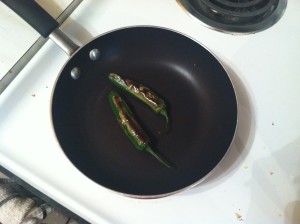 Once the peppers are roasted and skinned, saute some onion with a bit of olive oil. This onion is all chopped up nicely because I had leftover one day and froze it, but normally it doesn't need to be chopped up all perfectly or anything because it's all going to go in the blender anyway.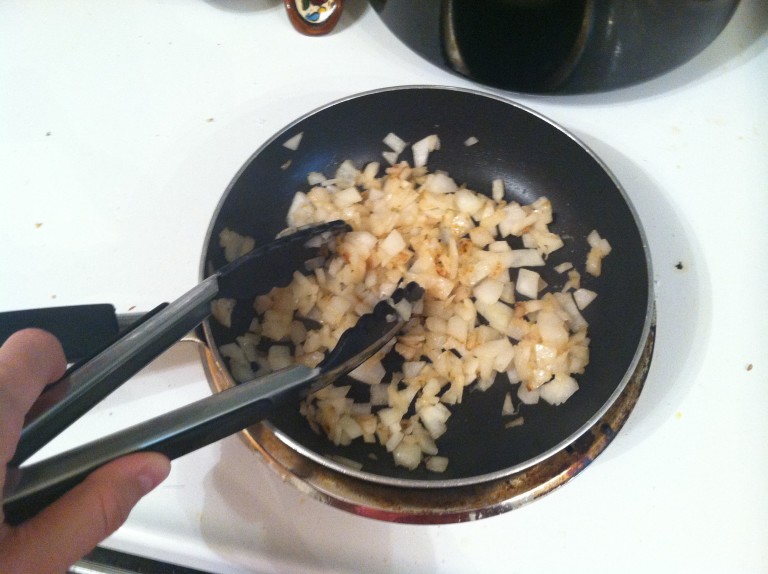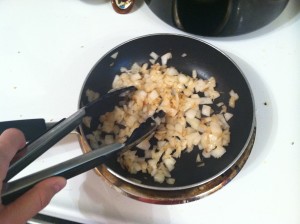 Once the tomatillos are nice and soft you can use a soup ladle or a big spoon to transfer them from the pot to a blender. Add the onions, peppers, some minced garlic if you have it and a pinch or two of salt and blend until smooth. I forgot to take a picture of the blending but you get the idea.
Once everything is nicely blended, put just a little oil in a large sauté pan, pour in the mixture and let it simmer for about five minutes. Then, stir in one cup of Mexican cream. I prefer to use the brand in the picture because I have found that it is not as sweet as other brands.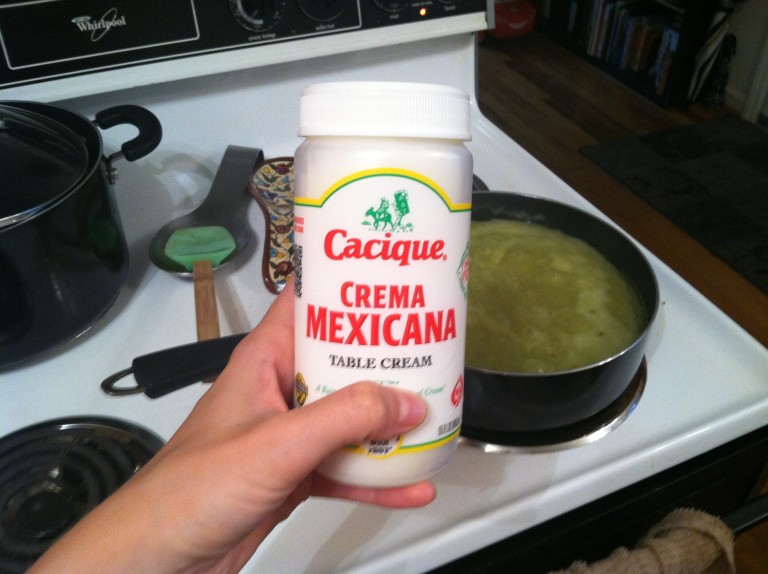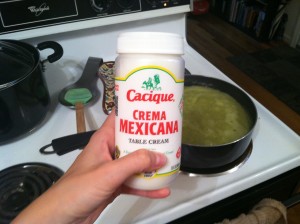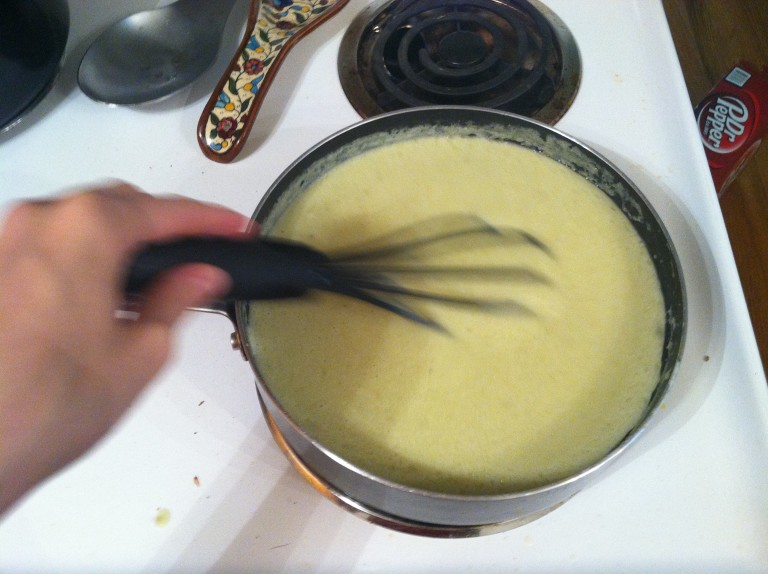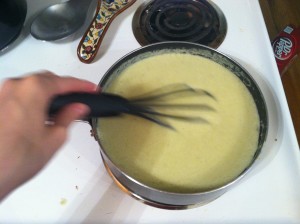 Once the cream is all mixed in, turn the temperature to low to keep it warm.
Next you'll fry some tortillas. Frying tortillas isn't rocket science: just heat up some oil, drop a tortilla in, fry it a bit on one side and then flip it over to fry on the other side. Once it's done, stick it on a paper towel to drain a little. You just don't want to let the tortillas fry too much and get crispy or you'll have a tostada on your hands instead of a tortilla that you can roll up.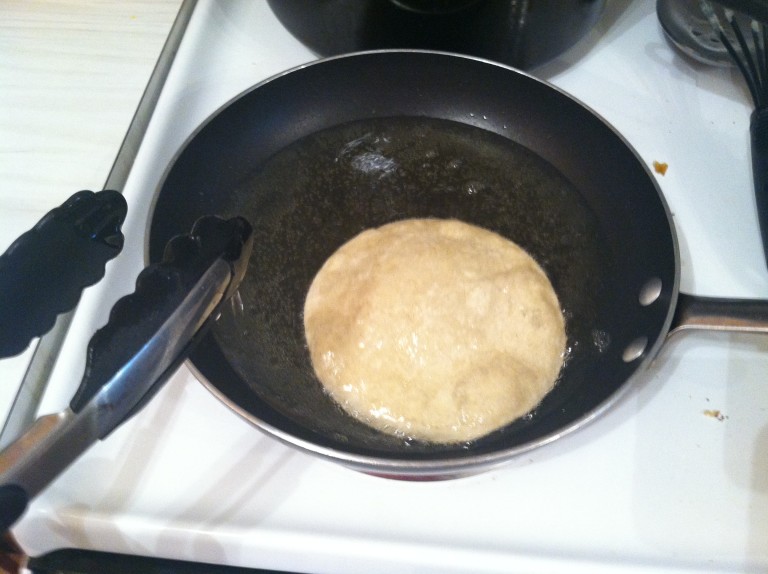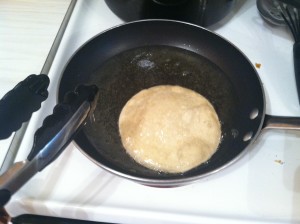 Once you've fried as many tortillas as you want it's time to fill them. Carefully, because the sauce is still hot, dip a tortilla in the sauce and then set it on a plate. For these enchiladas, all you put inside is chicken! How much you'll use really depends on how full you want each tortilla. I like to keep cooked and shredded chicken in the freezer so that it saves me a step when I'm ready to make a recipe like this. However, it's also super simple to boil a whole chicken, use how ever much you need and then you can always freeze the rest; that way you are sure to have plenty. A rotisserie chicken also works great and is convenient.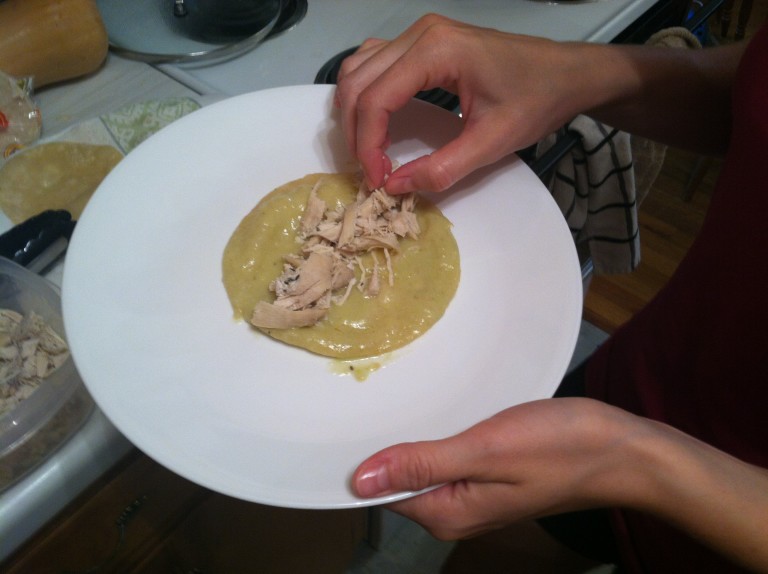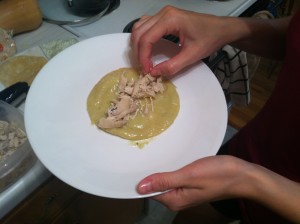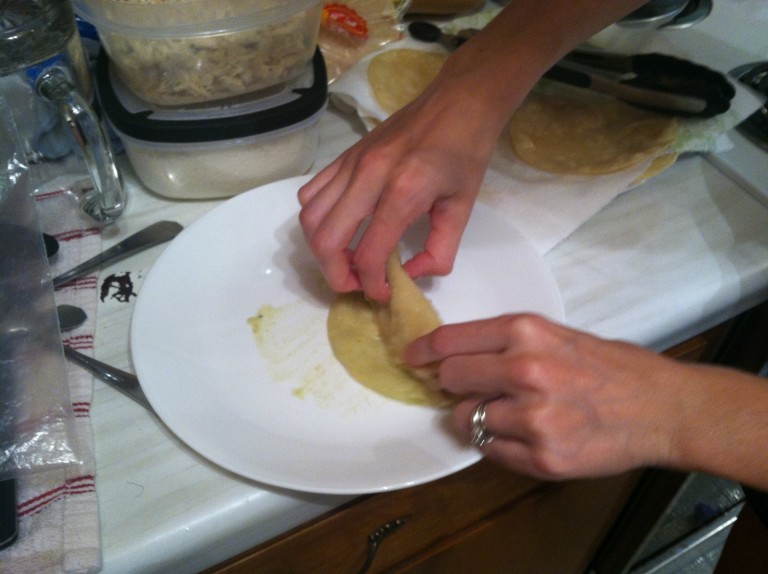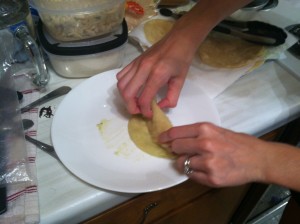 Once you have your chicken rolled up in the tortilla, add more sauce on the top and sprinkle on a little (or a lot!) of Cotija cheese. Cotija is similar to Parmesan but has a bolder flavor I think. Don't skip it, it really adds!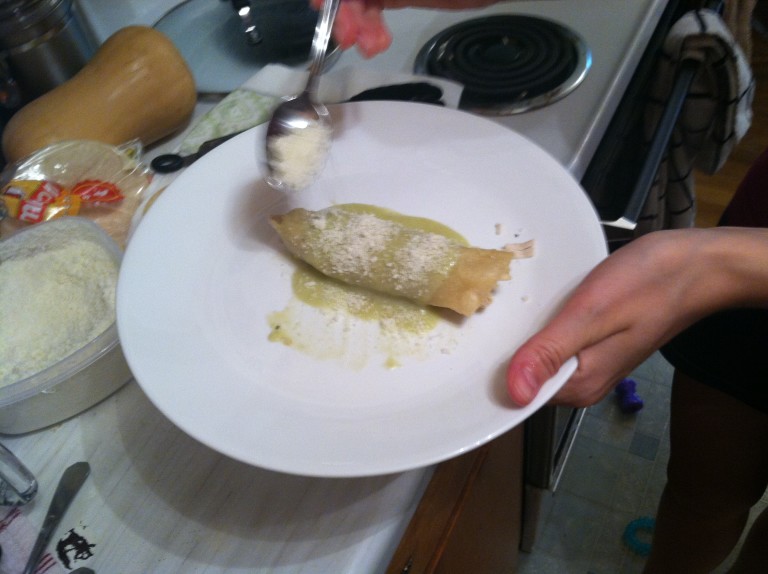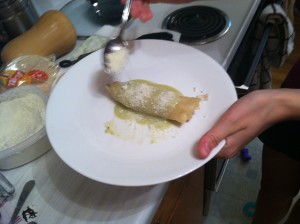 And finally, admire your beautiful enchiladas suizas for a second and then dig in. 🙂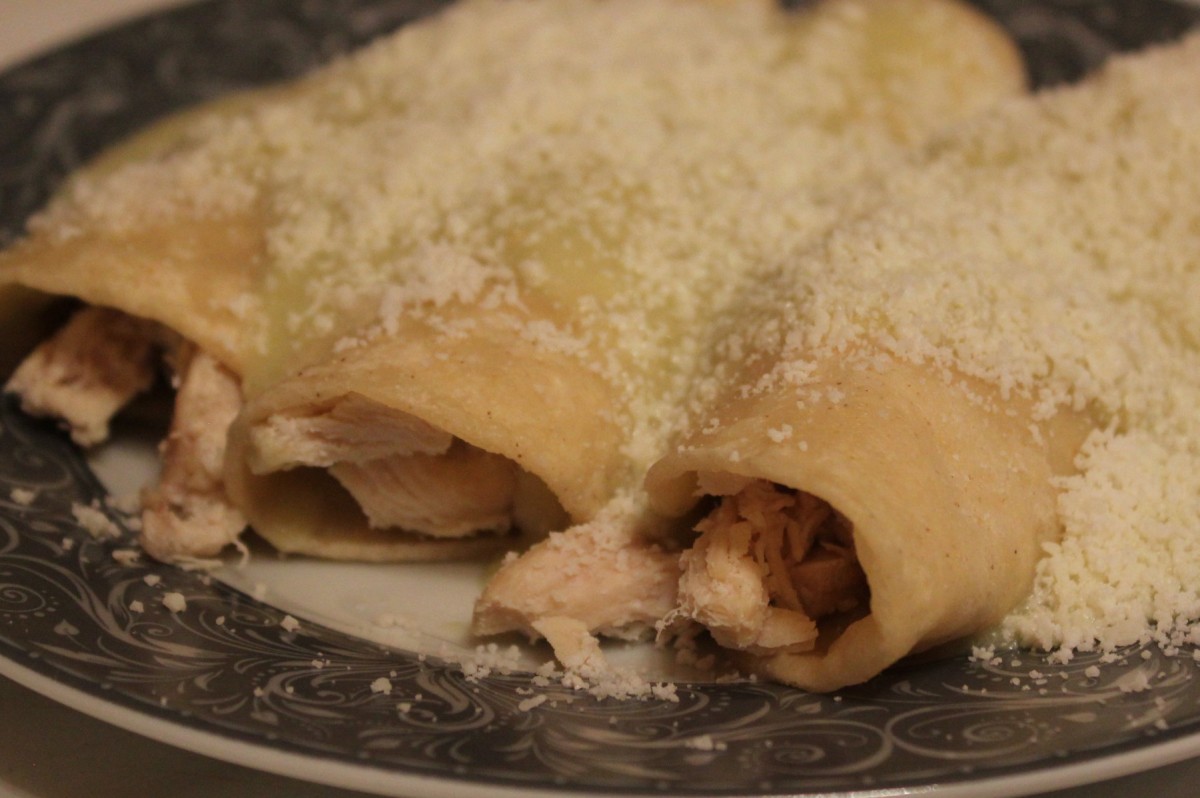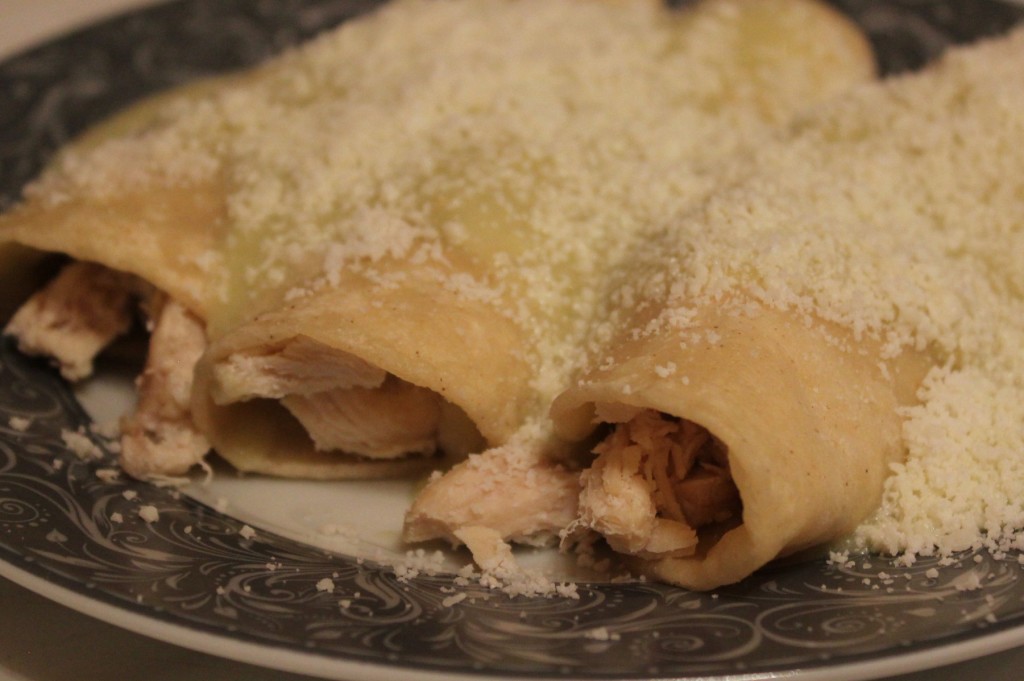 List of ingredients and approximate amounts:
2.2 pounds of tomatillos
Chicken, cooked and shredded (approximately six cups, or more if you really stuff them)
2 or more serrano peppers, depending how spicy you want it
1 small onion (or half of a large one)
Minced garlic – approx. 3 cloves or 1 1/2 teaspoons
Oil – enough for sautéing the onion and for frying the tortillas
1 cup of Mexican cream
Corn tortillas (I bought a package of 30 and used almost all of them)
Cotija cheese
Note: This recipe made three meals worth for Pablo and I which he was quite happy about. 🙂