I don't often read a novel twice but there are some that are worth it. One such novel is Mrs. Mike by Benedict and Nancy Freedman. Here's my review.
I love using Goodreads, a website where you can catalog the books you've read, rate and review them, read other people's reviews and find new books that are recommended for you. Well, one of the books that Goodreads recommended to me a few years ago was Mrs. Mike by Benedict and Nancy Freedman.
Mrs. Mike is a classical example of the saying "Don't judge a book by it's cover." Not that it's an ugly cover, it's just not very captivating. I wasn't sure if it was really the kind of book that I would enjoy, but Goodreads kept recommending it to me so I decided I'd at least give it a try.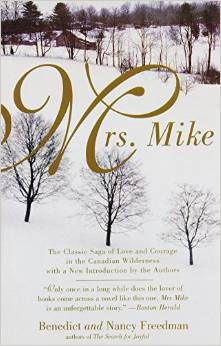 Spoiler alert: I loved it.
My Review of Mrs. Mike by Benedict and Nancy Freedman
I hardly know where to begin with this review because I could go on and on about this book and how much I love it. But, to organize my thoughts a little better, I'll start out with a brief synopsis and then explain why this book has become one of my very favorites.
Mrs. Mike was written in 1947 by Benedict and Nancy Freedman. Although it is a fictional story, it was inspired by true events. The story begins as young, sixteen year old Katherine Mary O'Fallon travels to Alberta, Canada to stay with her uncle. There she meets her husband Mike (hence the title of the book) and the story follows them as they make a life together in the cold, beautiful, but often harsh land of northern Canada.
The story reads a bit like one of the Little House books, in my opinion, but for an older audience. Because of some of the difficult situations that Mike and Kathy face, as well as a little bit of language, I would recommend this book for an audience of high school age and above.
So what is it about this book that made me read it twice last year (and I rarely re-read a book) and has me wanting to re-read it again right now?
Some would call Mrs. Mike a romance. I don't know if I would. When I think of a romance I tend to think of a book that ends with a kiss, with the promise of a "happily ever after", but often the reader gets no view into that "ever after."
Mrs. Mike has romance, don't get me wrong. But I love it because this book goes deeper than just the fluffy, butterflies-in-your-stomach stuff. It is about a life lived together, through good times as well as through really, really bad times.
This quote, found about half-way through the book, says a lot:
You'll see, you'll come to understand. These big things, these terrible things, are not the important ones. If they were, how could one go on living? No, it is the small, little things that make up a day, that bring fullness and happiness to a life… oh, so many things, you know them yourself.
This book had me bawling, BOTH times that I read it, and I guarantee that I will lose it again the next time I read it. But isn't that what makes a book good? Not necessarily that it makes you bawl, but that it grabs your emotions and makes you feel everything right along with the characters!
Speaking of the characters, you will fall in love with both Kathy and Mike. They are amazing people, and reading about their courage and love is inspiring. And, as a side note, it's so great to read about a married couple! How come most books end at the wedding? Life (and romance) really do continue on once you're married! haha :p
I completely concur with this statement from the Boston Herald: "Only once in a long while does the lover of books come across a novel like this one. Mrs. Mike is an unforgettable story."
So, you guys, please, give this book a try. It touched me and inspired me in so many ways! And don't worry, by the end of the book I was smiling through my tears.