This month I had a $50 weekly grocery budget to spend on my family of four. Here's my grocery shopping list and meal plan for week one. $50 may not seem like much but it is totally doable!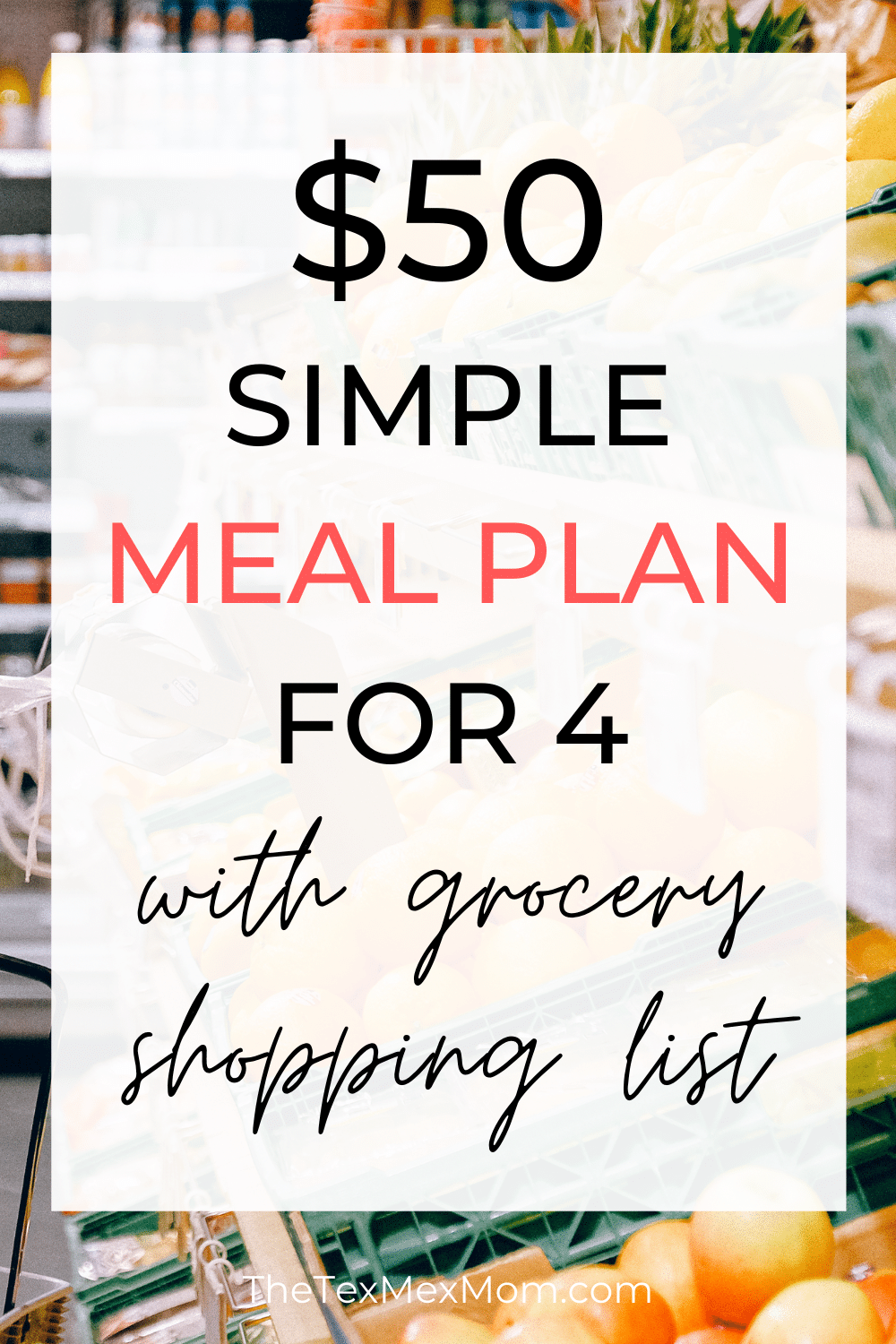 This blog post was originally written in 2018. The grocery prices were updated in 2021.
Back when Pablo and I first got married (six years ago this month, wow!) I was very careful about sticking to our $50 weekly grocery budget. When I went grocery shopping I would add everything up on my phone's calculator until I got a little more used to the prices. I did a pretty good job for awhile with sticking to that $50 weekly grocery budget!
Well, then the kids came along, and as you know, grocery shopping with kids can be a bit crazy. So, for the last little while I have not done such a great job at sticking to my list and ultimately my budget. Oops.
Well, this month I determined that I was going to do better! We usually budget a little bit more than $50 a week now that we have two kids but for this month we decided to challenge ourselves. So, I'm working with a $50 weekly grocery budget for the month, trying to come in a little under $50 when possible!
Check out some of my other meal plans + grocery lists here: $50 Week Two // $50 Week Three (low-carb) // $50 Week Four (no oven) // $60 Week One // $60 Week Two // $65 Meal Plan // $75 Meal Plan // $80 Meal Plan // 5 Meals for $40 // $120 Two-Week Meal Plan
Keep in mind that when I say grocery budget I truly mean just that. This does not include any paper products or anything like that. We budget those types of items separately.
To simplify my meal planning, I mainly plan for dinners and just keep some basic items on hand for breakfasts and lunches. (For help with regular meal planning, check out my Meal Planner & Recipe Binder!)
Below is our menu for last week!
Note: I did not include some of the basics on this list such as spices or condiments that you would typically already have on hand. Obviously if you are starting completely from scratch you would have to spend a bit more than $50 to buy some of the basics.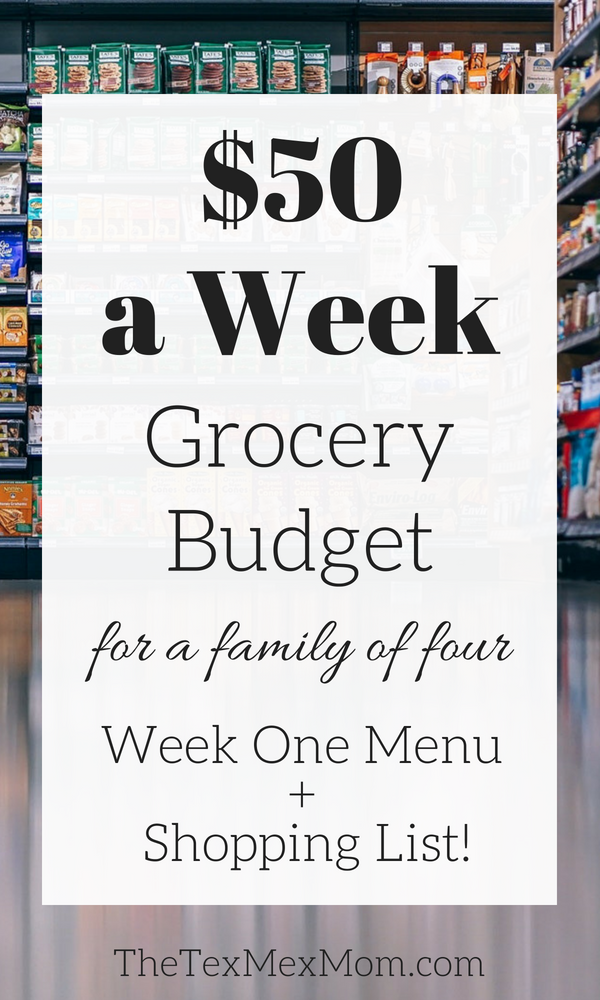 You may also be interested in: The Best Cheap Foods to Buy When You're Broke
My $50 Meal Plan (for our family of four)
Breakfast options:
Cold cereal, eggs, bagels with cream cheese
(I also typically have ingredients for oatmeal and pancakes on hand)
Lunch options:
Quesadillas, leftovers, salad (can be topped with hardboiled eggs), *PB & J sandwiches (I always have PB&J on hand)
Snack options: Pretzels, Apples
Dinners:
Spaghetti, salad
Beans and Rice (topped with corn)
BLTs, tortilla chips, baby carrots
Rotisserie Chicken, corn on the cob, broccoli
White Chili (I halve the recipe). served with shredded cheese, sour cream, and tortilla chips
Breakfast for Dinner: eggs, turkey bacon, toast, juice

Chicken Fried Rice, salad
You may also be interested in: How to Save Money on Groceries With Prices Rising
I kept things simple by buying only two kinds of meat for our meals – turkey bacon (used for two meals) and a rotisserie chicken from Costco.
After we ate some of the chicken for one meal I took the rest off the bones to use for the white chili (using the chicken bones to make the broth, yum!) and the chicken fried rice. I can usually plan on getting at least 4 cups of chicken off the bones after our first meal. Costco's rotisserie chickens are SUCH good value!
Below is my $50 grocery list with the exact prices of all the groceries I bought. I bought everything from Walmart except for the rotisserie chicken from Costco.
You may also be interested in: 75 Frugal Family Friendly Dinner Ideas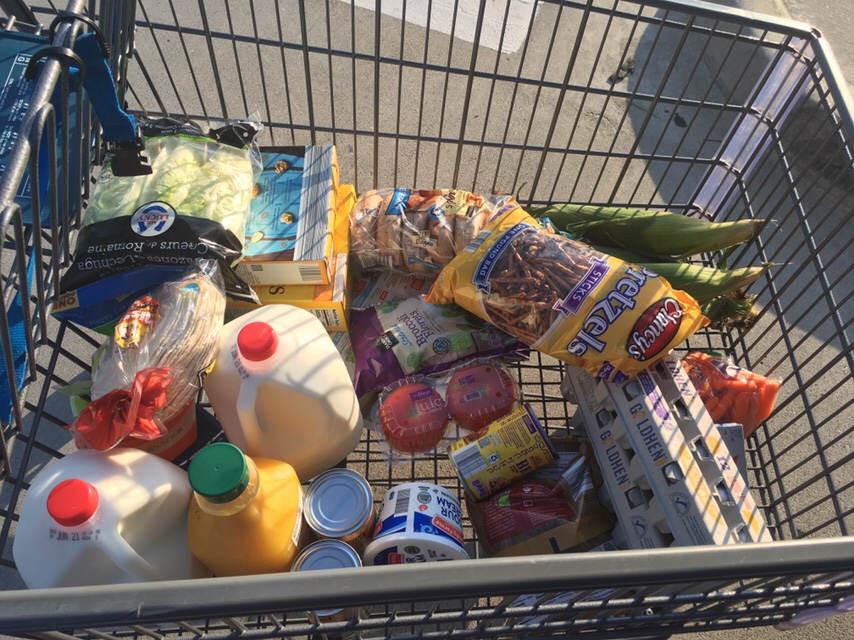 My $50 Grocery List
**Please note that the prices below are from 2021 and are no longer current, though the meal plan is still very frugal. For a more recent meal plan check out my $125 grocery list for 2 weeks of dinners.
Milk (2 gallons) – $4.82
Eggs (2) – $2.56
OJ – $1.74
Sour Cream – $0.88
Cream Cheese – $0.80
Shredded Cheese (Cheddar or Mexican blend, 16 oz) – $2.77
Turkey Bacon – $2.36
Black Beans (uncooked) – $1.14
Rice – $1.46
Bagels – $1.50
Tortillas – $1.48
Cereal (2 boxes) – $2.66
Bread (2 loaves) -$2.96
Tortilla Chips – $0.92
Pretzels – $0.82
Whole Wheat Spaghetti – $1.00
Spaghetti Sauce – $0.88
Canned White Beans (2) – $1.16
Tomatoes (3) – $1.50
Frozen Corn (2) – $2.00
Frozen Broccoli – $1.00
Romaine Hearts – $2.88
Baby Carrots – $0.98
Apples – $3.36
Corn on the Cob (4) – $1.04
Plus one Rotisserie Chicken from Costco – $4.99
(Note: if you don't have a Costco membership you can get a whole raw chicken from Walmart for just about the same price and make your own "rotisserie" chicken in the crockpot.)
Grand Total = $49.66
I hope that this meal plan and grocery list for four on a $50 weekly grocery budget has given you some helpful ideas!
I use Walmart's grocery pickup almost every week. Want to try it? Get $15 off your first order here!
What are your favorite cheap meals to make for your family? I'm always looking for more meal ideas because it's easy to get stuck in a rut, so share your favorites with me below in the comments!
Another Helpful Resource For Saving Money On Groceries
I also highly recommend this ebook from Crystal Paine at MoneySavingMom.com. It shares 25 simple and effective ways to cut your grocery bill and I found it very helpful. I'm an affiliate for Crystal's products because they are always well done and worth what she charges (which I can't say for a lot of ebooks and courses out there!)
If you're interested you can check it out here!
Want even more help saving money? Here are 15 ways to save money on your groceries!
As always, thanks so much for stopping by my blog!
Sign up below for my weekly emails and I'll send you a free grocery list printable to help as you make your weekly shopping list!