Today I'm sharing the 35 best cheap foods to buy on a budget, plus simple recipes and my best frugal meal plans to help you save money on groceries when you're broke.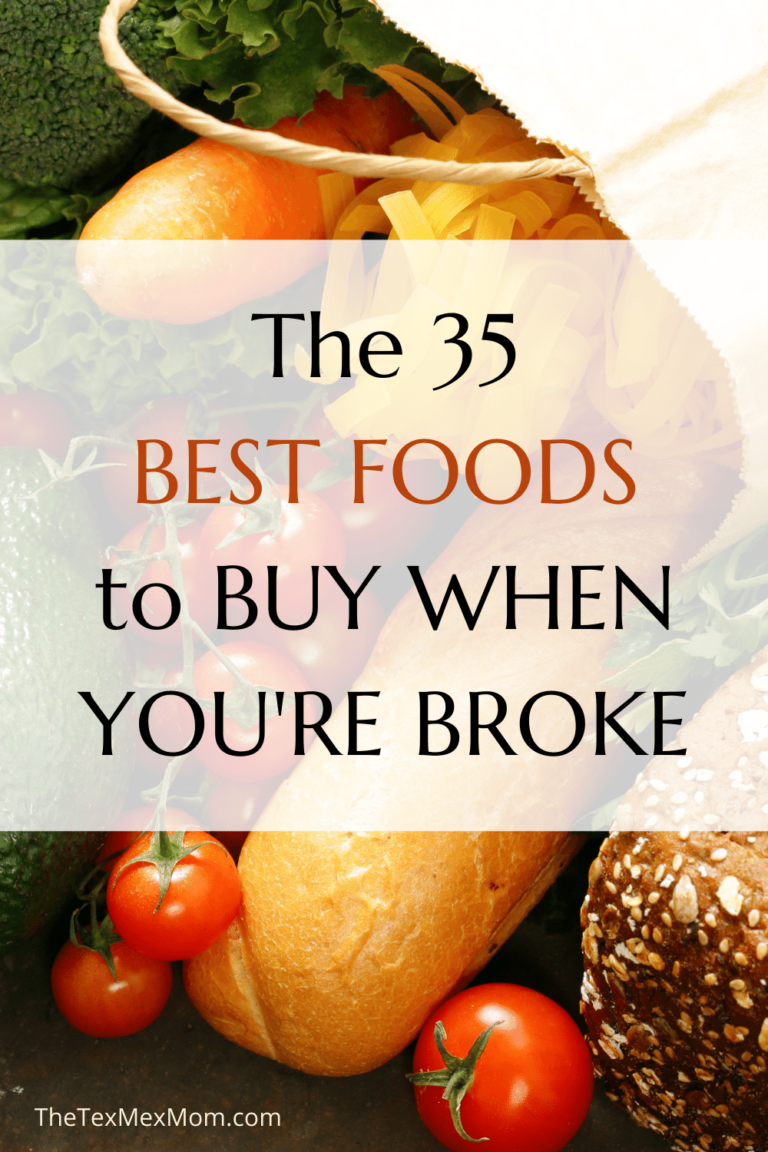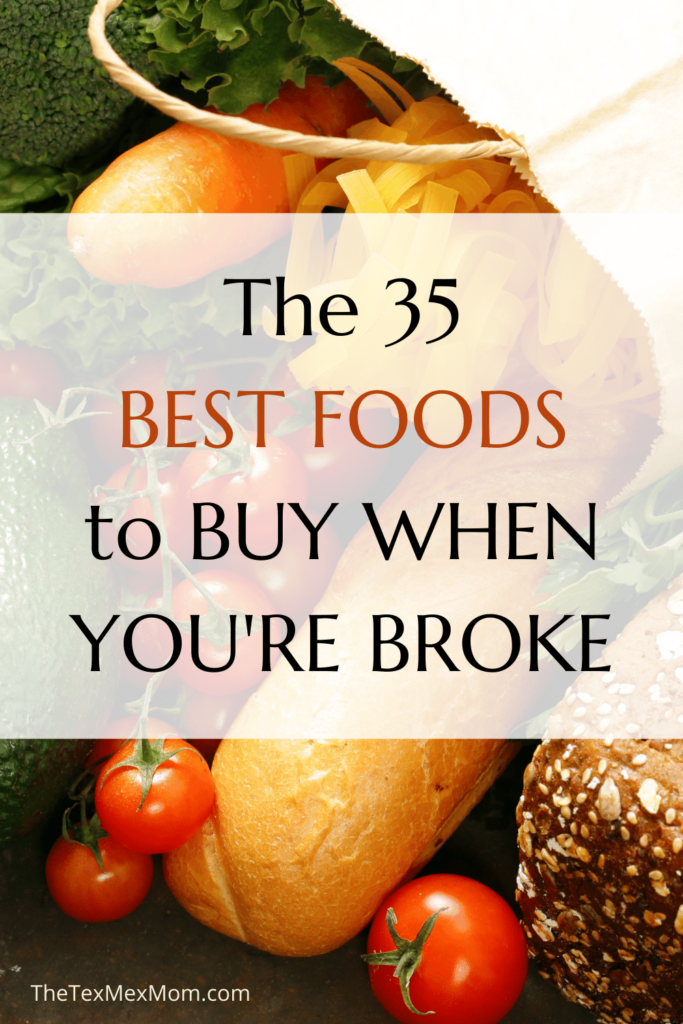 Tight budget? Trying to cut back on your grocery bill? Googling "what to buy at the grocery store when broke"? I got you friend!
Whether you're just plain broke, hoping to cut back on food spending, or wanting to do a better job saving money, your grocery budget is a good place to shave off a few dollars.
Today I'm sharing with you my list of the 35 best cheap grocery items to buy when you're broke. I'll also share some meal ideas and link to some good recipes at the end of this post.
If you're feeling the need to tighten your belt a bit, I hope you find this list helpful!
Looking for budget-friendly meals that are low-carb? Check out this post.
The Best Groceries to Buy When You're Broke
1. Apples
Apples are one of the cheaper fruit options and are one of the staple favorite foods in our home. The kids have them for a snack almost daily!
2. Bananas
Bananas are another inexpensive fruit option. Look for markdowns on bananas that are slightly over-ripe and freeze them to use in banana bread and smoothies.
3. Whatever fresh fruit is on sale
I've found apples and bananas to consistently be the cheapest fruits for me. However, depending on the time of year you can score other fruits for great deals: oranges and other citrus in the winter (gotta get in that vitamin c!), berries in the spring/summer, etc. Always check your local grocery store ads to see where you can get the best deal!
4. Frozen Vegetables
Frozen green beans, peas, etc. are generally quite cheap and as a bonus they won't go bad in your crisper drawer, ha!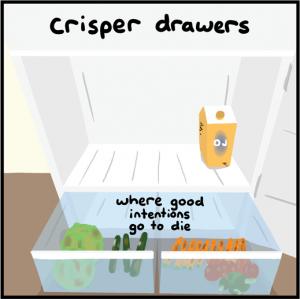 5. Carrots
Carrots are a staple around here. Healthy and cheap, they make the perfect snack!
6. Lettuce
Buy it uncut and unwashed if you want to save money! (But be sure to prep and wash it so that it actually gets eaten!)
7. Celery
Okay, I'll be honest here, celery is not my favorite veggie. However, it's definitely cheap and if you like it plain or with peanut butter it can make a great snack. I like to keep it on hand for making soup.
8. Onions
I can't cook without onions!! Thankfully they are very economical.
9. Potatoes
I generally find that a big bag of Russet potatoes is the cheapest option. Sweet potatoes are typically a bit more but can still be a great addition to your cheap grocery list if you're looking for a healthier option.
10. Whatever fresh vegetables are on sale
Check the ad for your local store to see what fresh produce is on sale! I often see sales for green peppers, asparagus, and more.
11. Whole Chicken
Cooking a whole chicken and deboning it is a bit of extra work but it will save you money on your groceries! I like to cook whole chickens in my crockpot.
12. Chicken Breasts
Chicken breasts are not the cheapest cut of chicken but if you stretch them (ie: one chicken breast cut up with tons of veggies for stir fry) they can be quite cost effective.
13. Chicken Thighs
Chicken thighs (or chicken drumsticks) are usually pretty inexpensive and are very flavorful. Change Your Life Chicken is a fabulous recipe for chicken thighs!
14. Canned Tuna
Who else grew up eating tuna fish sandwiches? I often forget about tuna nowadays, but it's definitely a great addition to a frugal pantry. I like it mixed with a bit of mayo and chopped tomatoes and served with crackers.
15. Ground Beef
While ground beef is still pricier than chicken, it's definitely a cheaper option than a roast and there are all sorts of ways to make it stretch far in a meal. I like to wait for a good sale and then stock up!
16. Ground Turkey
If you're not into red meat ground turkey makes a great substitute for ground beef and can be even more economical.
17. Smoked Sausage
Smoked sausage is a great meat to keep on hand for quick meals. A little can go a long way in dishes like a breakfast casserole for example, making it very cost effective, especially if you purchase it on sale. (Hotdogs could also be used in similar ways!)
18. Eggs
Eggs can be a great cheap source of protein. I say can because lately in my area the price of eggs has more than doubled. So, take this one with a grain of salt and be sure to check your local prices for eggs.
19. Cottage Cheese
Cottage cheese is a great way to get in a little more protein when you don't want to spend more on meat (and are tired of beans, ha!)
20. Dry Beans
Speaking of beans, dry beans are on everybody's lists of foods to buy on a budget because they are such a great option for cheap protein. While dry beans are the cheapest, if you really don't want to cook your own, canned beans are a great pantry staple and fairly cheap as well.
21. Lentils
Again, another great, cheap protein option!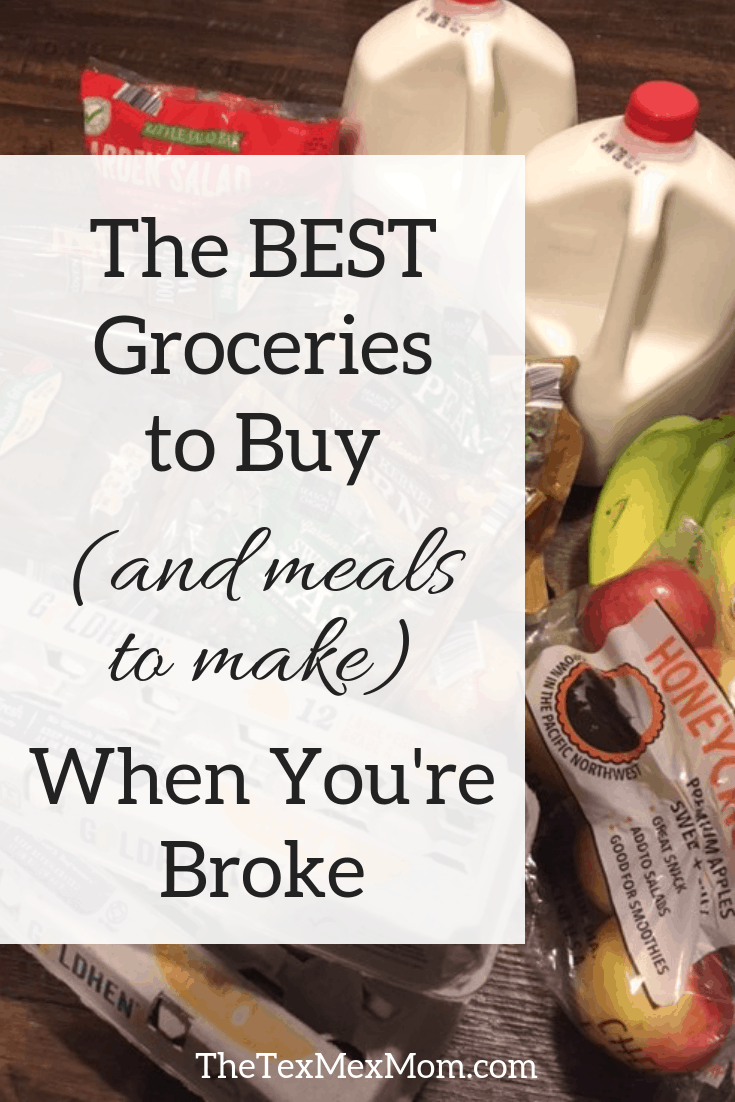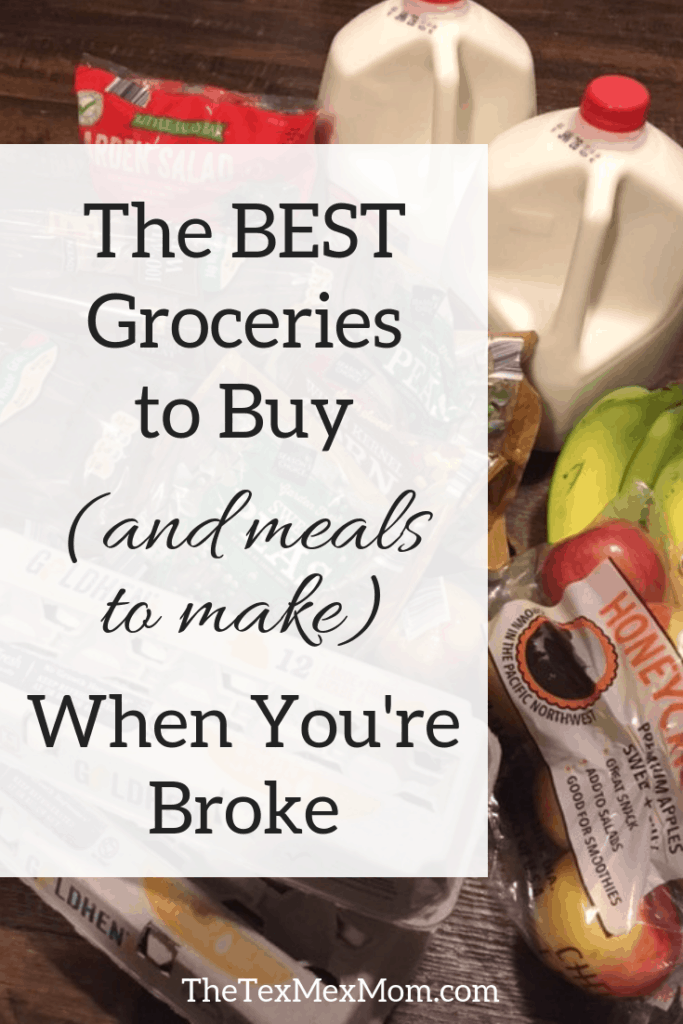 22. Brown Rice
Brown rice is a great alternative to white rice with a lot of health benefits and is still a great cheap food. I cook my brown rice with this method and it turns out perfectly every time!
23. Oats
While oats aren't the cheapest food item on this list, they are a great addition to a frugal grocery list because they can be used in so many different ways. I use them often for oatmeal, baked oatmeal, granola, cookies, muffins, and even in meatloaf!
24. Bread
While the very cheapest bread is not going to have the most nutritional value, watch for markdowns on nicer loaves made with whole grains. (Check the different stores around you to see which ones have a markdown cart in their bakery section – many of them do!)
25. Tortillas
Store-brand tortillas are typically pretty inexpensive and you can use them for all sorts of meals.
26. Pasta
At a dollar or less a box (in my area) pasta is a great way to add something filling to your meal without spending a lot of money.
27. Pasta Sauce
I always like to have a few jars of pasta sauce in my pantry. Buy the store-brand if you're trying to cut back on your grocery spending (which I assume you are if you're reading this article, ha!)
28. Peanut Butter
Peanut butter is an absolute staple in our home. Again, buy the store-brand or use coupons for the more expensive stuff.
29. Canned Tomatoes
Canned tomatoes are definitely an important pantry staple. I use them the most often for recipes like Taco Soup.
30. Cereal
Nothing like a bowl of cereal when you need a quick meal, am I right? (And it beats ramen noodles in my opinion!) Not all cereal is cheap of course, but if you look for the store-brand you can always find some varieties that are very inexpensive.
31. Pretzels
Store-brand pretzels are relatively cheap (sometimes just a dollar for a bag) and make a great snack option, especially if you have kids.
32. Saltine Crackers
Saltine crackers are the cheapest crackers you can find and they're nice to have on hand for a quick snack, as a side with soup, or crumbled on top of a casserole.
33. Basic Baking Goods
A well-stocked pantry should always include some basic baking goods like:
flour
sugar
salt
baking soda/baking powder
yeast
34. Basic Spices
Make those inexpensive chicken thighs taste extra good by using some basic, inexpensive spices like chili powder, garlic powder, etc. (And a hanging spice rack like this is great for storing them!)
35. Frozen Pizza
Aaaand I'm ending my list of the 35 cheapest foods to buy when you're broke with frozen pizza, because who doesn't love a good frozen pizza every so often? Sure, maybe it's not one of the most healthy foods on this list, but in a pinch a $5 frozen pizza that serves the whole family can be super convenient and inexpensive.
Meal Planning On a Budget: Simple Meal Ideas
Okay, so you've checked your grocery budget, made your grocery shopping list, and found the best cheap foods at your local grocery store. Now what?
Here are a few of my favorite cheap meals to make when I'm trying to cut back on my grocery bill, just to give you some ideas!
You may also be interested in: How to Meal Plan on a Tight Budget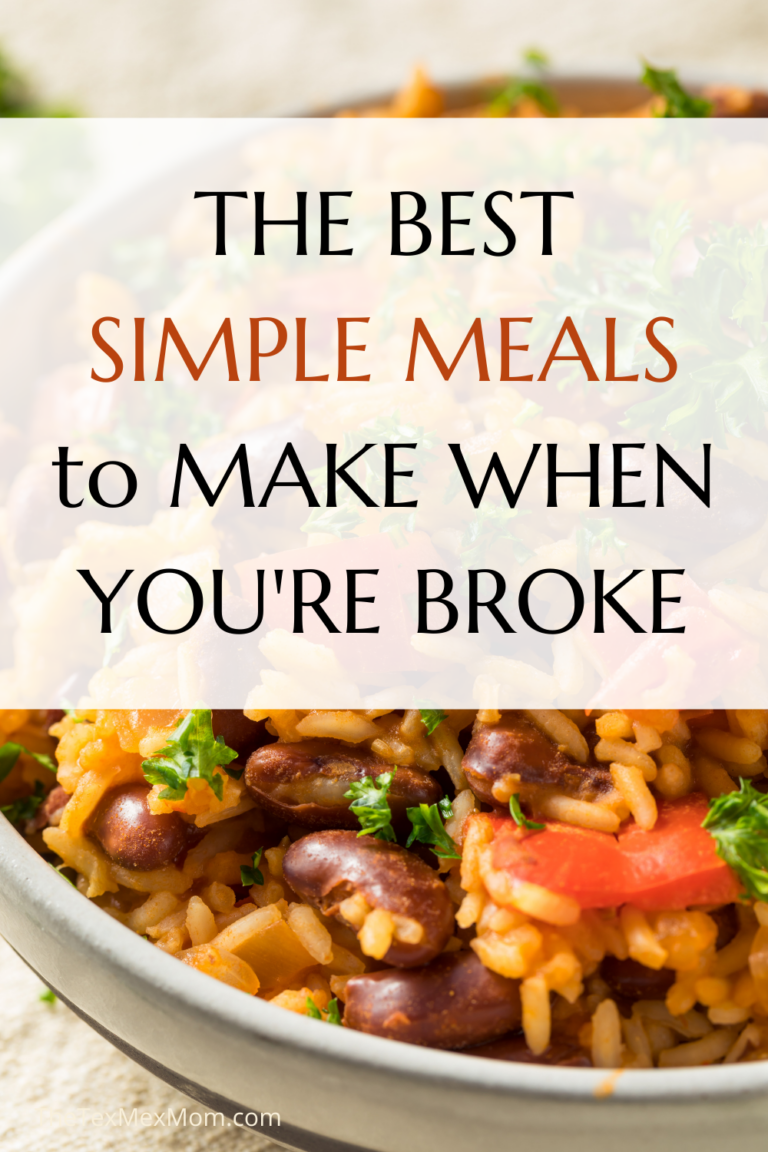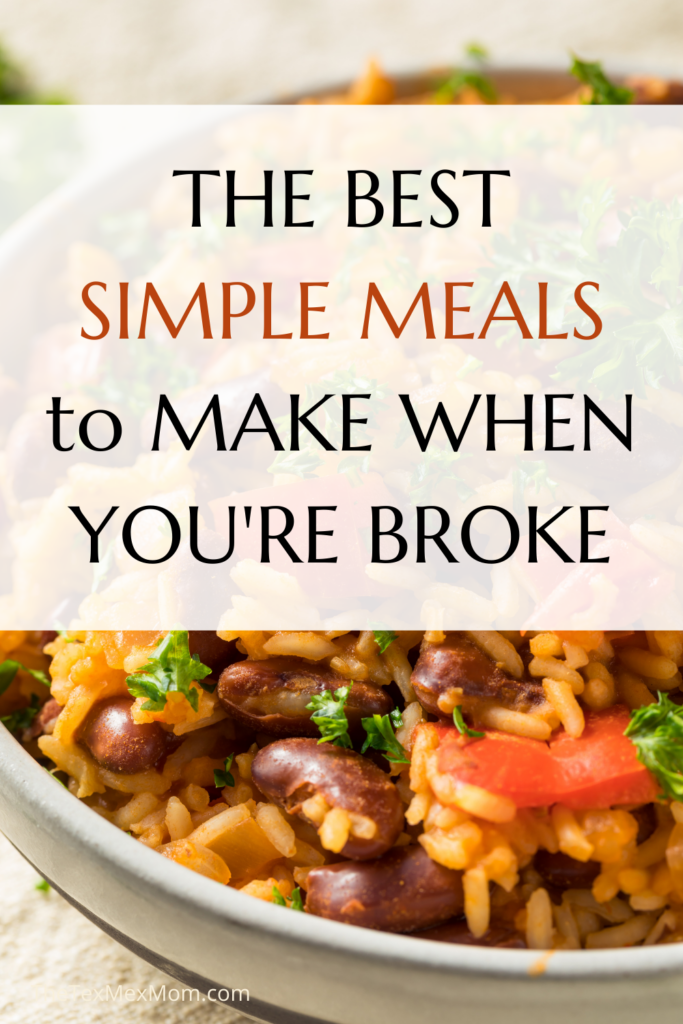 Cheap Breakfast Ideas
Eggs and toast
Breakfast casserole
Oatmeal or baked oatmeal
Bananas
Store-brand cereal
Cheap Snack Ideas
Apples/bananas
Carrots/celery
Crackers or pretzels with peanut butter
Cheap Lunch and Dinner Ideas
PB & J sandwiches (Scoffing at this idea? Read this.)
Chicken salad sandwiches
Tuna sandwiches
Leftover chicken or tuna on salad
Creamed chicken (add shredded chicken to a simple white sauce, serve on rice or toast)
Chicken soup (make the broth from the leftover chicken carcass, add cooked rice or spaghetti noodles to make it more filling)
White chili (you can use whatever kind of beans you have, just cook them first)
Spaghetti
Beans and rice (use this recipe to get perfectly cooked brown rice every time!)
And that's it! While not the most glamorous, these are the best foods to buy and meals to make when you're on a tight food budget.
Low-Budget Meal Plans with Grocery Lists
Over the years I've shared multiple meal plans here on the blog. If you're looking for some inspiration and ideas, check out some of the articles below.
Note: Grocery prices are constantly changing, so some of the prices in the articles below have already changed. However, all of these meal plans are very frugal, even with rising prices.
Want to get better at meal planning regularly? Check out my Meal Planner and Recipe Binder.
What are some of your favorite cheap foods to buy on a budget? Any favorite recipes? Please share in the comments!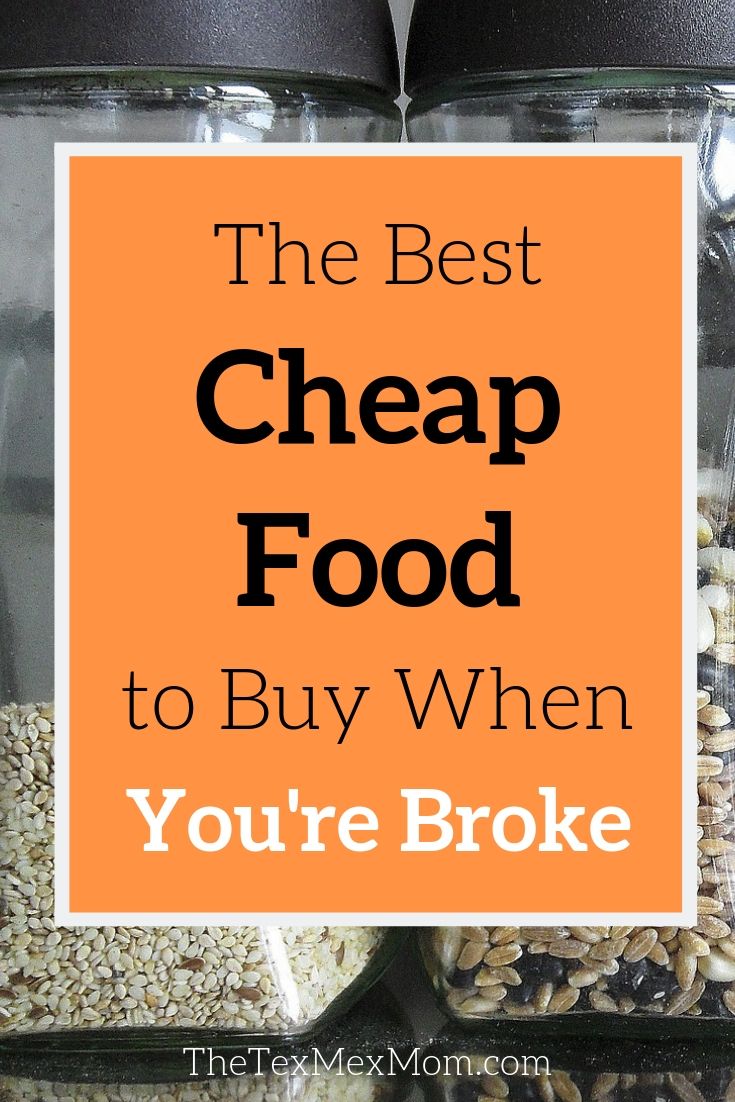 Looking for more ways to save at the grocery store? Check out this post for 15 ways to save money on groceries! Thanks for reading and I'll be back with more soon! 🙂