Need to cut back on your grocery spending? Today I have another two week grocery list and meal plan for you – and this one is two weeks of EASY MEALS for $100 or less!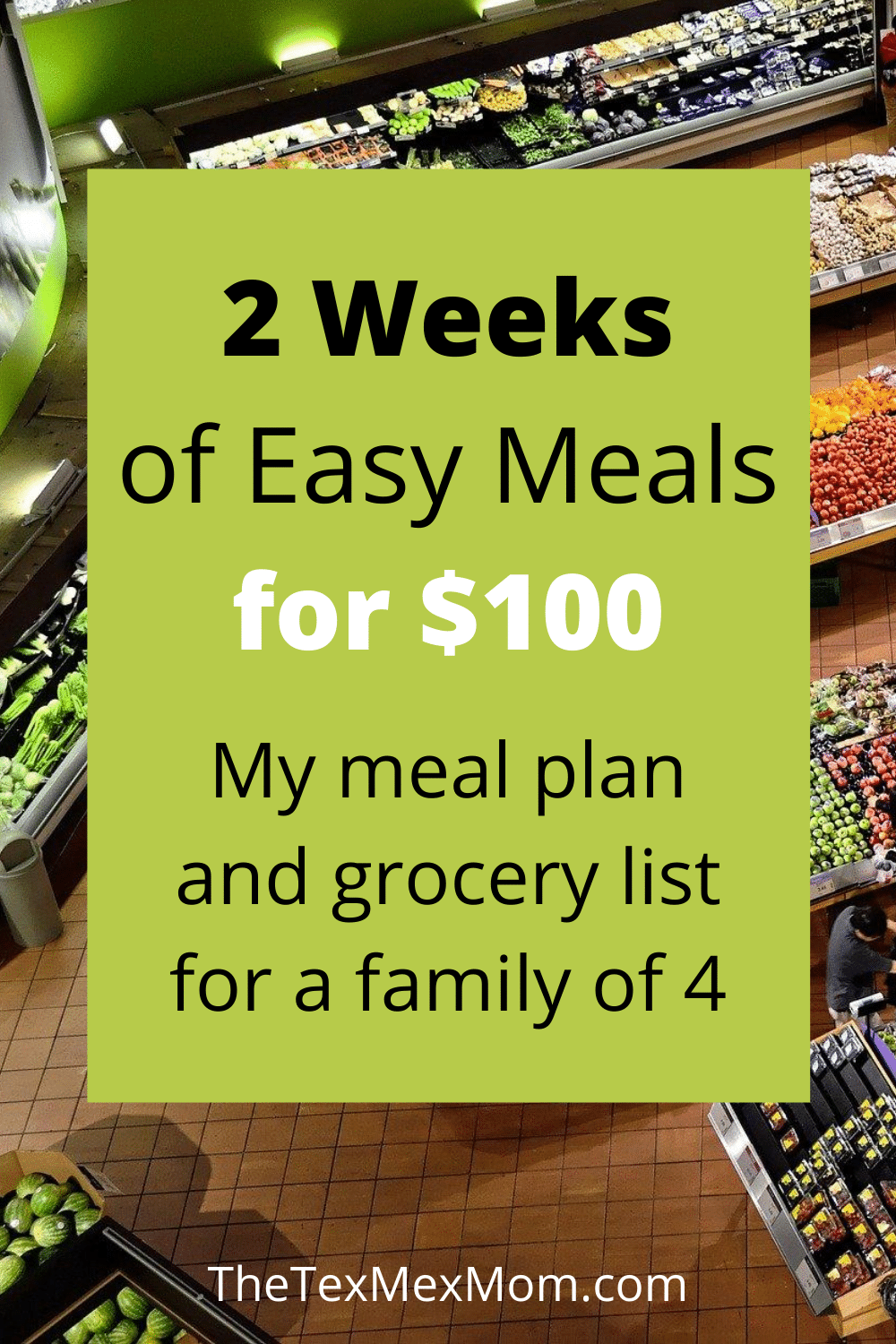 Hi friends!
Do you regularly meal plan? Did you know that by simply planning out your meals before you go grocery shopping you can pretty much guarantee that you'll spend less on groceries?
And did you know that if you meal plan and shop for two weeks at a time you'll save even more?!
Today I'm back with another easy meal plan and grocery list for you, but this week it's for two weeks worth of meals!
While I normally find myself grocery shopping every single week, I've found that the times when I plan ahead and do grocery shopping for two weeks at once I always end up saving money.
The best part about the two-week meal plan and grocery list I'm sharing today is that you'll only spend $100 or less, depending on what you already have in your pantry. Hard to beat $100 for two weeks of groceries, am I right?
I'm calling this a meal plan for a family of four, though it works well for my husband and me and our three littles.
My Two-Week Easy Meal Plan For $100 or Less
As I mentioned in my last post about two weeks of groceries for $100, to simplify my meal planning I mainly plan for dinners and just keep some basic items on hand for breakfasts and lunches.
Breakfast:
cereal, eggs, oatmeal (regular or baked), yogurt
Lunch:
salad, quesadillas, pb & j sandwiches, leftovers
Snacks:
apples, oranges, pretzels, crackers, homemade granola bars or energy bites
Week One Meals:
Salsa Chicken w/ Potato Wedges and salad.
Chicken Burrito Bowls – Rice, beans, chicken, and your favorite toppings. We often use leftover grilled chicken for this but if you're cooking your chicken the day this recipe for stovetop chicken is fantastic!
Baked Ziti w/ green beans – Make this in two 8×8 pans and stick one in the freezer for next week.
Sloppy Joes w/ carrots and applesauce – Use any recipe that calls for 2 lbs. of ground beef. I use my mom's!
Breakfast Burritos
Crockpot Taco Soup – Stick half in the fridge or freezer for next week.
Leftovers
Week Two Meals:
Sloppy Joe Baked Potatoes – Use leftover Sloppy Joes from week one to top your baked potatoes along with other favorite toppings.
Chicken Gyros – Stuff Pita bread with lettuce, chicken, tzatziki sauce (I buy mine to make it simple) and your favorite toppings.
Baked Ziti – Pull from the freezer and bake.
Crockpot Taco Soup – Pull from the freezer and heat on the stove. I may serve a few quesadillas as well if the leftover soup isn't enough.
Leftovers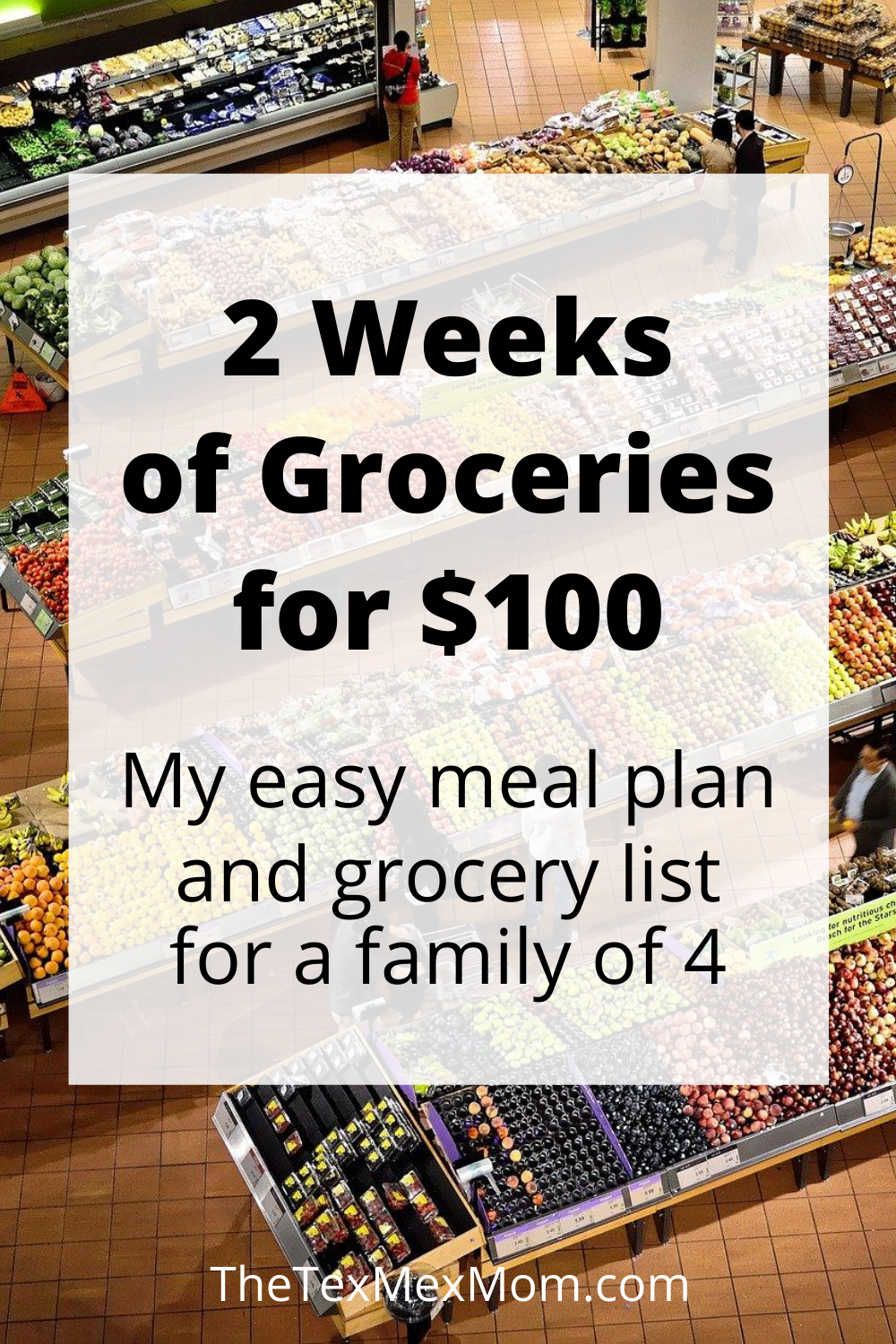 Prefer to grocery shop one week at a time? Check out my previous grocery posts here: $50 Week One // $50 Week Two // $50 Week Three (low-carb) // $50 Week Four (no oven) // $60 Week One // $60 Week Two
My 2-Week Grocery List
When I make my grocery list I find it helpful to think in categories such as veggies, fruits, meat, dairy/other refrigerated things, and "center-of-the-store".
Fruits and Veggies
Apples (3 lbs.) – $3.13
Oranges (3 lbs.) – $3.24
Carrots – $0.98
Cucumbers – $1.00
Romaine Lettuce – $2.78
Tomatoes – $1.48
Potatoes (5 lbs) – $2.27
Green Beans (frozen) – $0.77
Corn (frozen) – $0.77
Meat
2 bags of frozen chicken breasts (6 lbs) – $11.88
1 lb. of sausage – $2.88
3 lbs. ground beef – $7.98
Dairy / other refrigerated stuff
Milk (3 gallons) – $8.31
Shredded Colby/Monterrey Jack cheese (16 oz) – $2.77
Shredded Mozzarella cheese (16 oz) – $2.77
Sour Cream (16 oz) – $1.00
Cottage Cheese (16 oz) – $1.28
Plain Greek Yogurt (32 oz.) – $3.47
Eggs (2 dozen) – $1.68
"Center of the store"
Cereal (3 boxes) – $6.64
Old Fashioned Oats – ($2.67)
Pretzels – $0.82
Graham Crackers – $1.00
Peanut Butter – $1.18
Jelly – $1.33
Applesauce – $1.98
Salsa – $1.23
Brown Rice – $1.37
Black Beans (2 cans) – $1.16
Pinto Beans (1 can) – $0.58
Ro-Tel – $0.98
Refried Beans – $0.78
Taco Seasoning Mix (2) – $0.88
Ziti Pasta (16 oz) – $0.82
Pasta Sauce – $0.88
Hamburger Buns – $0.88
Tortillas – $1.48
Tostadas – $1.98
French Bread – $1.00
Pita Bread – $2.50
Whole Wheat Bread (2 loaves) – $2.96
Total = $95.54 (Less than $100!)
**The prices above are all from my local Walmart**
I hope this two week meal plan and grocery list is helpful to you. Food is one of those areas on the budget where it's so easy to overspend, but a little meal planning goes a long way in helping to cut down on the costs!
A Recommended Resource
Before I go I wanted to mention this ebook from Crystal Paine at MoneySavingMom.com. It's called Slash Your Grocery Bill and it shares 25 simple and effective ways to cut your grocery bill.
I found it very helpful and full of good tips beyond just the basic stuff. I'm an affiliate for Crystal's products because they are always well done and worth what she charges (which I can't truthfully say for a lot of ebooks and courses out there!)
If you're interested you can check it out here!
Thanks for stopping by the blog today!!