Grocery costs are rising but you can still feed your family affordably. Here are 5 home-cooked meals for $40 for a family of four.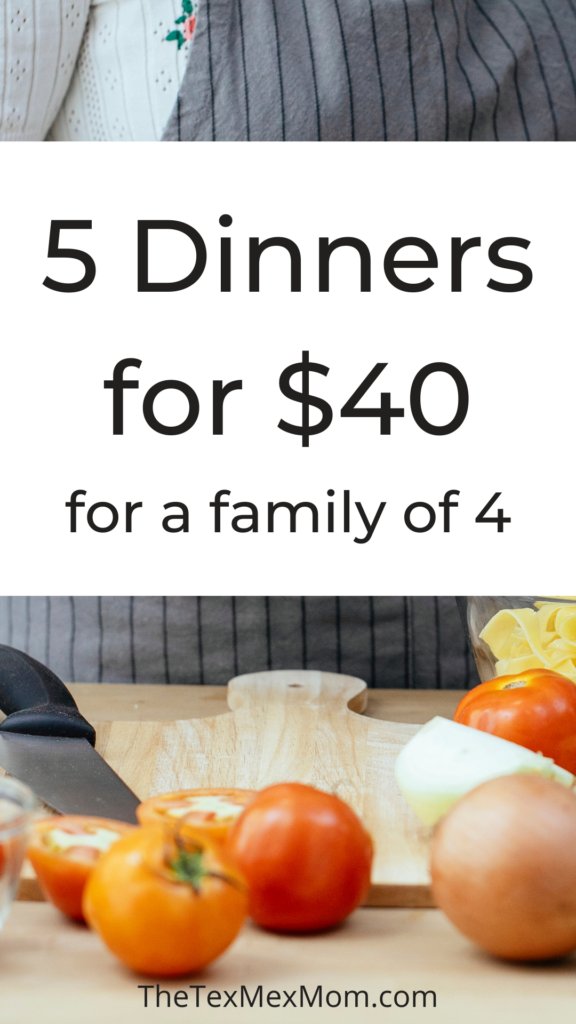 Can you believe the grocery prices lately? It amazes me how quickly I hit (and easily go over) my grocery budget these days. I would just stop buying groceries altogether, buuut we kind of like to eat. Ha!
Since groceries are an obvious necessity and I can't just stop buying them, my goal instead is to continually be more mindful about what I'm spending and to find ways to save money on groceries whenever I can.
We all know that home cooking is less expensive than eating out, but even with home cooking the costs can vary A LOT depending on the recipes you choose and the groceries you buy.
Today I wanted to share 5 weeknight meals that you can make for $40 or less. All the recipes work for a family of four, although if you have little kids the meals may stretch a bit farther.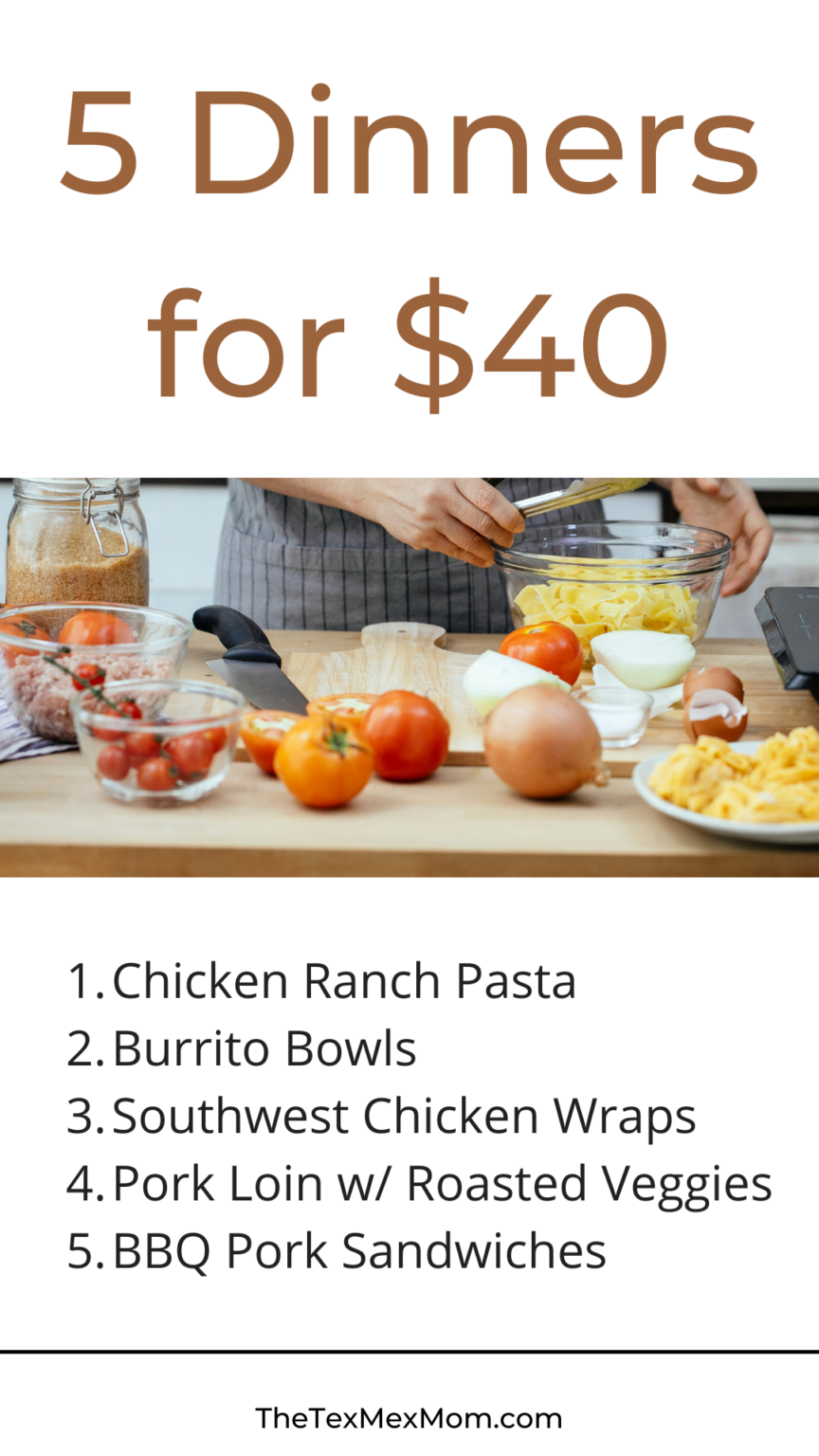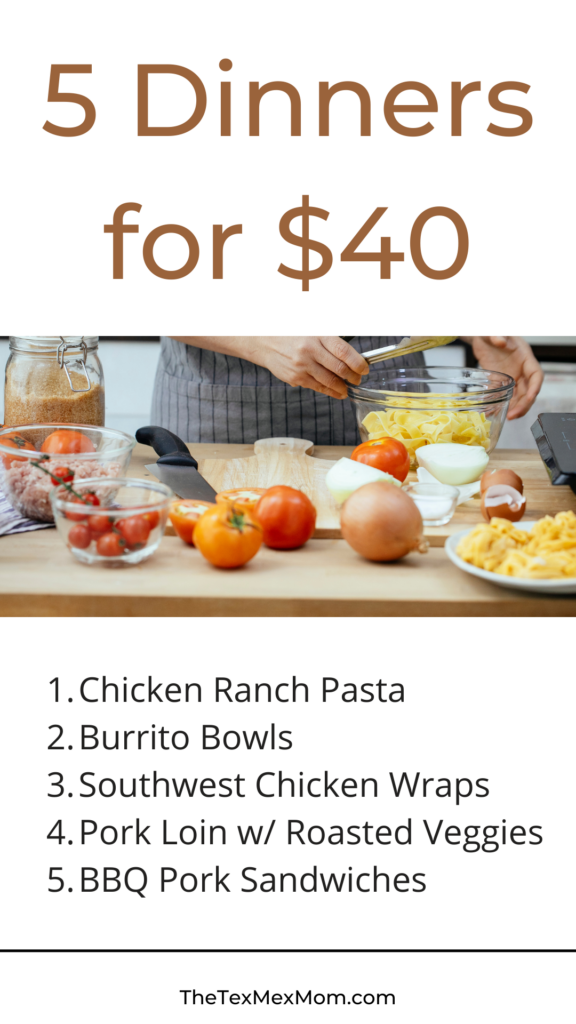 5 Meals for $40 for a Family of Four
A quick note:
To keep my grocery costs down I typically like to choose just two meats that we'll be eating for a week and use those for multiple recipes. For these five dinners for $40 I've chosen a whole chicken and a pork loin.
Cook the chicken in the crockpot or roast it in the oven and then shred it for use in the first three dinner recipes. The pork loin is used for the other two.
Here are the five meals (with my complete grocery list at the end!)
2. Burrito Bowls
I don't have a specific recipe for this one; I just start out with rice, beans, and chicken and everyone can add whatever extras they'd like on top.
4. Pork Loin, roasted veggies
5. BBQ Pork Sandwiches, potato wedges, raw carrots
For the BBQ sandwiches I just shred up the leftover pork from the day before, mix in BBQ sauce, and serve on hamburger buns!
5 Meals for $40 – My Grocery List
Here is everything that you'll need for these five weeknight meals for $40 or less! Please note that I did not include things like spices that most people typically have on hand.
The prices included below are from my local Walmart.
I use Walmart's grocery pickup almost every week. Want to try it? Get $15 off your first order here!
Bread/Pantry Items
Hamburger buns – $0.93 (just the store brand to save money)
Tortillas – $1.98
Ranch dressing – $1.48
BBQ sauce – $0.98
Pasta (16 oz.) – $0.82
Brown rice – $1.37
Black beans (2 cans) – $1.44
Salsa – $1.561
Dairy/Refrigerated Items
Parmesan cheese – $2.48
Shredded Cheddar cheese, 16 oz. – $2.77
Sour cream, 8 oz. – $0.74
Produce
Tomatoes – $0.87
Carrots – $0.98
Yellow onion – $0.86
Lettuce – $1.74
Broccoli (2 crowns) – $2.20
Potatoes (5 lb. bag) – $2.37
Meat
Pork loin roast (3.5 lbs. at $2.14 a lb.) – $7.49
Whole chicken – $6.33
Total = $39.39
Looking for a complete meal plan on a budget? Check out more of my budget meal plans below (or learn how to make your own budget-friendly meal plan!)
Check out some of my other meal plans + grocery lists here: $50 Week One // $50 Week Two // $50 Week Three (low-carb) // $50 Week Four (no oven) // $60 Week One // $60 Week Two // $65 Meal Plan // $75 Meal Plan // $120 Two-Week Meal Plan
Thanks for stopping by the blog today!