These easy burritos are full of chicken, black beans, rice, cheese, and yummy seasonings. Cook them with a bit of butter on the skillet for the perfect crispy texture!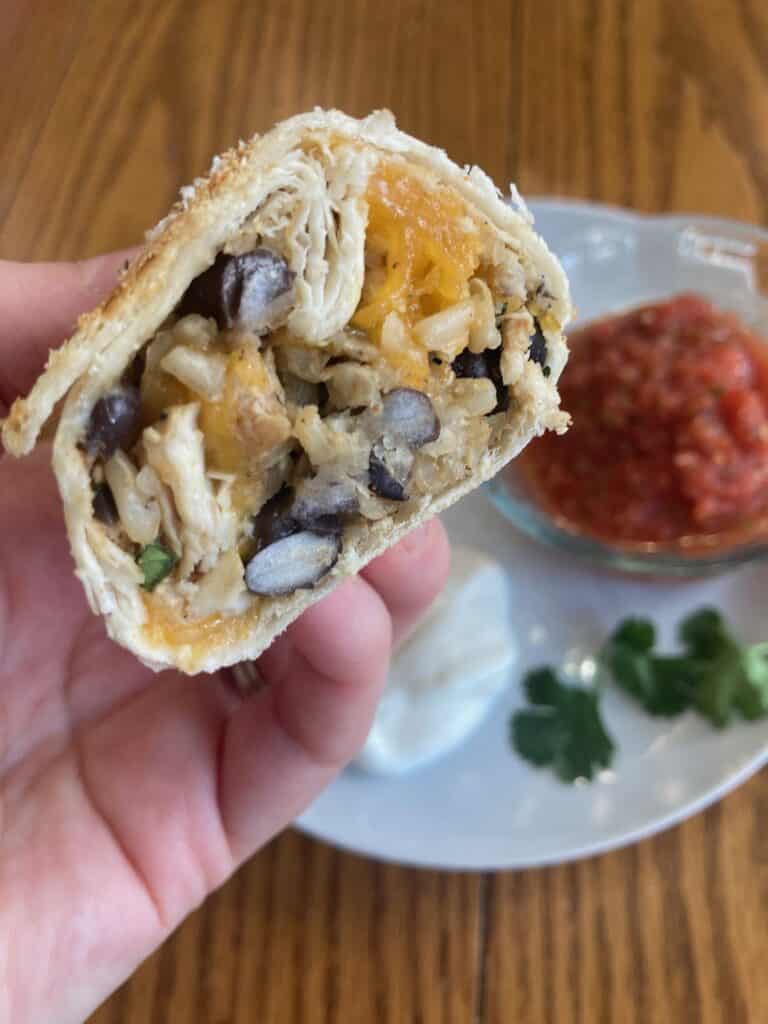 I used to share recipes here on my site almost every week but the last few years I've sort of gotten away from that and done a lot more meal plan posts instead. But recently I shared this family-favorite recipe and it reminded me that I do enjoy sharing some of my favorite recipes on here. So, here we go again with another family favorite. 🙂
I've been making these chicken burritos for years after my sister-in-law first made them for me. They make a great hearty lunch or easy dinner.
I almost always double the recipe because I like having leftovers. The mixture also freezes well, making a super convenient meal to throw together later on.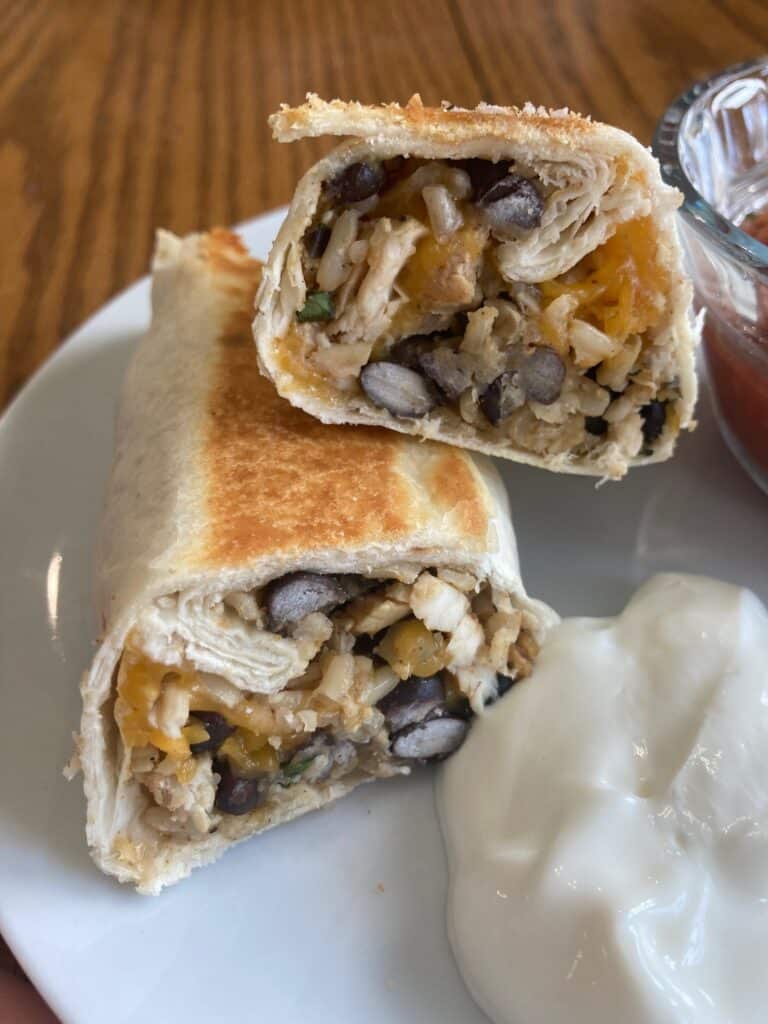 We especially enjoy these crispy chicken, bean and rice burritos with leftover grilled chicken – it really adds great flavor! (This is the marinade we use for our grilled chicken.) However, we also routinely make them with regular shredded chicken. Leftover rotisserie chicken works well too!
This is a great meal to throw together when you don't have much time. Just mix everything together, divide between the tortillas and top with cheese, roll up into burritos and toast them on a skillet or griddle until crispy. Yum!
You may also be interested in: 75 Frugal Family Dinner Ideas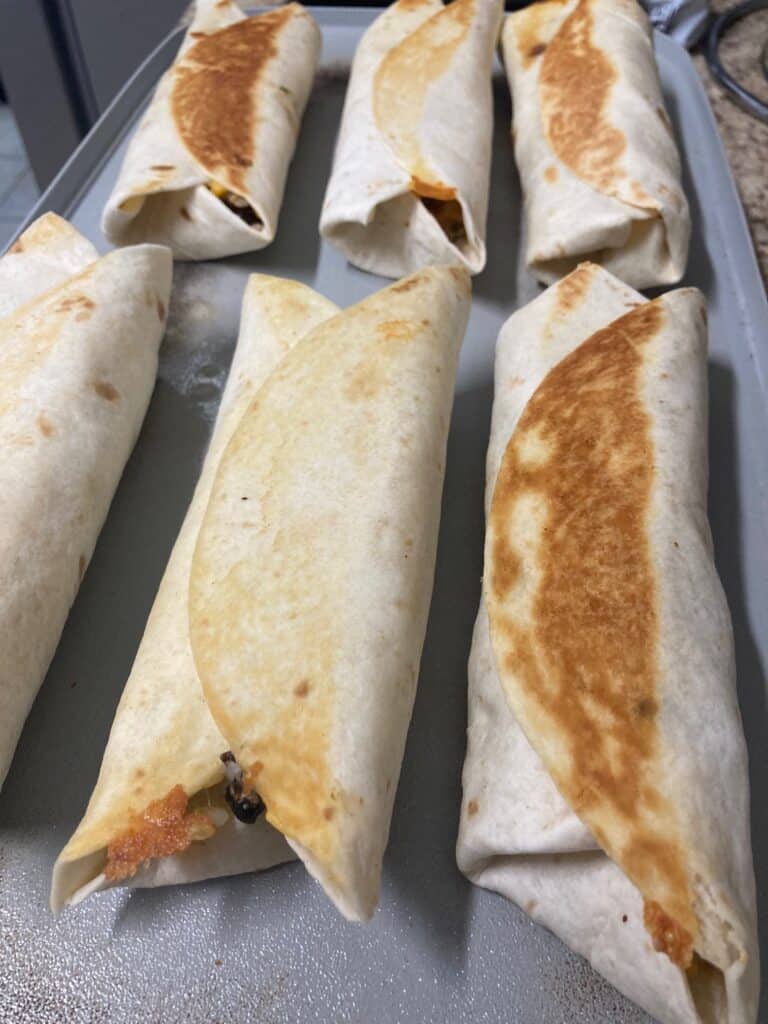 The recipe calls for chopped cilantro which we love, but I don't always have it on hand and the burritos taste great either way.
For the shredded cheese I usually use cheddar, but you can't go wrong with cheese – just use your favorite or what you have on hand!
While the recipe is already easy, to make things even easier you can also substitute 1-2 tablespoons of taco seasoning for the seasonings listed on the recipe.
Crispy Chicken, Rice and Bean Burritos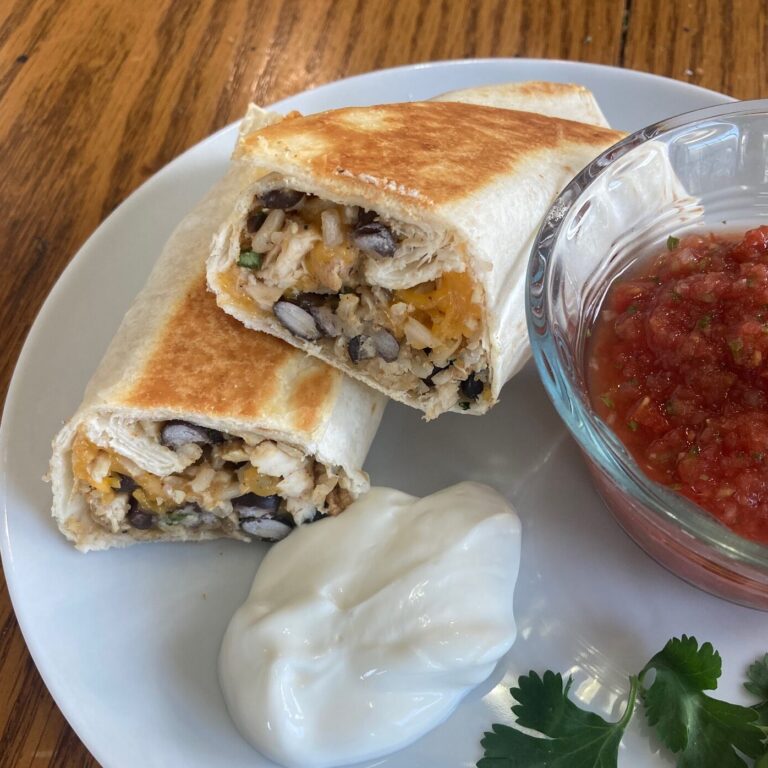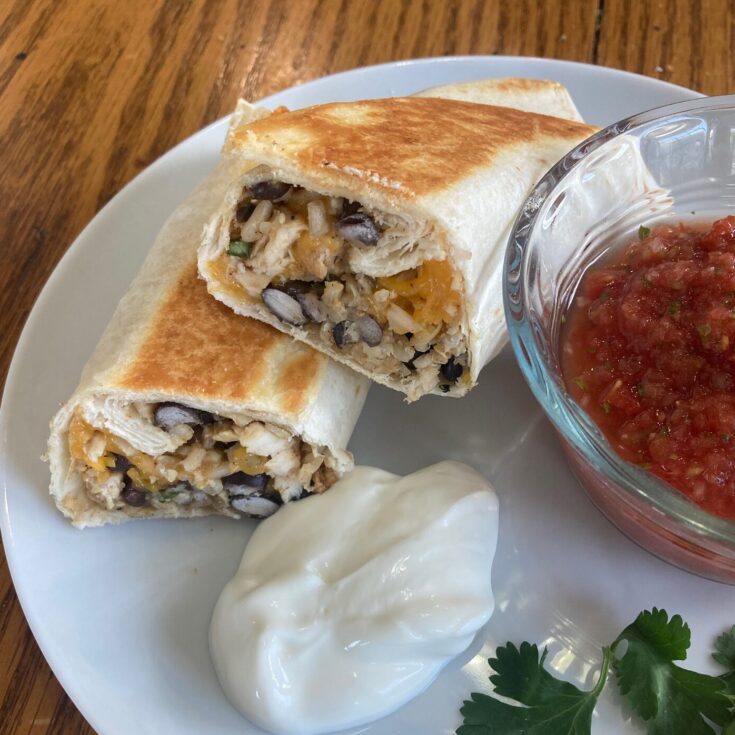 Crispy Chicken, Rice and Bean Burritos
These crispy burritos have been a favorite in my family for years. Serve them with salsa and sour cream on the side for the perfect easy meal!
Ingredients
1 cup chopped or shredded chicken
1 cup cooked rice
1 cup black beans
1/2 tablespoon chili powder
1 teaspoon ground cumin
1/2 teaspoon garlic
1/2 teaspoon salt
1/4 cup chopped cilantro
2 cups shredded cheese
6 burrito-size tortillas
Salsa and sour cream, optional
Instructions
In a large mixing bowl, combine chicken, rice, beans, seasonings, and cilantro.
Divide mixture between the six tortillas and sprinkle cheese liberally on each. Carefully roll into burritos.
Heat skillet or griddle and grease with a bit of butter or cooking spray. Carefully cook burritos, seam-side down, until light brown and crispy. Flip and cook the other side, adding a bit more butter or cooking spray.
Serve with salsa and sour cream on the side.
Thanks for stopping by the blog today! If this recipe looks yummy to you be sure to pin it for later!
Other easy recipes to try: