Simple, kid-friendly, and delicious? This easy pizza pasta salad checks all the boxes and makes the perfect summer meal.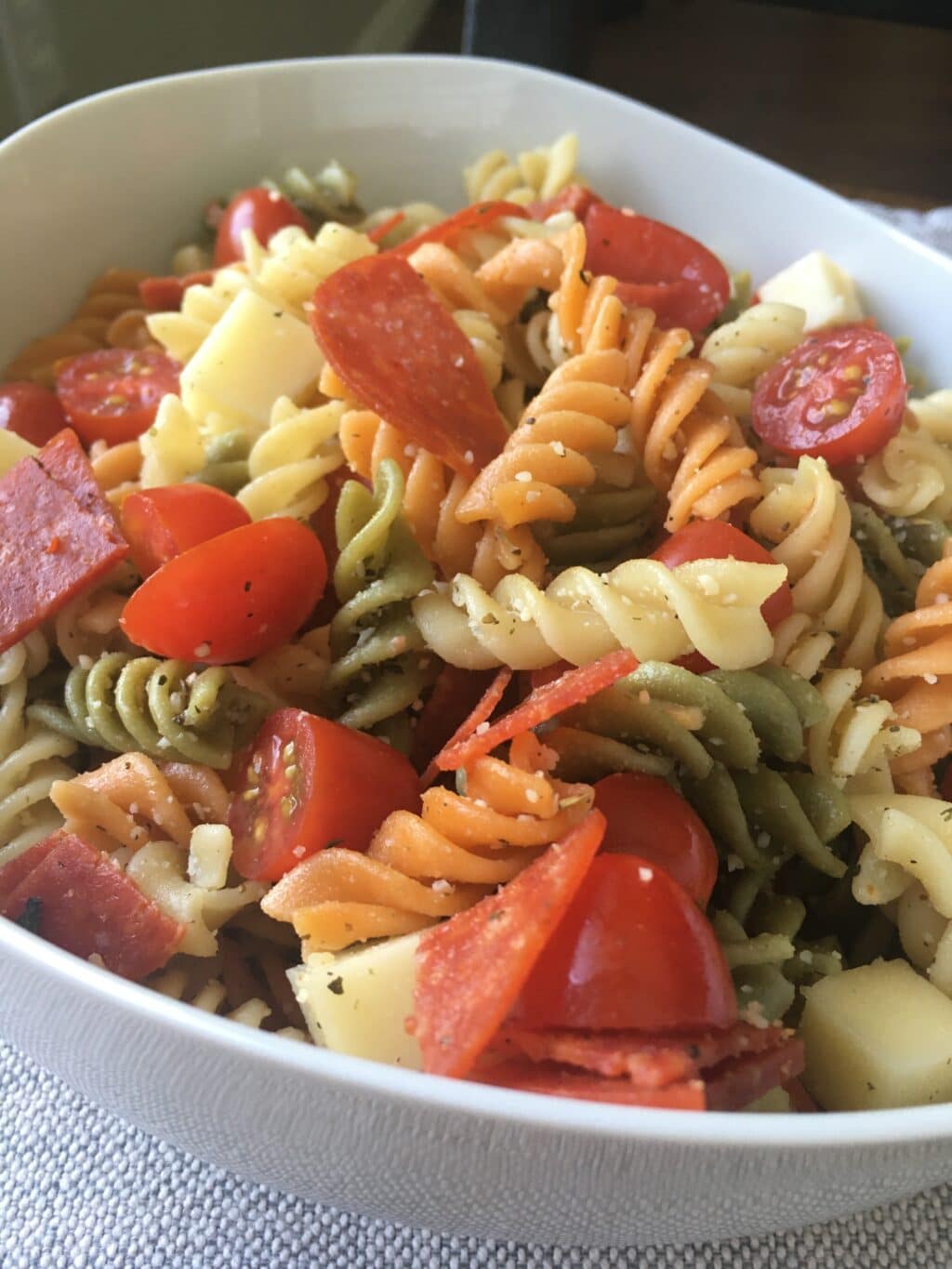 I'm a big fan of easy meals (aren't we all?) and the simple pizza pasta salad that I'm sharing today has become one of my favorites. It's the perfect meal to throw together when the clock hits 4 pm and you realize that you have no idea what's for supper.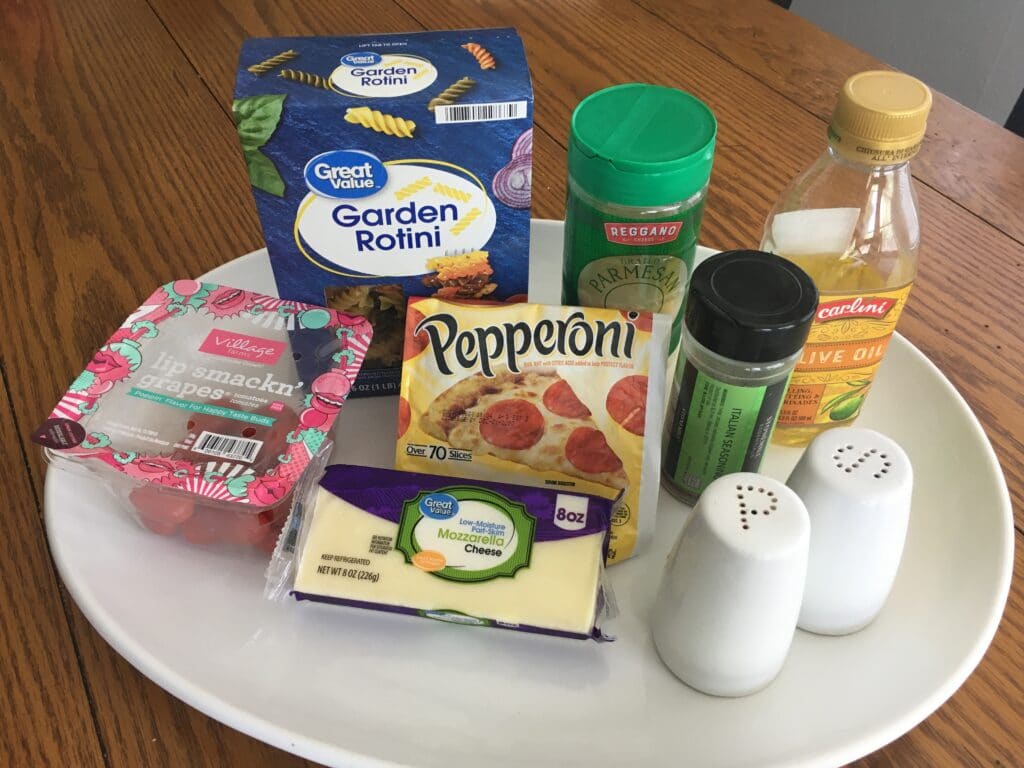 All of the ingredients are basic items that you more than likely already have on hand. While I usually keep it pretty simple, the great thing about this recipe is that you can add any other ingredients that sound good to you: olives, more fresh veggies, more cheese, a favorite dressing, etc.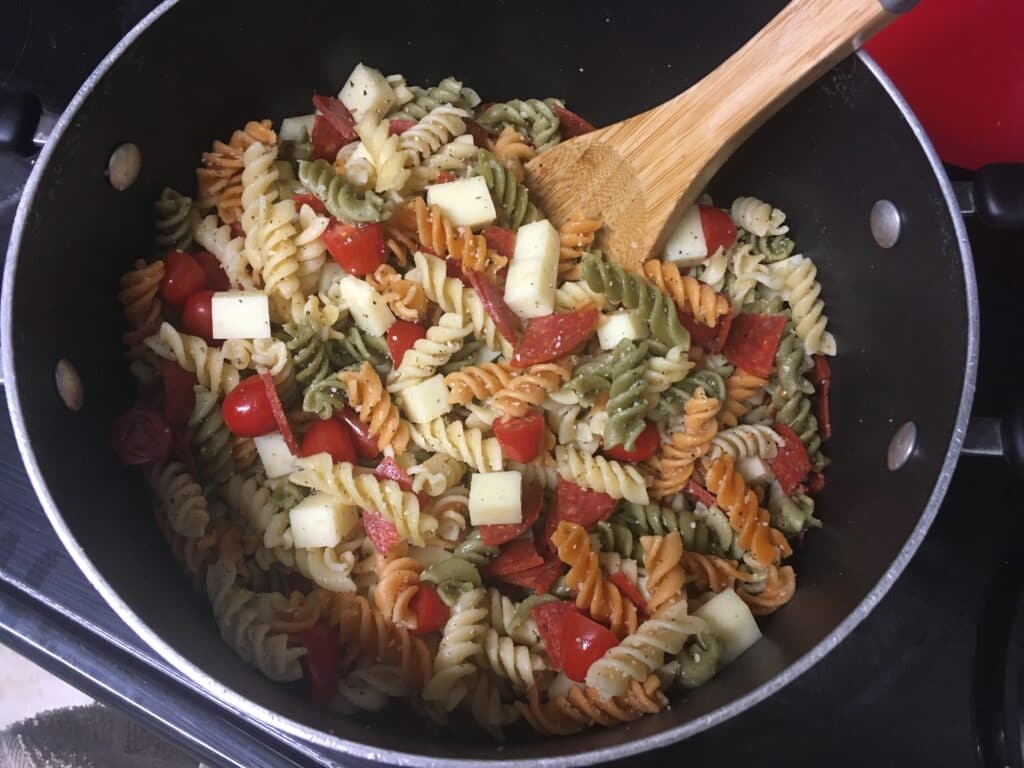 I love this meal served slightly warm (right at a temperature where the mozzarella chunks are just starting to get a bit melty) but it's also great served cold.
Psst! You may also be interested in this easy recipe for 5 Ingredient Chicken Ranch Pasta.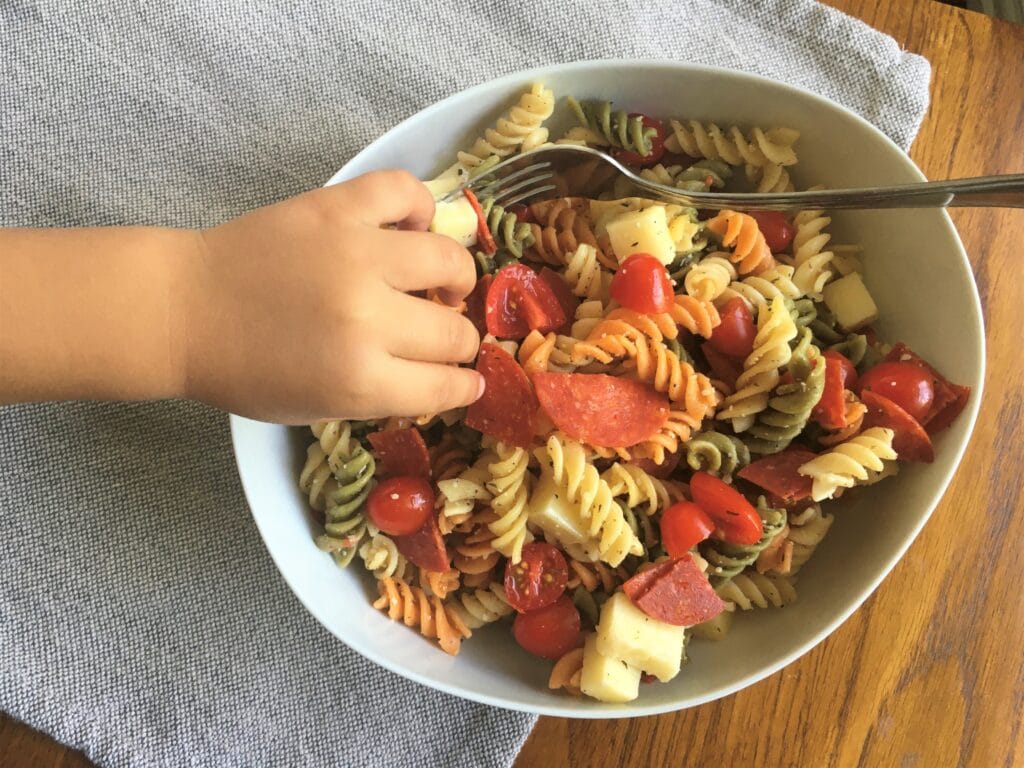 As you can see, this easy pizza pasta salad is a hit with my kids too. (And no, that little hand was not posed!)
Hungry yet? Don't worry, I'm not the type to share my whole family history before giving you the recipe. 😉 Here it is!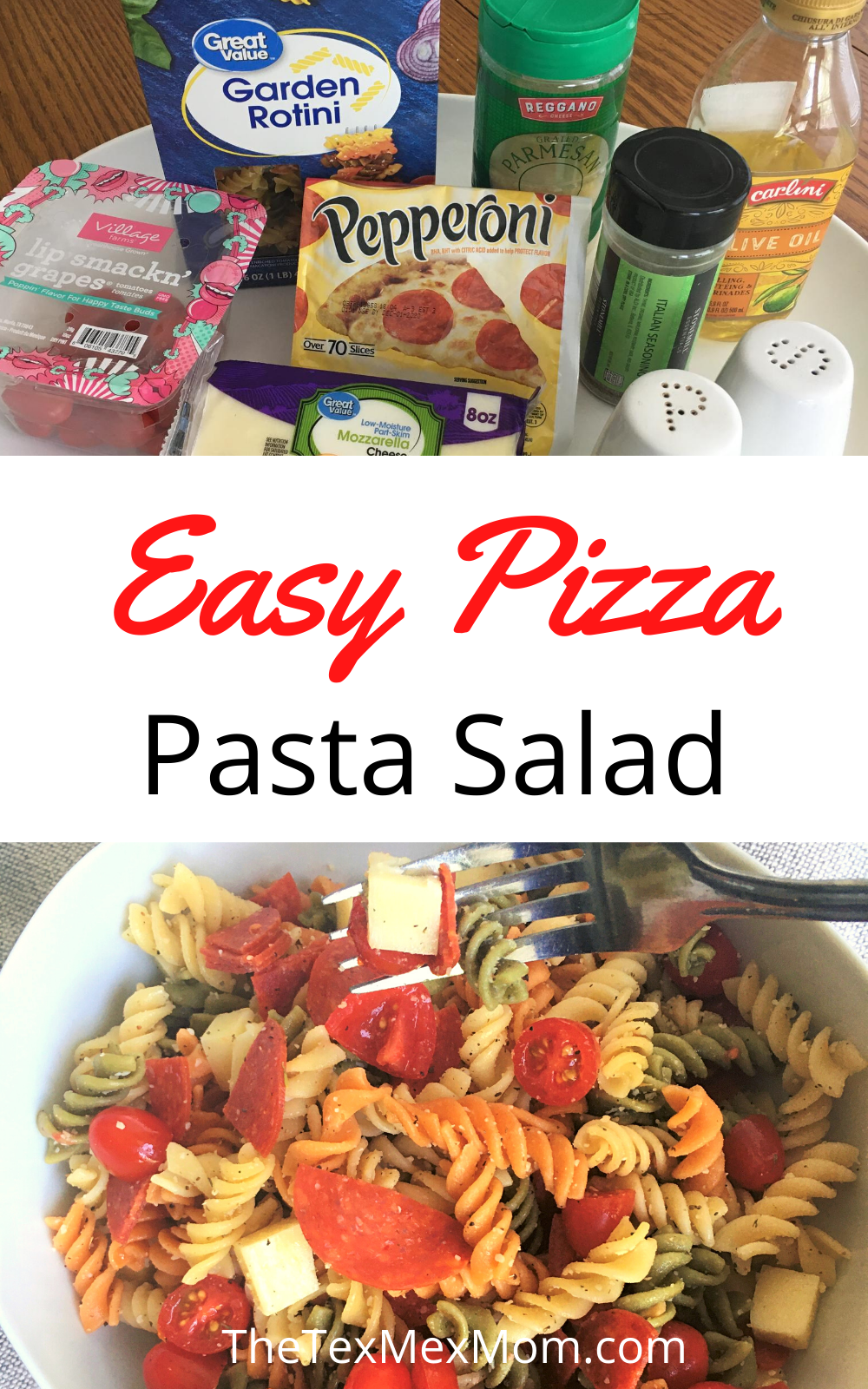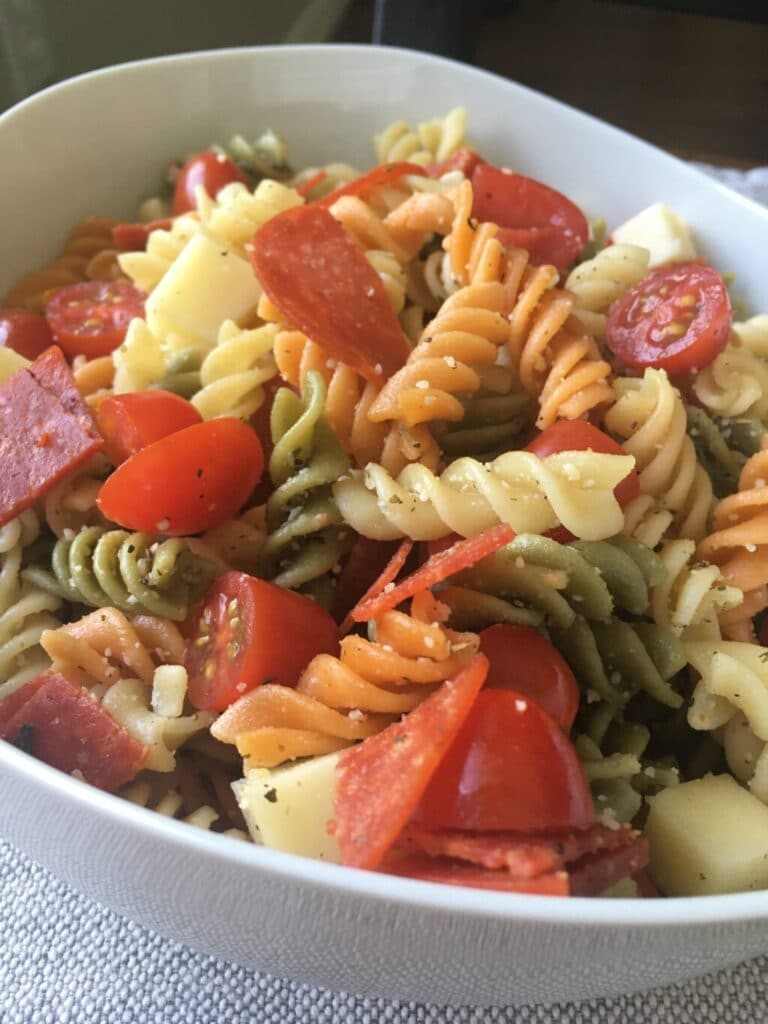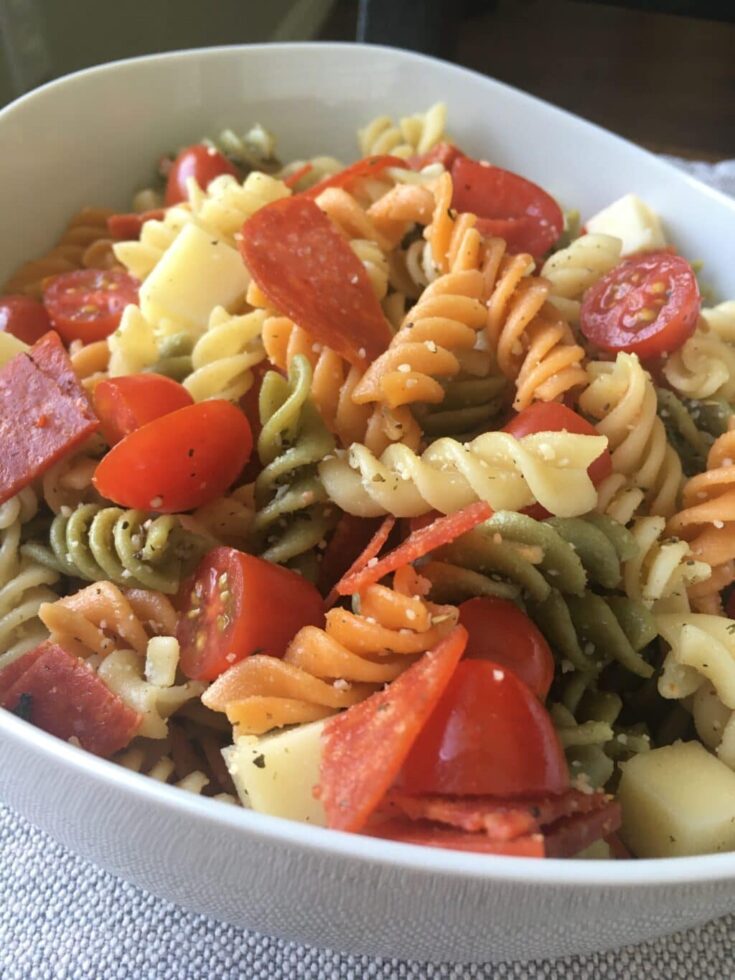 Easy Pizza Pasta Salad
Ingredients
16 oz. Rotini pasta
8 oz. Mozzarella cheese, cut into chunks
3 oz. pepperoni, chopped
1/2 pint grape tomatoes, halved
1 Tbsp olive oil
3 Tbsp Parmesan cheese
1 tsp Italian seasoning
Salt and pepper
Optional: Italian dressing
Instructions
Cook pasta according to the box directions. Drain, then let cool for a bit in a large serving dish.
Add the cheese chunks, pepperonis, grape tomatoes, and any other toppings you'd like to the pasta.
Finally, add the olive oil, Parmesan cheese, Italian seasoning, salt and pepper and mix well.
Optional: for a stronger flavor, toss the pasta with some Italian dressing or serve some alongside the dish.
If this easy pizza pasta salad sounds yummy to you be sure to pin it so you can come back to it later!
Looking for more easy summer recipes? Here's a week of easy meals – no-oven required!
Thanks for stopping by the blog today!