Wondering what to make your family for dinner that's cheap and easy? Here are 75 frugal, family friendly dinner ideas that my family loves.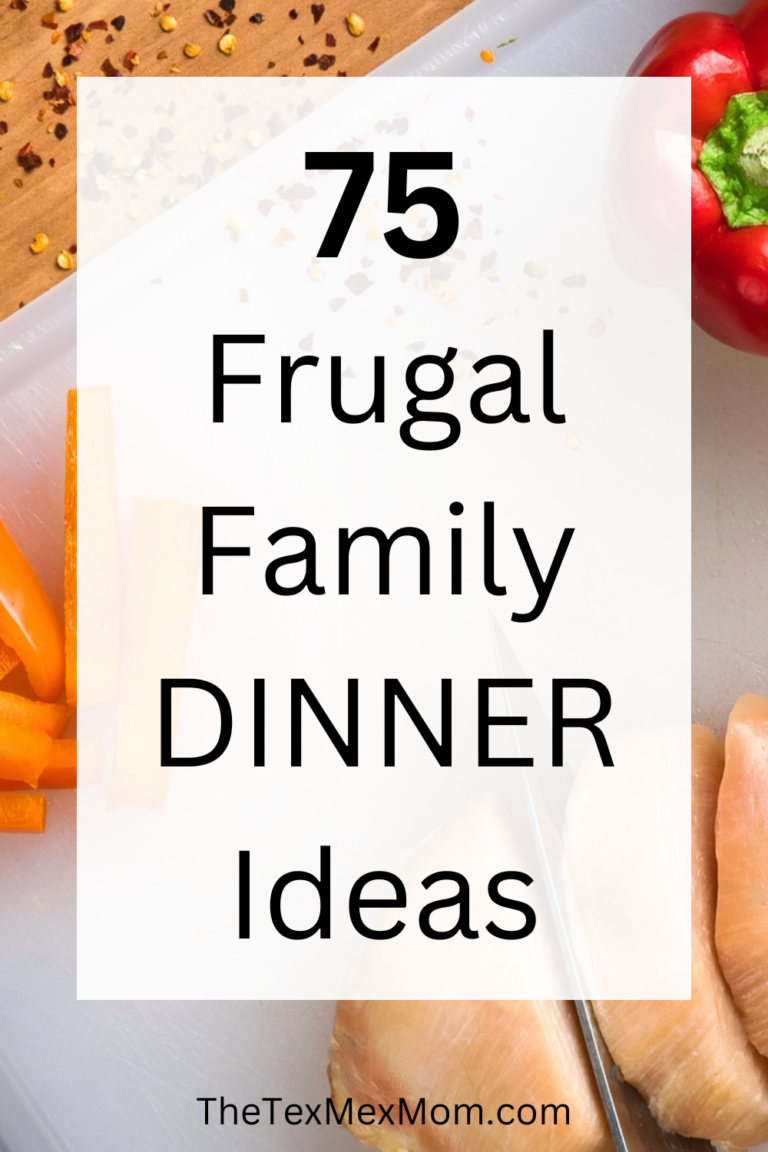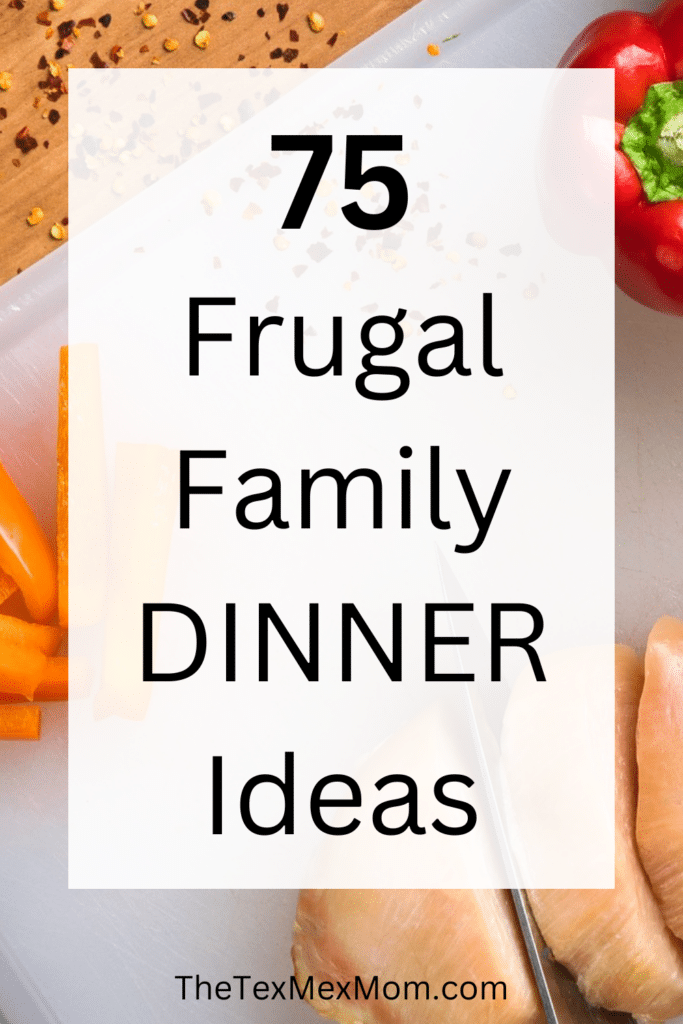 Do you ever sit down to do some meal planning and completely blank out? If so you're not alone. Despite the fact that I cook for my family almost every single day, somehow I still find myself drawing a blank some days when I'm trying to meal plan.
Well, today I'm solving that problem for myself and for you by sharing a list of 75 of my family's favorite meals.
On a tight budget? No worries. These meals are all easy on your budget. In other words, you won't be purchasing any expensive or specialized ingredients in order to make these recipes.
Also, while some of these meals take more time in the kitchen than others, all of them are relatively easy to make.
So, without further ado, let's dive into my big list of cheap family meal ideas!
75 Frugal Family Friendly Dinner Ideas
Pablo surprised me with an air fryer for Christmas and this was one of the first kid-friendly recipes I tried. The chicken tenders turned out so crisp and flavorful!
2. BBQ Chicken
For simple BBQ chicken, just stick some chicken breasts in your slow cooker and pour BBQ sauce on top. Once they're cooked, shred them up and serve on buns or rolls. Yum!
I like this recipe for BBQ drumsticks because you start the drumsticks in a slow cooker to get them nice and tender, then baste them with BBQ sauce and transfer them to the oven to finish.
After our first baby someone brought us a pan of Baked Ziti and I've been a fan ever since. I like that this recipe calls for sausage – it really enhances the flavor.
6. Beans and Rice
I know, beans and rice is the stereotypical budget friendly dinner, but it really is quite tasty, especially if you make your own beans! (I usually make black beans.) I like to top my beans and rice with plenty of corn and Pablo usually adds some sort of salsa or hot sauce.
8. BLTs
9. Breakfast for Dinner
If you don't have breakfast for dinner every once in a while are you even enjoying life? Haha. Breakfast for dinner could include a breakfast casserole, omelets, a frittata, good old eggs and bacon, pancakes or waffles, or a bowl of yummy homemade granola or baked oatmeal.
PS – my kids have never complained about breakfast for dinner, so there's that.
10. Burrito Bowls
Take your beans and rice up a notch adding chicken, lettuce, salsa, etc. and turning it into a burrito bowl. Yum!
12. Charcuterie Board (aka "snacky meal")
Another meal that my kids will never complain about. And let's be honest, Pablo and I love this type of meal too.
My family isn't a big casserole family, but I personally love a good chicken, broccoli, and rice casserole!
15. Chicken Noodle Soup
For my kids, noodles make the soup yummy, probably because they help to hide the veggies haha. I like to make a basic chicken soup and then cook up some egg noodles on the side to add into my kids' soup when I'm ready to serve it.
17. Chicken Quesadillas
Make them fancy or keep it basic – either way, chicken quesadillas are a great staple meal for when you don't have much time (or much in the fridge!)
19. Chicken Salad Sandwiches
I love a good chicken salad sandwich. I feel like everyone has their favorite way to make chicken salad so I'm not including a particular recipe for this one.
I rarely make casseroles because Pablo isn't a typically a fan, but he LOVES this chicken spaghetti!
Both my mom and Pablo's mom make a good creamed chicken. My mom usually serves hers over rice and Pablo's mom serves hers on toast. Either way, creamed chicken is a great easy weeknight dinner and a great way to use up leftover shredded chicken.
These skillet porkchops are really yummy served with pasta. The sauce is especially incredible – I'm thinking next time I may double the recipe!
As a side note, porkchops are also a great cheap family dinner idea because you can often find them for great prices, especially if you watch for sales.
You may also be interested in: The Best Cheap Foods to Buy When You're Broke
26. Easy Garlic Pasta with Chicken
This is one of my go-to frugal kid-friendly recipes. I just cook up some pasta (penne, rotini, bow-ties, whatever I have on hand) and then toss it with a bit of butter or oil, garlic powder (or minced garlic that I've sauteed in butter), parmesan cheese, and leftover chicken. Easy and delicious!
This recipe was passed on to me from Pablo's mom and it is delicious. Definitely give it a try if you're looking for some good authentic enchiladas with a green sauce.
28. Fajitas
29. Frozen Pizza
Yes, I consider this to be a worthy meal idea. Sometimes you need something extra easy, am I right?
31. Grilled Cheese Sandwiches
32. Grilled Chicken
We've tried several different marinades for grilling chicken but we always come back to this one!
33. Grilled Chicken on Salad
This is a favorite recipe that my mom made pretty often growing up. It's a great way to use up leftover ham!
I just made this soup the other day with our leftover ham bone from Christmas. I was making it later in the day so I just did it on the stove, but the crock-pot is a great option as well.
37. Homemade Burgers
38. Homemade Pizza
Another favorite recipe from my mom!
40. Hotdogs or Brats
Pablo and I both really enjoy this Korean beef recipe. I just halve the amount of sesame oil that it calls for because in my opinion a little goes a long way!
I've made this soup with turkey as well as chicken and it's turned out super delicious either way. We really enjoy this recipe and even my usually picky son asked for seconds!
43. Loaded Baked Potatoes
44. Meatball Subs
Most people probably have their own particular meatloaf recipe that they prefer. I personally am not a fan of the traditional ketchup-y topping so I love this simple meatloaf recipe passed on from my mom.
Being married to a Mexican, I can confidently tell you that there's nothing really Mexican about these turkey rollups which are basically an American version of enchiladas, but they're yummy!
This is a great recipe to split in half (or double) and put half in the freezer for later.
Pot roast may not be the first thing to pop into your head when you're thinking about cheap family meal ideas, but it can be surprisingly affordable if you wait for a good sale. Chuck roasts tend to be the least expensive and they turn out super tender after slowly cooking all day in a crock-pot.
You may also be interested in: My $120 Two-Week Grocery Budget and Meal Plan
Pork loins are typically a pretty economical choice and can be stretched to feed a lot of people. Sometimes I like to cook and serve the pork loin as is for one meal and then shred the leftovers and serve with BBQ sauce on rolls.
52. Rotisserie Chicken
Costco, please never change the price of your amazing rotisserie chickens!
I came up with this recipe early in our marriage and it's been one of our favorites ever since. I think it would be good with any kind of pasta, but we usually enjoy it with whole wheat spaghetti.
We love this easy sheet pan meal!
This is another recipe that I love to make when there's a good sale on chuck roasts.
Sometimes a basic chicken soup just really hits the spot. I like to make a good rich chicken broth whenever I have a leftover chicken carcass and then I just freeze the broth in one quart amounts for whenever I'm making soup.
I like this recipe for sloppy joe sandwiches, but of course you can buy the canned stuff as well to make it extra easy!
This is a tried and true recipe for my family. The chicken mixture freezes well so I'll often double the recipe and freeze some for later.
63. Spaghetti with Meat Sauce
This has been my favorite, tried and true way to cook chicken breasts for several years now. They turn out tender and juicy every time!
66. Stromboli
I don't have a link for this one because I've only made my mom's recipe and I'm hesitant to just link to a random one. However, it's an easy meal to make if you have pizza dough on hand. I'll try to come back later and post my mom's recipe because it's the best in my opinion!
I follow the above recipe except that I add ricotta cheese. Yum!
69. Taco Salad
Taco soup is a staple for us, especially in the winter. We love the recipe I linked above for Chicken Taco Soup as well as the recipe for Ground Beef Taco Soup that you can find near the end of this post.
Tostadas are a great dinner idea for picky eaters because everyone can make theirs however they like. They're also a great cheap meal option.
This beef veggie soup is so good and freezes well too.
74. White Chicken Chili
I have two recipes I love for white chili so I'll share them both:
Slow Cooker White Chicken Chili
And finally, these creamy white enchiladas are a great comfort food.
What do you think of my list of cheap family friendly meal ideas? What are some of your favorite go-to frugal meals to make for your family? Let me know in the comments!
Did you enjoy this article? Drop your email address below and I'll include you in my weekly email where I share my family's meal plan for the week!
Processing…
Success! You're on the list.
Whoops! There was an error and we couldn't process your subscription. Please reload the page and try again.