This vegetable beef soup has become a favorite of ours this year. If you're looking for a new healthy and hearty homemade soup to try, this is the recipe for you!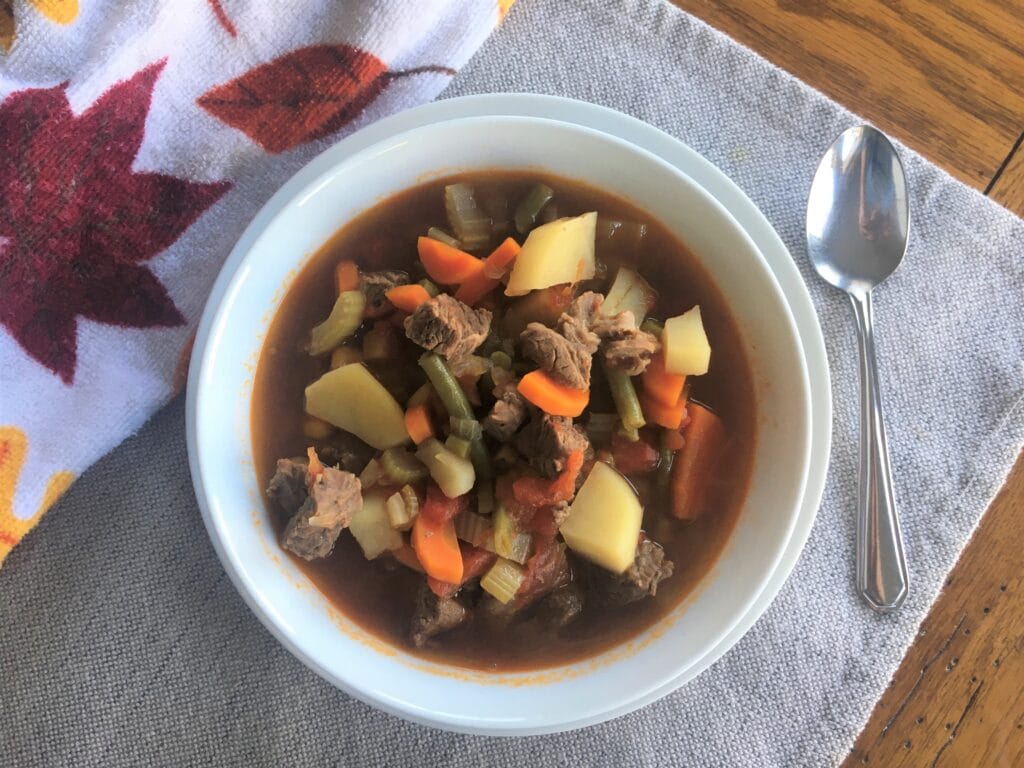 My husband first made a version of this vegetable beef soup earlier this year. Since then I've made it multiple times for us and to give to others.
This is the perfect hearty soup for a cold day (though we like it enough that we had it several times in the middle of our Texas summer!) It's also a great way to easily get in lots of good veggies.
Need a good hearty meal to give to someone who could use some homemade goodness? This beef and veggie soup fits the bill!
Whether you're making this soup for your own family or to share with others, it's sure to be a hit.
Does this vegetable beef soup freeze well?
Yes!
Make a batch of this vegetable beef soup and freeze some for a quick and easy meal later on. I do this every time I make it. Yay for easy meals in the freezer!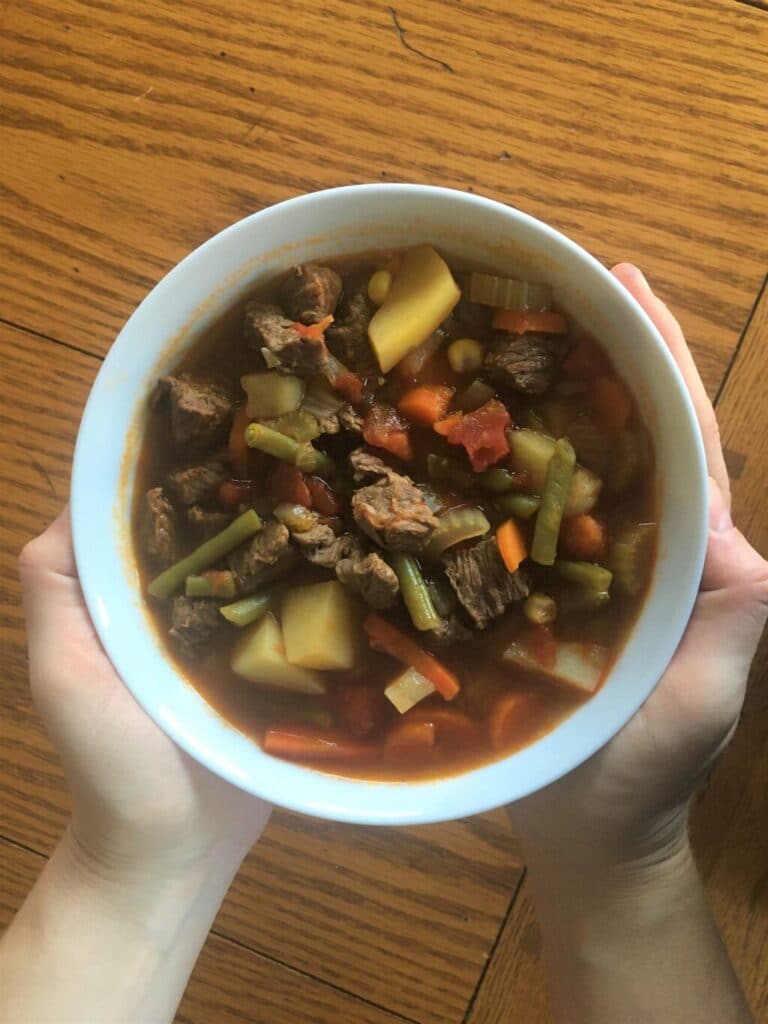 What makes a good side for this soup?
A good crusty bread always makes a perfect side for soup. My family also loves when I make these SUPER easy muffins. (Seriously, they're so simple to throw together!)
A salad also makes a great first course while you're letting your vegetable beef soup cool a bit. 🙂
The exact ingredient amounts that I use for this beef and veggie soup often change a bit depending on what we have on hand, but I finally took the time to write down the basic recipe so that I can share it with you guys.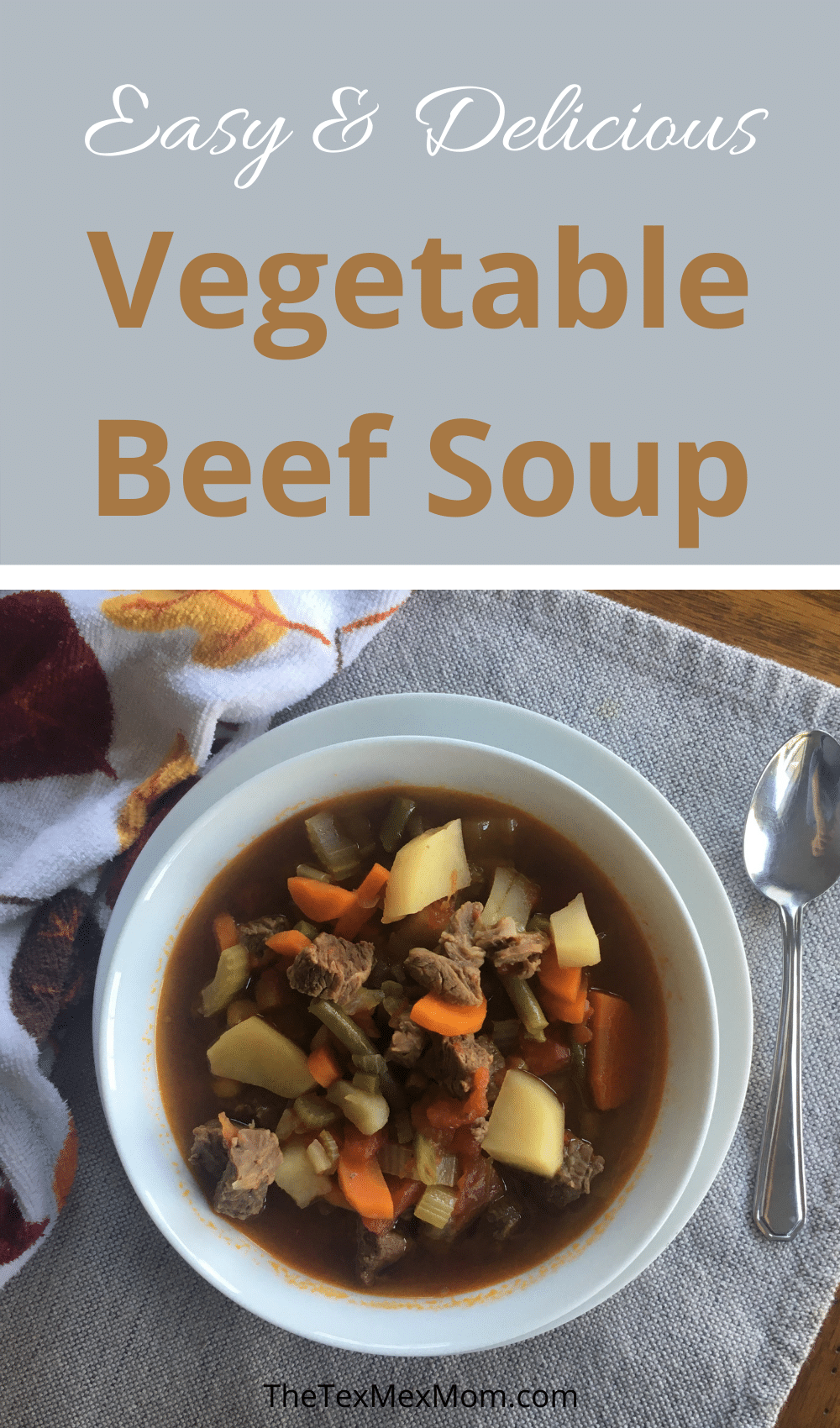 Ingredients
8 cups beef broth
2 lbs. beef stew meat, cubed
1 Tbsp butter
3 carrots, peeled and chopped
3 celery stalks, chopped
1 small onion, diced
3 russet potatoes, peeled and cubed
1 can diced tomatoes
1 can Rotel
1 tsp minced garlic
2 tsp salt
1 1/2 cups frozen corn
1 1/2 cups frozen green beans
Instructions
Pour beef broth into a large pot.
Lightly sear the beef chunks, then add to the pot.
Heat butter in a large pan and saute the carrots, celery, and onion for a few minutes. Add to the pot along with the potatoes, diced tomatoes, Rotel, garlic, and salt.
Bring soup to a boil, then turn down and simmer for several hours. During the last hour add the frozen corn and green beans.
Enjoy with a good crusty bread on the side!
What's your favorite soup to make this time of year? Check out a couple of my other favorite soup recipes below:
Ground Beef Taco Soup (Scroll to the bottom of this post for the recipe!)
Thanks for stopping by the blog today!