Did you know that the habit of meal planning can help you save a lot of money on groceries? Today let's talk about how to meal plan on a tight budget.
I talk a lot here on the blog about saving money and I like to share my frugal meal plans and grocery lists with you guys. Today though I wanted to talk specifically about how you can meal plan on a tight budget.
We all know that cooking at home is cheaper than eating out, but it can still be pricey if you don't make a smart plan.
Maybe money is really tight for you right now or you've just realized the need to cut down on expenses. Or maybe you're freaking out a bit internally at the crazy inflation we've been experiencing lately.
Whatever the reason, it's always a good idea to re-evaluate your grocery spending habits and learn better ways to meal plan on a tight budget. The more you practice meal planning, the better you'll get!
Before you start meal planning, ask yourself what your goal is: do you want an extreme budget meal plan? Are you trying to eat for $25 a week? (Hello beans and rice!) Are you hoping to spend $100 less a month on groceries? Figuring out what your goal is will help you to make a solid plan.
Even with the rising cost of groceries, with some smart meal planning you can do a lot to keep your food expenses down.
So, let's dive in! Here are 15 of my best tips and tricks for how to meal plan on a tight budget!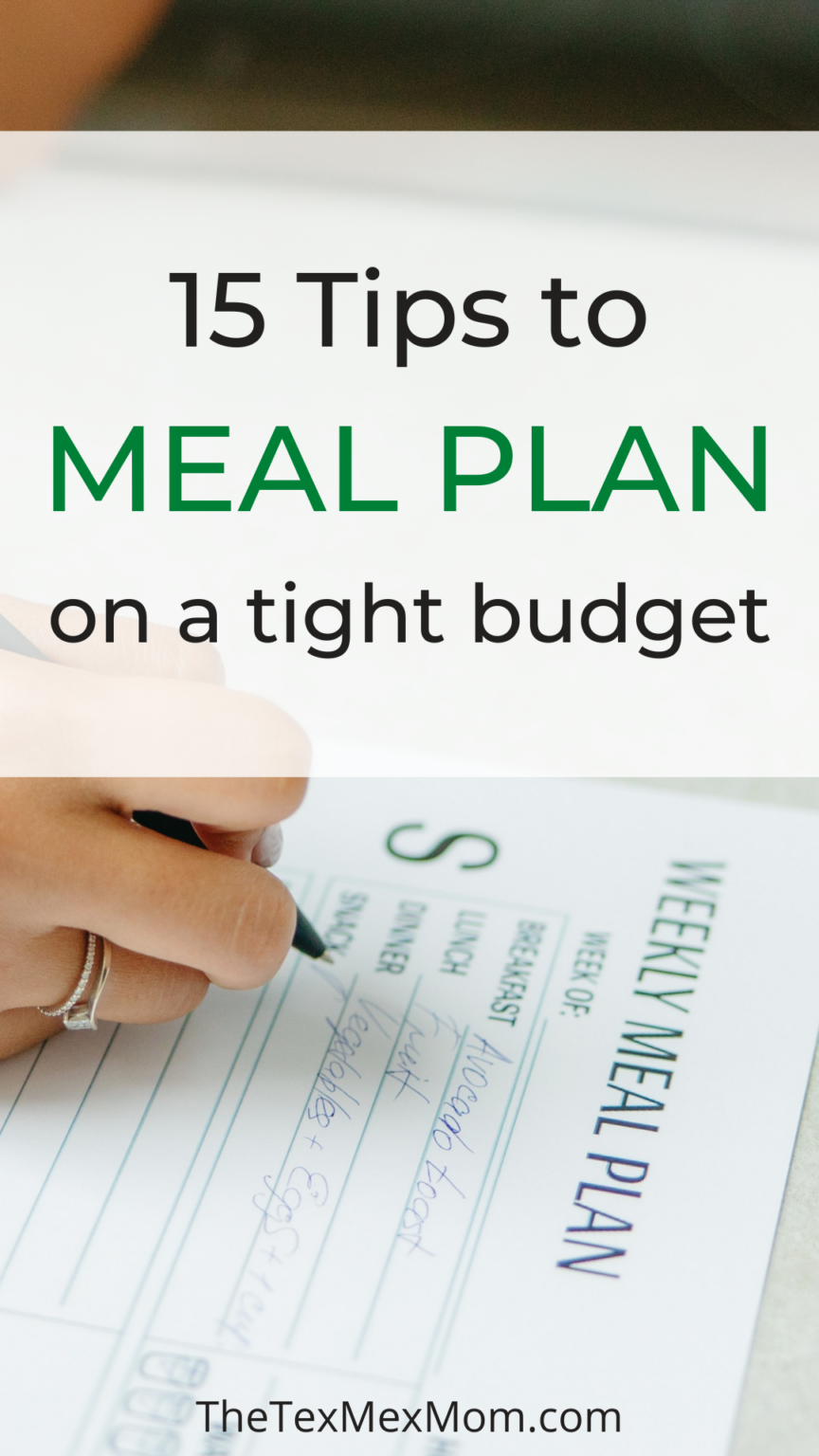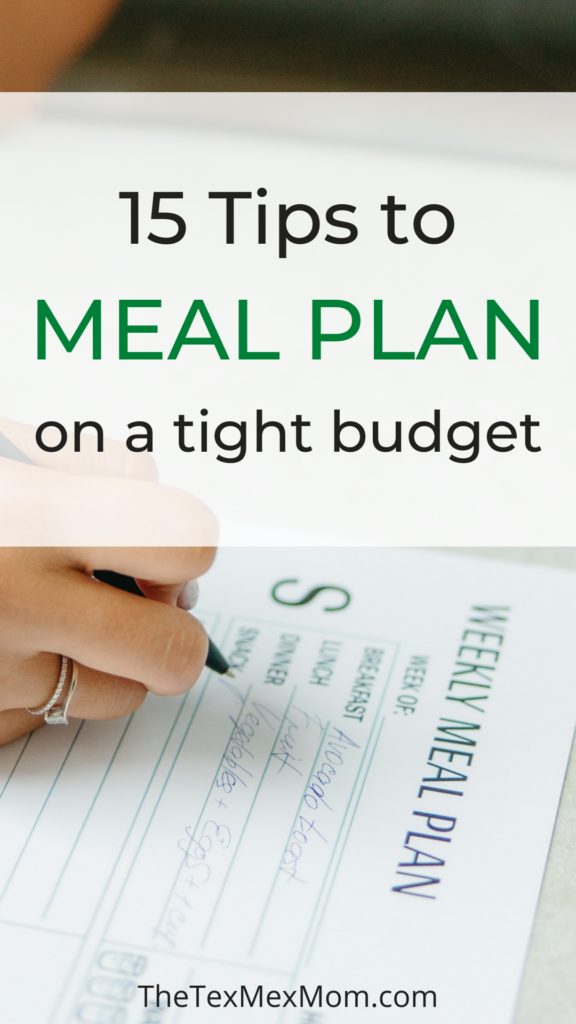 15 Tips For How to Meal Plan On a Tight Budget
1. Start with what you already have
Before you sit down to meal plan, quickly scan your pantry/fridge/freezer to see what you already have on hand. No, you probably won't have everything you need, but start by seeing what you do have and then build your meal plan from there.
It probably goes without saying but if you start from scratch ingredient-wise each week you'll end up spending a lot more at the grocery store.
2. Make a basic plan for everything, not just dinners
When we think about making a meal plan many of us just think about dinners. However, I suggest coming up with a basic plan for everything: breakfast, lunches, snacks, and dinners.
Here's why: while I can somewhat easily come up with 5 dinners for $40, I often blow way too much money on breakfasts, lunches, and – the biggest culprit sometimes with kids – snacks!
I don't think you need to make a detailed meal plan for breakfasts, lunches, and snacks, but having some sort of plan is a good idea. Here's an example:
Breakfast options: egg & ham casserole, cold cereal

Lunch options: dinner leftovers, PB & J, quesadillas

Snack options: apples, granola bars, crackers & peanut butter, carrots & hummus
3. Be willing to be flexible with your meal plan
When you make your meal plan, remember that it doesn't need to be a rigid plan that you can never deviate from. The point of meal planning is to help you save money and serve your family well. Let your meal plan help you, but don't let it stress you out.
I like to plan out my meals for the week without assigning them to a particular day (unless we're having company one day.) This way I can pick what to cook each day depending on how the day has gone and what will work best for my family.
4. Choose just two kinds of meat for the week
When I'm making my meal plan on a tight budget (and honestly even when my budget isn't so tight) I generally try to stick to two kinds of meat for the week.
For example, this week's $75 meal plan uses chicken breasts and ground beef. There is still plenty of variety in the ways that I use those two kinds of meat, but it saves me money by not buying a different type of meat for every meal.
5. Choose some recipes where the meat is more of a condiment instead of the star
Speaking of meat, it's definitely one of the more expensive grocery items. So, when you're thinking about how to meal plan on a tight budget you should consider choosing meals that use meat more as a condiment than the star of the show.
Think of things like stir fry, burrito bowls, baked potatoes topped with bacon, or American-style ground beef tacos where you can add in black beans to stretch the meat. Soups and casseroles can also be great meat-stretching options.
And of course, planning for a meatless meal every so often will help your grocery budget even more.
6. Be willing to keep your meal plan simple
What do I mean? Well, let me present you with this lovely (and all-to-true) meme: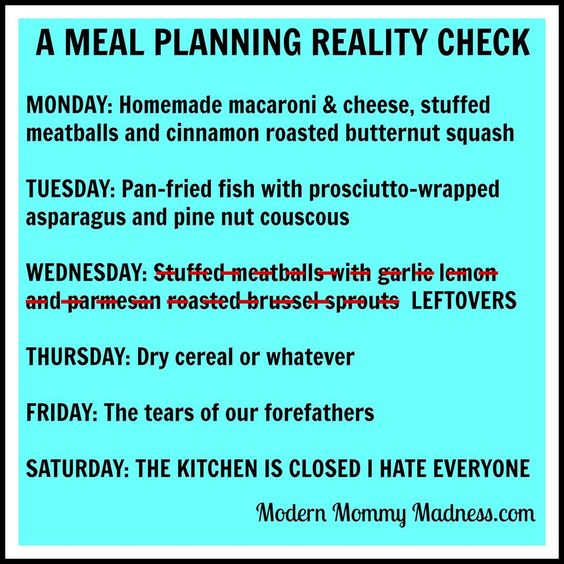 We've all been there right? We make an elaborate meal plan and half-way through the week we throw in the towel. But instead of serving the tears of our forefathers (ha!) we run through a drive-thru somewhere and spend more money than we were planning to spend!
Keeping things simple will help you to actually stick to your meal plan and avoid spending money eating out.
7. Choose less fancy (aka less expensive) foods
Going right along with the idea of keeping things simple, when you're trying to save money on groceries it's generally a good idea to choose less fancy foods for your meal plan. Sure it's nice to be fancy every so often, but if you're on a tight budget you need to learn to embrace simplicity and be okay with choosing cheaper food options.
Here are a few examples:
Fresh asparagus is delicious, but frozen green beans or peas will do just fine and are typically less expensive.

Multiple kinds of berries would be wonderful, but apples and bananas are a cheaper fruit option.

I love a good steak, but unless it's a special occasion we try to stick to cheaper meats like chicken and ground beef.
I could go on but you get the point! For more ideas of the best foods to buy when you're on a strict budget click here.
8. Plan your meals around the sales
When you're making your meal plan, after you've checked what you already have you should also check the sales.
We have a Kroger close to us so I always get on their app to see what their weekly sales are. When their chuck roasts went on sale recently I took advantage of the sale and made a beef and veggie soup and our favorite shredded beef tacos that week.
You may also be interested in: My Favorite Resource to Slash Your Grocery Bill
9. Avoid depending on too many "convenience" foods in your meal plan
Convenience foods are, well, convenient, but they're not always so kind on your wallet.
Snacks are a big convenience food category that comes to mind. So, when you're making your meal plan at the beginning of the week why not choose one or two snacks that you can make at home?
Here are 5 cheap and easy homemade snack ideas that I shared here on the blog recently!
Other examples of convenience foods include cereal, pancake and cookies mixes and pre-made salads. With just a bit more effort you can make things yourself and save that extra money.
10. Plan a "leftovers" night each week
I ALWAYS plan to eat leftovers one night a week. Sometimes I purposely make enough of one recipe to last for two nights. Other times leftover night is more like a "clean out the fridge" night and we have a little of everything.
Leftover night is great because it gives you a break from cooking, saves you from spending more on food, and of course keeps you from wasting food.
11. Bread is cheap and filling when you need something more for a meal
Now I'm not suggesting that you stuff yourself with bread (I don't think any of us need as many servings of grain as those food pyramids in the 90s led us to believe, ha!)
But when you're on a tight grocery budget bread is an inexpensive, budget friendly way to make sure every one gets filled up at dinner. (And my kids always appreciate the option to fill up on bread after eating the required amount of food-they-don't-like, ha!)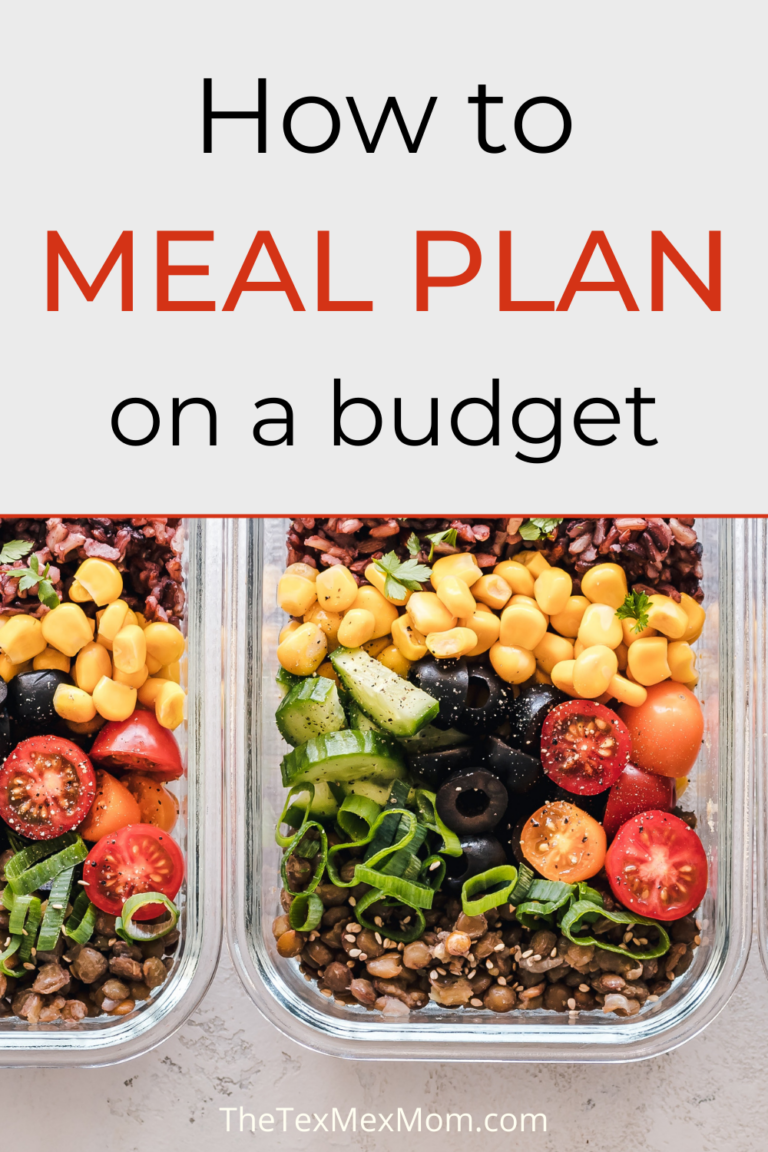 12. Be willing to be creative
Does a recipe call for an ingredient that's a bit pricey or that you know you probably won't use again? Jump on google and see what you can use as a substitute. There's almost always something that will work!
13. Keep in mind what's currently in season
We eat berries much more often in the summer because they're in season and often on sale. In the winter oranges are more likely to go on sale.
Keeping in mind what's in season and planning your meals accordingly will definitely help you to keep your grocery spending in check.
14. Keep track of your favorite frugal recipes
There's nothing more frustrating than sitting down to meal plan and then jumping up five times to try to find the different recipes you need (or just drawing a complete blank when you try to think of meals!)
Whether you have recipe cards, a big recipe binder, boards on Pinterest, or a file on your computer, find some way to keep track of all your favorite frugal recipes. This will make meal planning so much easier for you with everything all in one place!
15. Commit to sticking to your meal plan
Making a meal plan is a great start, but what comes next is just as important: commit to sticking to it.
It's easy to start out strong and then be tempted to veer off the plan by the middle of the week. But, if you've taken the time to make a meal plan that's simple and flexible you should be set up for success.
Do you meal plan on a regular basis? What are some of your best tips for meal planning on a tight budget? Let's chat in the comments!