On practically every episode of Fixer Upper, the people getting a new house invariably say that they want a place that's good for entertaining. Presumably, if they can just choose the perfect home they'll excel as hospitable hosts, entertaining friends and family on a regular basis.
Ahh, regularly entertaining guests. It sounds nice doesn't it? But most people don't do it often, if ever, including (I suspect) some of those well-intentioned new home owners on TV.
While the idea of showing hospitality to others and inviting people into our homes sounds lovely, the reality is that it can be difficult to make it happen for a variety of reasons. Today we're just going to talk about one of those reasons – a tight budget.
Being intentional to show hospitality in our homes can be hard, but even more so when you're on a tight budget. However, I'm here to tell you that it is not only possible, but quite doable. Today I want to give you 10 tips for being hospitable on a budget. But first, let's start with a definition!
The Definition of "Hospitality"
Hospitality is defined by Oxford Languages as "the friendly and generous reception and entertainment of guests, visitors, or strangers."
Showing hospitality is not just something for the hospitality industry to think about (although we can certainly learn from places that do it well!) We should all be practicing hospitality on a regular basis, even on a tight budget.
So, how can we welcome people into our homes in a "friendly" and "generous" way on a budget? Here are a 10 tips!
10 Tips for Being Hospitable on a Budget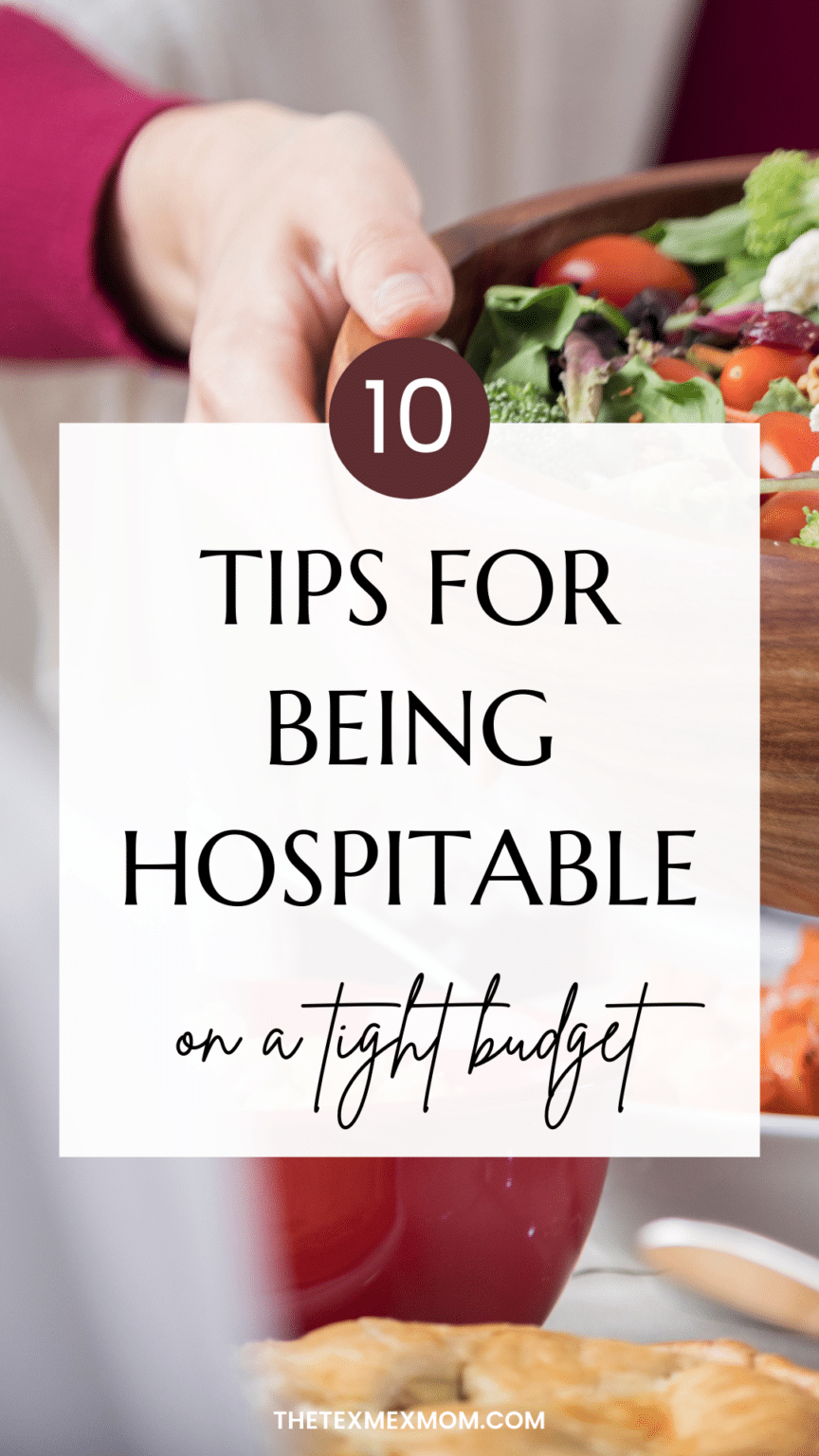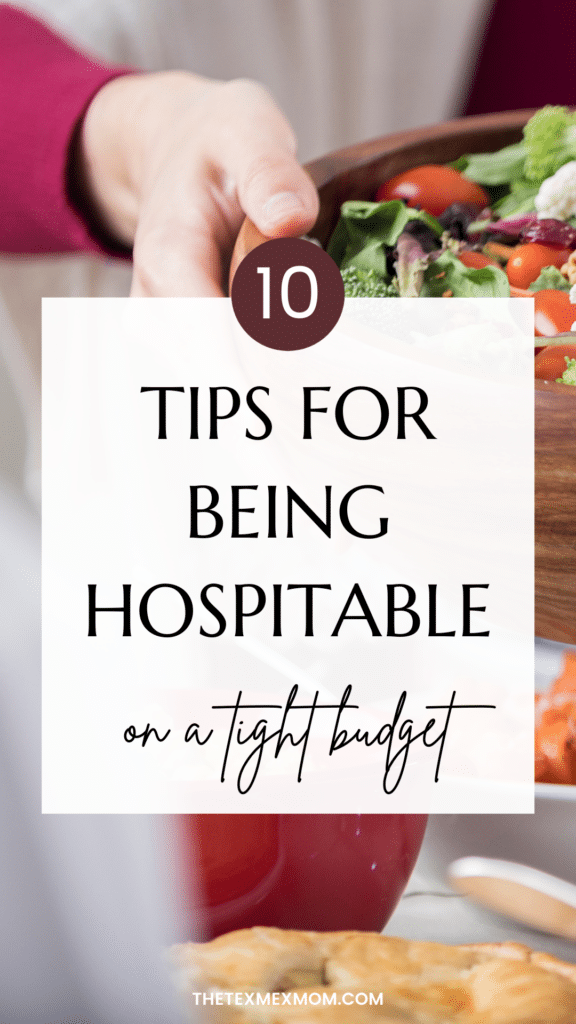 1. Be okay with keeping things simple when you have people over.
Hospitality is about connecting with people, not trying to impress them. It's okay – good even – to keep things simple. You don't need to redecorate the house and plan a huge dinner party with expensive ingredients in order to be hospitable. Just invite someone over.
2. Don't reinvent the wheel every time you invite guests to your home.
Want to know one of my favorite hacks for having guests over for dinner? Choose an easy to-make, budget friendly meal and make that same meal EVERY TIME you invite someone new to your home.
My family's tried and true, budget-friendly meal for guests is chicken fajitas! I marinate the chicken and Pablo grills it. When it's dinner time each guest can put together their own fajitas with whichever toppings they prefer. It works so well!
3. If your guests offer to bring something, say yes!
Don't say no because you feel bad. If they offered it's because they're willing to bring something so take them up on it!
When someone asks if they can bring something I'll often suggest something like bread or fruit or another simple side to compliment the meal.
4. It's okay to just serve water for your beverage.
If you're on a tight budget (and even if you're not) it's absolutely okay to just serve water. I promise. If you must have another beverage choice, choose something inexpensive like sweet tea that you brewed yourself.
You may also be interested in: How to Meal Plan On a Tight Budget
5. Think outside the box.
Want to entertain a crowd for cheap? Be willing to think outside the box. What about dessert only? Or you could serve a baked potato bar or breakfast for dinner (always a hit!) What about just having a group of friends over for snacks and games?
The point is, with a little thinking-outside-the-box you can give your guests a great time even if it's not what you might have imagined at first.
6. Try hosting a potluck.
Having a bunch of people over? Stressed about how to feed a crowd on a budget? Host a potluck!
Most people will be thrilled that you invited them to your home (seriously, it's a rarity these days I think) and will be more than happy to bring a dish along to share.
7. Always keep ingredients for a simple meal on hand for last minute hospitality.
Hospitality isn't just about scheduled dates for hosting guests in your home. There are lots of opportunities to be hospitable to others last minute if we'll just pay attention and be prepared.
If you're on a tight grocery budget you likely won't be able to have loads of extra food sitting around all the time, but it's not difficult to always keep some extra pasta and pasta sauce in the pantry and frozen veggies (and cookie dough!) in the freezer.
8. Don't worry about the size of your home.
You do not need a huge home in order to have people over. Refuse to play the comparison game and just be hospitable with the home you have now. I mean, don't invite 50 people over if your house is tiny, but also don't feel like you need a giant dining room before you extend any invitations.
You can always eat outside if there's more space and the weather's nice, or seat all the kids at the table and let the adults eat in the living room. Be creative with whatever space you have!
9. Set aside a tiny portion of your budget towards hospitality.
Even if it's just five bucks here or there, setting aside a small amount towards hospitality when you do your budget planning will help it to feel like less of a hit to your wallet when you have people over.
10. Find ways to extend your hospitality outside of your home.
Being hospitable isn't just about having people into your home, although that's a wonderful thing to do. There are so many ways that you can show hospitality to others outside of your home, even on a tight budget.
Now that we've talked about some of my favorite tips for hosting on a budget, let's talk about food!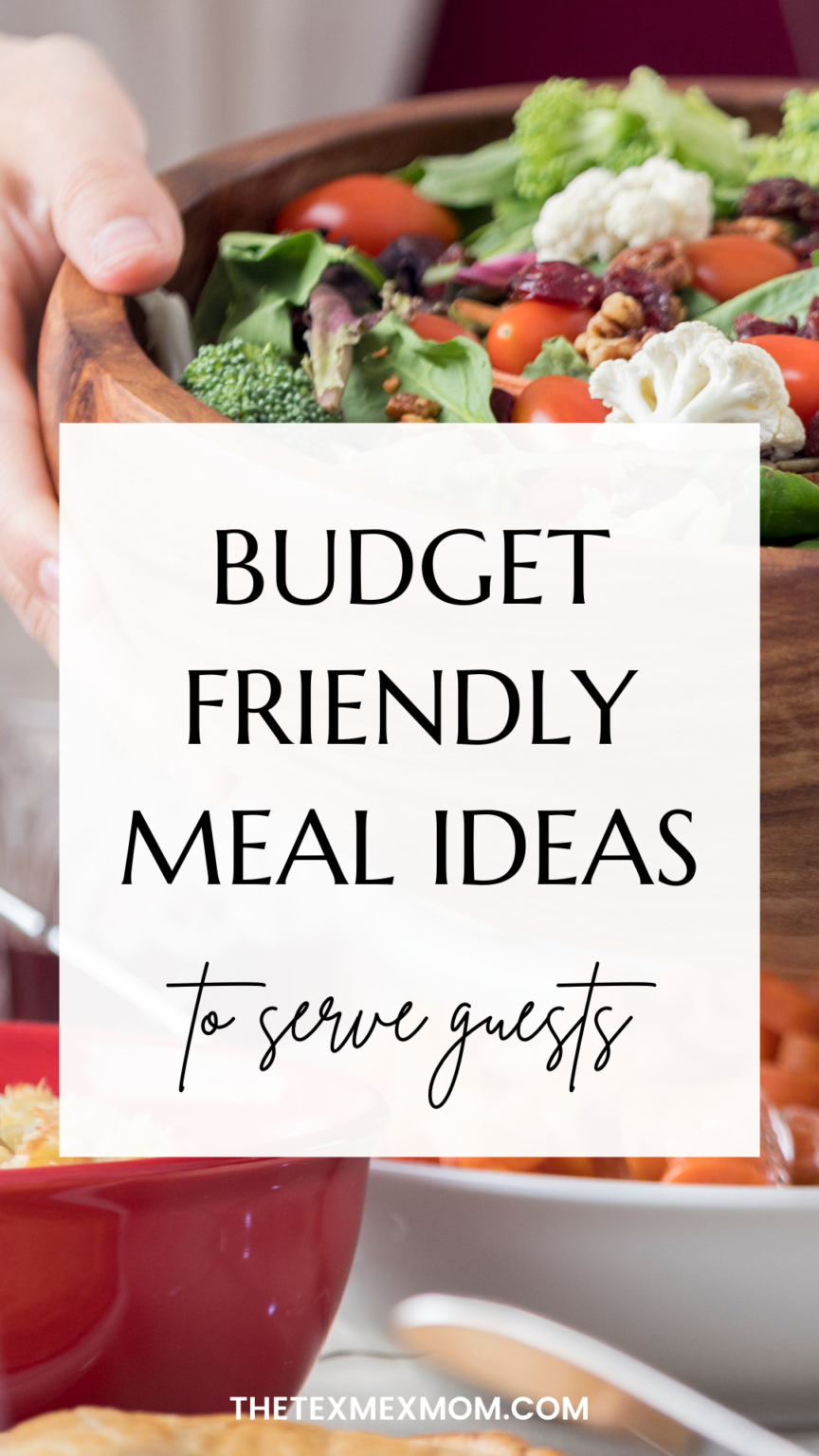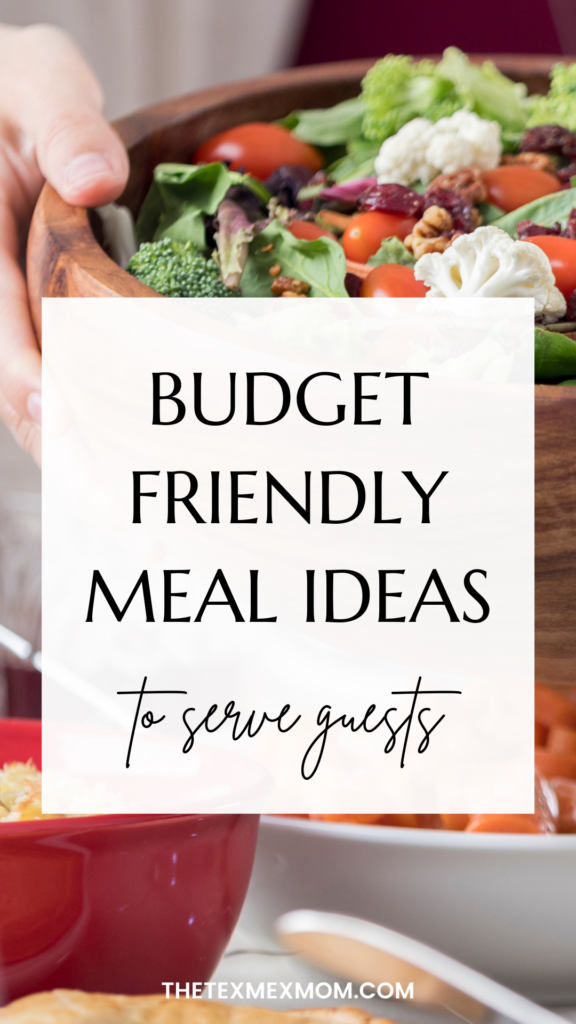 Feeding guests on a budget? Here are a few budget-friendly meal ideas:
Soup or chili with homemade bread.
Homemade pizza – or the huge Costco ones for only ten bucks!
Fajitas or burrito bowls – they stretch the meat much more than just serving grilled chicken.
Chicken drumsticks – with potatoes in the crockpot or BBQ style!
Hotdogs -typically on sale in the summer!
Make-your-own salads – think southwest salad, taco salad, Greek salad, etc. There are lots of great options!
Spaghetti or Baked Ziti with salad and bread. (I can nearly always find yummy breads marked way down at my local Kroger)
BBQ sandwiches – shredded chicken or pork goes a long way when served on buns!
What is one of your favorite budget-friendly meals to serve to guests? Let me know in the comments!
Ultimately, showing hospitality to others isn't about impressing people with our homes or our food, but simply inviting them into our homes and showing love. You can have a great game night with no food at all – we love group games like minute-to-win-it games – or a fun game of would you rather questions.
But, if you are wanting to serve your guests some delicious food I hope that this post was helpful for you. Cheering you on!
Helpful hospitality resources:
The Lifegiving Table by Sally Clarkson
A Life That Says Welcome by Karen Ehman