Planning your next summer vacation or family trip? Learn why and how to budget for your vacation and grab my free budgeting for vacation worksheets to make it easy!
I don't know how it happened but somehow Easter is over and we're already through almost four months of 2022. With the end of school and summer in sight, now is a great time to start planning ahead and budgeting for any vacation or traveling that you may be planning this summer.
I've put together some PDF printables – some vacation budget planner worksheets and a vacation savings tracker – to help you as you budget and save towards your vacation.
In this blog post I will go through why budgeting for vacation is important and how to do it. Then,  you can grab your free vacation budget planner worksheets and vacation saving tracker down at the bottom of this post!
Why You Should Use a Vacation Budget Worksheet
Whether it's some grand 3-week trip to Europe, a summer vacation at the beach, a road trip with the family, or just a weekend getaway, thinking through your finances ahead of time and budgeting for your time away is always a good idea.
Filling out your vacation budget worksheet and having a solid plan in place will help you in several ways:
Helps you to start saving ahead so you're not stressed and scrambling for a lot of money last minute.
Keeps you from decimating your savings account on your vacation (and/or maxing out your credit card!)
Sets expectations so that you and your spouse don't have disagreements about money on your family vacation because you've already agreed on what you're planning to spend.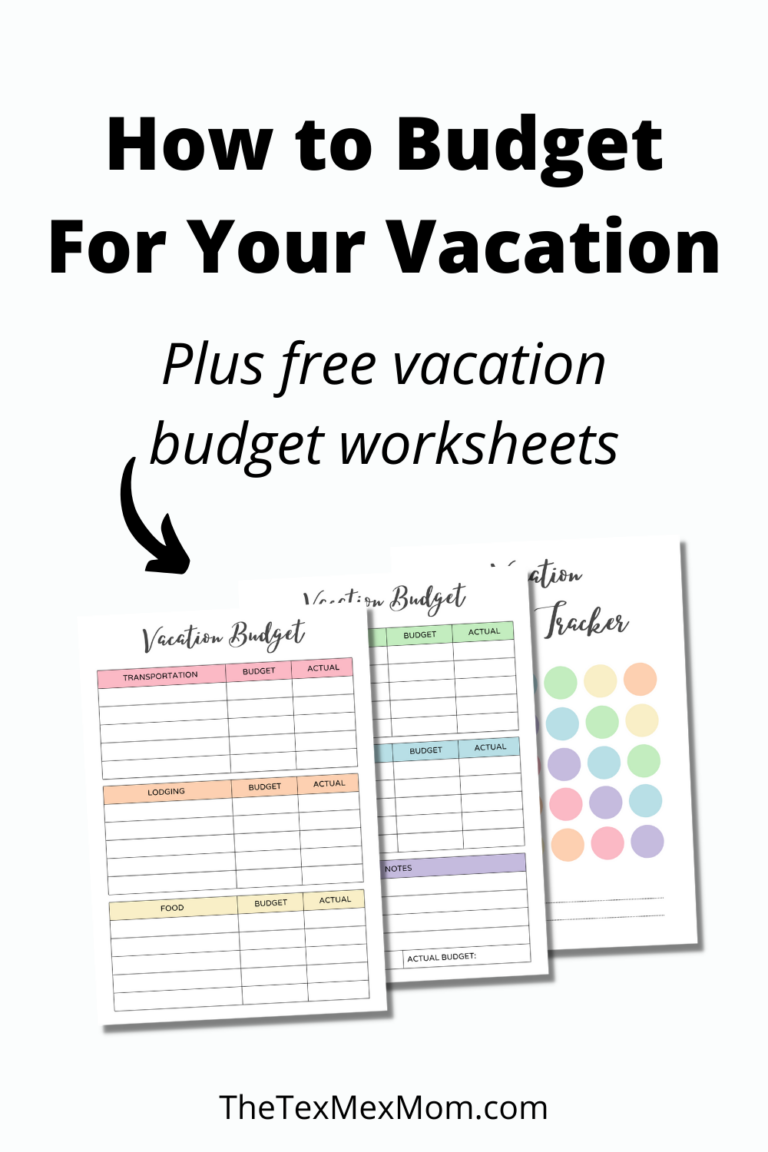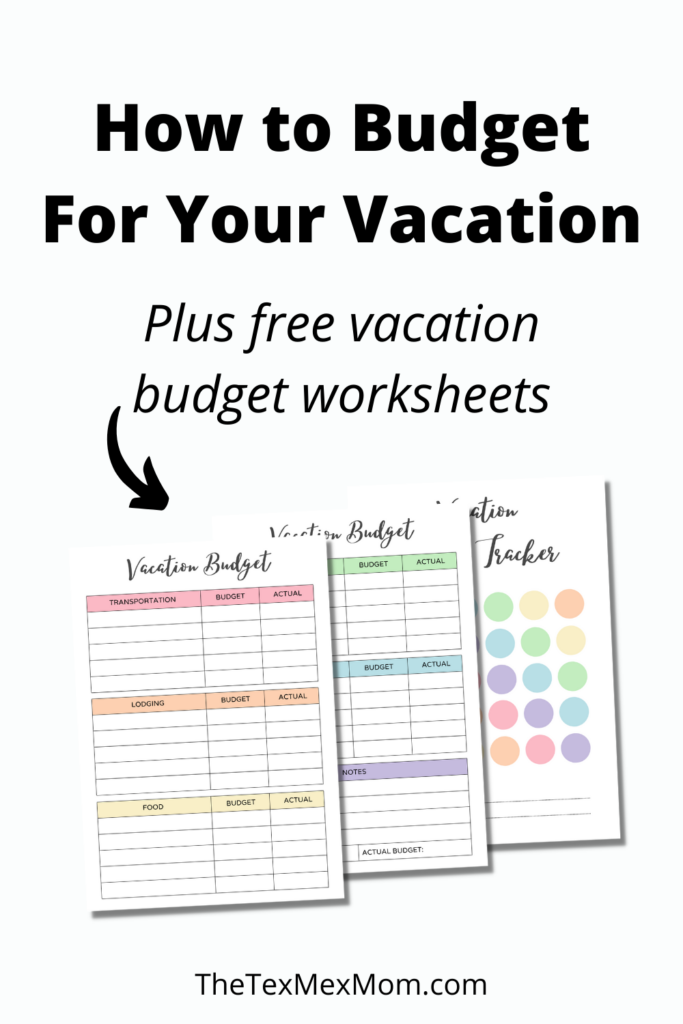 How to Use a Budget Planner Worksheet to Plan Ahead for Your Vacation
I've included five different categories on my travel budget planner. Let's take a look at each category and talk through the different things you'll want to keep in mind as you plan.
I would suggest starting out by figuring out your maximum budget for your trip and then organizing the various vacation expenses into each of the five categories.
1. Transportation
Transportation is a big category and there are lots of different scenarios to think through as you budget for your travel costs.
Are you driving? You'll want to consider fuel expenses and possibly even the cost of getting your car checked by the mechanic first if you're taking a long road trip. If you're using a rental car instead of driving your own that's obviously another expense to stick in your budget.
Flying? Make sure to include not only the price of your airline tickets but the total airfare that includes your luggage, carry-ons, and any extra fees that the airline is throwing in. (Keep in mind that the cheapest flight at first glance isn't always the cheapest once you read the fine print.)
You may also have additional things to budget for like travel insurance, train tickets or other public transportation, etc.
You may also be interested in: My Tips for a Successful Family Trip With Little Kids
2. Lodging
Where are you planning to stay on vacation? Unless you have your own vacation home or are staying with family, you'll most likely have to budget for your lodging.
If you'll be staying at several different places you'll obviously want to think through the number of days and number of nights you'll be staying in each place and budget accordingly.
3. Food
Budgeting for travel expenses and accommodations is a no brainer, but another category that's just as important is food. You can blow your whole budget if you forget to budget well for your vacation food!
A few things to keep in mind as you budget for food:
Is the cost of food different where you're going? (Grocery expenses can vary a good bit from place to place.)
How many family members/friends will you be feeding? (And if you're vacationing with a lot of people, how will you be dividing up the food expenses?)
Does your hotel include free breakfast? (This can be a great deal and a great way to save money!)
Are there particular restaurants you plan to visit? What is the total dinner cost per person at those restaurants? Even ballpark figures are better than nothing.
Some of these questions may seem like overkill to you, but thinking through all the little details and including them on your vacation budget worksheets will help you to budget accurately.
4. Activities
Unless you're vacationing at the beach and plan to just chill there all day, you likely have some leisure activities that you should budget for.
Will you be visiting any theme parks? Museums? Local attractions? Make sure to budget for admission fees as well as any parking fees. You can usually find all the information you need on each attraction's website, or better yet use a travel agent to help with all that (often at no extra cost to you!)
5. Miscellaneous
It's always good to have a miscellaneous category in your budget so that you have enough money for those things that don't necessarily fit into the other categories as well as any incidental expenses you may incur.
You may want to include extra money in this category for things like a small souvenir budget, vacation/travel-specific clothing, gifts, or even extra fees that you didn't expect.
Ultimately, once you leave for vacation you'll probably find a few things that you forgot to plan for. However, the more you prepare, the less likely you are overspend and feel stressed and the more likely you are to be able to focus on the important things that you want to focus on – relaxing and enjoying quality time with your family.
Free Vacation Budget Worksheet and Savings Tracker
I hope that using these free printable travel budget worksheets will help you as you plan and prepare for your next vacation!
Have you ever used budgeting worksheets for a trip or vacation? Did it help? Let me know in the comments!