I'm back this week with an $80 grocery list and meal plan for one week for a family of 4-6. Check out my menu and see if you could make this work for your family!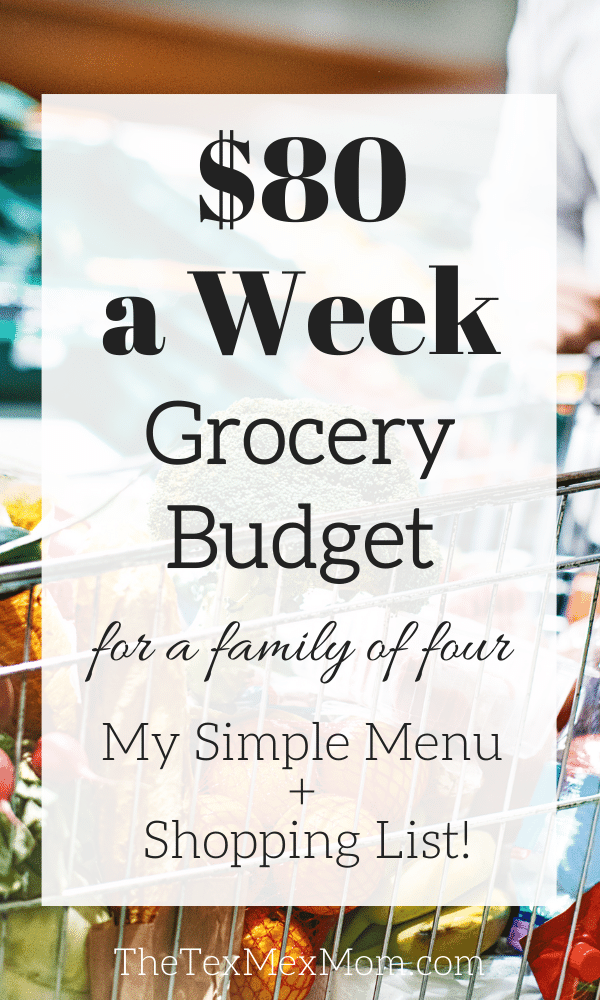 While I enjoy writing on a variety of topics related to frugal living and motherhood, my budget meal plan posts are the ones that I consistently receive the most positive feedback on. So, today I'm back with another weekly meal plan and grocery list!
This $80 grocery list has everything you need to feed your family of 4-6 for a week.
Before we jump in to the meal plan and $80 grocery list, here are a couple things to keep in mind!
A Few Quick Notes About This $80 Meal Plan
As with all of the grocery lists that I share, I've tried to include pretty much everything that you'll need to buy with the exception of some basic pantry staples (for example: baking goods, basic condiments, etc.)
For this particular grocery list/meal plan I priced everything at my local Walmart just to keep things simple. However, I am regularly able to get certain foods for cheaper (the meat for instance) by watching for markdowns or shopping sales at my local grocery store.
As you are probably well aware, prices have been rising on everything recently, so while I try to include the most recent grocery prices for my area some are jumping overnight and may not be exactly the same by the time you read this post. However, this is a very frugal meal plan and it should help you to lower your grocery bill regardless.
Finally, as I've mentioned in past posts, to simplify my meal planning I mainly plan for dinners and just have a loose plan for breakfasts, lunches, and snacks. 
With all that being said, here's the menu for this particular week of frugal meals for $80 for a family of 4-6!
$80 One Week Meal Plan for a Family of 4-6
Breakfasts: oatmeal, boxed cereal, eggs, bananas
Lunches: leftovers, PB & J
Snacks: apples and peanut butter, carrots, (simple homemade granola bars are another option if you have honey on hand!)
Dinners:
Chicken Enchiladas, Salad
Spaghetti with Meat Sauce, Green Beans
Taco Salad
Leftovers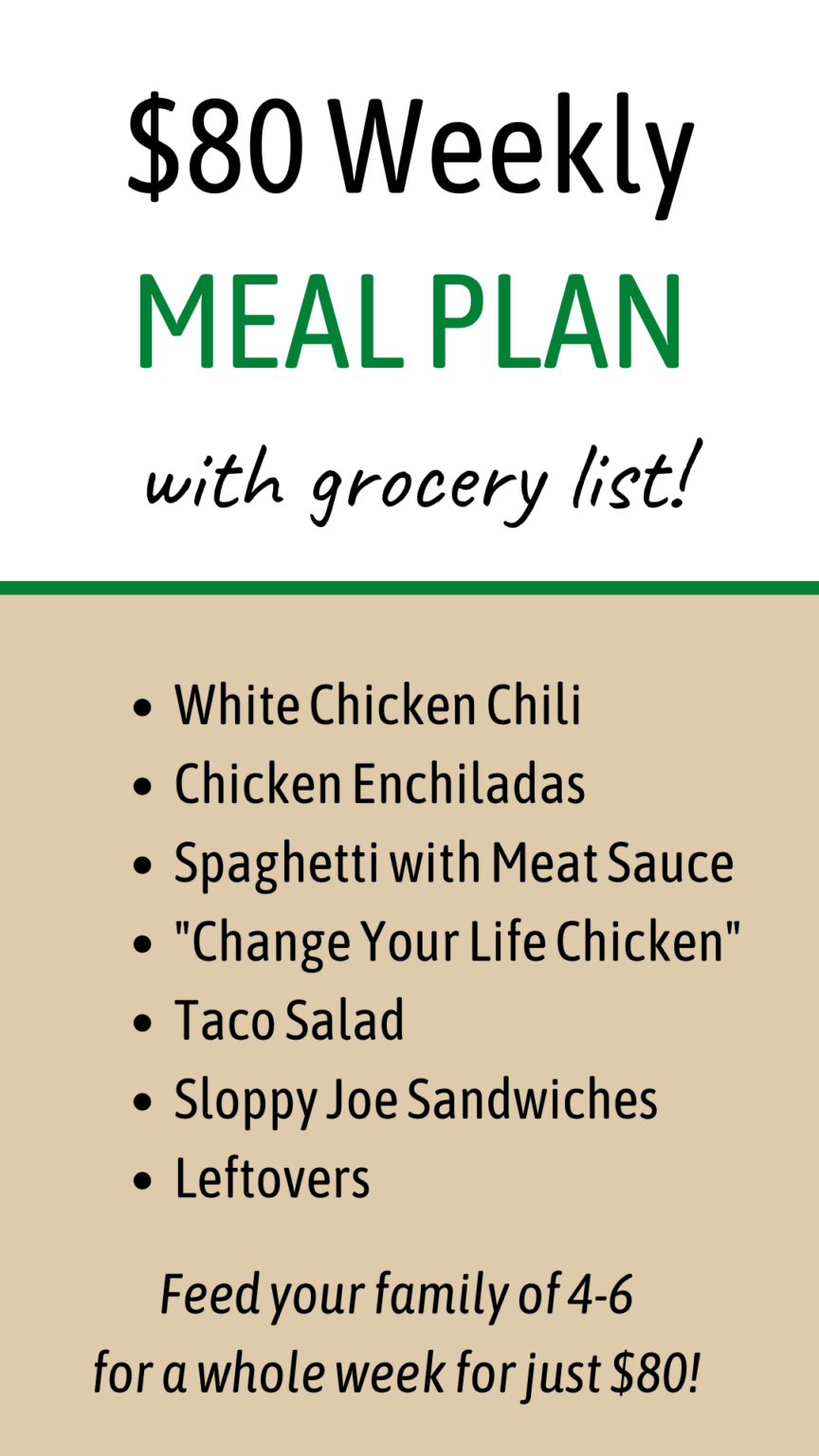 You may also be interested in: The 35 Best Groceries to Buy When You're Broke
$80 Grocery List
Milk (1 gallon) – $3.70
Eggs (1 dozen) – $1.96
Half & Half – $1.28
Cream Cheese – $1.48
Sour Cream (16 oz.) – $1.96
Shredded Cheese (16 oz.) – $2.77 $3.98
Bananas – $1.00
Apples (3 lb. bag) – $3.88
Sweet Potato (1) – $0.78
Russet Potatoes (5 lbs.) – $2.27
Tomatoes – $1.16
Fresh Green Beans – $2.78
Frozen Green Beans – $1.34
Carrots – $0.98
Green Leaf Lettuce – $1.74
Garlic (1 bulb) – $1.00
Onion (1) – $1.00
Ground Beef (3 lbs.) – $11.64
Whole Chicken (approx. 5.5 lb.) – $6.77
Chicken Thighs w/ Skin (approx. 5 lb.) – $7.27
Loaf of Bread – $1.48
Hamburger Buns – $0.93
Tortillas (10 count) – $1.48
Oats (42 oz.) – $2.58
Box of Cereal – $1.84
Peanut Butter – $1.72
Grape Jelly – $1.97
Ranch Dressing Mix – $0.50
Taco Seasoning – $0.38
Great Northern Beans (2 cans) – $1.44
Corn (1 can) – $0.50
Green Chiles (3 cans) – $2.28
Pasta Sauce (2 jars) – $1.76
Spaghetti – $0.92
Tortilla Chips – $1.74
TOTAL = $79.35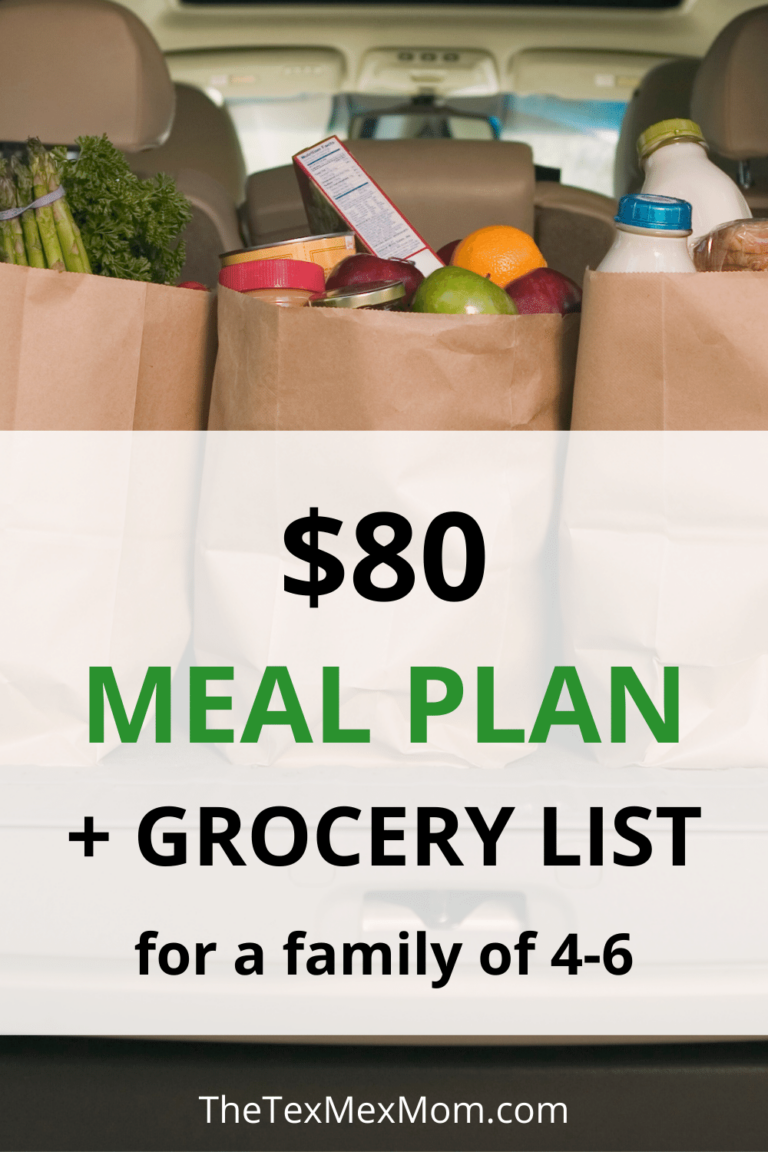 Over the years I've shared multiple low budget meal plans here on the blog. If you're looking for some inspiration and ideas, check out some of the articles below:
Note: Grocery prices are constantly changing, so some of the prices in the articles below have already changed. However, all of these meal plans are very frugal, even with rising prices.