Is inflation killing your grocery budget? You can still feed your family frugally! Try this grocery list and meal plan for 4 to 6 & spend under $65!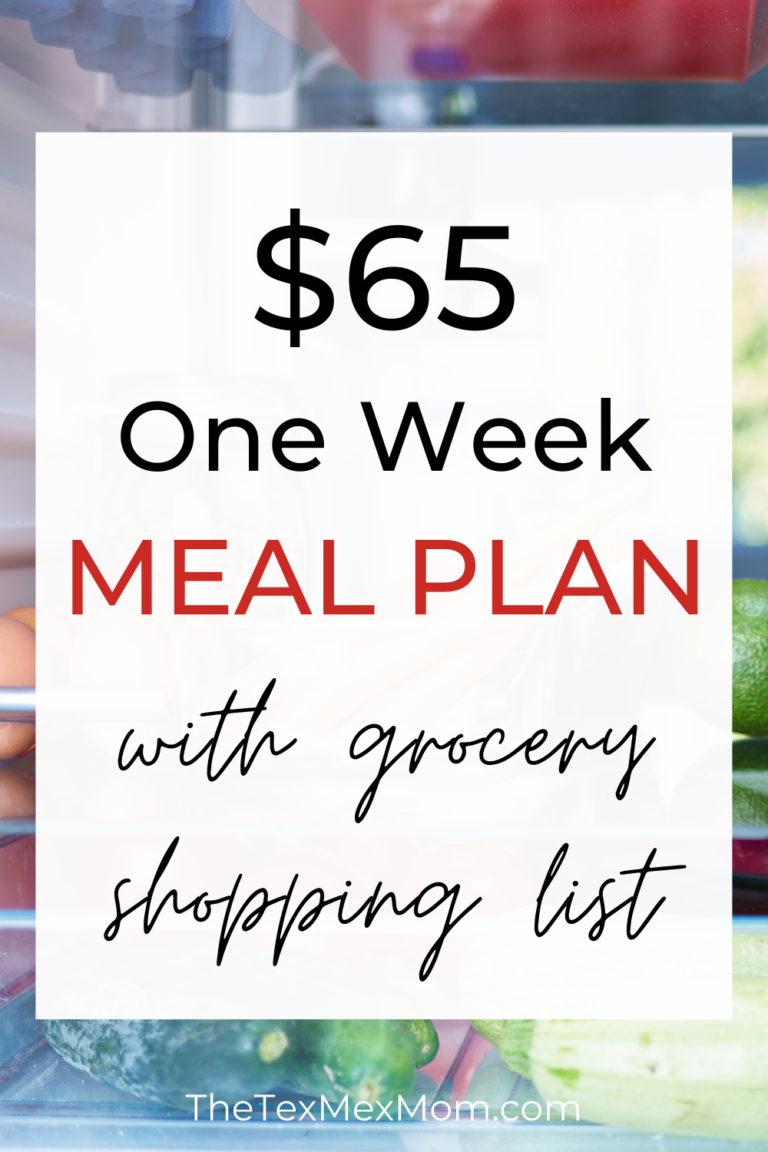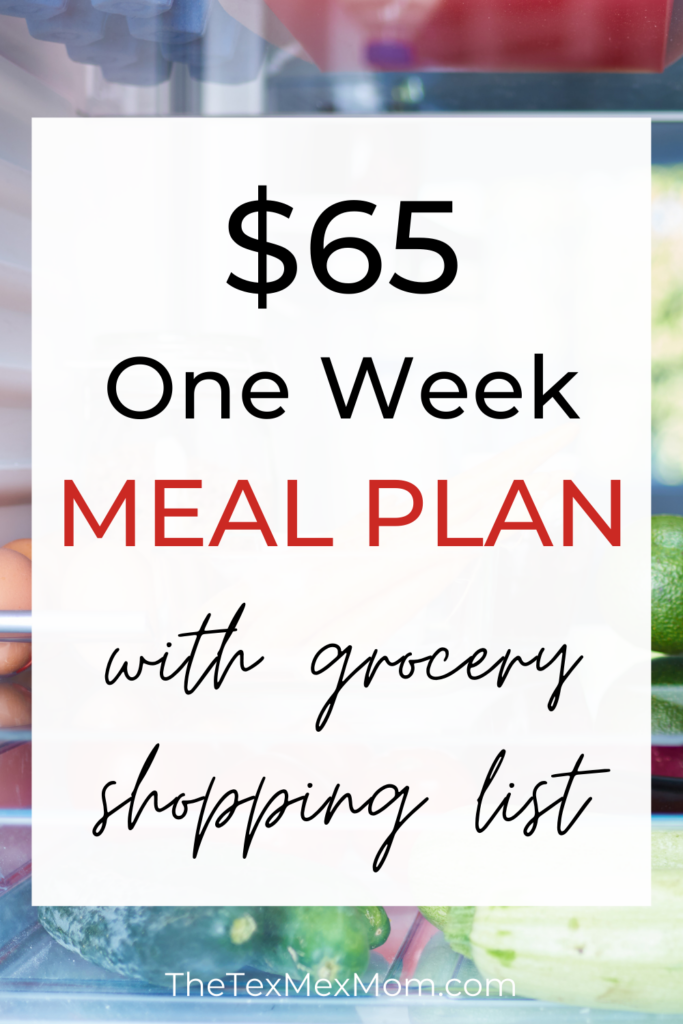 Hey friends! I'm back today with another grocery list and meal plan.
Now more than ever a lot of us are recognizing the need to keep an eye on our grocery spending as inflation changes the food prices on what seems like a weekly basis. However I'm convinced that with a little planning we can still feed our families without wrecking the budget!
One Resource For Saving Money On Groceries:
Before we get into this week's $65 meal plan and grocery list I wanted to mention this ebook from Crystal Paine at MoneySavingMom.com. It's called Slash Your Grocery Bill and it shares 25 simple and effective ways to cut your grocery bill.
I found it very helpful and full of good tips beyond just the basic stuff. I'm an affiliate for Crystal's products because they are always well done and worth what she charges (which I can't truthfully say for a lot of ebooks and courses out there!)
If you're interested you can check it out here!
And now on to the meal plan!
This week's meal plan is full of budget friendly comfort food – perfect for this time of year. The ingredients cost just under $65 at my local Walmart here in Texas.
Check out some of my previous grocery posts here: $50 Meal Plan // $60 Meal Plan // $75 Meal Plan // $120 2-Week Meal Plan // $100 2-Week Meal Plan
A Few Notes About This $65 Grocery List and Meal Plan:
As with all of the grocery lists that I share, I've tried to include pretty much everything that you'll need to buy with the exception of some basic pantry staples (for example: flour, yeast, spices, basic condiments, etc.)
For this particular grocery list/meal plan I priced everything at my local Walmart just to keep things simple. However, I am regularly able to get certain foods for cheaper (the meat for instance) by watching for markdowns or shopping sales at my local Kroger.
Finally, as I've mentioned in past posts, to simplify my meal planning I mainly plan for dinners and just keep some basic items on hand for breakfasts, lunches, and snacks.
With all that being said, here's the menu for this particular week of frugal meals for $65 for a family of four to six!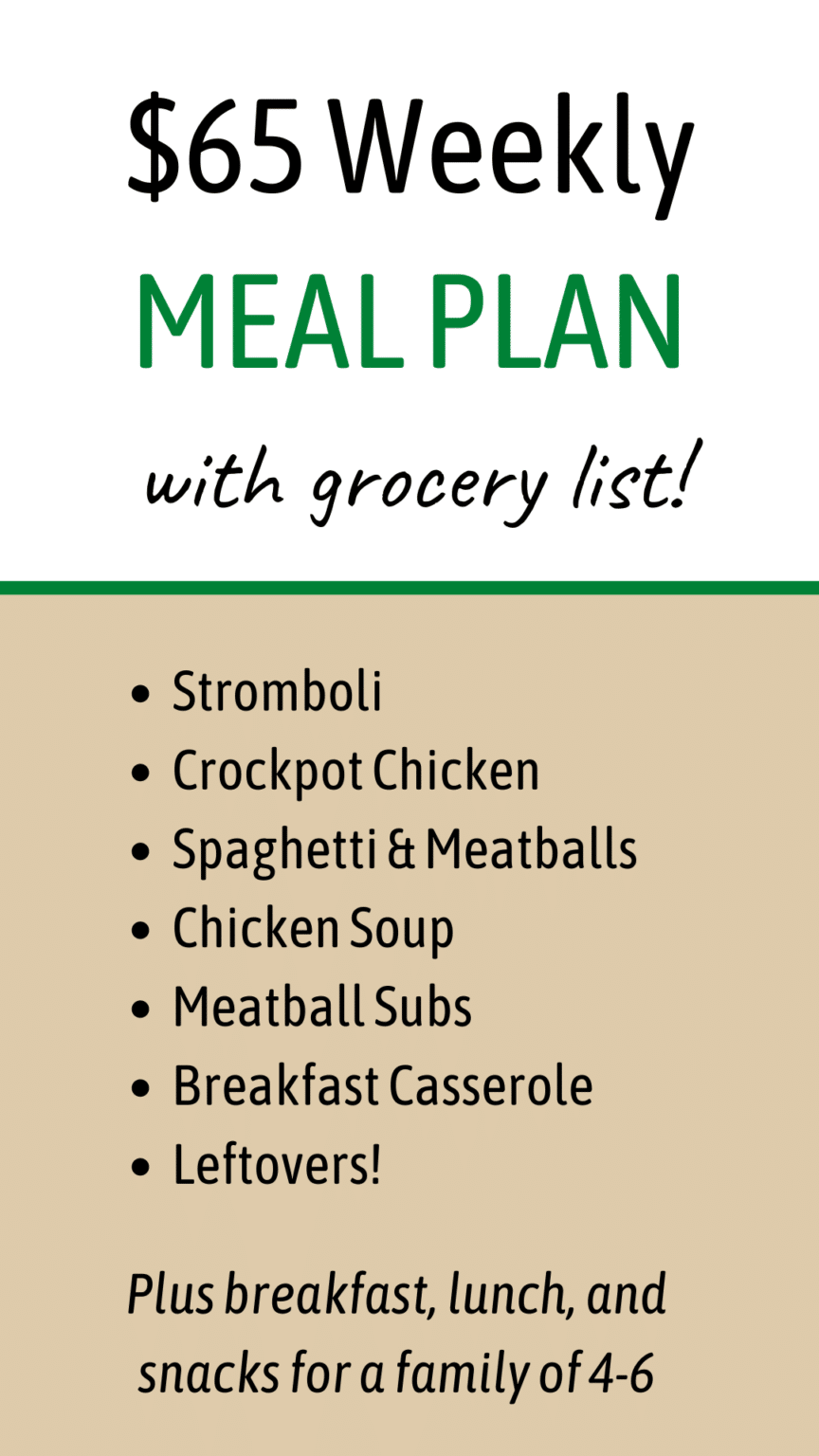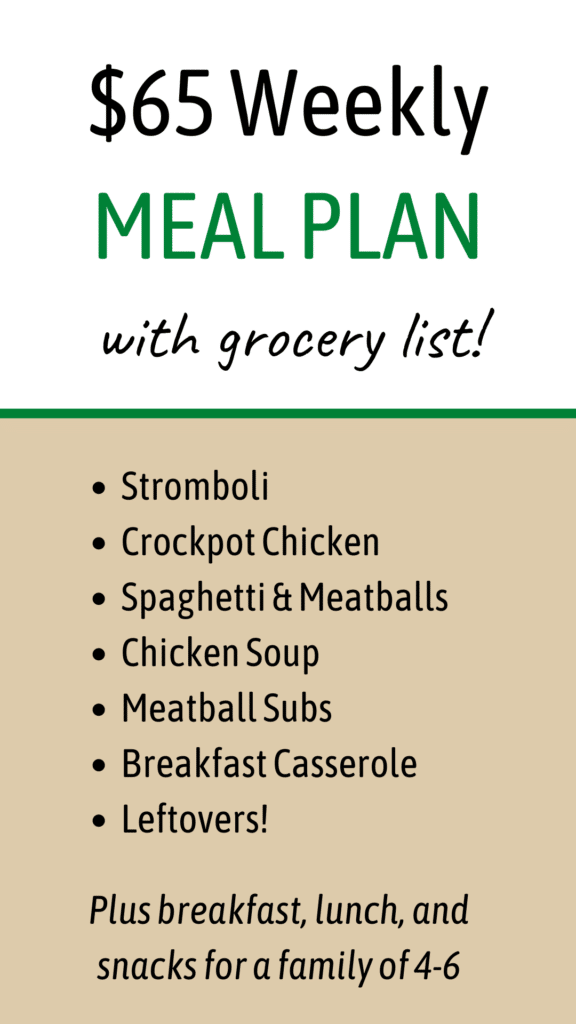 This Week's Meal Plan For 4-6 People For $65
Breakfasts:
Eggs, oatmeal, cereal, fruit
Lunches:
Leftovers, PB&J, quesadillas, salad
Snacks:
Apples, pretzels, celery and peanut butter
Dinners:
Stromboli, Tossed Salad
Spaghetti and Homemade Meatballs, Tossed Salad
Simple Chicken Soup*, French Bread
Meatball Subs, Chips, Veggies
Leftovers
* Rotisserie Chicken is great too. Save the chicken carcass and leftover chicken to make the soup later in the week!
**For the simple chicken soup I make a basic broth out of the leftover chicken carcass, then add some leftover shredded chicken and chopped carrots, celery, and onion, plus some salt and maybe a few other seasonings. No recipe required!
Grocery List For 4-6 People For $65
Produce
Bell pepper – $0.58
Yellow onion – $0.70
Celery – $1.00
Tomatoes – $1.48
Green beans – $1.28
Whole carrots – $0.82
Romaine lettuce hearts – $2.96
Russet potatoes – $2.26
Apples (3 lbs.) – $3.88
Bananas – $1.80
Meat
Ground beef (2 lbs.) – $6.40
Whole chicken (approx. 5.5 lbs.) – $5.68
Pepperoni (2 – 6 oz. bags) – $4.48
Dairy/Refrigerated Section
Milk (2 gal.) – $5.72
Shredded Cheddar cheese (1 lb.) – $2.77
Shredded Mozzarella cheese (1 lb.) – $2.77
Eggs (18 count) – $2.00
"Center of the store"
Hotdog buns (for the meatball subs) – $0.88
Tortillas – $1.88
Oats (42 oz.) – $2.33
Cereal (2 store-brand boxes) – $2.66
Peanut butter – $1.72
Jelly – $1.88
Pasta sauce (store brand, 2 jars) – $1.76
Spaghetti (16 oz.) – $0.82
Bread – $1.48
Chips (store brand) – $1.44
Pretzels – $0.93
Total = $64.34
What do you do to keep your grocery costs down? Would this $65 grocery list and meal plan work for you? Let me know in the comments!