On a tight grocery budget? Feed your family for less with this $75 weekly grocery budget meal plan for a family of 4-6 people. A grocery list is included!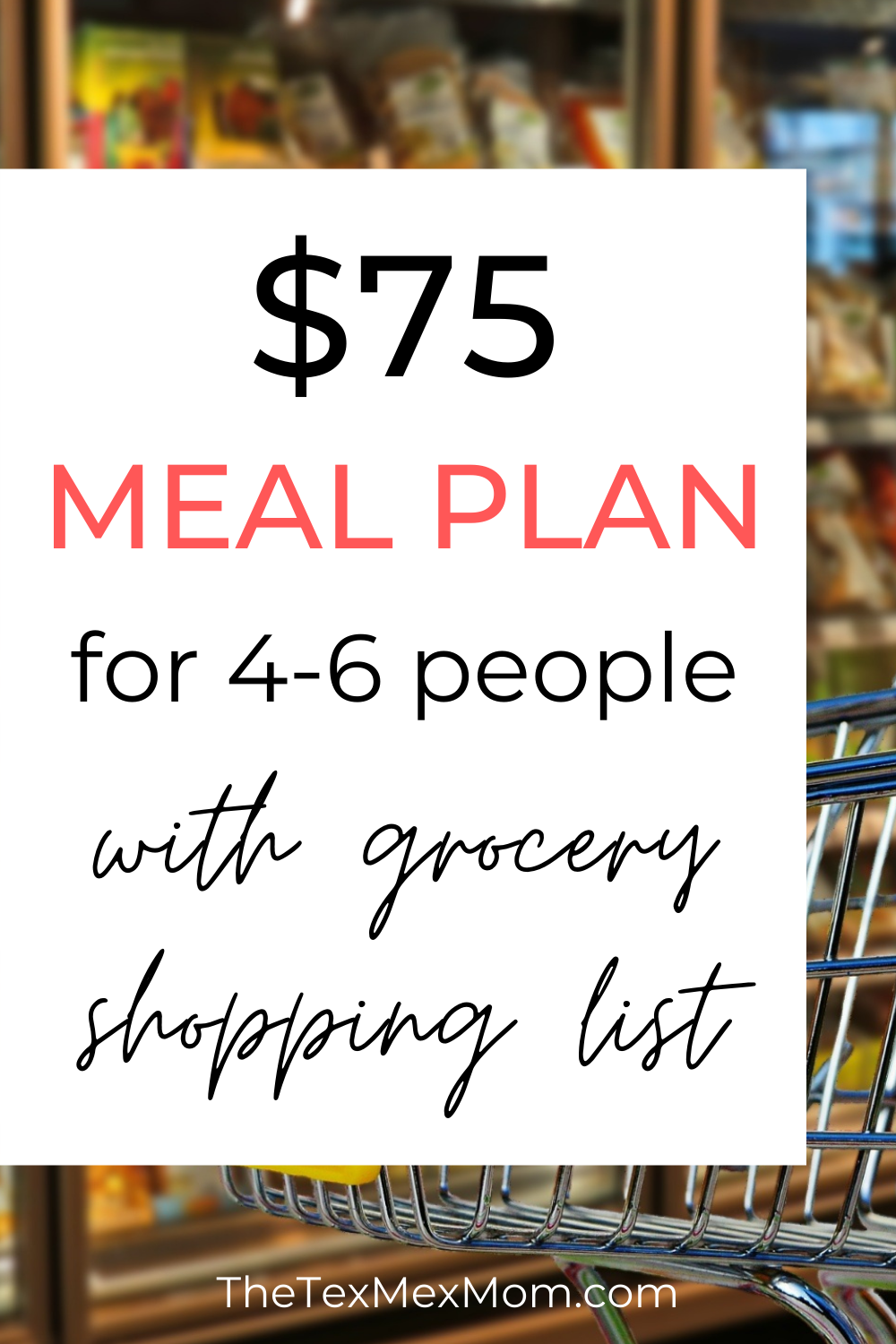 Hi friends!
Do you regularly meal plan? Did you know that by simply planning out your meals before you go grocery shopping you can pretty much ensure that you'll spend less at the grocery store?
Grocery shopping with a meal plan in mind is always better than grocery shopping without a plan.
No time to make a meal plan and a grocery list this week? Don't worry, I've got you!
Today I have a new meal plan and grocery shopping list to share with you! With the current prices in my area you can purchase everything you need for this week of breakfasts, lunches, snacks, and dinners on a $75 weekly grocery budget (and possibly for less depending on what you already have on hand.)
I've definitely noticed grocery prices rising due to inflation, but with some careful planning you can still live frugally and save money on groceries.
I hope this post will be helpful, whether you follow it to a T or just use it for some new ideas.
Want to make your own meal plan? See my best tips for meal planning on a tight budget here.
A Recommended Resource
Before we get into this week's $75 meal plan and grocery list I wanted to mention this ebook from Crystal Paine at MoneySavingMom.com. It's called Slash Your Grocery Bill and it shares 25 simple and effective ways to cut your grocery bill.
I found it very helpful and full of good tips beyond just the basic stuff. I'm an affiliate for Crystal's products because they are always well done and worth what she charges (which I can't truthfully say for a lot of ebooks and courses out there!)
If you're interested you can check it out here!
And now onto this week's meal plan!
A Couple of Notes About This $75 Weekly Grocery Budget Meal Plan:
As with all of the grocery lists that I share, I've tried to include pretty much everything that you'll need to buy with the exception of really basic things (for example flour, spices, basic condiments, etc.)
For this particular $75 weekly grocery budget meal plan I priced everything at my local Walmart just to keep things simple. However, I am regularly able to get certain foods for cheaper (the meat for instance) by watching for markdowns or shopping sales at my local Kroger.
I use Walmart's grocery pickup almost every week. Want to try it? Get $15 off your first order here!
Finally, as I've mentioned in past posts, to simplify my meal planning I mainly plan for dinners and just keep some basic items on hand for breakfasts, lunches, and snacks.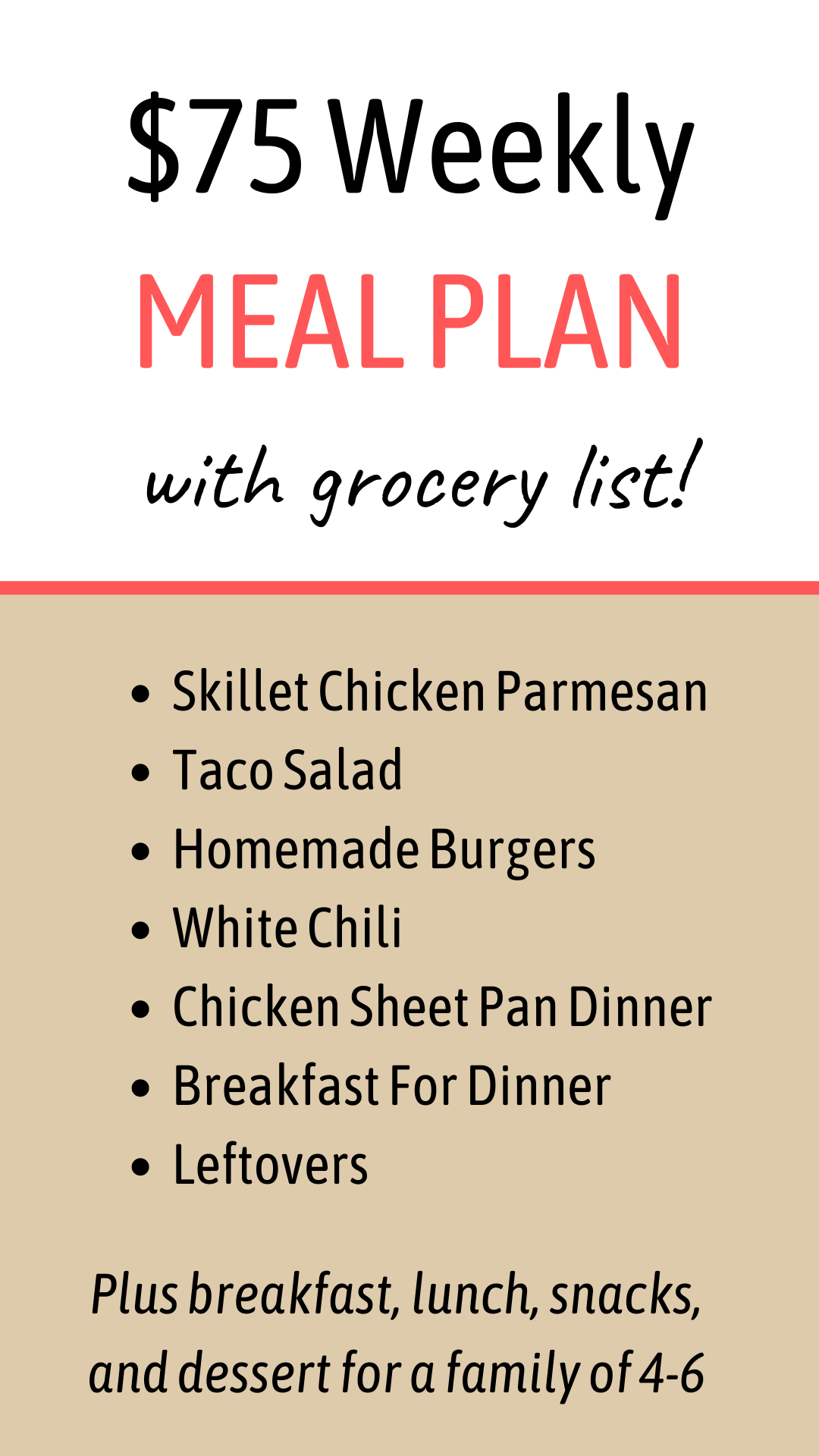 My Simple Meal Plan for a $75 Weekly Grocery Budget
Breakfast:
Cereal, eggs, muffins, oatmeal (regular or baked)
Lunch:
Salad (topped with leftover chicken, hard boiled eggs, etc.) quesadillas, leftover soup, PB&J
Snacks:
Apples and peanut butter, carrots, pretzels
(I also love making these energy bites if I happen to have all the ingredients on hand. I did not include the ingredients in this particular shopping list.)
Dessert:
Dinners:
Taco Salad (Lettuce, tortilla chips, 1 lb. taco meat, cheese, tomatoes, and sour cream)
Homemade Burgers, roasted potatoes, raw carrots
Breakfast For Dinner (scrambled eggs, hashed browns, muffins, fruit)
Leftovers
*To save money, for the Chicken Parmesan I use grated parmesan instead of fresh, and use just mozzarella cheese instead of also buying provolone.
My $75 Grocery List
Produce
Green beans (1 lb.) – $1.68
Garlic – $0.44
Romaine lettuce (3 hearts) – $2.88
Red potatoes (5 lbs.) – $3.97
Baby carrots – $0.98
Apples (3 lb. bag) – $3.36
Onion – $0.70
Tomatoes – $0.88
Meat
Ground beef (3 lbs.) – $9.92
Chicken breasts (5 lb. bag) – $9.76
Dairy/Refrigerated Section
Milk (2 gal.) – $5.22
Eggs (18 ct.) – $1.86
Sour cream (8 oz.) – $0.88
Shredded Mexican blend cheese (16 oz.) – $2.77
Shredded Mozzarella cheese (8 oz.) – $1.98
"Center of the store"
Chicken broth (3 boxes, 32 oz. each) – $3.66
Canned white beans (4) – $2.32
Crushed tomatoes (28 oz) – $0.84
Diced tomatoes (14.5 oz) – $0.46
Cereal (2 boxes) – $2.81
Hamburger buns – $0.88
Loaf of bread – $0.98
Old fashioned oats (18 oz.) – $1.76
Pretzels – $0.82
Devil's Food cake mix – $1.00
Chocolate instant pudding – $0.50
Chocolate chips – $1.74
Peanut butter – $1.32
Jelly – $1.78
Tortillas – $1.48
Tortilla chips – $0.92
Taco seasoning – $0.44
Spaghetti – $0.82
Grated Parmesan cheese – $2.36
Total = $74.17
Thanks for stopping by the blog today! If you love the idea of meal planning and want to make it more of a habit, be sure to check out my Meal Planner and Recipe Binder, on sale for a limited time for just 5 bucks!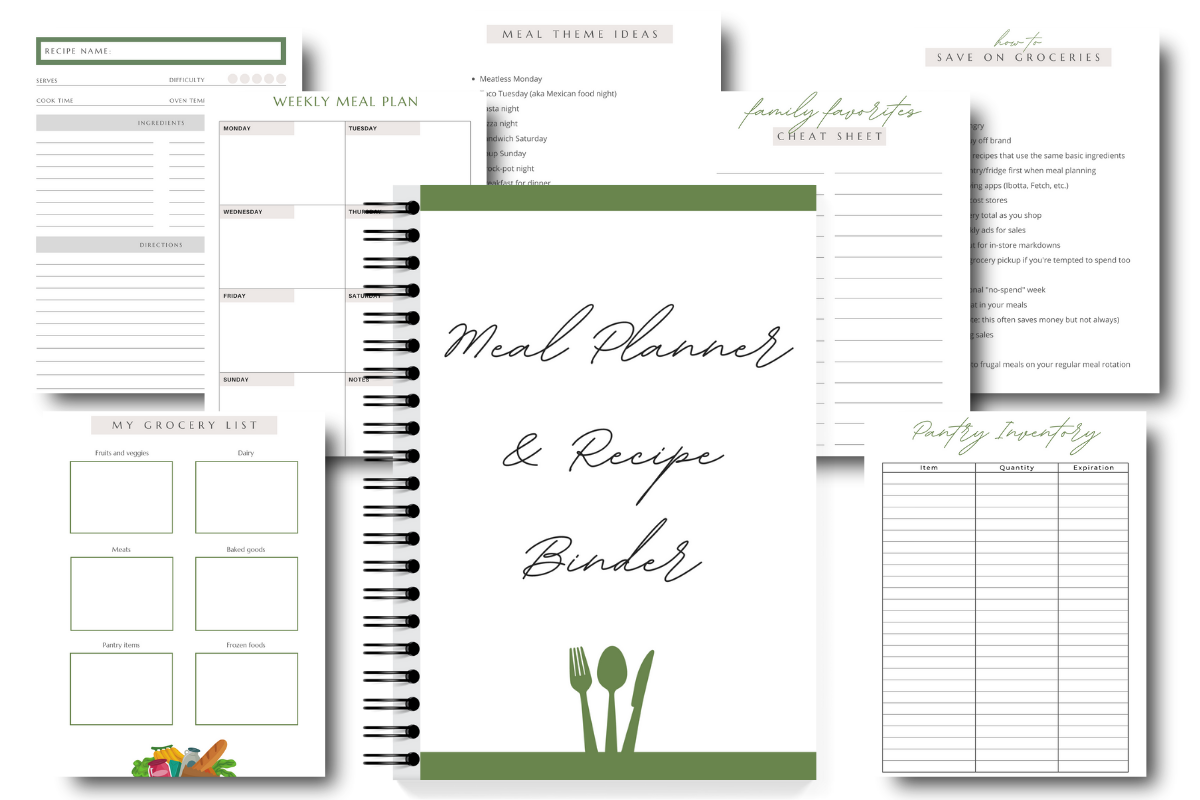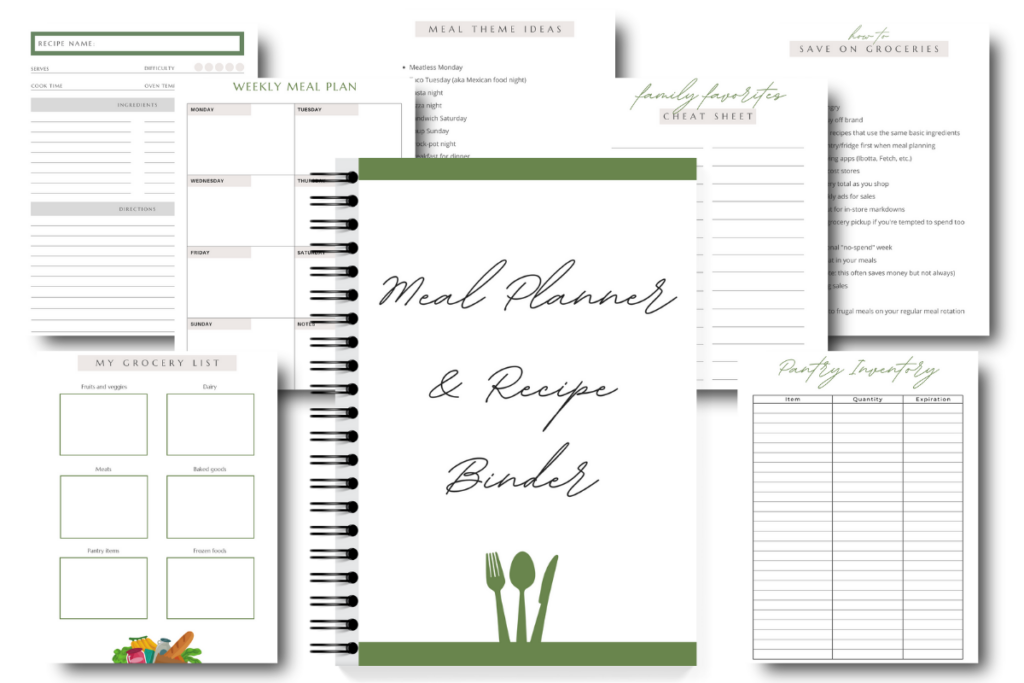 Check out some of my previous grocery posts here: $50 Week One // $50 Week Two // $50 Week Three (low-carb) // $50 Week Four (no oven) // $60 Week One // $60 Week Two // $65 Meal Plan // $80 Meal Plan
If you're looking for more meal ideas, enter your email below to subscribe to my weekly emails where I always share my family's meal plan for the week!
Processing…
Success! You're on the list.
Whoops! There was an error and we couldn't process your subscription. Please reload the page and try again.