This easy budget meal plan for two with grocery list is just what you need to eat well for less. The seven cheap and easy meals are sure to be a hit.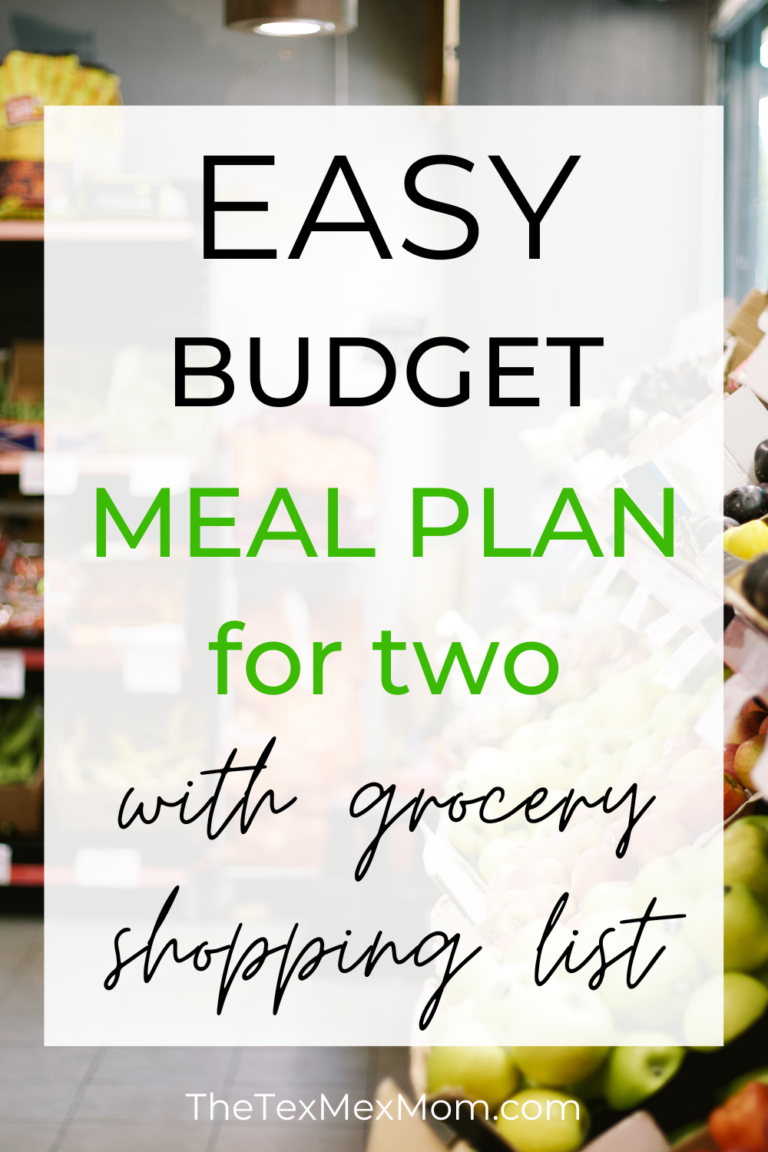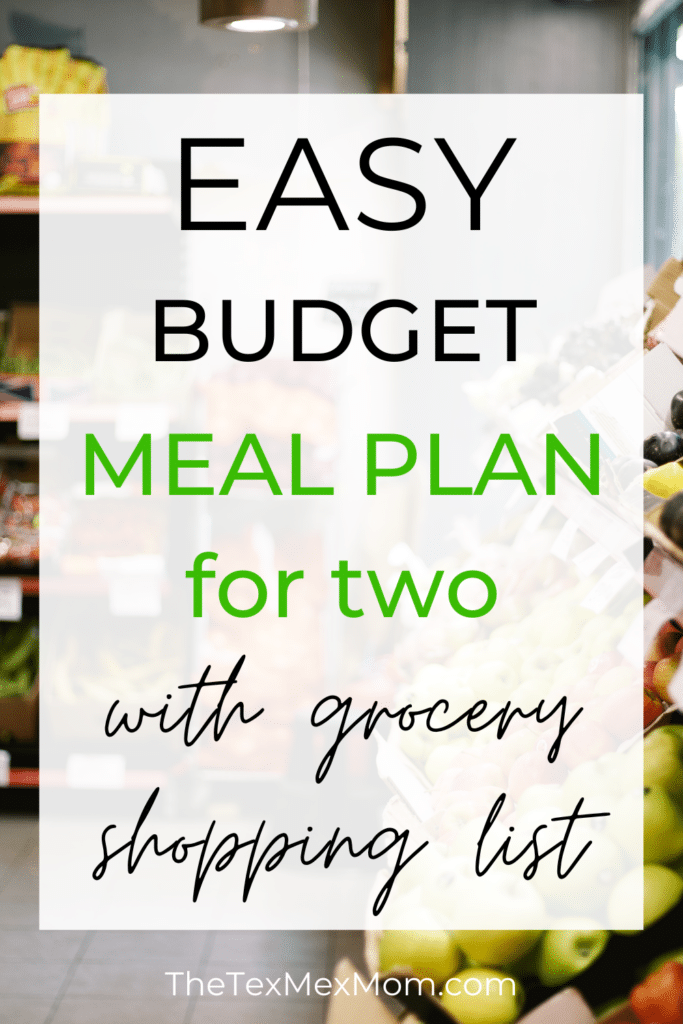 Hi friends! Ready for a new meal plan?
In the past the majority of my free weekly meal plans and budget-friendly grocery lists have been for a family size of 4 to 6 simply because that's the stage of life that I'm in right now! However, I know that not everyone is feeding a large family, so today's post is for those of you who need a meal plan that just feeds two.
Even if you're just cooking for yourself, I would still suggest cooking the amount for two because that way you'll have leftovers and save yourself from cooking another day!
This meal plan for two is perfect for you if you're trying to stick to a tight grocery budget. It includes seven easy meals that use simple ingredients so that you don't run up your grocery bill buying all sorts of extra stuff.
Since prices are constantly changing I chose not to label this meal plan with a certain dollar amount, but as you'll see at the end of my grocery shopping list below I was able to find all the ingredients for right around $50 total. I think we can all agree that with today's prices a $50 meal plan for two is not a bad deal!
As always, feel free to copy this meal plan completely or just choose a few new recipes to add to your own meal plan.
7 Budget-Friendly Dinner Recipes For Two
Each of the following meals on this weekly menu will serve at least two people. These are some favorite recipes and I consider them to be fairly healthy meals. Plus, they're all super easy recipes to make.
Most are simple enough that you don't really need a recipe, but I've included links to the original recipes. Be sure to halve the recipe when needed since this is a meal plan for two.
I hope you enjoy these delicious recipes as much as we do!
1. Stovetop chicken with green beans and French bread
I love cooking chicken breasts on the stovetop using this simple recipe, but feel free to cook them up however you like.
Ingredients needed:
2 chicken breasts (+ your favorite seasonings and a pat of butter or olive oil)
Green beans
French bread
2. Roasted sausage, potatoes, and broccoli
You don't really need a recipe for this meal (though I sometimes get inspiration from this tried and true one.) Just chop up some potatoes and broccoli and sausage and toss them together with your favorite seasonings and a bit of oil. Bake at 375-400 degrees until everything is well done or approximately 30 minutes.
Ingredients needed:
Several potatoes
One head of broccoli
Half a package of smoked sausage
Seasonings
3. Salsa chicken
I love how easy this recipe is. Just slice a large chicken breast horizontally to create two thinner pieces. Then season with your favorite seasonings and top with salsa. Bake at 350 degrees for 25 minutes, then add shredded cheese to the top and bake for another 5-10 minutes. Serve on top or alongside rice and salad.
Ingredients needed:
1 large chicken breast, sliced horizontally to create two thinner pieces
Salsa
Shredded Cheese
Brown rice (Cooked and seasoned how you like)
Simple bagged salad + tomatoes
4. Crispy Chicken Burritos
My whole family loves these simple burritos! Cook one chicken breast and shred for at least one cup of cooked chicken. Mix with one cup of cooked rice and a can of beans, plus your favorite seasonings. Fill tortillas with the mixture and top with shredded cheese. Roll them up and let them crisp up in a bit on a pan on the stove with a bit of butter.
Ingredients needed:
1 chicken breast
1 cup cooked rice
Can of beans
Favorite seasonings
Tortillas
Shredded cheese
Raw carrots on the side
5. Potato soup
I like that this potato soup recipe is very simple. Just be sure to halve the recipe or else you'll end up with a much larger amount than you need. See the recipe here. The recipe is for making this soup on the stovetop but I imagine that it would work in a slow cooker as well.
An immersion blender is helpful to have for this recipe if you like your potato soup totally smooth with no lumps. If you prefer a thicker soup I would suggest adding a bit less milk than what the recipe calls for.
Ingredients needed:
Russet potatoes
Carrots
Milk
Chicken bouillon or paste
Seasonings + a bit of flour
6. Chicken Ranch Pasta
I love the ease of this 5 ingredient recipe! Just cook up a box of pasta and throw in some cooked chicken, cooked broccoli, ranch dressing, and parmesan cheese. Toss and serve warm or cold. It's sure to be a hit with all your family members. Yum!
Ingredients needed:
1 Chicken breast
Pasta
Broccoli
Ranch dressing
Parmesan cheese
7. Breakfast for dinner
There's nothing like a good breakfast for dinner sometimes, am I right? Make some yummy omelets with eggs, bell peppers, sausage, and cheese and serve with toasted French bread on the side.
Ingredients needed:
Eggs
Smoked sausage (you'll use the other half of the package from earlier in the week)
Bell pepper
Cheese
Leftover French bread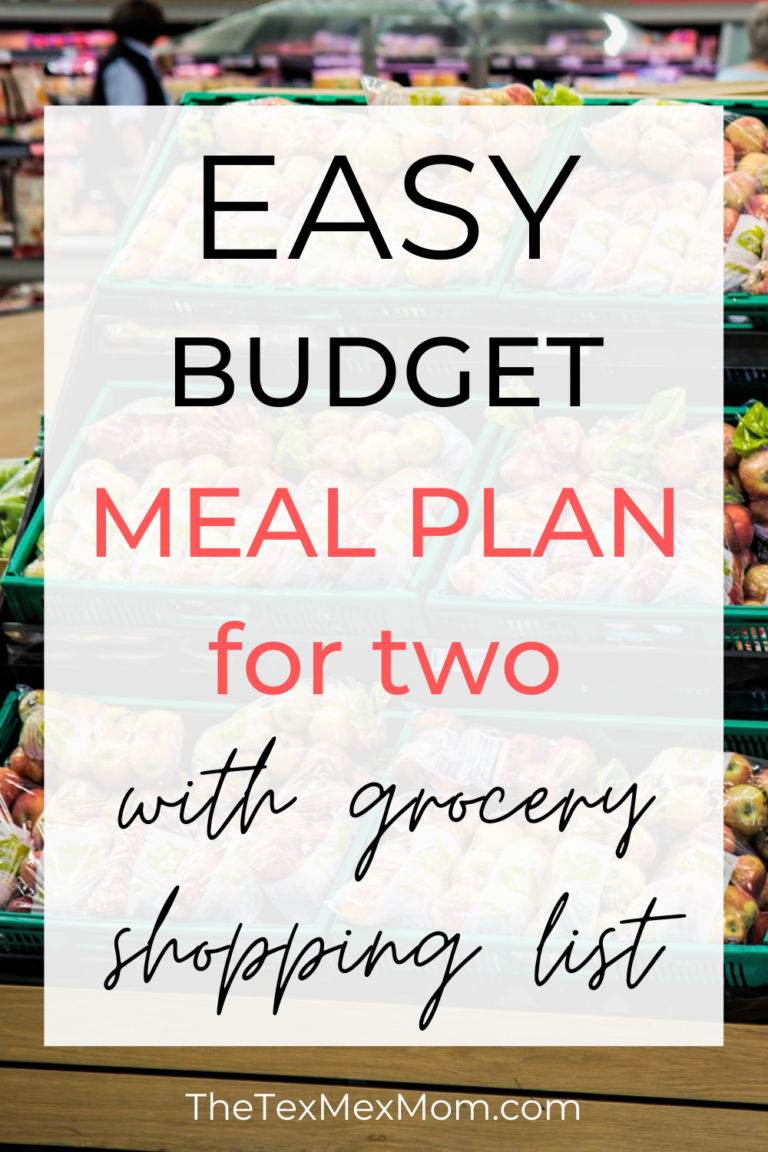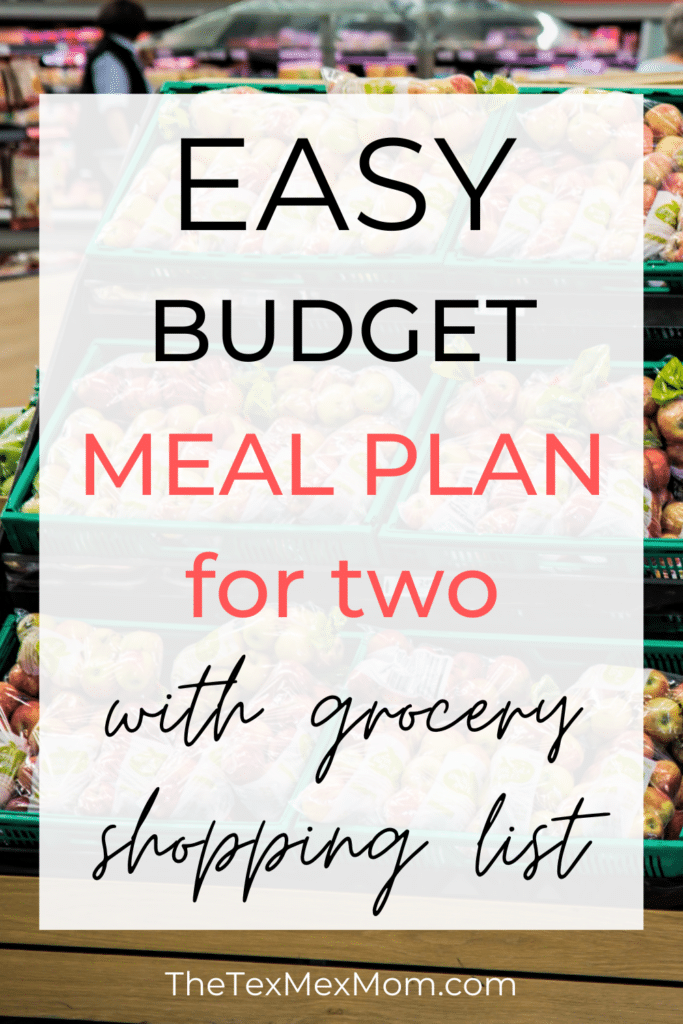 My Grocery List for a Budget Meal Plan for Two
As with all my grocery lists that I share, I've tried to include pretty much everything that you'll need to buy for these seven easy dinners with the exception of really basic ingredients (for example flour, spices, basic condiments, etc.)
The grocery prices listed below are from my local Aldi and Walmart, though I often find similar prices and sales at my other favorite grocery store, Kroger.
Please keep in mind that grocery prices change quite often. The prices listed in this post are the prices I found here in Texas at the time of writing (March 2023.)
Meats
Chicken breasts – 4 lbs. at 2.49 a lb – $9.96
Sausage – 1 (13 oz.) pkg. – $3.25
Dairy / Refrigerated Section
Milk (half gallon) – $1.76
Shredded cheese (16 oz) – $3.98
Eggs (6) – $1.43
Produce
Bell pepper – $0.62
Carrots – $0.98
Russet Potatoes (5 lb. bag) – $2.97
Broccoli crowns (2) – $2.46
Tomatoes – $0.58
Bagged Iceberg salad – $1.88
Frozen green beans – $1.23
Dry Goods / Center of the Store
Pasta (16 oz. box) – $0.98
Black beans – $0.78
Brown rice – $1.64
Loaf of French bread – $1.47
Tortillas – $2.42
Parmesan cheese – $2.56
Ranch dressing – $1.97
Jar of salsa – $2.24
Chicken bouillon cubes – $2.32
Total = $47.48
I hope that using this free meal plan for two with grocery list will help you to have one less thing on your to-do list!
Check out some of my other meal plan posts here: $50 Meal Plan  // $60 Meal Plan // $75 Meal Plan // $80 Meal Plan  // $100 Two-Week Meal Plan // $120 Two-Week Meal Plan // $125 Grocery List for 2 Weeks of Dinners
Now I'd love to hear from you! What are some of your favorite meals to make? I'd love for you to share your best tips on cooking for two in the comments below – I always love hearing your great ideas for budget-friendly meals!
Additional Resources
The articles below talk more about feeding your family on a budget so check them out!