Let's talk budget meal prep today. Here's what you'll need, my best tips for meal prepping, plus cheap recipes for delicious meals you'll love!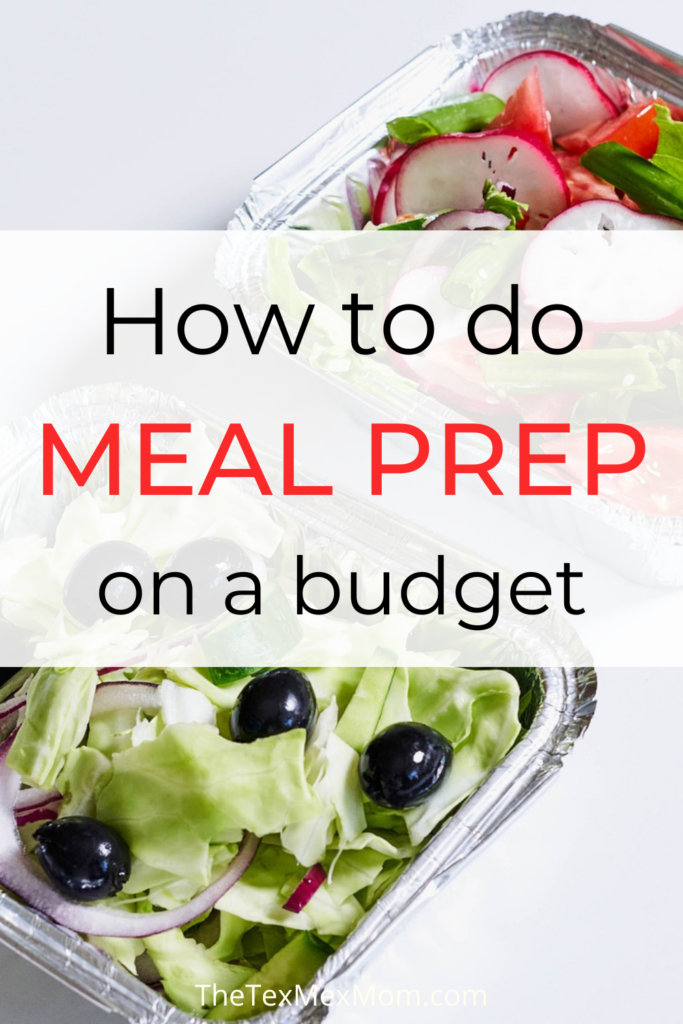 If you've been around here for long you know I like to talk about frugal living, especially frugal meal planning. Since I've written articles recently about how to meal plan and how much to budget for groceries monthly I thought it was time to also talk about meal prep, specifically budget meal prep!
There are a bunch of different things we can talk about related to budget meal prep, but let's start out with the "budget" part by asking the question – can meal prep actually save you money?
Does meal prepping save you money?
I can think of three ways off the top of my head that meal prepping saves you money.
You'll be less tempted to spend money on eating out. It's easy to give into the temptation to grab fast food or order takeout when there's "nothing to eat" at home. But, it's much easier to resist when you know you have a lovely meal prepped and ready in the fridge!
You'll actually use all your ingredients up instead of having food go to waste in the fridge because you never prepared them. (Looking at you, unwashed lettuce in the crisper drawer!)
You'll spend less at the grocery store. Why? Because planning multiple meals around the the same main ingredient (especially if it's on sale) is much more cost effective than having, for example, steak one day and fish the next.
Can you meal prep on a tight budget?
If you've googled "meal prep" or something along those lines you've probably seen articles and videos that all start out with a huge grocery store haul. I mean, it makes sense – you have to buy your ingredients in order to meal prep. But, when you're on a tight budget, a big grocery haul may not be feasible for you. So can you still meal prep? Yes!
Here's the thing: meal prep doesn't have to be all or nothing. You may not have the money to go buy up ingredients for a month's worth of freezer meals, but you can double your casserole recipe and stick one in the freezer for later. Or you can get a whole chicken to cook and shred in preparation for several meals this week.
Budget meal prep is all about preparing ahead in order to save time later and anything you do ahead of time is better than nothing.
I'll share some of my best tips for budget meal prepping down below, but first off let's talk about a few of the things you might need!
Meal Prep Equipment
Okay, "equipment" sounds a little intense, but I wasn't quite sure how else to label this section. These are some things that I think it's nice to have when meal prepping. Do you need every single one? No! After all, we're talking about budget meal prep! I'm just sharing a few things that you may find helpful for both the prep work and storage.
I love using my crock-pot to cook up a big batch of soup or a whole chicken to shred for later. If I'm working on prepping several recipes at once it can be convenient to stick something in the crock-pot while I'm working on the other meals.
While I don't personally own an Instant Pot, I've heard rave reviews about using them for things like rice, yogurt, and even boiled eggs.
Many recipes call for a 9×13 baking dish, but what I like to do is to divide the food into two smaller 8×8 dishes so that I have one to save for later.
To freeze, put foil in the bottom and up the sides of your baking dish before filling it. Stick it in the freezer until the food is frozen, then carefully remove the food with the foil and wrap in more foil to keep it air tight. When you're ready to defrost and bake, simply take it out of the freezer and stick it back in the baking dish!
Everyone needs some good meal prep bowls and these Pyrex mixing bowls are tried and true. But, if you want to branch out a little check out these blue and white mixing bowls!
If you're making your lunches ahead for the week glass food storage containers like these are perfect. They're also great for washed and cut veggies, fruit, and more.
Storing your fresh veggies and fruits in glass storage containers is also an easy way to increase their visibility in your fridge so that you're more likely to eat them than if they were hiding in the crisper drawer.
I use freezer bags all the time for food in both my freezer and my fridge. Gallon sized bags are great for sticking baked goods or things like marinated meat that you want to freeze for later.
I use quart size freezer bags the most. Cooked rice, beans, 1 pound portions of ground beef, a couple chicken breasts, etc. all fit well in this size of freezer bag. Definitely a must-have when you're prepping ingredients ahead of time.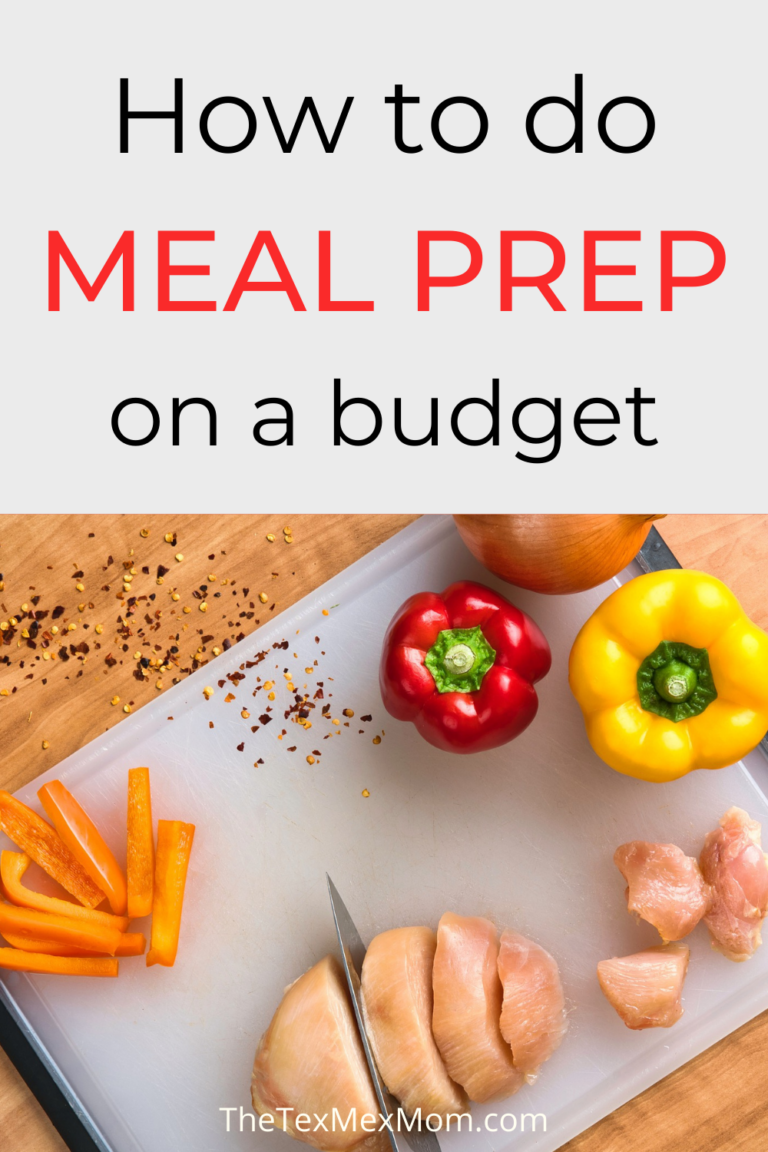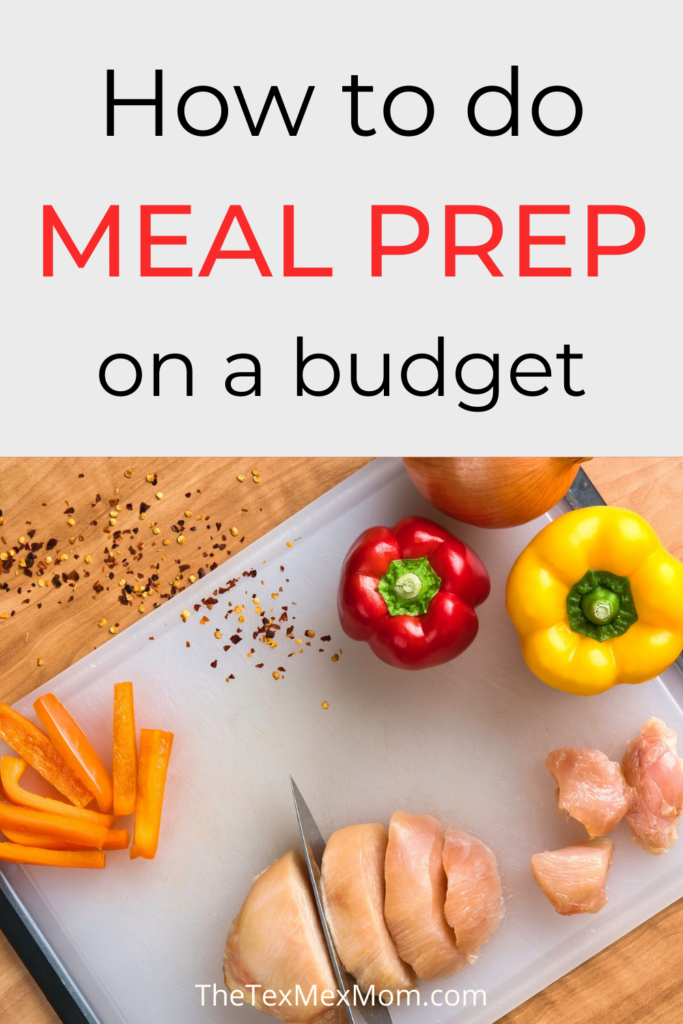 My Best Tips for Budget Meal Prep
1. Make one for now, one for later
I mentioned this earlier but wanted to elaborate on it a little more here. One of the easiest ways to make food ahead of time is to simply double your recipe when you're already cooking. It's typically not any extra work and you'll thank yourself later when you have a meal all ready to go in your fridge or freezer.
I use this "0ne for now, one for later" strategy for a couple meals in this two-week meal plan that has been quite popular here on the blog lately.
2. Prep and freeze basic meal ingredients to save time later
You may not have the time or the money to prep a bunch of complete meals all at once, but you can prep ingredients ahead of time and freeze them so that your meal prep time is much shorter later. Some of the meal ingredients I like to keep prepped in my freezer include:
These are just examples of the prepped ingredients that I like to keep in my freezer but obviously there are many more good options!
3. Choose one main ingredient to use in several recipes
Like I mentioned earlier, planning multiple meals around the the same main ingredient is much more cost effective than having, for example, steak one day and fish the next.
For instance, if you get five pounds of ground beef on sale you could make a meal plan that uses ground beef in multiple recipes – think meat loaf, ground beef fried rice, sloppy joes, etc. Then you can divide up your meat and prep it all on the same day so that you have less to do later in the week.
Or maybe you decide to cook up a big pot of black beans (yay for cheap proteins) and use them for burrito bowls, bean and cheese quesadillas, and taco soup. All totally different meals, but with a common ingredient.
You can see this strategy in the cookbook Cook Once, Eat All Week.
4. Choose a certain day to do meal prep each week
Choosing a certain day and even a specific time of day for prepping food each week is a great way to build the habit of meal prep. Even if you do nothing else, just washing and chopping up some vegetables on Sunday night in preparation for the week is so helpful.
Ideally, try to prep your main protein for the week that you'll be using in at least three recipes. For example, grill up a tray of chicken breasts to use in multiple meals, brown up a bunch of ground beef, or cook a whole chicken to shred.
5. Don't forget breakfasts and snacks
When I think of meal prep I tend to think of main meals like dinner or even lunch, but prepping for breakfasts and snacks can be super helpful to do as well! It can be easy for me to make a frugal meal plan and then spend more than I should on snacks, so it's always a good idea to include them in your meal prep when you can.
Below you'll find lots of healthy meal prep ideas and cheap meal prep recipes that you can make ahead for the week or freeze for some time later.
Easy Meal Prep Recipes
Breakfast
Lunch/Dinner
Soups
Soups freeze really well and are one of the best ways to quickly stock your freezer! Here are a couple of our favorite soups:
Casserole and/or pasta dishes
More dinner/lunch recipes and ideas
Baked Goods and Snacks
If you need more specific cheap weekly meal plan ideas make sure to check out the frugal living page here on my blog where you'll find lots of budget-friendly meal plans and grocery lists along with other frugal living ideas.
Obviously there are many many more good budget recipes and easy meal prep ideas out there, but I hope this article has at least given you a good starting point.
Now I would love to hear how you meal prep! Do you like to meal prep on a weekly basis, or do you cook up a bunch of freezer meals all at one time to last you a month? Let me know in the comments!
If you're looking for more meal ideas, enter your email below to subscribe to my weekly emails where I always share my family's meal plan for the week!
Processing…
Success! You're on the list.
Whoops! There was an error and we couldn't process your subscription. Please reload the page and try again.