Not sure what to feed your family this summer? Here are my favorite easy summer meals on a budget, plus 6 meals you can make for just $50!
We are smack dab in the middle of summer here in Texas with the 10 day forecast predicting 100 degree+ weather for the next week and a half! With all this super hot weather, I've been trying to make more summery meals for my family (though I did make soup the other day, just because I was in the mood haha!)
As I was jotting down a list of some easy summer meals the other day, I thought that summer meals on a budget would make a great, appropriate topic for a blog post.
With the way inflation has taken off this year, I know that grocery costs are on all of our minds. We want to eat well this summer, but we also don't want to take out a second mortgage to do so. Ha!
So, today let's talk about the best meals to make in the summer on a budget! First we'll talk through some common questions and scenarios and then I'll share six summer meals that you can make for just $50!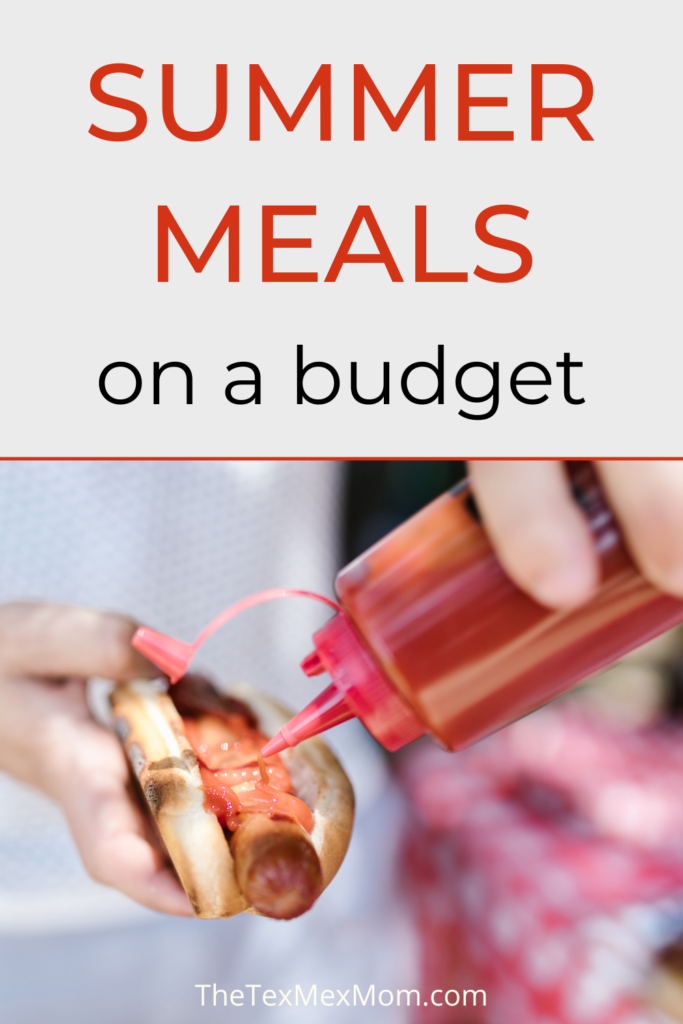 What can I make for dinner when it's too hot to use the oven?
If your house is like mine, the oven heats up the kitchen (and a lot of the rest of the house) pretty quickly! Because of that, on really hot days I avoid using my oven as much as possible.
Here are some of the easy, budget friendly meals I like to make that don't require an oven:
Dinner Salads – Greek Salad, Southwest salad, taco salad, etc.
Pasta Dishes – Chicken Ranch Pasta, Pizza Pasta, or my kids favorite: pasta and leftover shredded chicken tossed with a bit of butter, garlic, and parmesan cheese.
Wraps – Chicken Wrap with Cream Cheese Spread, Homemade Gyros, Crispy Chicken, Rice, and Bean Burritos
Sandwiches – Sub-style sandwiches, grilled cheese, BLTs, Sloppy Joes, chicken salad sandwiches, etc.
On the Grill – Burgers, hotdogs/brats, marinated chicken, etc. Keep an eye out for sales on burgers, hotdogs, etc. at your local grocery store and stock up when you find a good price.
Slow cooker meals – BBQ chicken (for sandwiches), Chicken Drumsticks, Pork Loin, etc. I don't personally own an instant pot but those can be a good option as well for summer cooking!
Breakfast for dinner!
What is the cheapest summer meal you can make?
While there are all sorts of great cheap summer meal options I'm going to go with pasta salad for this. Pasta is so cheap (and filling) and you can toss in all sorts of yummy things to make a budget friendly and easy meal!
Pasta salads are a great cheap meal option because they take very little prep time and use simple ingredients that you typically have on hand.
Try out some new recipes (like the ones I shared above) or just throw together whatever you have on hand that sounds good! Start with your favorite cooked pasta, toss in some leftover rotisserie chicken or other protein and then add in your favorite toppings like cherry tomatoes, fresh basil, other summer vegetables, parmesan cheese, a bit of olive oil, etc.
What do you feed a large crowd in the summer?
Many of the meals mentioned earlier are also great cheap summer meals to serve a crowd! Our personal favorite meal to serve guests is fajitas.
I come from a large family and just last night we hosted a bunch of them for dinner to celebrate two of my kids' birthdays. We had a group of over 20 people and the fajitas were a hit with everyone!
We typically marinate chicken breasts to grill for our fajitas, but recently experimented with boneless chicken thighs when we found them for a much cheaper price. Both taste amazing and serving the meat sliced up for fajitas helps to stretch it much more than when served whole as an entrée.
For our party last night I served beans and rice on the side as well for anyone who wanted to make Chipotle-style burritos. This was a great way to make the grilled chicken go even farther!
We always serve our fajitas with sauteed onions and peppers as well. I love using colorful yellow and red peppers when I find them on sale, but basic green bell peppers taste just as good and are typically easier on the grocery budget.
Shredded BBQ chicken or pork sandwiches or hot dogs on the grill are other favorite options for feeding a large group in the summer.
What do kids eat during summer break (that doesn't break the bank)?
My kids are homeschooled, but for those with kids in regular school summer is a big change, because as you fellow parents know when kids are home it seems like they want to eat ALL THE TIME.
One of our favorite quick lunches for kids (well, besides PB & J) is what my kids call a "snacky lunch". Basically I pull out all sorts of odds and ends and stick them in muffin tins to serve them. Fresh fruit, veggies (like carrots, cucumber, or peas), lunch meat or pepperoni, chunk cheese, a bit of leftovers from the fridge, homemade baked goods, yogurt, applesauce, pretzels, popcorn, etc. The possibilities are endless, and I've found that everything is more appetizing to kids when it's served in a cute muffin tin.
I should note that lunch meat and cheese are definitely more pricey than some of the other items I mentioned, so I try to watch for good sales for those.
As far as summer snacks go, if you find that you're running out on an almost-daily basis, consider making more cheap homemade snacks or pre-portioning some of the snacks you've purchased so that your kids know exactly how much they can have.
And of course, watermelon and popsicles are always great snack options for everyone on hot summer days!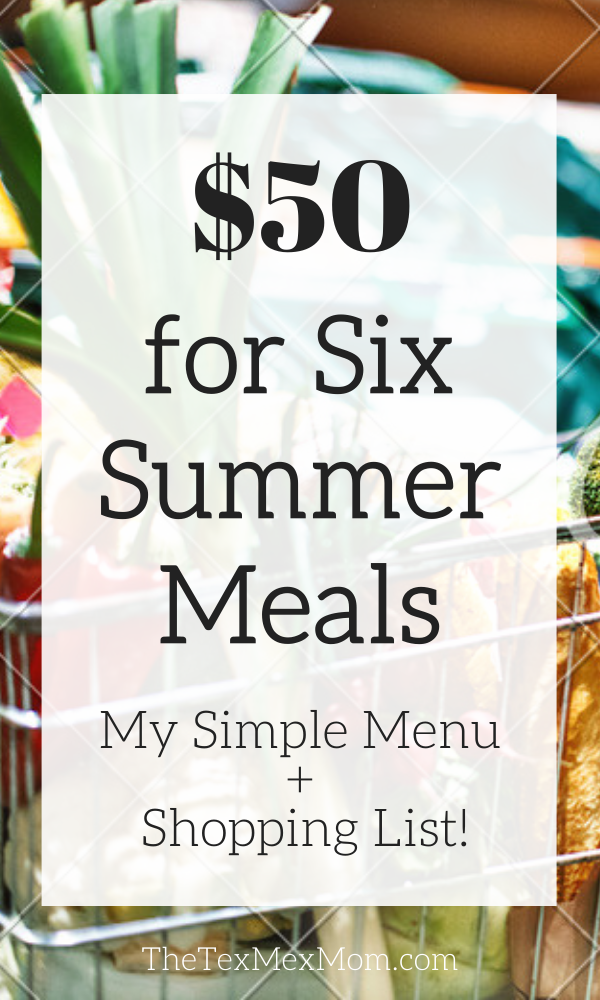 Six Summer Meals for $50
Okay, let's get more specific now with six cheap family meals that you can make for just $50 total. These six dinners (plus one night for leftovers) gives you a week's worth of summer meals on a budget!
A couple quick notes:
I often cook with both chicken breasts and ground beef, but you'll notice both of those missing from the meals/recipes below. The prices on both have gone up quite a good bit in the last 6 months, so I've chosen some cheaper alternatives for these six meals.
Three of the recipes below call for cooked and diced/shredded chicken. I like to purchase a rotisserie chicken from Costco for this, but on my grocery list at the end of this post you'll see I've just included a regular whole chicken since not everyone has access to Costco. Simply cook your chicken, let it cool, and then take it off the bone and divide it up for each recipe.
1. Chicken salad sandwiches, raw veggies
Chicken salad sandwiches are a great, budget-friendly summer meal. Serve with a side of raw veggies and maybe watermelon or fresh fruit if you have it and it's the perfect meal for a hot summer night!
2. BBQ chicken drumsticks, potato wedges
Chicken drumsticks often get passed over for chicken wings, but I'd suggest giving them a try! They're typically very cost effective and boast a lot more meat than a tiny chicken wing! This BBQ recipe cooks the drumsticks first in a crockpot, then finishes them up in the oven. Serve them with potato wedges for a yummy summer meal the whole family will love!
3. Grilled pork chops, potatoes on the grill, salad
I often forget about pork, but pork chops (as well as pork loin) are a great option that's typically cheaper than beef. We tried out this recipe for pork chops on the grill the other day and it was delicious. The marinade calls for soy sauce, brown sugar, and Worcestershire sauce (among other things) and it adds really great flavor!
Throw some potatoes (sweet potatoes or regular) on the grill to bake as well – or whip up some potato salad if that's more your thing – add a fresh salad on the side, and you have a fancy looking meal that doesn't break the bank.
4. Chicken Ranch pasta salad
This five ingredient Chicken Ranch Pasta is an easy summer dinner recipe that will take you hardly any time to make. It tastes great hot or cold – I like to serve it hot and then serve the leftovers cold the next day. It's a great easy dish to take to a potluck as well!
5. Hot dogs, chips, raw veggies
You can get a package of hotdogs for as little as one dollar if you're not picky! If you prefer beef hotdogs (like I do) you'll definitely pay more, but even then they're still a decently cheap way to feed your family, especially if you choose basic, store-brand hotdog buns to go with them.
Wondering how much to budget for groceries per month? Click here!
6. Southwest salad, French bread
Some days there's nothing like a good summer salad! For southwest salad, start with romaine lettuce and add fresh tomatoes, chicken, corn, black beans, shredded cheese, avocado, and red onion. Instead of salad dressing I like to top my salad with a bit of salsa and sour cream. You can even make your own tortilla strips to add on top if you have corn tortillas on hand.
Now let's take a look at my grocery list for these six easy summer meals on a budget.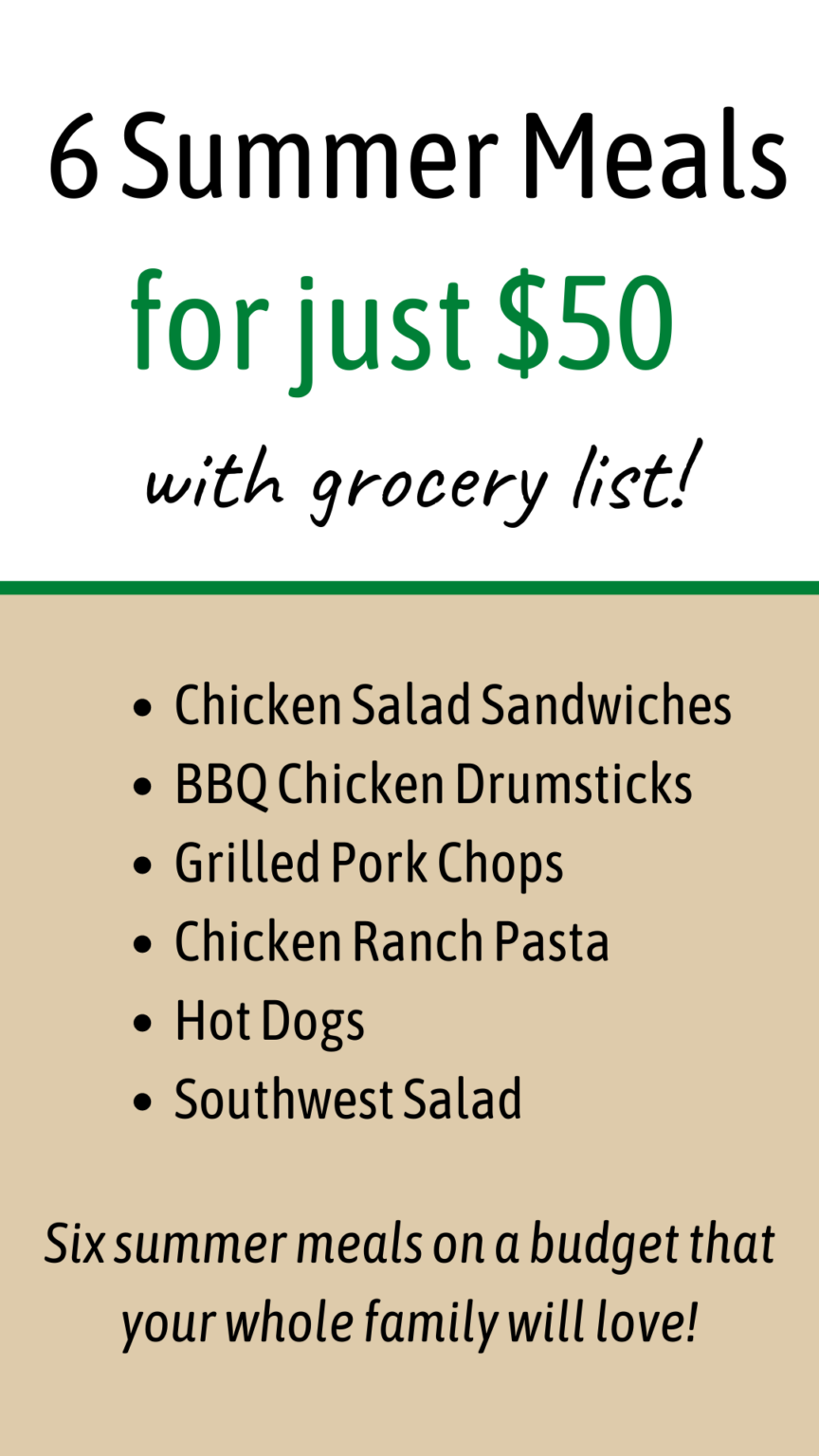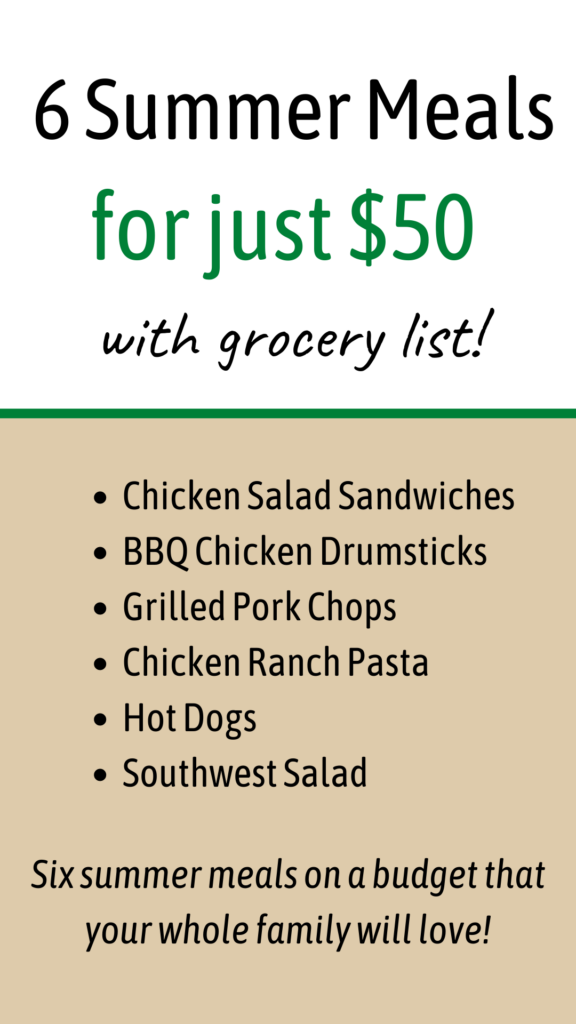 Six Summer Meals – My $50 Grocery List
The prices included below are from my local Walmart, July 2022. As with all of the grocery lists that I share, I've tried to include pretty much everything that you'll need to buy with the exception of some basic pantry staples (for example: baking goods, basic condiments, etc.)
I use Walmart's grocery pickup almost every week. Want to try it? Get $15 off your first order here!
Bread/Pantry Items
Multigrain bread- $2.12
French bread – $1.00
Hot dog buns – $1.00
Black beans – $0.78
Salsa – $1.98
Bottle of Ranch dressing – $1.97
Rotini Pasta (1 box) – $0.92
Chips – $1.66
Refrigerated/Frozen Items
Sour cream – $1.16
Shredded cheddar cheese (2 cups) – $2.22
Frozen corn – $0.84
Produce
Romaine Lettuce Hearts, 3 pack – $2.62
Tomatoes (3 small ones) – $0.82
Bag of baby carrots – $0.98
Celery – $1.47
Potatoes, 5 lb. bag – $2.38
Broccoli, 1 large head – $1.31
Avocado (1) – $0.92
Red onion – $1.26
Meat
Chicken drumsticks – $5.90
Whole chicken – $6.77 (or $5 for a rotisserie chicken at Costco)
Pork chops (4) – $6.36
Hot dogs (package of 8) – $1.00 (or $3.48 for a 10 count of beef hot dogs)
Total = $47.44*
*or $49.92 if you choose beef hotdogs
Now I'd love to hear from you! What are some of your favorite easy summer meals on a budget?
Looking for a complete meal plan on a budget? Check out more of my budget meal plans below (or learn how to make your own budget-friendly meal plan!)
Check out some of my other meal plans + grocery lists here: $50 Week One // $50 Week Two // $50 Week Three (low-carb) // $50 Week Four (no oven) // $60 Week One // $60 Week Two // $65 Meal Plan // $75 Meal Plan // $80 Meal Plan // $120 Two-Week Meal Plan
Thanks for stopping by my site today!