Need meal planning inspiration on a budget? This $125 grocery list has all you need for two weeks of easy dinners for a family of four.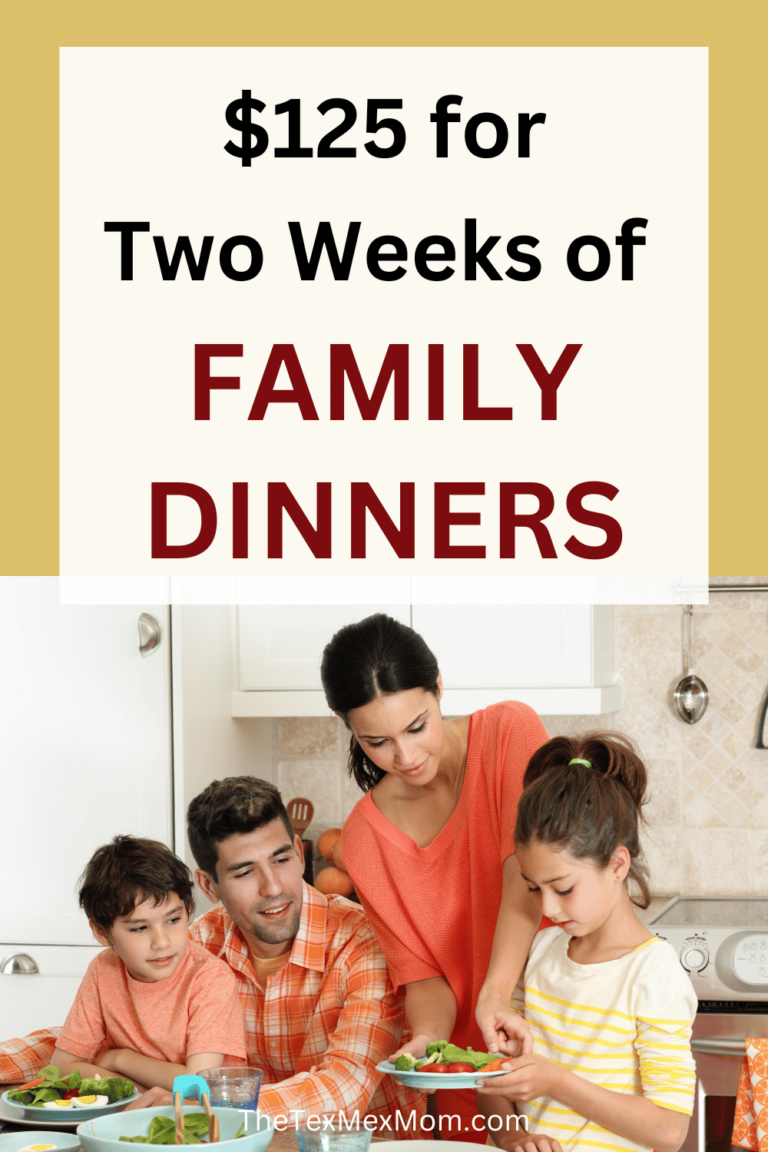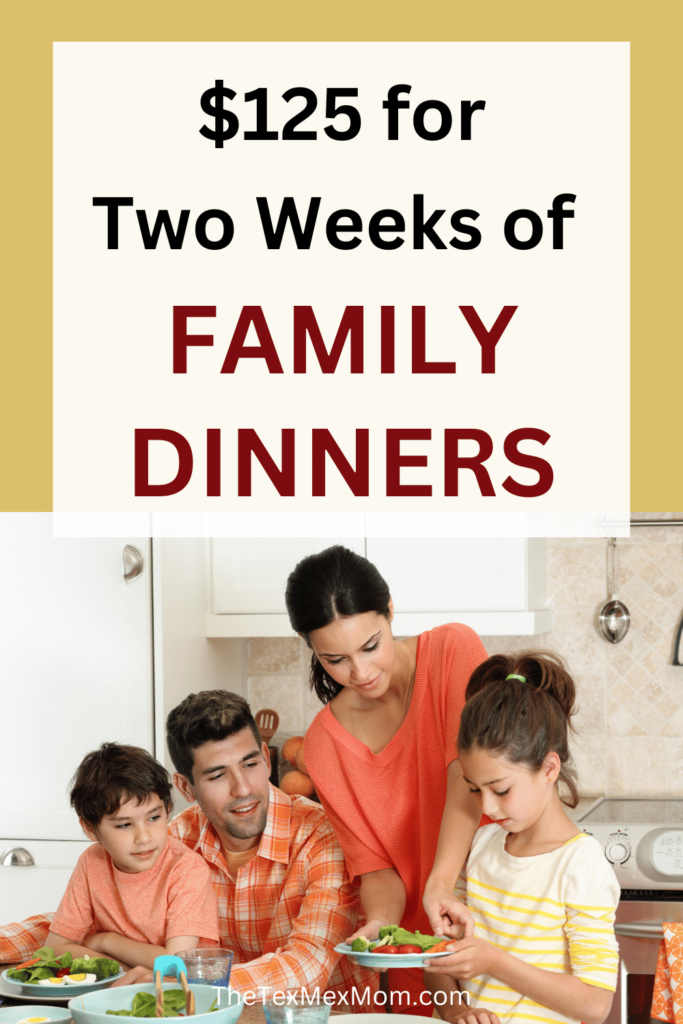 I'm trying to share at least one meal plan a month here on the blog and today's the day! (See last month's meal plan and grocery list here!)
In the past I've shared a lot of complete meal plans that include breakfast, lunch, and dinner. If you're interested in those I've linked to some of them at the end of this post. However, this particular meal plan is just for dinners (complete with sides.)
The cost of the groceries for this meal plan came out to just under $125 for two-weeks of family dinners.
Feel free to follow this meal plan as is or tweak it to make it work well for your family!
A couple things to know about this budget friendly meal plan:
As with all my grocery lists that I share, I've tried to include pretty much everything that you'll need to buy with the exception of really basic things (for example flour, spices, basic condiments, etc.)
You'll notice that two of the dinners on this $125 family meal plan are on the menu both weeks. I just make enough for two meals the first week and freeze half for the following week – yay for saving time the second week!
It's also important to remember that while I always include the most recent grocery prices for my area they are obviously subject to change.
Two Weeks of Family Dinners for $125 or Less
Week One Menu:
I love that this BBQ chicken recipe is made in the crockpot! Double the recipe and save half for the following week.
This recipe makes a lot! Divide it into two 8×8 pans and freeze one for the following week.
This is a meatless meal, but quite filling and delicious!
This is such a great recipe because it's easy to throw together yet looks like it was a lot of work which is always a win!
This recipe is a family favorite that you've probably seen me share before.
Sometimes nothing hits the spot like a good taco salad (or "taco stackup" as my family called it growing up.) I don't make one big salad but let everyone serve themselves so it can be customized according to each person's preferences.
7. Leftovers
I always plan to have leftovers one evening a week – don't want to waste food! (Plus, mom needs a break!)
Week Two Menu:
I use russet potatoes instead of red potatoes in this recipe because it's just simpler to use the same kind of potato for all the recipes in my meal plan that call for potatoes.
This mac and cheese recipe from my mom is this week's meatless meal. Half this recipe and bake in an 8×8.
The recipe calls for turkey, but I use chicken instead.
4. Taco Quiche with a side of raw veggies and applesauce
Another old family favorite.
5. BBQ chicken sandwiches (from freezer) with air fryer French fries
6. Million dollar spaghetti (from freezer) and frozen veggies
7. Leftovers
If you're looking for even more meal ideas, you can also check out my big list of 75 frugal + favorite family dinner ideas here.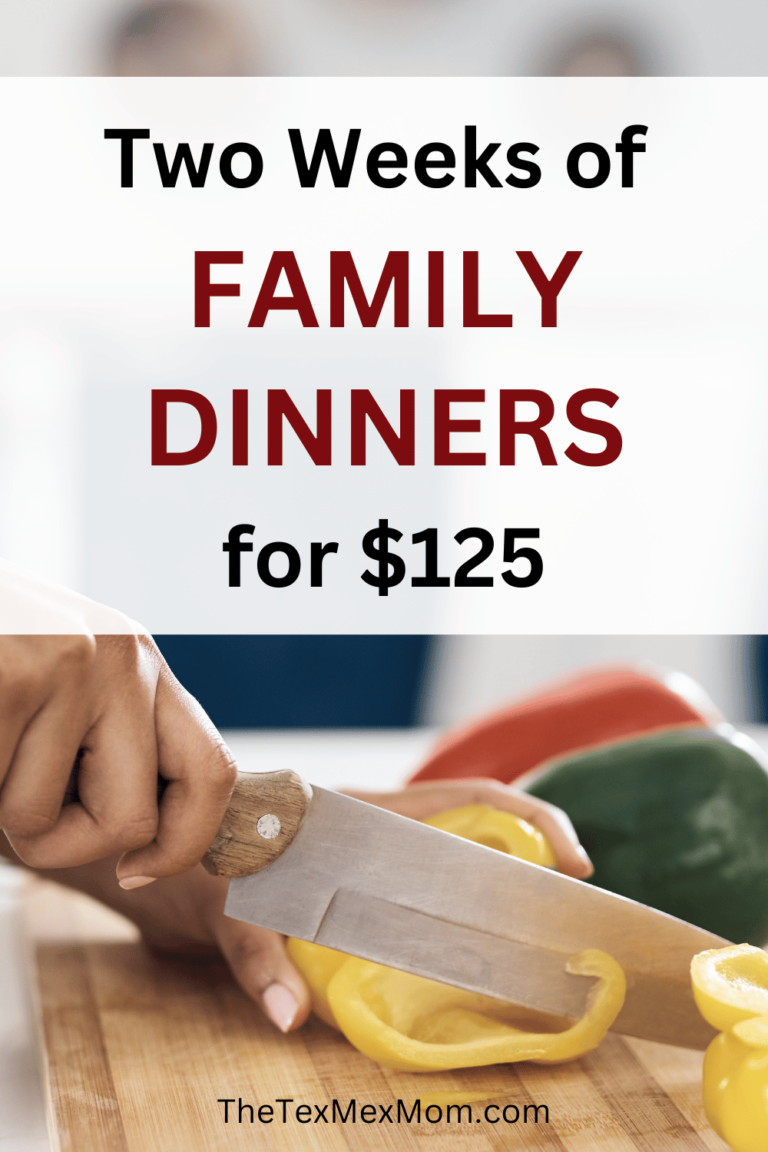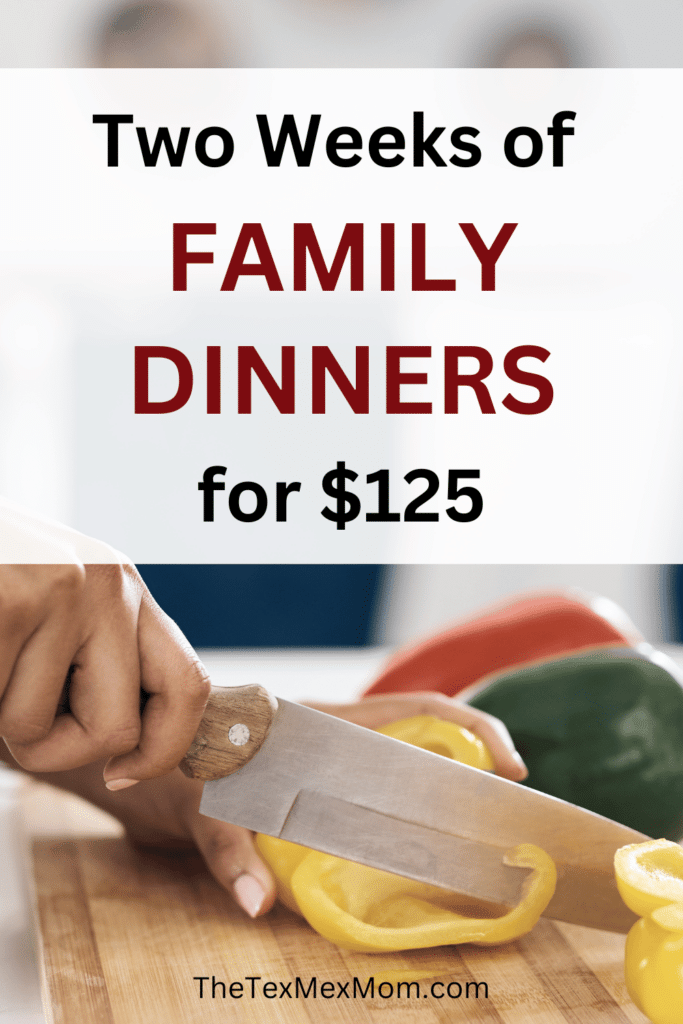 $125 Grocery List for 2 Weeks of Dinners for Four
Note: The grocery prices on this $125 grocery list are from my local Walmart unless otherwise noted. Prices are current for my area as of September 2023.
Produce
Celery – $1.72
Russet Potatoes, 10 lbs – $5.14
Sweet potatoes, 2 – $2.32
Avocado – $0.77
Roma tomatoes, 5 – $1.45
Romaine lettuce hearts, 3 count bag – $2.74
Fresh green beans, approx. 1.5 lbs – $3.44
Carrots, 2 lbs – $1.96
Onions, 3 lbs – $3.14
Garlic bulb – $0.69
Frozen veggies of choice, 2 bags – $2.32
Meat
Chicken Breasts, 8 lbs @ 2.49/lb – $19.92 (Priced at Aldi)
Chicken Thighs (w/ skin), 4 lbs @ 1.42/lb – $5.68
Ground Beef, 4 lbs @ $3.79/lb – $15.16
Note: My local Kroger regularly has good sales on meat that help me spend less on groceries (for example, chicken breasts were just $1.77 a lb. last week) but for this grocery list I decided to go with more typical prices.
Dairy / Refrigerated Goods
Eggs, 1/2 dozen – $0.76
Half and half, 16 oz – $1.68
Shredded cheddar cheese, 3 – 8 oz bags – $6.66
Shredded mozzarella cheese, 16 oz – $3.98
Sour cream, 16 oz – $1.88
Milk, 1 gallon – $2.86
Butter – $3.68
Cream cheese – $1.48
Dry Goods
French bread – $1.47
Hamburger buns (2 – 8 count) – $2.76
Grated parmesan cheese – $2.98
BBQ sauce, 2 bottles – $2.96
Italian dressing – $1.97
Brown rice – $0.88
Elbow (macaroni) pasta, 16 oz – $0.98
Bread crumbs – $1.12
Salsa – $2.36
Tortilla chips – $2.24
Black beans, 15 oz can – $0.78
Taco seasoning, 2 packets – $1.08
"Better than Bouillon" Chicken base – $4.28 (Alternatively, you can save money by using homemade broth instead.)
Pasta sauce, 3 jars – $4.86
Spaghetti, 16 oz – $0.98
Applesauce, 46 oz jar – $3.12
Total = $124.25
What do you think, would this $125 grocery list / meal plan work for your family? Let me know in the comments!
Prefer a complete meal plan that includes breakfast and lunch as well? Check out some of my other meal plan posts here (just keep in mind that prices have changed since publishing): $50 Meal Plan // $60 Meal Plan // $75 Meal Plan // $80 Meal Plan // $100 Two-Week Meal Plan // $120 Two-Week Meal Plan