With the out-of-control inflation that's been going on, plus all the food needed for special celebrations at this time of year, is it even possible to save money on groceries during the holidays? I think it is! Here are my 12 best tips to save money on groceries – yes, even during the holidays!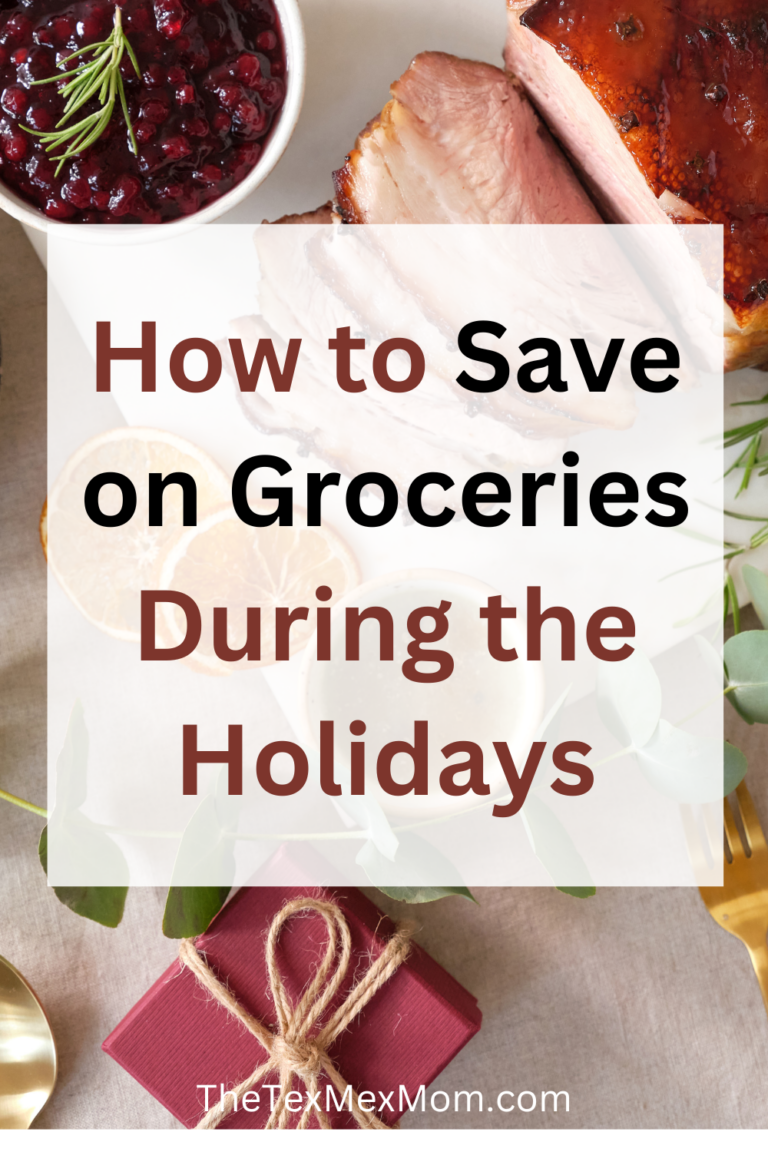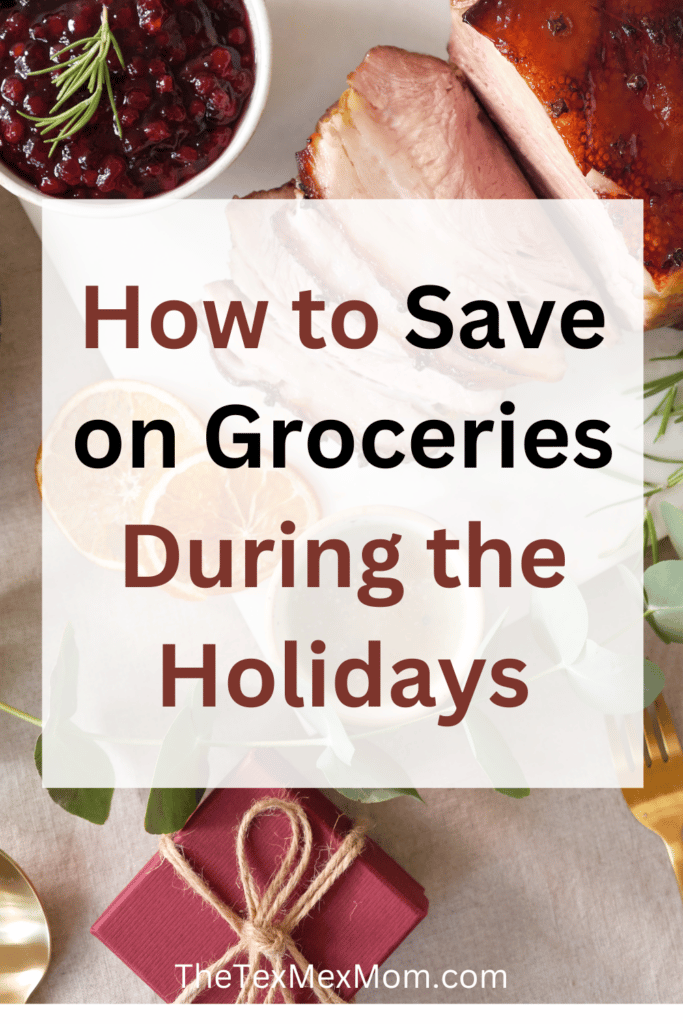 12 Tips to Save Money on Groceries During the Holidays
1. Make a plan – and stick to it
Making a plan is crucial when you're trying to save money during the holidays and that includes your holiday grocery shopping. Take the time to write down the meals and/or dishes you'll be responsible for, all the ingredients you'll need, and even set a holiday grocery budget – you'll thank yourself later.
2. Take advantage of holiday grocery sales
Leading up to the holidays the grocery stores often run great sales on things like butter and baking goods, meats (think hotdogs for the 4th of July, turkeys at Thanksgiving, hams at Christmas), and lots more. This article gives some great lists of what you can expect to be on sale around the various holidays.
3. Compare store ads
I typically just grocery shop at either Kroger or Walmart, but during the holidays it's worth comparing multiple store ads and going wherever you can find the best deals and digital coupons. For example, my local Tom Thumb has their butter on sale for $1.99 this week, a price I haven't seen in a while now, so I definitely want to take advantage of that!
4. Avoid multiple grocery trips a week
This may sound contradictory to my last point, but the idea here is to have one planned grocery shopping trip (even if it's to multiple stores) and then avoid more little trips later in the week. I find that whenever we make extra grocery trips later in the week we almost always end up spending more than we intended. Plus, who wants to go to the grocery store more often than you need to during the holidays when they're so crowded?
5. Choose simpler holiday recipes
If you want to save money on groceries during the holidays you need to be willing to choose some simpler holiday dishes. Don't go for that one recipe that calls for a dozen ingredients that you don't usually keep on hand, or the prime rib recipe that's mega-expensive just because it's tradition.
And if you have little kids, here's your reminder that they'll probably just eat dinner rolls and dessert anyway, so don't stress over some complicated, expensive dish. Save that for a few years down the road. Trust me. 😉
6. Learn how to feed a crowd for cheap
Hosting a lot of people? You don't have to spend as much on food as you might think. Learn what recipes you can make to feed a crowd for cheap!
You may also be interested in: 10 Tips for Showing Hospitality on a Budget
7. Decide when to splurge and when to save
Don't feel like every meal around the holidays needs to be a splurge. If you're having a big, elegant Christmas Eve dinner, why not plan to make something simpler on Christmas day like a big pot of soup?
You can put together a beautiful New Years' charcuterie board for your family without spending loads of money on specialty cheeses and hors d'oeuvres. Less expensive cheeses, crackers, and fruits still look lovely when they're beautifully arranged on a nice board or platter.
8. Fill a meal out with inexpensive sides
Is your entrée a bit pricey? Balance it out with less expensive sides. For example, there are great sales on potatoes at this time of year and they make a great, filling side for very little money (I just got a 5 lb. bag for 99 cents before Thanksgiving!)
Budget-friendly foods don't have to look cheap! You can make a very elegant looking pasta salad or rice dish without spending much, or serve a lovely homemade bread for pennies. Squash also makes a nice side dish that is often on sale during the holidays.
9. Save on beverages by serving water
I suppose this is easy for me to say since my husband and I don't care for alcohol, but even beverages like soda can add up when you're serving a lot of people. While water might sound boring, there are all sorts of ways to dress water up to look (and taste) a bit extra special.
If you really don't want to just serve water, sweet tea is a very economical option (just be sure to actually really make it sweet if you live in the south, ha!)
10. Have guests over for desserts or snacks instead of a dinner
The cost of dinner can really add up fast when you have multiple guests, so if your budget is a bit tight why not just invite guests over for dessert? I love Christmas baking and sharing all the yummy treats I make is half the fun!
A cute hot-chocolate bar is another idea that's sure to be a hit (and cost you very little!)
11. Host a potluck
There's nothing wrong – and a whole lot of things right – with a good old-fashioned potluck! Why not host a Christmas gathering and ask everyone to bring their favorite holiday dish?
12. Realize it's okay to do less
Schedules fill up fast this time of year and there can be pressure to do it all. But guess what – you don't have to. Realize that it's okay to do less.
Every season of life is different and in some seasons we have more and can do more than in others. If this is a season of less for you, that's okay. Don't be afraid to embrace a simpler holiday this year. Your sanity (and your wallet) will thank you!
What tips do you have for saving money on groceries during the holidays? Let me know in the comments!