Looking for cheap, kid friendly meal ideas to get you out of a dinner rut and help you save money on groceries? I've got you covered! Here are 5 family dinners for $50.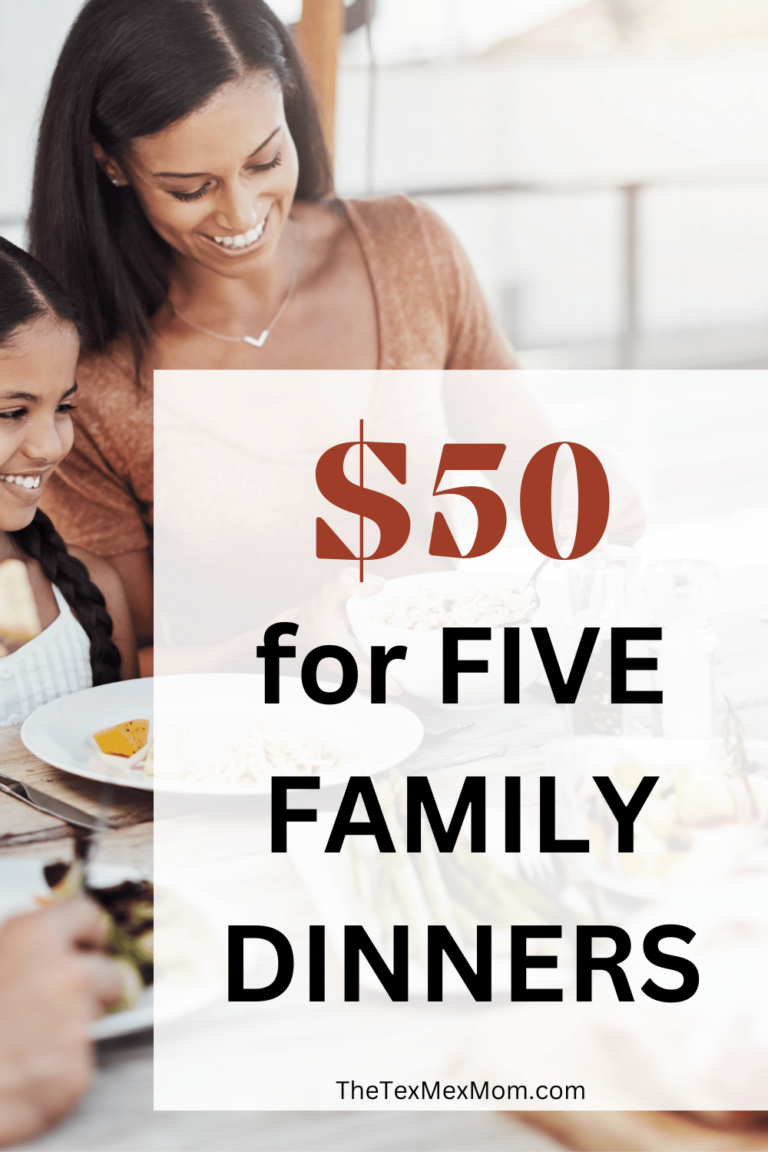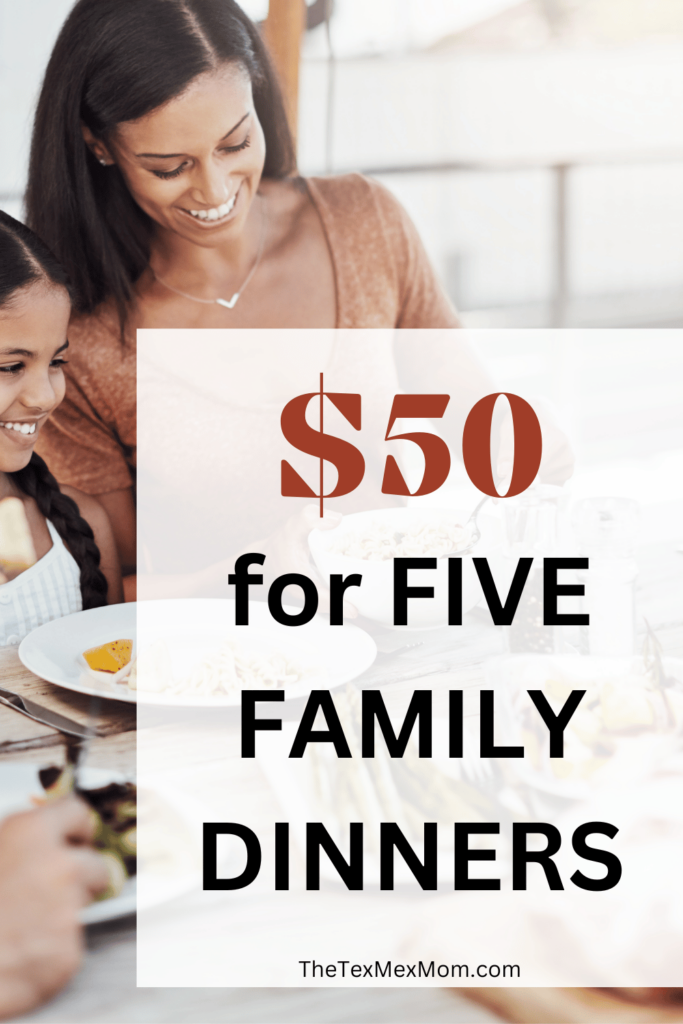 Do you ever get in a dinner rut? Either you can't think of a single blessed thing to cook or you just keep making the same old thing. Has that happened to you?
It can be hard to break out of a dinner rut, especially when you need recipes that are cheap AND kid friendly. But don't worry, I've got you covered!
Today's post is for those of you who are currently stuck in that dinner rut and need some fresh, family friendly meal ideas! I'm sharing 5 dinners that you can make for $50 total – and they're all tested and approved by my family!
I tried to include a variety of recipes (plus sides) so that you don't feel like you're eating the same thing all week. Pick a couple or make them all, you can't go wrong with these yummy recipes!
Please note that I would consider this a meal plan for four people but since my kids are still young the recipes do all make enough for our family of six.
I've included a grocery list at the end of this post, so just a heads up to look for that!
Check out some of my other meal plan posts here: $50 Meal Plan  // $60 Meal Plan // $75 Meal Plan // $80 Meal Plan  // $100 Two-Week Meal Plan // $120 Two-Week Meal Plan
Why just 5 dinners instead of a full week?
When I do my meal planning every week I always plan for five dinners instead of seven. There are a couple reasons for this.
We typically eat pizza of some sort on Fridays (I'm trying to make homemade more often!) so that's one meal that I don't really need to plan for. We also almost always have leftovers for one of our dinners as well.
And of course, sometimes I just get tired and don't feel like making one of the meals on my meal plan so I'll do something extra easy from the pantry (or sometimes we'll get takeout but shhh don't tell!)
So anyway, that's why I find it most practical to just plan for five dinners each week. You can read more about my meal planning and grocery shopping routine here. And now onto my five family friendly dinner ideas!
Five Family Dinners for $50
I don't cook porkchops very often but when I made this meal my family loved it! The porkchops turned out great but what really makes it amazing is the creamy garlic sauce. Next time I think I might double the sauce just to have extra!
I served these porkchops over pasta (which I've included in my ingredient list later in this post) but they'd also be good over rice or mashed potatoes.
This Teriyaki chicken is a quick and yummy recipe, perfect for a weeknight meal. I like how the rice and broccoli balance out the more intense flavor of the chicken.
I used to think that stuffed shells would take too long or be too complicated to make, but my sister recommended this recipe (from a fashion blogger we both follow haha) so I had to try it. Turns out it's not complicated at all.
A couple things to note about this recipe:
Once you click on the link you'll need to scroll down as the recipe is near the end of the blog post.
I add in ricotta cheese to the mixture because I think it makes it yummier (you'll see the cheese in my shopping list below.) Because of the addition of ricotta cheese you can skip the eggs unless you already have some on hand.
Also, when the recipe calls for ground pork it means sausage. 🙂
I discovered this recipe from one of my favorite food bloggers after the holidays when I wanted to use up some leftover turkey. Since then I've made it multiple times but with shredded chicken. It tastes incredible both ways! For this meal plan I'm using chicken because that's what I more regularly have on hand.
5. Chicken Burrito Bowls
I don't have a specific recipe for the burrito bowls, but I like to cook up my chicken breasts on the stove using this recipe (or I'll use leftovers from when Pablo grills!)
Our chicken burrito bowls include rice, beans (usually black beans), chicken of course, and then all our favorite toppings like cheese, sour cream, tomatoes, and salsa.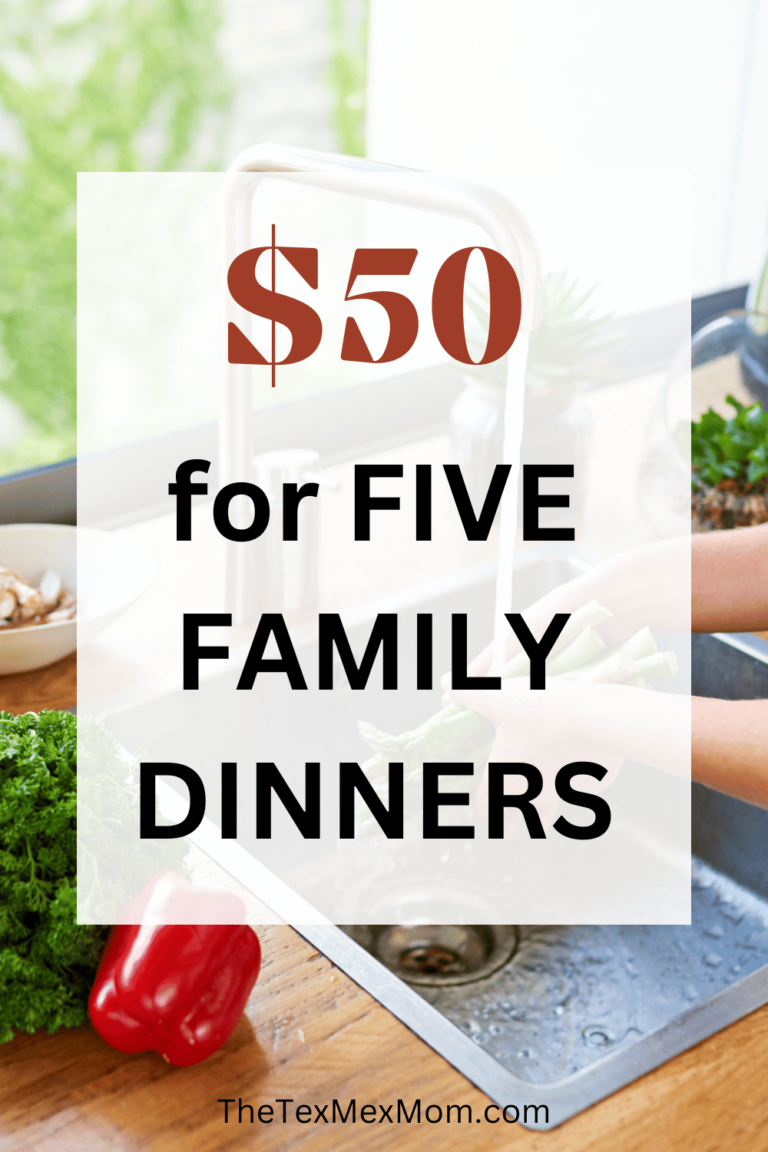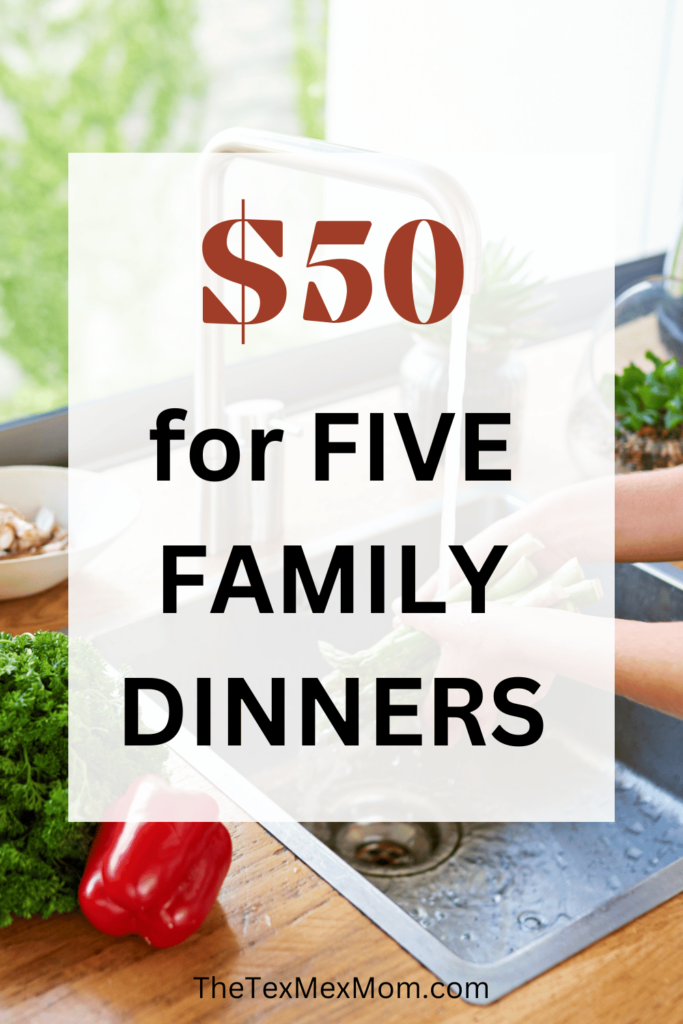 My $50 Grocery List for 5 Family Dinners
As with all my grocery lists that I share, I've tried to include pretty much everything that you'll need to buy with the exception of really basic ingredients (for example flour, spices, basic condiments, etc.)
Please keep in mind that grocery prices change quite often. The prices listed in this post are the prices I found here in Texas at the time of writing (February 2023.)
Here's what you'll need for all five dinners!
Meats
Note: I try to purchase all of my meats on sale. The prices below reflect the typical sale prices at my local Kroger. The packages of fresh chicken breasts that I buy are typically around 4.5 lbs. which I'll divide between the three meals that call for chicken.
4 Porkchops (boneless or bone-in) – approx. $5.50 at 2.99/lb
Pork sausage roll, 1 lb. – $2.49
1 pkg. Chicken breasts, 4.5 lbs at 2.50/lb – $11.25
Dairy / Refrigerated Section
Ricotta cheese, 15 oz. – $2.48
Shredded cheese, 8 oz. – $2.22
Sour cream, 8 oz. – $1.25
Whipping cream, 16 oz. – $2.98 (I'll use this as called for in the porkchop recipe, then use a bit mixed with regular milk for the soup instead of also buying half and half.)
Produce
Garlic – $0.70
Carrots – $0.98
Celery – $1.47
Onion – $1.36
Spinach – $2.28
Roma tomatoes, 4 – $1.16
Frozen broccoli florets – $0.98
Frozen fine green beans – $1.98
"Center of the store"
Chicken broth, two 32-oz. containers – $2.66 (I've included this on the list but I rarely buy it because I typically make my own chicken broth and freeze it. Definitely a great money saver!)
Brown rice, uncooked – $0.88
Jumbo pasta shells – $1.68
Fettucine pasta – $0.98
Grated Parmesan cheese – $2.99
Spaghetti sauce – $1.48
TOTAL = $49.74 (phew, just made it under $50!)
Additional Resources
The articles below talk more about feeding your family on a budget so check them out!