Wondering how to make a meal plan and grocery shop on a budget? Want to do meal planning more often but not sure where to start? Here's my regular routine for meal planning and buying groceries for my family.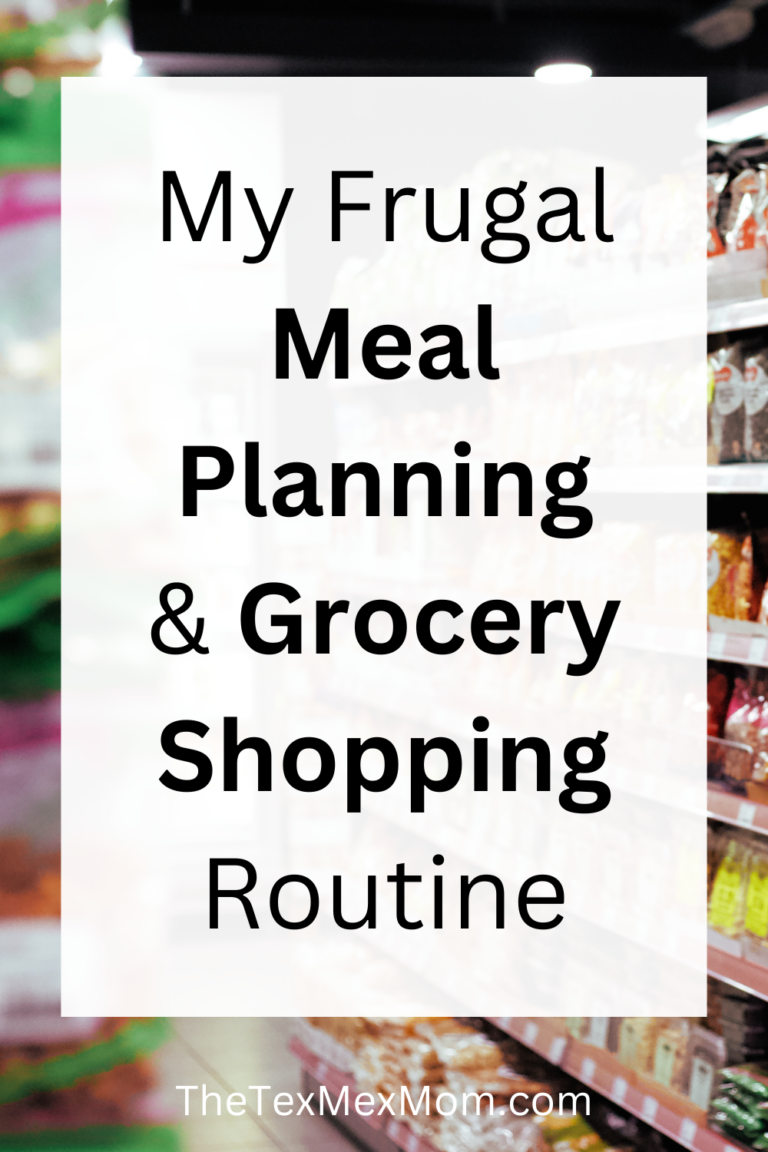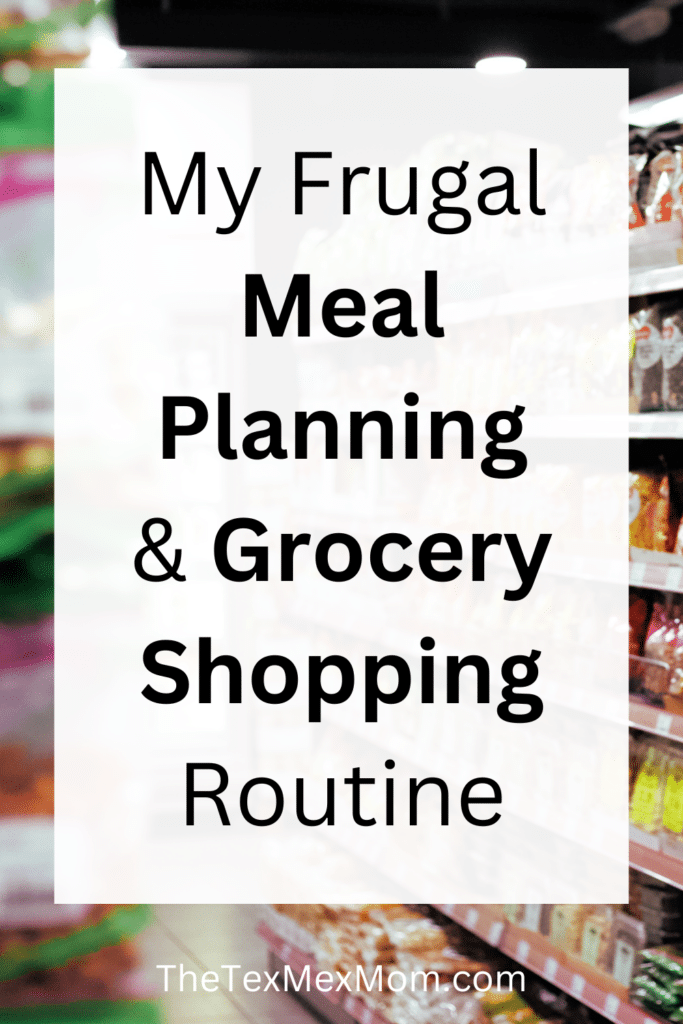 What's for dinner at your house tonight? If you don't know, you may need a better meal planning and grocery shopping routine!
But don't worry, that's what today's post is all about – my basic routine for how to make a meal plan and grocery shop (on a budget of course!)
I've written a lot about meal planning before but today I thought I'd share about my current meal planning and grocery shopping routine as it's changed a bit over time. It's nothing rigid (so maybe routine is a little too intense of a word?) but I do have a typical process that I go through each week when it's time to make a meal plan and do my grocery shopping.
I've found that the sooner I make a plan and a shopping list, the more likely I am to save money on groceries and avoid spending too much on convenience foods or just eating out.
So, here's how I make a meal plan and grocery shop each week.
How I Make My Weekly Meal Plan
First, I check store ads on my phone to see what's on sale.
I always check Kroger's weekly ad because it is the closest grocery store to me other than Walmart. I look carefully through the whole ad, usually on the Kroger app on my phone. I've found that while many of Kroger's regular prices are a little high, their sale prices are often amazing. I especially keep an eye out for good sales on meat (I try to never pay full price for meat) and dairy products like cheese, milk, and butter.
When looking at Kroger's weekly ad, be sure to read the details of the different deals. Sometimes you need to clip a digital coupon, sometimes you need to buy 5 or more, etc. Make sure you know how the deal works so that you can actually take advantage of it!
Aldi is another store that I like to check the ad for occasionally. I used to almost always shop at Aldi but their grocery pickup prices (via Instacart) are now always higher than their in-store prices which I don't love, and I just don't make it into the store in-person all that often anymore since it's a bit farther from me.
Next, I check my fridge, freezer, and pantry to see what I already have on hand.
Good budget meal planning never skips this step! If you forget to take inventory of what you have on hand you may end up planning on making a meal that you don't actually have ingredients for. Or, you may buy a bunch of food ingredients that you already had on hand.
Checking what you have on hand already will also help you to avoid food waste, another important way to save money on groceries.
To make this easier keep a pantry and/or freezer inventory sheet to help you stay current on what food you have on hand. Psst – there's a great inventory sheet included in my printable meal plan & recipe binder kit!
Then I choose five dinners I want to make for the week.
The reason I choose only five dinners is because we typically eat pizza of some sort on Fridays and we almost always have leftovers for one of our dinners as well. (You'll notice that I even plan for leftovers one night a week in my published meal plans here on the blog. Don't want to waste food!)
I choose these five meals from my homemade recipe binder, my favorite recipes board on Pinterest, or occasionally one of my other cookbooks.
I also have a private board on Pinterest where I pin new recipes that I hope to try soon and some weeks I'll pick one or two new ones to make. Other weeks I just keep things super simple with our tried and true favorites.
Curious what we eat at our house each week? Enter your email address below and I'll send you my weekly newsletter where I share my family's meal plan each Monday.
Processing…
Success! You're on the list.
Whoops! There was an error and we couldn't process your subscription. Please reload the page and try again.
As I choose my meals I write down the ingredients I need to buy.
Sometimes I'm making an actual physical grocery list for myself. Often though these days I'm just immediately adding whatever ingredients I need to a new online grocery order. I love the convenience of this!
I'll also write down anything special I want to have for breakfasts, lunches and snacks
Typically we keep the same basic things on hand for breakfasts, lunches and snacks so this step is easy. However, sometimes we may have an outing that we need to pack something special for or I may just want to switch things up. Can't serve the kids PB&J every day, ha!
For more detailed tips on how to meal plan on a tight budget, check out this post!
Now it's time to either place that grocery order or head out to the grocery store!
My Regular Grocery Shopping Routine
Online Pickup
Online grocery pickup has very much become a normal part of my grocery shopping routine. I first tried out grocery pickup back in 2019 and haven't looked back. I find that it's very convenient to add to my grocery order on my phone while I meal plan and having someone else do the actual in-store shopping for me has saved me countless hours over the last few years.
The two stores where I most often utilize online pickup are Walmart and Kroger – and it's free at both stores! (Just don't choose delivery unless you're okay with the extra expense.) I used to regularly use Aldi's grocery pickup service, but like I mentioned earlier in this article their online prices have gone up sonow I just stick to occasionally shopping there in-person.
Ordering groceries online can also make it easier to stay in your budget since can see exactly what your total is as you add groceries to your online cart. (Not sure what your grocery budget should be? Read this!)
In-store Grocery Shopping
While I am shopping in-store less and less these days there are definitely times when grocery shopping in person feels like the smarter option.
For example, by shopping in-store I can often find markdowns that I wouldn't have access to with online pickup. Finding markdowns feels like a treasure hunt to me so I always enjoy it when I have time to do this.
For example, when I go to Kroger I always check their markdown bakery cart, their marked down produce and meat sections, and their clearance section, as well as just keeping an eye out for their yellow markdown stickers throughout the store.
I also think that in-store shopping is the best option when I want to hit the sales at multiple stores and don't want to spend the minimum required at each store for an online order.
However, I try to avoid running into the grocery store mid-week when I've already made an online order earlier in the week. I find that those quick little mid-week runs to pick up one or two miscellaneous things are when we often end up spending much more than we planned, especially if I send my husband haha. (Love you honey!)
Note: when grocery shopping in-store keep your calculator open on your phone to keep tabs on how much you're spending! It's easier than trying to add everything in your head and will help you stay on track with your grocery budget.
Additional Resources for How to Make a Meal Plan and Grocery Shop
The articles below go more into depth on this topic of how to make a meal plan and grocery shop on a budget, so check them out!