Pregnant and in need of affordable maternity clothes on a budget? Here are my best ideas for how to build a nice maternity wardrobe for cheap.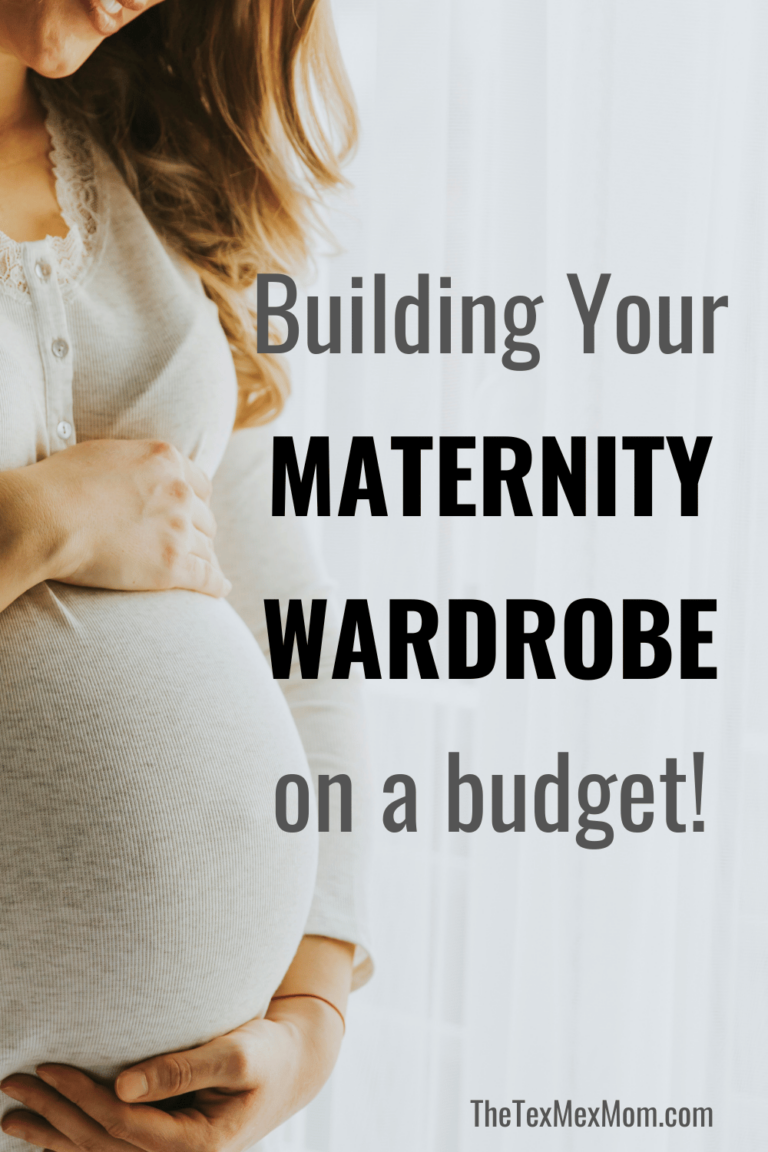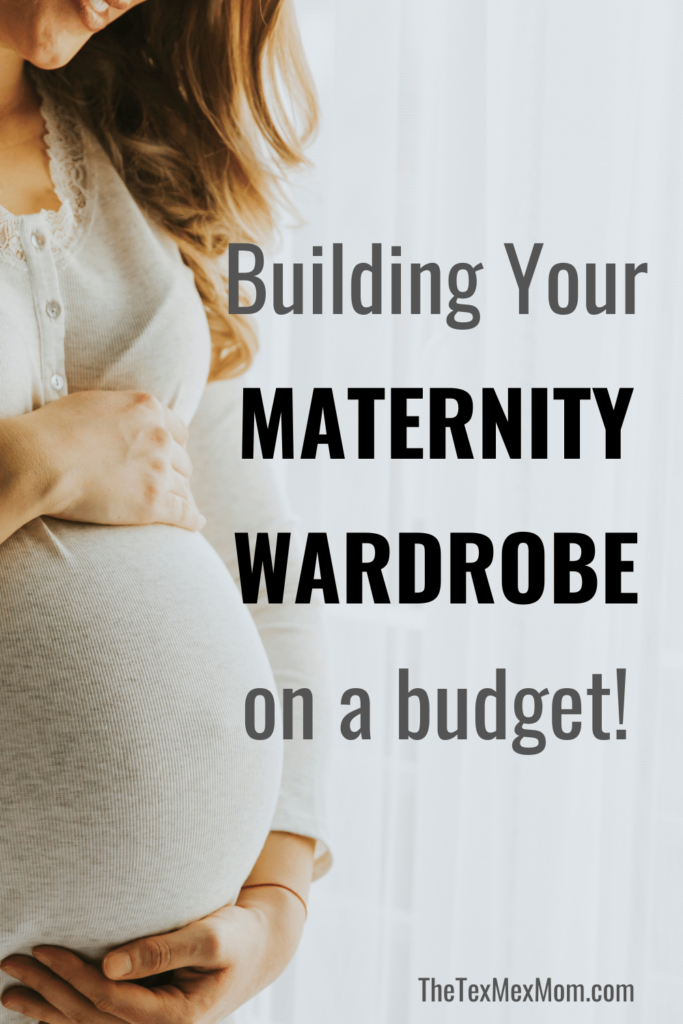 I'm currently halfway through my fifth pregnancy so I decided it's finally time for me to write about how to buy a maternity clothes on a budget.
I'm no fashion expert, in case there were any doubts, but I do like to find ways to save money on maternity clothing and hopefully still look decently put together.
The way that our bodies change during pregnancy can bring up a range of emotions, but whether you feel excitement or are struggling a bit with your new body shape, good maternity clothes are a must.
However, building a great maternity wardrobe can get pricey. A quick Google search tells me that the average woman spends at least $500 on maternity clothes (and that stat is several years old so I imagine it's even more now.)
So what's a woman to do if she wants to look nice while pregnant but also can't shell out $500 or more on a whole new wardrobe? That's what we're going to cover today.
Let's talk first about what maternity clothes you really actually need. Then we'll dive into where to find those affordable maternity clothes. Finally, we'll quickly discuss your postpartum wardrobe as well because, believe it or not, you won't be pregnant forever!
What Maternity Clothes Do You Really Need?
The essential maternity items – those key pieces that you can wear over and over – will vary slightly depending on several factors. For instance, the time of year that you're pregnant (especially the time of year when you're in your second and third trimester) makes a big difference.
Your occupation makes a difference as well – as a stay at home mom my maternity wardrobe looks a lot different than someone who has to show up at the office every day. And of course personal style preferences come into play as well.
However, there are certain basic maternity pieces that I would consider to be essential for almost everyone.
Maternity pants
The hair tie trick for regular pants only works for so long and while I'm a big fan of belly bands, at some point or another it's almost certain that you're going to want to buy some good maternity pants.
For me, a comfy pair of black joggers is a must. I have two pairs – these super comfy maternity joggers and another regular pair with a stretchy material that works for pregnancy.
I think that a comfortable pair of maternity jeans is also a must. You probably don't need a bunch of pairs of jeans, but having at least one great pair of jeans for pregnancy is helpful. I prefer a looser boyfriend or straight style like this black pair of maternity jeans that I own.
Of course, stretchy leggings or yoga pants are also big favorites of pregnant women. While I prefer my joggers, a good pair of black maternity leggings are also a great staple.
Maternity tops
I don't think you need a ton of different styles of maternity tops. Grab some basic maternity tees and tanks and change things up by layering different cardigans or jackets (or lightweight kimonos in the summer.)
If you do want a few unique pieces I'd go for a couple more flowy tops for variety. Ones like this with fluttery sleeves are flattering if you tend to gain weight all over during pregnancy like I do.
Maternity dresses
If you're pregnant through the summer maternity dresses are your best friend. I used to not be a big dress person – I don't think I owned even one maternity dress my first two pregnancies – but I've come to love them because they're just so comfy and cool.
If you live in an area that gets really hot, flowy dresses are a great idea. Cotton or jersey dresses are nice. During summer I'd steer clear of hot stretchy fabrics and go for something like a cute tiered dress (good for maternity and postpartum) and there are all sorts of cute maternity options for maxi dresses as well.
Bodycon dresses are popular of course and I think they can look super cute with a longer cardigan, jacket, or cute kimono layered on top. A black maternity bodycon dress can be dressed up or down and goes with just about everything making it a great staple for your maternity wardrobe.
Other maternity items
Nursing bras – You're more than likely going to need a bigger bra once you've passed first trimester, maybe even earlier. If you're planning to breastfeed and/or pump once baby comes I think it makes sense to just go ahead and purchase some nursing bras. They make great, comfy maternity bras and then you're all ready for when baby arrives. I have some similar to these and while they're not super stylish they are comfy and that's what I care about haha.
Maternity shapewear – The point of maternity shapewear is to both smooth things out and give you some helpful support. My sister purchased this affordable maternity shapewear and loves it, especially with dresses. It's currently sitting in my Amazon cart waiting for me to purchase it as well!
Maternity coat – I almost forgot to include this in my post since I'm from Texas, but in many areas of the country a good maternity coat is a must. You definitely want to keep that baby bump warm! This is one area where it might be worth spending a little more, especially if it's your first pregnancy and you think you'll be able to use it for subsequent pregnancies as well.
Special occasion maternity wear – You may find yourself in need of a maternity dress for a wedding or other special occasion while you're pregnant, or maybe something extra fancy for a maternity photo shoot. If it's something you'll only wear once, it might be worth asking around and borrowing from a friend. Another thing to consider is that some maternity photographers have several dresses on hand for their clients to use.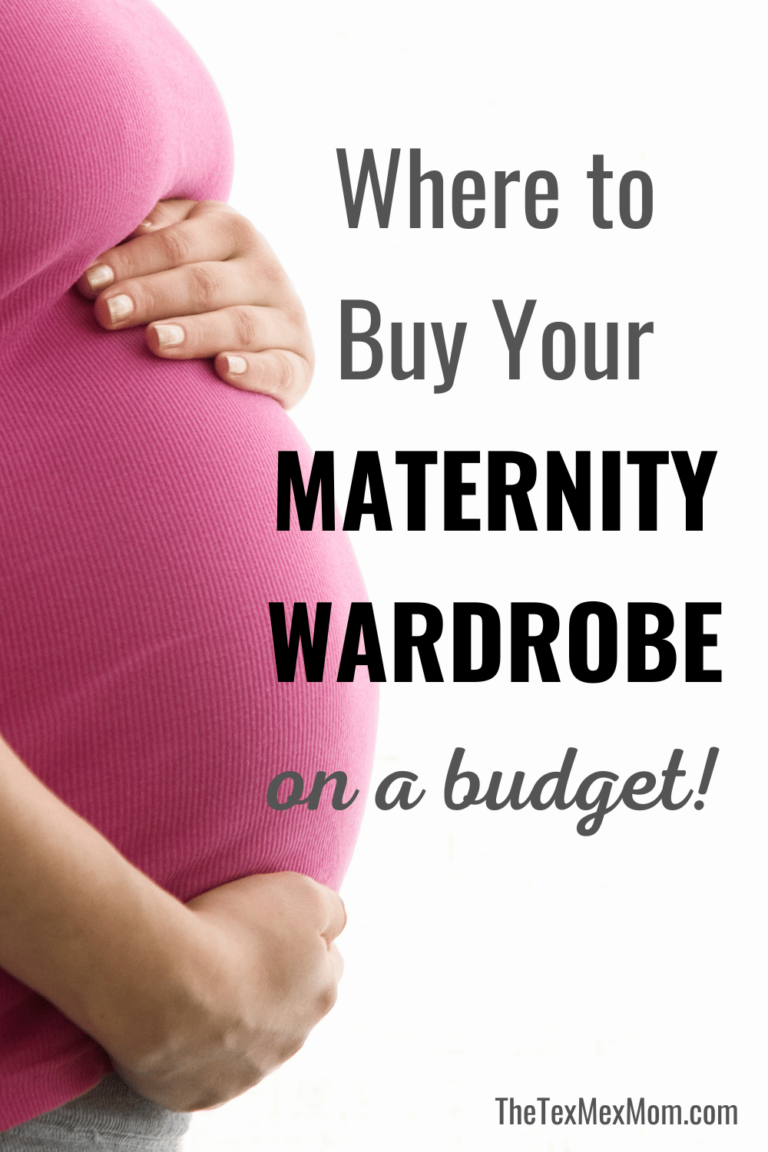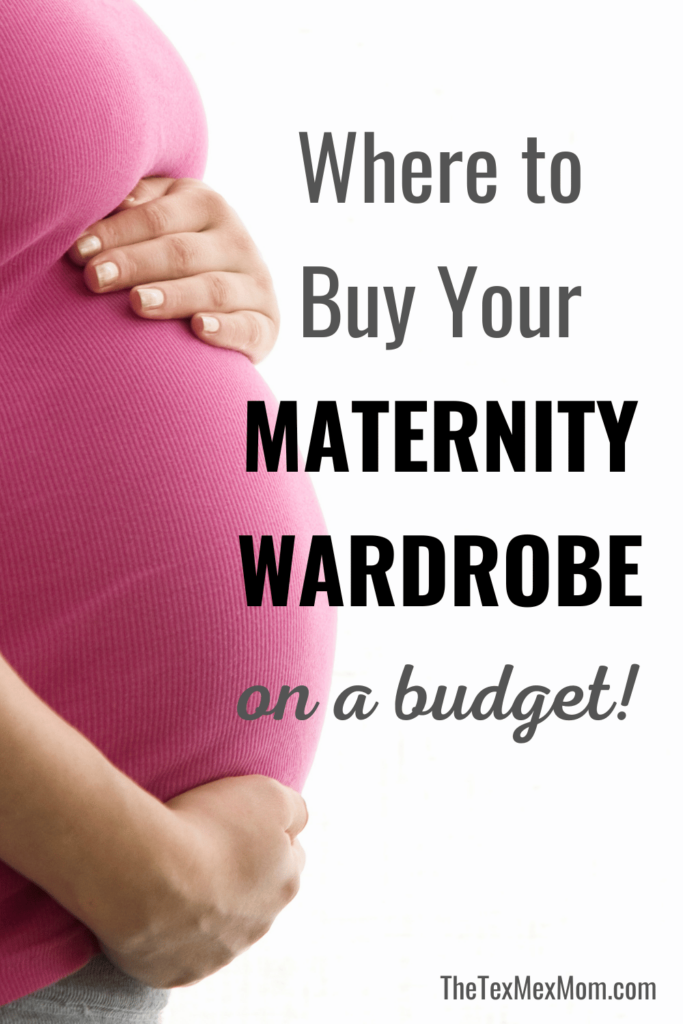 Where to Buy Maternity Clothes on a Budget
How can you find cheap maternity clothes? Which stores even have a maternity section? What are the best places to find great deals?
There really aren't a ton of maternity-only stores out there and there are even less that offer affordable prices for a tight budget. I'll just mention a couple, but most of my maternity clothes have come from regular clothing stores that also carry maternity.
Keep in mind that less and less stores have an actual physical maternity section (whyyy?) so you may want to call ahead to check before you go shopping.
Motherhood Maternity
You've probably heard of Motherhood Maternity, one of the more well-known maternity brands that used to have physical stores in malls. Sadly I believe that most of their physical locations have closed, but they have a large selection online and often run great sales, making them one of the more affordable maternity brands if you don't mind online shopping.
Pink Blush Maternity
Another maternity brand that I've heard of often is Pink Blush Maternity. I've never purchased from this higher quality online retailer myself (I wish they had brick and mortar stores), but if I did I would click right over to their clearance section and start there as most of their regular prices are higher than I prefer to spend.
Stitch Fix
I've heard from other moms who've loved using Stitch Fix for their maternity clothes and I have to say that the convenience factor is great – yay for a personal stylist who knows about maternity fashions and can find you some cute and stylish maternity clothes! I do think though that Stitch Fix is pretty pricey and may not be a great option if you're looking for inexpensive maternity clothes.
Old Navy
I've always found Old Navy to be a good place to find maternity clothes. In the past I was able to shop in-store but I don't currently live near a store that offers a physical maternity section. However, they still have a good selection online and with sales can be decently priced.
Target
In my opinion Target's maternity options have gotten better in recent years and it's so nice to actually be able to try on maternity clothes in the store! I own three of their maternity dresses and have been very pleased with them.
Walmart
I've found Walmart to be a great place to start when I'm looking for affordable maternity basics like t-shirts and tanks. The quality isn't always the highest (hello polyester) but I don't particularly care when I just need something that will work for the next few months without breaking the bank.
Big department stores
I don't frequent big department stores much these days but I recently ordered some maternity jeans from Kohls.com that were on sale. I think that stores like Kohls, JC Penney, Macy's, etc. can be great places to shop for pregnancy clothes if you watch for sales and keep an eye on their clearance sections.
Amazon
And yes, I can't not mention Amazon. I wouldn't have even thought to shop for maternity clothes on Amazon during my first pregnancy eight years ago, but now just a few years later it's everyone's favorite one stop spot.
Buying maternity clothes used
Do you really want to save money a lot of money on maternity clothes? Then buying used is the way to go! Many pregnant women buy loads of maternity clothes that don't get a ton of wear, so you can find used maternity clothes that are still in really great condition.
Consignment shops can be great places to find maternity wear on a budget. Again, it's probably a good idea to call ahead to make sure that your particular store carries maternity (my local consignment shop does not.) Many children's consignment stores like Once Upon a Child and Kid-to-Kid also have a small maternity section that's worth checking out.
Are you a fan of thrift stores? Depending on the thrift stores in your area they can be a great way to really save on maternity clothes. My sister-in-law is always finding amazing deals on stylish pieces at thrift stores. I think the key is to pop in often because the inventory is constantly changing.
I've written previously about some of the best things to buy on Facebook marketplace but one thing that I didn't mention was maternity clothes. Facebook Marketplace is can be a great place to find deals and unlike the thrift store it's online so it's easier to check in often!
And finally, I should also mention garage sales. They can be an easy way to find cute maternity clothes for not much money at all. A friend of mine found me this Target brand maternity dress at a garage sale for just a dollar!
Postpartum Clothing
While this article is technically about my best tips for how to get good deals on maternity clothes, I wanted to just talk briefly about postpartum clothing as well.
When I was a first time mom I lost the baby weight really fast. But after my second pregnancy (and the subsequent ones) my body has seemed to want to hold onto that weight a little longer. This last time my weight loss plateaued until about eight months post-partum and I expect that this time around will be similar and that's okay!
The amount of time that it takes your body to "bounce back" after having a baby is going to be different for everyone, depending on your age, body type, number of pregnancies and all sorts of things. But regardless of how fast or slow you lose the baby weight, I believe you will find it helpful to buy a few new items for your postpartum wardrobe.
Clothing do's and don'ts for postpartum:
Do buy several basics that fit you now. A good pair of jeans can be a game changer!
Do look for tops with some structure that hang well and don't emphasize your stomach area.
Don't buy clothing made with thin or clingy material as this will not be flattering.
Don't pay attention to the size – just buy what fits.
Buying some new postpartum clothes that fit you now won't somehow keep you from losing the weight, so don't avoid it for that reason. Obviously you're not looking to buy a whole new wardrobe post-partum, but picking up a few new items that fit well (ie: that you don't have to squeeze yourself into) will help you feel a lot better about yourself, trust me.
But honestly, no matter what you do clothing-wise, please don't stress about "getting your body back" to your normal size right away. Some moms hang on to a lot of the baby weight until their hormones balance out again. Others may not lose much until they're finished breastfeeding. I tell my kids that I think God made moms' bellies to stay squishy for a little bit after having a new baby because it makes it more comfy for all those baby snuggles.
Anyway, with all that being said I should probably wrap up this post before it gets way too long!
In summary, I do think it's possible to put together a nice maternity wardrobe for cheap. By limiting what you purchase to some good basics, shopping sales and clearance, and buying second-hand when possible, you can find some great maternity – and postpartum – clothes on a budget.