Meal planning on a budget can be hard – let me help! Here are two weeks of easy and cheap family dinners for $100. Grocery list included.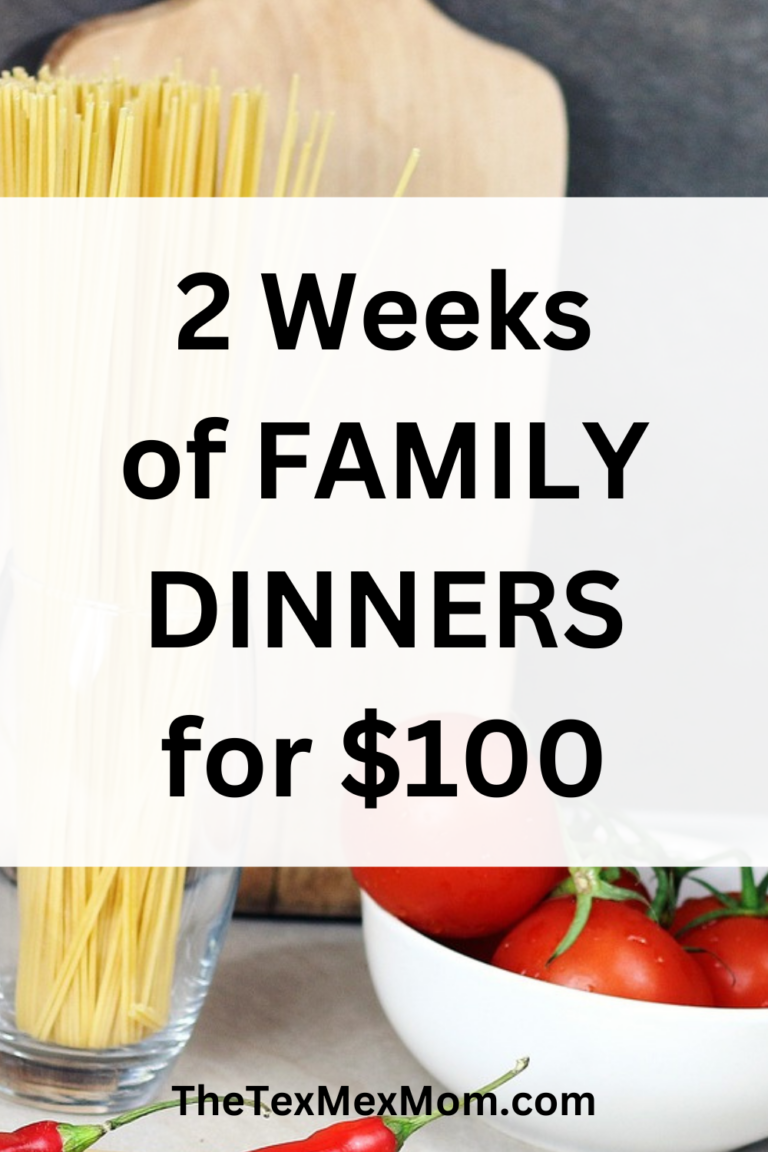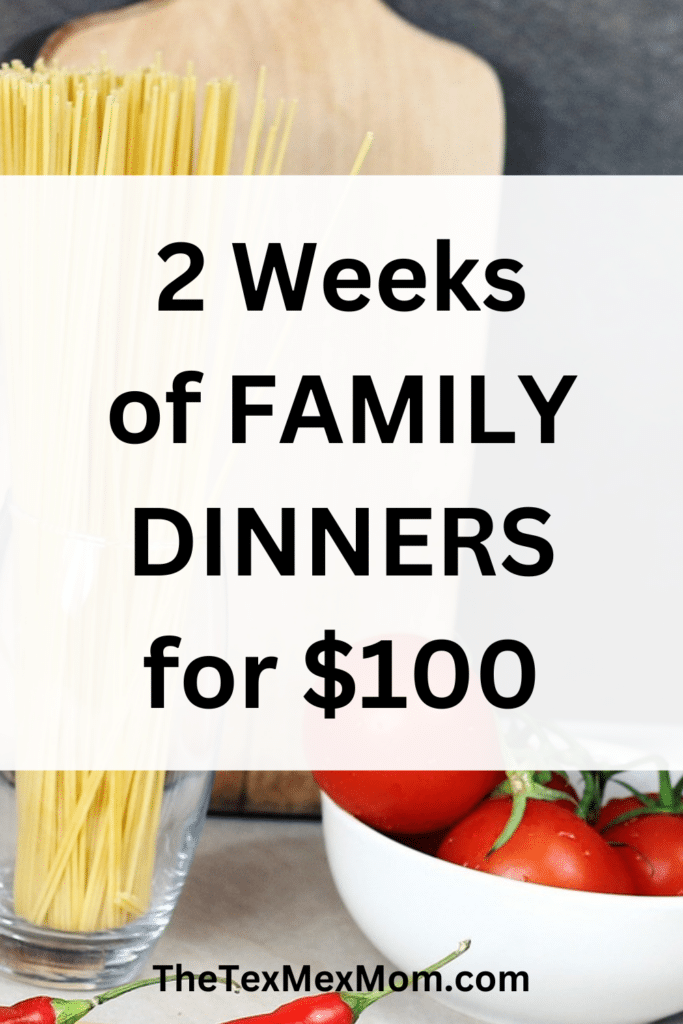 Feeding your family on a budget is hard, especially with the rising prices that we're all feeling these days. With prices changing often over the past year, it can be hard to even know how much to budget for groceries. Maybe you've thrown out the budget all together and are just sort of winging it.
Pablo and I definitely struggle to stick to our grocery budget as well – doing better some weeks than others – but one of the things that helps us the most is making a plan.
When I take the time to make a meal plan and then only shop for what we need for those meals we always spend less than when I get lazy and try to wing it.
I know that meal planning itself can feel overwhelming at times which is why I like to share meal plans here on my site from time to time. I personally find it fun and helpful to see what other people are feeding their families, so I hope that sharing my meal plans will be a good resource for someone else!
If you're looking for more meal ideas, you can also check out my big list of 75 frugal + favorite family dinner ideas here.
Two Weeks of Family Dinners for $100 – A few things to keep in mind:
In the past I've shared a lot of complete meal plans that include breakfast, lunch, and dinner. If you're interested in those you can check them out below. However, this particular meal plan is just for dinners – $100 for two-weeks of family dinners.
Prefer a complete meal plan? Check out some of my other meal plan posts here: $50 Meal Plan  // $60 Meal Plan // $75 Meal Plan // $80 Meal Plan  // $100 Two-Week Meal Plan // $120 Two-Week Meal Plan
As with all my grocery lists that I share, I've tried to include pretty much everything that you'll need to buy with the exception of really basic things (for example flour, spices, basic condiments, etc.)
Please keep in mind that grocery prices change quite often. The prices listed in this post are the prices I found here in Texas at the time of writing (January 2023.) I priced most of the items at my local Walmart, unless otherwise noted.
I love to save time and make my life easier by cooking once and eating twice, so you'll notice that two of the dinners on this $100 family meal plan are on the menu both weeks. I simply make enough for two meals the first week and freeze half for the following week.
I also always leave one night for leftovers because I find that that works well for us and helps us not to waste food.
Finally, I would consider this meal plan to be for a family of four, though it does feed our family of six since our kids are little. 
Two Weeks of Family Dinners for $100
Week One
Chicken Spaghetti, green beans- Divide and freeze half to bake next week. (Note: we skip the pimientos so you won't see them on my list.)
Taco Soup – Divide and freeze half for next week. This recipe makes two meals for my family, but if you have big eaters you can always add an extra can of beans and/or diced tomatoes to stretch it a bit.
Beef Stroganoff Sandwiches, raw carrots
Chicken Alfredo Pasta, salad – Not a cheap meal like some of the others, but you have to have a splurge every so often right?
Fajitas – We use this chicken marinade.
Meatball Subs, potato wedges – I use this Homemade Meatball recipe and serve on basic hotdog buns with spaghetti sauce and mozzarella cheese. No eggs? Just use an egg substitute.
Leftovers
Week Two
Sheet Pan Sausage/Potatoes/Veggies – I use this recipe as a guide but just use whatever veggies I have on hand. This week I've chosen to use broccoli, zucchini, several colors of bell peppers, onions, and potatoes.
Korean Beef and Rice – Note: If I don't have orange juice on hand for this recipe I just skip it and it still turns out great.
Salsa Chicken, green beans
Chicken Spaghetti, peas (pull from freezer)
Taco Soup (pull from freezer)
Leftovers
If you're looking for more meal ideas, enter your email address below to subscribe to my weekly emails where I always share my family's meal plan for the week!
Processing…
Success! You're on the list.
Whoops! There was an error and we couldn't process your subscription. Please reload the page and try again.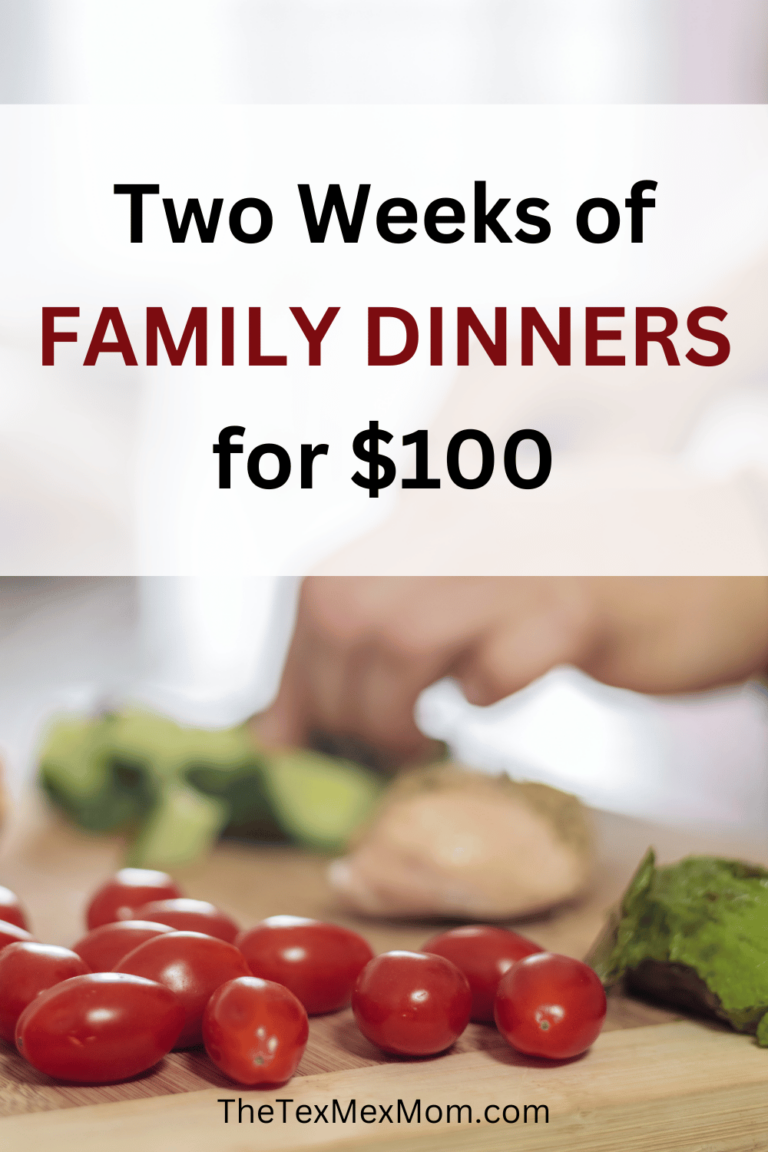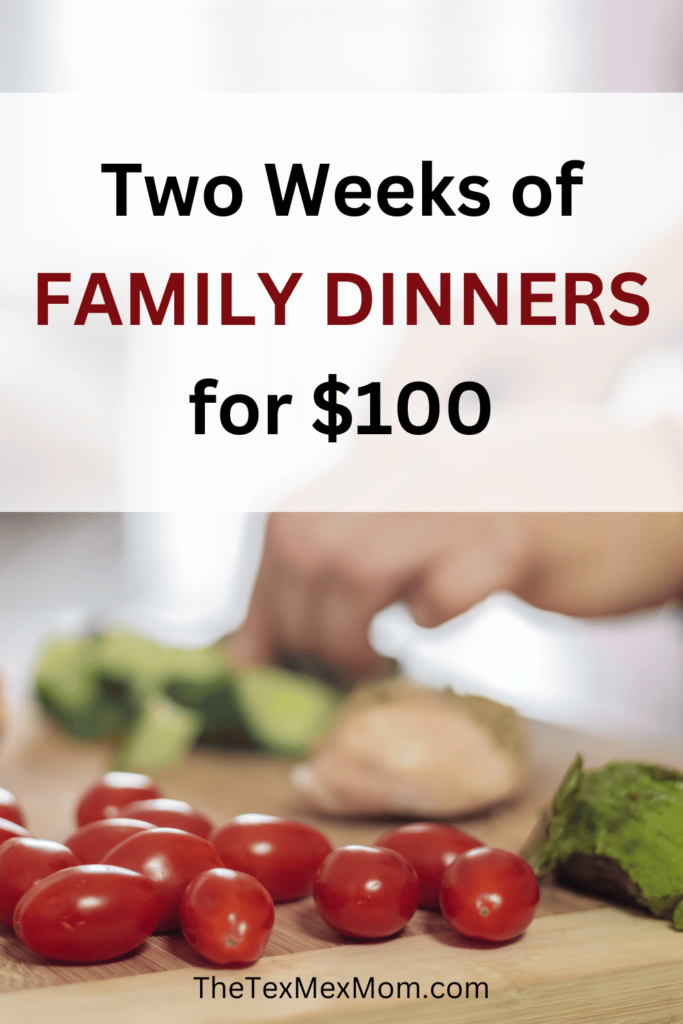 $100 Grocery List
Dairy / Refrigerated section
Sour Cream, 16 oz. – $1.96
Butter, 1 stick – approx $1.00
Shredded Mozzarella Cheese, 8 oz. – $2.22
Shredded Cheddar Cheese, 2-16 oz. bags – $7.96
Grated Parmesan and Romano, 8 oz. – $4.14
Half & Half, 32 oz. – $2.78
Produce
Garlic Bulb – $0.67
Tomatoes – $1.45
Bag of Onions – $3.18
Red Bell Pepper – $1.38
Orange Bell Pepper – $1.38
Green Bell Pepper – $0.73
Zucchini – $0.89
Broccoli Crowns, 3 – $3.93
Baby Carrots – $1.24
Romaine Hearts – $3.48
Bag of Potatoes, 5 lbs. – $3.18
Frozen Green Beans, 2 bags – $1.76
Frozen Peas – $0.88
"Center of the store"
Spaghetti Sauce – $1.48
Fettucine Pasta – $1.18
Spaghetti – $0.98
Salsa – $2.24
Bag of Rice – $1.62
Taco Seasoning, 2 packets – $0.84
Ranch Dressing Packet – $0.50
Canned Green Chilis – $0.78
Pinto Beans, 2 cans – $1.56
Black Beans, 1 can – $0.78
Diced Tomatoes, 3 cans – $2.64
Cream of Mushroom Soup, 2 cans – $1.36
Hot Dog Buns – $1.10
Loaf of French Bread – $1.47
Tortillas – $1.98
Meats
Smoked Sausage – $2.50
Ground Beef, 5 lbs. @ 2.50 per lb – $12.50
Chicken Breasts, 4.7 lbs. @ 1.99 per lb – $9.37
Chicken Drumsticks, 4.5 lbs. @ 0.99 per lbs – $4.45
Rotisserie Chicken (purchased at Costco) – $4.99
Total = $98.53
Note: the majority of the above prices are from my local Walmart, with the exception of the meats which I purchased on sale at Kroger. I try to watch for sales on meat and stock up when I can so that I never have to pay full price.
What did you think about my list of two weeks of family dinners for $100? Let me know in the comments!
Thanks for stopping by the blog today!