Champurrado – thick Mexican hot chocolate – is one of my very favorite hot drinks. Try the easy recipe yourself and I bet you'll be as hooked as me!
I first tasted the delicious, thick Mexican hot chocolate called champurrado back in college when Pablo made it for me and several other friends. Pablo and I weren't dating yet and he was just being nice, but I still like to think that he was secretly trying to impress me.
Whether he was trying or not, I was impressed and now we're married and champurrado has been a regular part of my life every winter since. Haha.
Anyway, I very much enjoy champurrado so today I wanted to finally share the recipe with you!
Now, in case you hear "Mexican hot chocolate" and think "spicy", Pablo would like me to tell you, emphatically, that adding pepper to hot chocolate does not make it Mexican. I remember back in college that he was horrified when he bought a "Mexican hot chocolate" and found out it was basically just regular hot chocolate with the addition of cayenne pepper. Yuck!
So, just to be clear, champurrado does not have any pepper in it.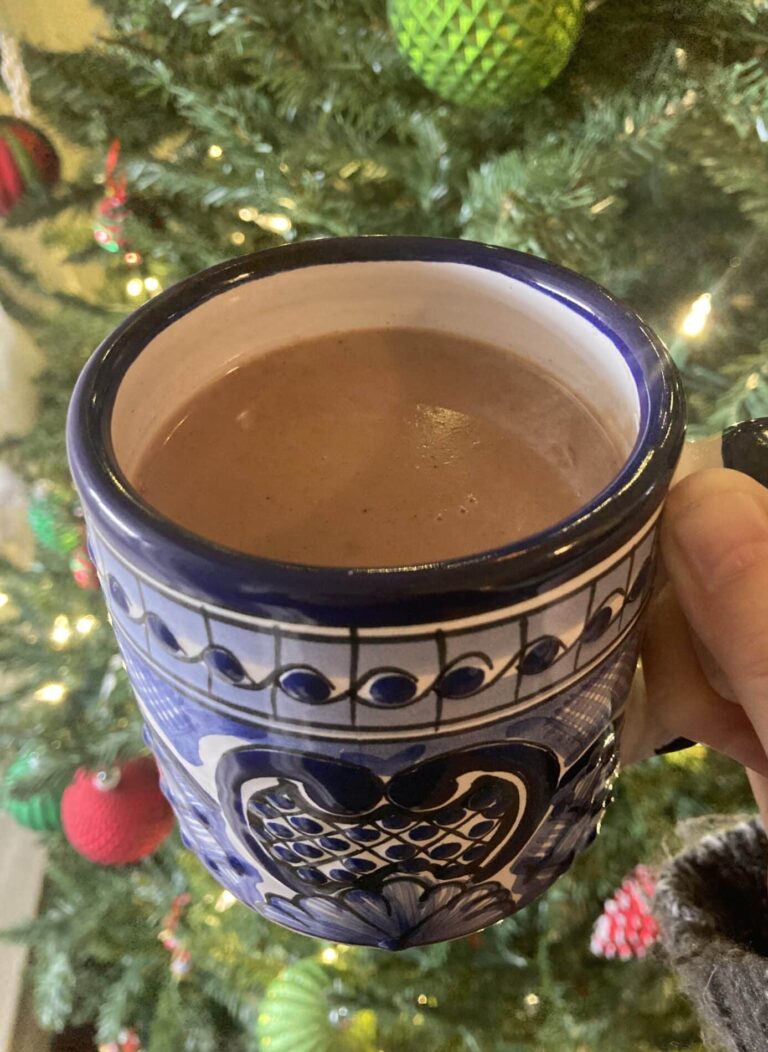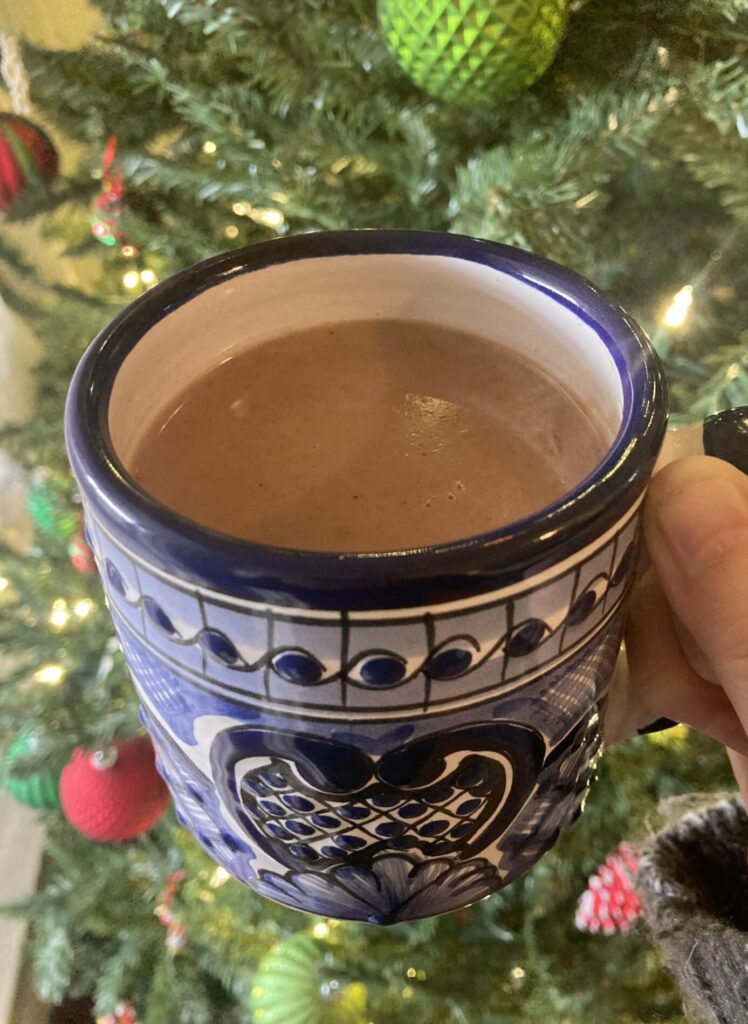 What's the difference between champurrado and regular hot chocolate?
Champurrado is traditionally made with Mexican chocolate, masa harina or corn flour, piloncillo (a type of cane sugar), cinnamon, and water or milk. The masa or corn flour gives it a thicker consistency than regular hot chocolate.
Champurrado typically has a milder chocolate flavor than regular hot chocolate and in my experience is usually not quite as sweet.
Can you make champurrado without masa and piloncillo?
The short answer – yes! The champurrado recipe that I'm sharing today is my mother-law's version and does not call for either. Along with the Mexican chocolate and cinnamon, her recipe just calls for regular sugar and uses corn starch for thickening instead of masa. This champurrado recipe uses whole milk instead of water as well which makes it extra creamy and delicious.
What kind of chocolate do you use in champurrado?
The typical Mexican chocolate brand that I have always used and seen used by others is Abuelita. For making champurrado you'll want to be sure to buy the Abuelita chocolate tablets, but there is also a powdered Abuelita mixture available if you just want a quick, non-thick Mexican hot chocolate drink.
Note: I've also heard of Chocolate Ibarra as another authentic Mexican chocolate, but have not personally used it.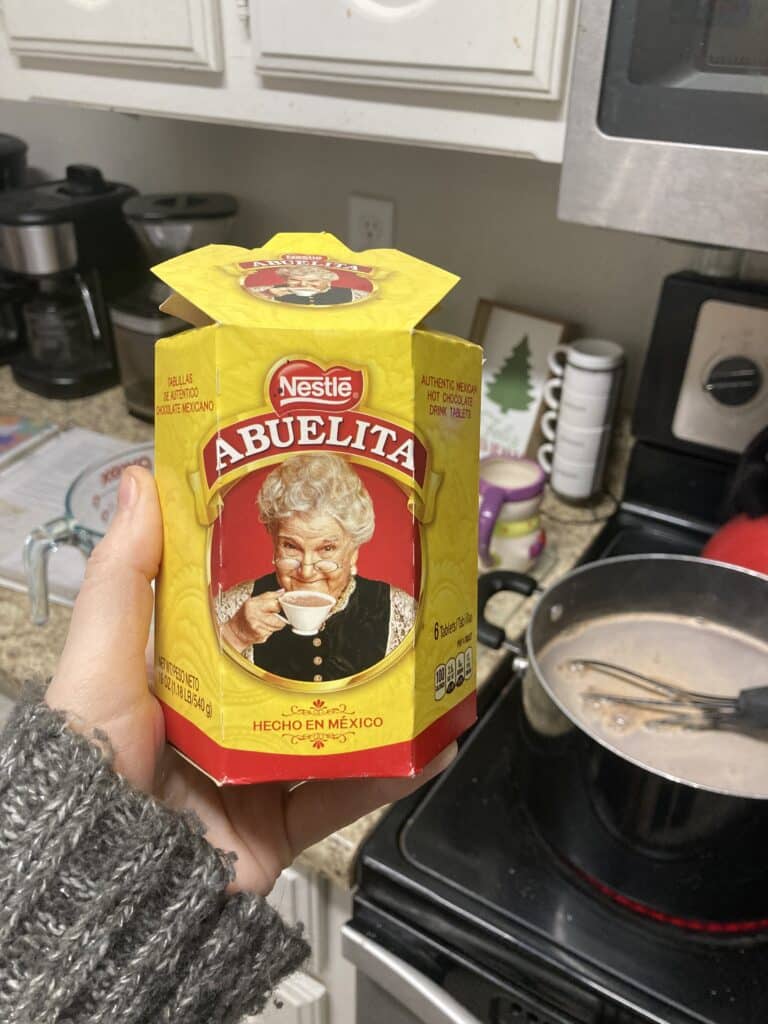 A few notes before you make your own thick Mexican hot chocolate
First off, know that making champurrado with milk means that you'll be doing a lot of stirring. If you don't, it will stick and no one likes the taste of scalded milk. You'll also want to keep the temperature at a nice medium to medium-high while stirring instead of cranking it to high heat, again just to help avoid burning the milk. Patience is key!
When you first start stirring and slowly melting the Abuelita chocolate tablets into the milk you'll notice that the mixture looks very speckled, like the chocolate is not dissolving well. Again, give it time. With a lot of patience and stirring your chocolate will eventually dissolve and your champurrado will have a darker appearance.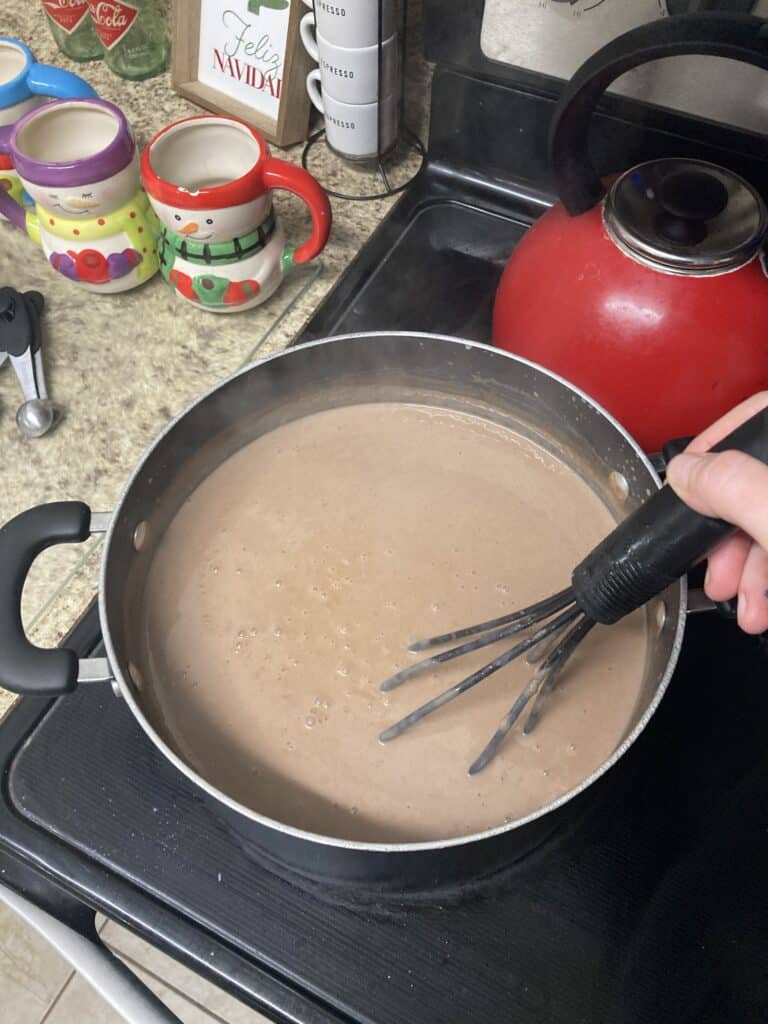 Finally, if you don't have any cinnamon sticks a teaspoon of ground cinnamon will do just fine.
Champurrado has become one of my very favorite cold-weather drinks. In fact, it's sort of ruined regular hot chocolate for me to be honest. It's just so thick and delicious and comforting. Try it yourself and I bet you'll be as hooked as me!
Love trying new recipes? You may also be interested in: 75 Family Friendly Dinner Ideas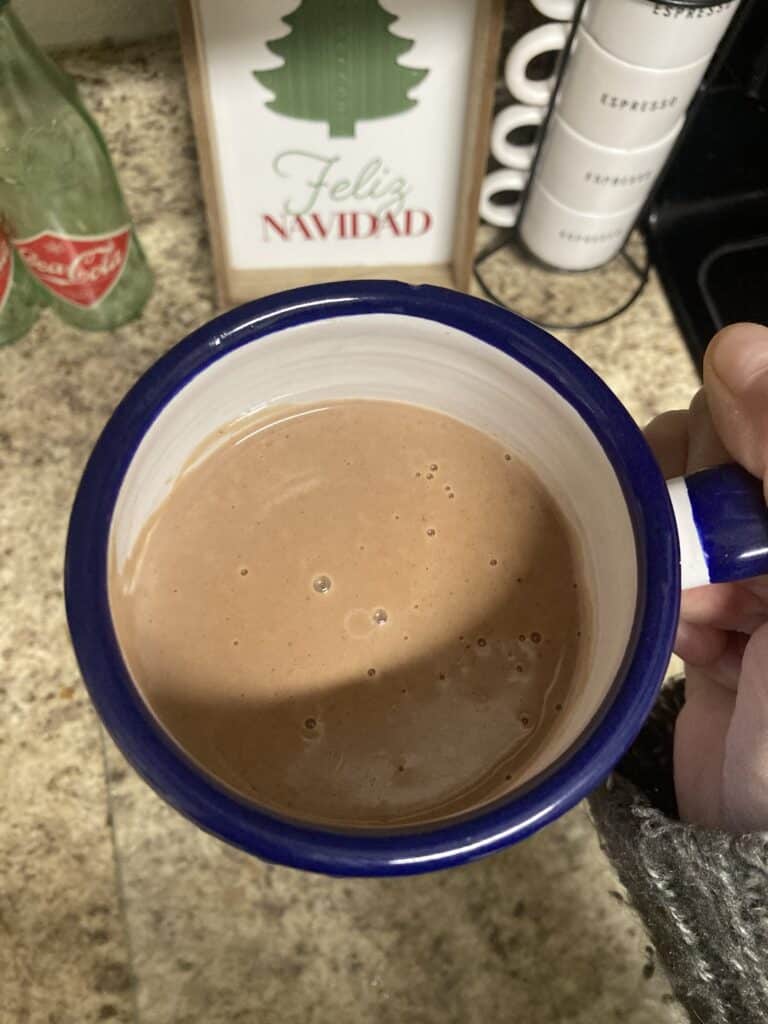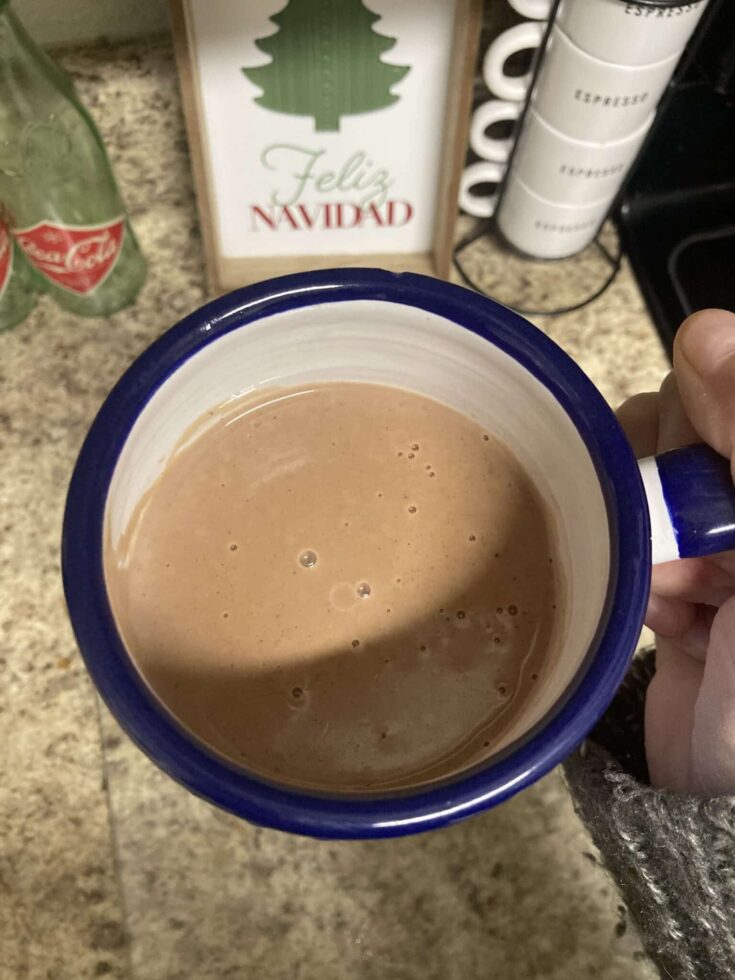 Champurrado - Thick Mexican Hot Chocolate
This thick and creamy Mexican hot chocolate will ruin all other hot chocolate for you. Consider yourself warned.
Ingredients
12 cups milk
3 Tbsp. sugar
1 cinnamon stick (or 1 tsp. cinnamon)
3 tablets Abuelita chocolate (90 grams each)
1/2 cup corn starch
1 cup water
Instructions
Add milk, sugar, cinnamon and Abuelita chocolate to a pot on the stove.
Heat on medium to medium high heat, stirring constantly until the chocolate dissolves and the milk comes to a gentle boil.
In a separate bowl, mix corn starch well with water, then add to the milk, stirring well.
Turn down the milk to low and let it simmer for 5 more minutes, still stirring constantly.
Remove from heat and let sit for several minutes before serving.
Does this easy champurrado recipe look good to you? Be sure to pin the image below to save it for later!