It's time to talk about blogging again you guys! In the past couple of years I've had multiple friends ask me about blogging and to answer their questions in part I've written several blog posts about it. It's fun sharing about my favorite hobby.
Since writing those posts though I've discovered even more helpful resources, so I decided it was time for a new post. This post will outline all of my favorite blogging tools for beginners (and beyond!) The tools in the post are perfect to help you start a blog and/or to grow your existing one! I plan to come back to this post and update it as I discover more helpful stuff.
The Ultimate List of Blogging Tools for Beginners
Quick note: some of the links in this blog post are affiliate links. That means that if you make a purchase through one of the links I may receive a commission at no extra cost to you. No worries, I only promote things that I love and that I would recommend regardless.
1. Learning about blogging
So, you're thinking about blogging but are feeling overwhelmed. You're not sure how to start a blog or even if blogging is for you. I totally get that, trust me. The internet is full of useful information about blogging but there's SO MUCH information out there that it can be hard to even know where to start!
But never fear, I've gotcha! 😉 Here's where I recommend starting first:
Crystal Paine / My Blogging Mentor
Crystal Paine (you may know her as the Money Saving Mom) teaches all about blogging on her second website, Your Blogging Mentor. I would highly recommend Crystal as your starting point for learning how to start a blog and all things blogging. She's a veteran blogger who makes a full time income from her blog and she absolutely knows what she's talking about. Plus, she's so real and relatable – I just love following her as a blogger.
A good place to start is with Crystal's blogging webinar for beginners – it's FREE (you can't beat that!) and I loved it! Do yourself a favor and go check it out.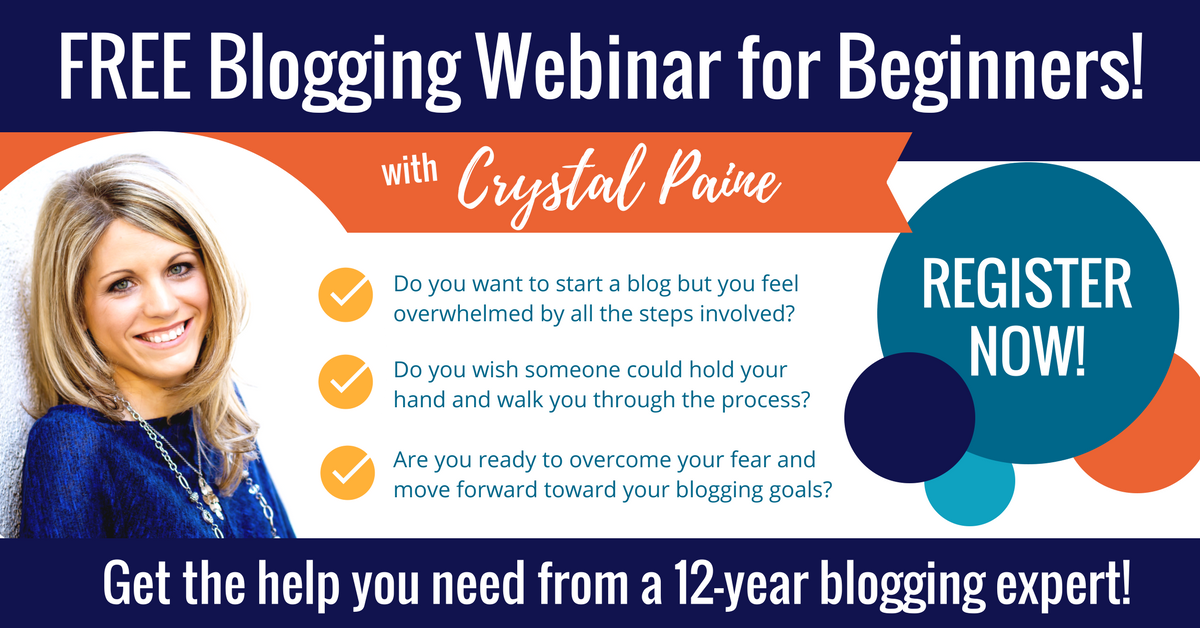 Natalie's Blogging E-Course
I signed up for Natalie's blogging e-course for moms about two years ago now. I wish I would've known about it when I was first starting my blog because it would've been so helpful. I love that Natalie gives detailed information and advice about how to reach out to brands – I've found that to be super helpful.
Books About Blogging
Prefer to read a book? Ruth Soukup from the blog Living Well Spending Less has written a book called How to Blog For Profit Without Losing Your Soul. It is FULL of helpful information about all parts of blogging. I need to read through it again soon because it just has SO much. If you take the time to implement everything that she suggests you will be well on your way to a successful blog.
Read it for FREE with Amazon's Kindle Unlimited! (Hint: You can get a free trial!)
2. Setting Up Your Blog
Once you've made the decision to start a blog, there are a couple things that you need to decide on right away: a platform and a web host.
Platform
The blogging platforms that you'll hear about most often are WordPress (what I use) and Squarespace. I chose WordPress because everything I read said that it was the way to go and I'm very happy with my choice.
Note: I started my blog using wordpress.com but changed later to wordpress.org. If you have any plans to monetize your blog at some point you will definitely need wordpress.org.
Web host
Once you've chosen your platform, it's time to choose a web host. There are many options: Bluehost, GoDaddy, HostGator, Dreamhost, Siteground, etc.
I use Bluehost because it was recommended to me by a friend. It's the only host I have experience with so while I can't speak for any of the other ones, Bluehost has been great for me. I've found their customer service to be really good and when it was time for me to renew my hosting they worked with me to give me a lower-than-advertised rate – yay!
Right now you can get started with Bluehost for just $3.95 a month!


Email provider
I don't want to go on without talking about choosing an email provider for your email list. No, you don't need an email list when you are first starting to blog, but I highly recommend that you start building one right away. I'm always hearing bloggers say that they wish they would've started to grow their email list from the very beginning (and I know I wish I would've!)
I use Mailchimp as my email provider. It's great because it's free up until you hit 2000 subscribers. I love free haha! I'd recommend checking out a tutorial (this one's good!) before you send out your first email.
3. Useful Tools
When I first started blogging I didn't have a clue about all the different resources that are out there. In case you're the same, here's a list for you of some tools that will make your life as a blogger a whole lot easier.
Stock photos
Blogging isn't just about the writing – you need some nice images! After all, a picture is worth a thousand words, right? While it's nice when you can use your own images, stock photos can really come in handy. Below are some of my favorite websites for stock photos.
Free stock photo websites
Pixabay.com, Pexels.com, and Unsplash.com all have tons of free stock photos that you can download. I've used all three at various times. The only downside is that because they are free and easily accessible, you'll probably find lots of other bloggers who are using the same photos haha.
Ivory Mix 
Ivory Mix has some of the most GORGEOUS photos. (I used one of them to make the graphic for this post!) Enter your email on their website and you'll get access to hundreds of gorgeous stock photos!
Grab your free stock photos here!
Haute Stock
Haute Stock sends out a few free photos every month if you subscribe to their emails, plus they have a stock photo membership that you can sign up for.
Design tools
If you plan to pin your blog posts to Pinterest (you definitely should by the way!) you'll need to create some graphics. No photoshop? No problem. I've used both PicMonkey and Canva to create my graphics. They have everything you need and are super easy to use – definitely some of my favorite blogging tools for beginners (and everyone else too haha.)
Check out PicMonkey with a free trial!
Promotion
So you've written a blog post, added in some pictures and a beautiful graphic. Now you just need to get it in front of people! How do you do that?
Social media and your email list are a good place to start, as well as pinning your content on Pinterest!
Tailwind is a great resource if you want to be able to schedule out your pins ahead of time. While I am currently just manually pinning, I've used Tailwind some in the past and it's a really great tool. It does have a monthly cost but you can try it out for a month for free to see how you like it!
Another resource you may find helpful for promoting your content is Milotree. Milotree adds small smart pop-ups to your blog that help you grow your social media followers and email list. Try Milotree free for 30 days to see if it's a good fit for your blog!
Planning
A good blogger needs to stay organized. Some people love using their Google calendar for this; others (like me!) prefer using an actual planner. Do whatever works for you!
If you prefer a physical planner, I used this Epic Blog Planner one year and loved it. It's specifically made for bloggers so it has all sorts of helpful pages. The dates are not printed so you can fill them in and start with this planner at any time of the year.
This year I opted for this simple + classic planner. It's not specifically for bloggers but it fits what I need. I love that it includes a whole notebook section in the back.
Okay, one more haha. I also LOVE the look of this gorgeous planner from Dayspring. It has pages for weekly and monthly action plans, as well as pages for reflection, so I can see it working super well as a blog planner.
4. Two Pieces of Advice
So, before I wrap up this blog post, I want to share two pieces of advice. Feel free to take it or leave it. 😉
Don't blog if you don't love it.
If you choose to blog, choose it first and foremost because you enjoy doing it. Because if you enjoy blogging, you're going to keep at it!
If you're just blogging because, oh I don't know, you feel like it's the cool thing to do or whatever, or because you think you'll make big bucks right away, you're not going to last. Blogging is a lot of work and it is almost always not a way to get rich quick, despite everything you may read to the contrary.
There are lots of great reasons to blog (I outlined some of them here!) but ultimately, if you don't love it, don't do it.
Don't give up.
So, if you think you'll enjoy blogging and decide to go for it, then do! Go for it and stick with it!
When I first started blogging, I made the decision to try it out for a whole year. I'm so glad that I stuck with it. Blogging has been such a great outlet and fun challenge for me!
Well, that's all I have for now! I hope that some of these blogging tools for beginners (and beyond) will be helpful. Hopefully you discovered something new today. 🙂
Like I said, I'll be updating this page as I discover awesome new resources. If you have any suggestions of great blogging tools for beginners or advice for how to start a blog that I didn't mention here please leave a comment and let me know what you'd recommend!