Having a daily quiet time for kids is important for lots of reasons. Here's why you should have one and how we do quiet time in our home!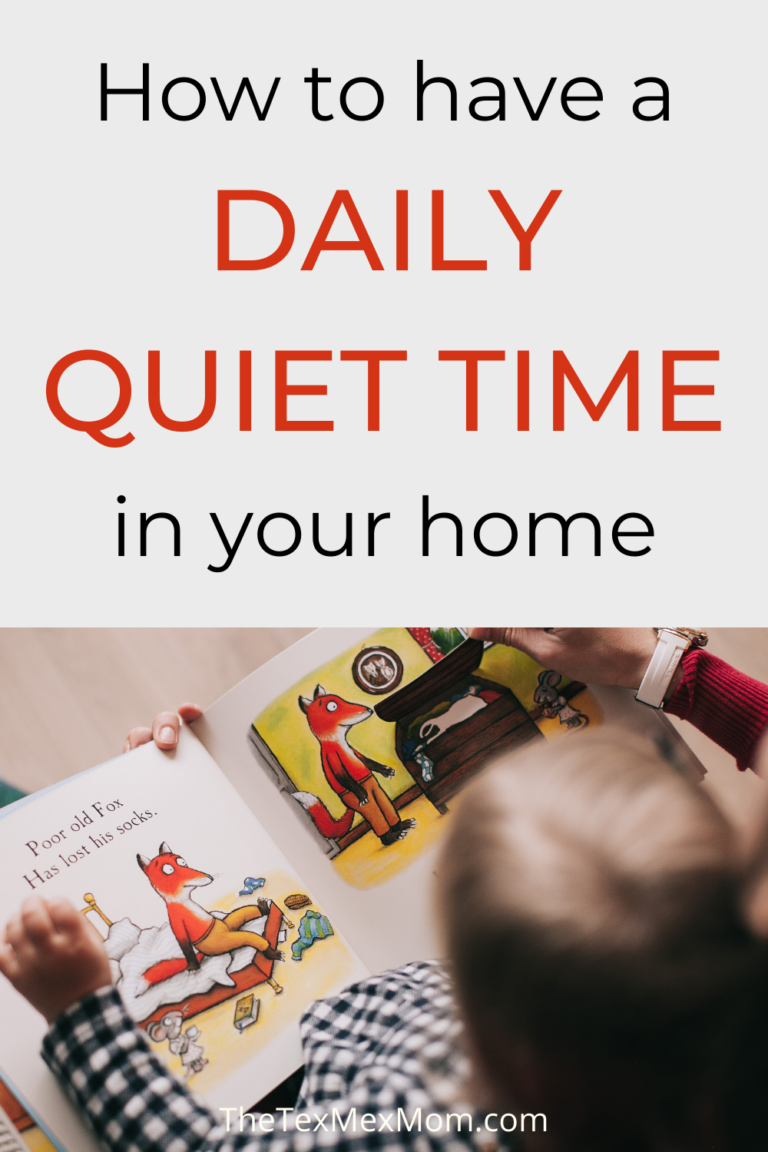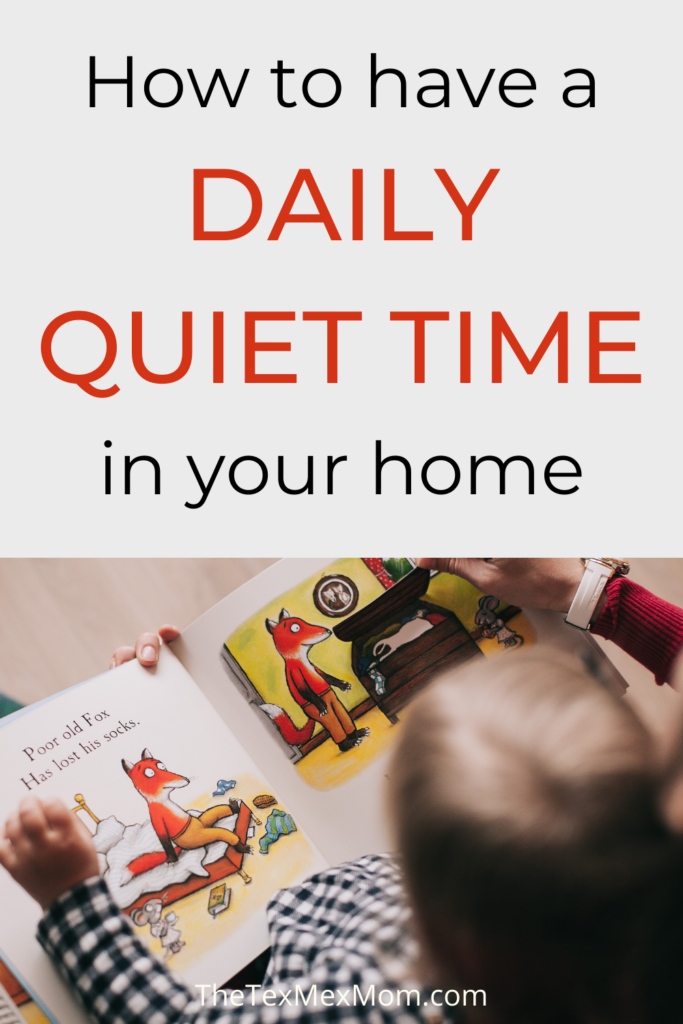 If you know me you know that I'm a big fan of having a daily quiet time for my kids. Honestly, it takes something pretty important for me to be willing to skip that time.
Today I wanted to talk a little about why I prioritize daily quiet time for everyone (not just the nappers) and how I make it happen.
Why I Prioritize Daily Quiet Time for My Kids
I prioritize a daily rest time in our home because having that quiet time to recharge is SO GOOD for kids. It's a time for them to take a break and "quiet the crazy" so to speak. It's a time to rest, process, imagine, and create.
These quotes say it better than I can:
Quiet time – and even boredom – can enhance a child's ability to think more creatively. After all, there's nothing like a moment of quiet to daydream up a great new idea."

Exploring the Benefits of Quiet Time // Practical Outcomes
These little people of ours are go, go, go all day long! With this boundless excitement and energy, little ones often cannot tell when their bodies and minds are tuckered out and need a rest. By planning structured Quiet Time into a day we avoid so many issues like meltdowns and overwhelm.

The Astonishing Benefits of Quiet Time for Kids // How We Learn
But not only is a daily quiet time good for kids, it's good for moms too! (And let's be honest, as nice as those other reasons sound, this is kind of the main reason – mama needs her sanity!)
I'm convinced that I'm a better mom when I'm not with my kids every single second of the day. We all love each other, but we also all need a break from each other sometimes.
During our afternoon rest time I most always spend a good chunk of time working online, but often I'll grab a quick 10 minute nap as well. Either way, I always feel refreshed by the quiet. A quiet time is good for them and for me.
How to Prioritize a Daily Quiet Time in Your Home
So, we've established that quiet times are good, but how can we prioritize them?
For my kids, quiet time has been something we've naturally transitioned into once they've grown too old for naps.
For example, my youngest (1.5 years old) is starting to drop his morning nap, so during that same time he's now spending a little time in his crib with board books instead. It's been an easy transition because he was used to napping at that time in the morning, so having books to look at in his crib instead is sort of special.
Having your quiet time at the same time every day is important as well. Kids like routine and knowing what to expect. Our main quiet time during the day is in the afternoon, typically from around 1 pm until 2:30 or 3 pm.
Recently I've also started closing the shades and turning out the lights in the main areas of our home during quiet time just to aid in that feeling of "hush". I don't know if it affects the kids but it makes me feel more restful anyway!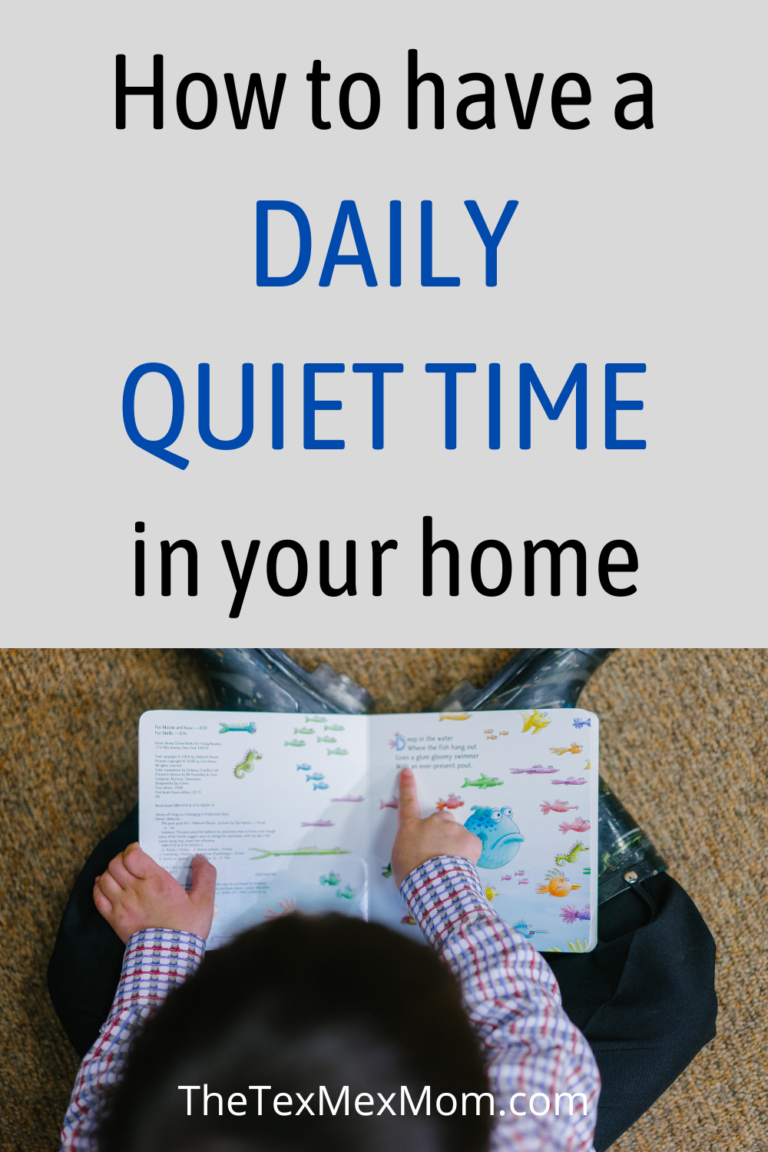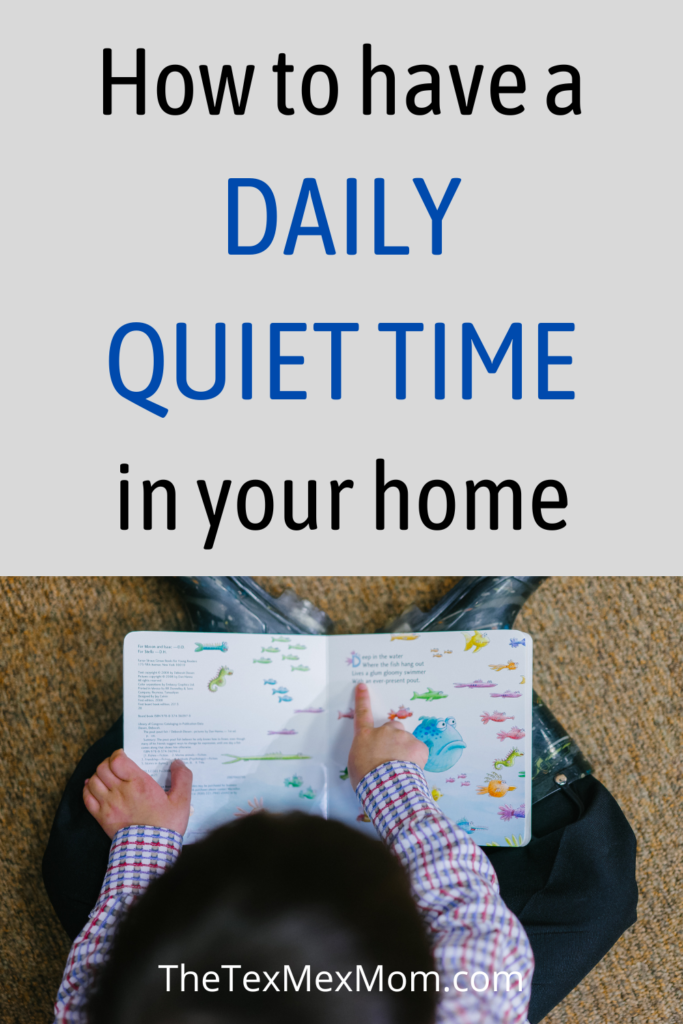 Quiet Time Activity Ideas for Kids
I don't think that quiet time is a time when you need to be too worried about entertaining your kids. Like we talked about above, it's not a bad thing for your kids to feel bored at times. That's when they have the opportunity to get creative.
However, I do want to share some of what works well for us for the kids to do during quiet time, because they need to do something if they're not napping!
In my current stage of life I have a one year old, almost-four year old, six year old, and almost-eight year old. The two youngest still take actual naps which I am a big fan of. Don't drop the naps if you don't have to!
However, obviously the older ones are no longer napping, so here's how they usually spend their time during our quiet hour or two:
Quiet "alone" playtime
My kids are great buds, but even so they do need a break from each other at times. I like for their quiet time to include at least some time completely alone so they can have a break from each other and practice independent play (which is harder for some kids than others.)
Quiet "together" playtime
Even though it's quiet time I'm generally okay with my two older kids playing together for a good bit of the time, provided that they get along and don't get too loud.
Looking at picture books/reading
I'll sometimes assign my kids to different rooms (or sometimes just different beds) to spend some time looking at books during quiet time. They are both just lately gaining confidence in reading which opens up so much more fun when it comes to books so I'm excited about that for them.
You may also be interested in: 3 Habits to Help Kids Love Books
Listening to audio books/podcasts
Probably my favorite quiet time activity for my kids (and their favorite too) is listening to audiobooks. They have a CD/Bluetooth player in their room and have spent many hours listening to some great books during quiet time. Some recent favorites include the Paddington series and books by Beverly Cleary.
Podcasts can be a great option as well – there's a great Thomas the Tank Engine one that my kids have enjoyed.
Common Questions About Daily Quiet Times
How long should quiet time last each day?
How much quiet time kids should have depends on their ages and your family's unique circumstances, but I like to have at least an hour and a half of designated time for our quiet time each afternoon.
How do you teach kids to have a quiet time if they're not used to it?
Start small with a 15 minute chunk of time and slowly work up to the amount you want. You may want to set aside some special (quiet) toys, a new coloring book, or some fresh library books to help your kids feel excited about this time.
If you have little ones who still nap, plan your older kids' quiet time at the same time so that you get a break too!
Is screen time okay during quiet time?
As far as screen time goes, this is obviously a personal decision but I mostly avoid that for my kids during quiet time. At the very least we never start out their quiet time with screens.
However, sometimes towards the end of quiet time I do let my big kids do something educational on our tablet or my phone, especially if I'm still trying to finish up work.
A favorite educational app that my kids enjoy is Teach Your Monster to Read. They've also enjoyed ABC Mouse some this past year.
So, what about you? Do you have a daily quiet time in your home? What are some of your best tips and tricks for a daily rest time for kids? Let us know in the comments!