Hey guys!
Popping on the blog today (I use that phrase a lot don't I?) to share some of what I consider to be essentials for the beginning blogger.
I know that some of you could probably care less about blogging, so if that's you feel free to skip over today's post – no hard feelings. 😉 But if you are a new-ish blogger or are thinking about starting a blog, this post is for you.
I started my blog a couple years ago without really reading up on it much at all. I've learned A LOT  since then (and still have WAY MORE to learn) but there are several things that I wish I would've known about from the get-go.
Just so you know, some of the links below are affiliate links (that means if you purchase through that link I may receive compensation) but I'm only linking to those things because I use them and love them. Got it? 🙂
Okey dokey, let's get started!
Get a good web host

So, when you start a blog you have the option to create a free one on a platform like blogger or wordpress.com, or you can go the self-hosted route. I started out with wordpress.com but quickly realized that if I was going to get serious about my blog I needed a self-hosted blog. I made the switch to wordpress.org and chose Bluehost for my domain name and hosting.


I really liked that the cost was so low because I definitely didn't have loads of money to spend. It was easy to set everything up (even for non-techy me) and whenever I've had any questions I've been able to get them resolved with Bluehost's customer service team. From my experience so far I'd definitely recommend them.
Get a blog planner

When I first started blogging I didn't have a planner and really didn't plan out my posts at all. That's totally fine if blogging is just a relaxing hobby for you. But, if you want to grow your blog at all I'd highly suggest getting a planner. I finally did this year and I LOVE the one I chose. It's called the EPIC BLOG planner and I ordered it from Amazon.
It's a great planner because 1) it's reasonably priced, 2) it's a hard copy (not just a file you print yourself), 3) it's made so you can start at any time of the year, and 4) it was designed with bloggers in mind. 🙂
But, everyone has different tastes when it comes to planners, so definitely choose one that's right for you. I found this great list of planners for bloggers and/or busy moms and may come back to it if I decide to change things up next year.
Educate yourself
This is something that I wish I would've done right at the beginning. While there's loads of FREE (and good!) information out there on the internet, a blogging course makes it so much easier.
As you may know though, some of the most popular and highly recommended courses out there are super expensive. That's why I was really excited when I came across Natalie's Blogging E-Course. For just 50 bucks (or less when Natalie runs a sale!) you get the information and help you need to start your blogging journey out on a great foundation.
You also are automatically part of Natalie's Facebook group for her course where she does monthly live chats that I have found to be really helpful and motivating. Anyway, I definitely recommend the course if you're just starting out!
Not ready to invest money in a course? No worries, I've got you!
Crystal Paine, (one of my favorite bloggers ever!!) has a FREE blogging webinar that is excellent. I highly recommend it, particularly if you are just getting started. Plus, it's free, so you have absolutely nothing to lose. Check it out by clicking the image below.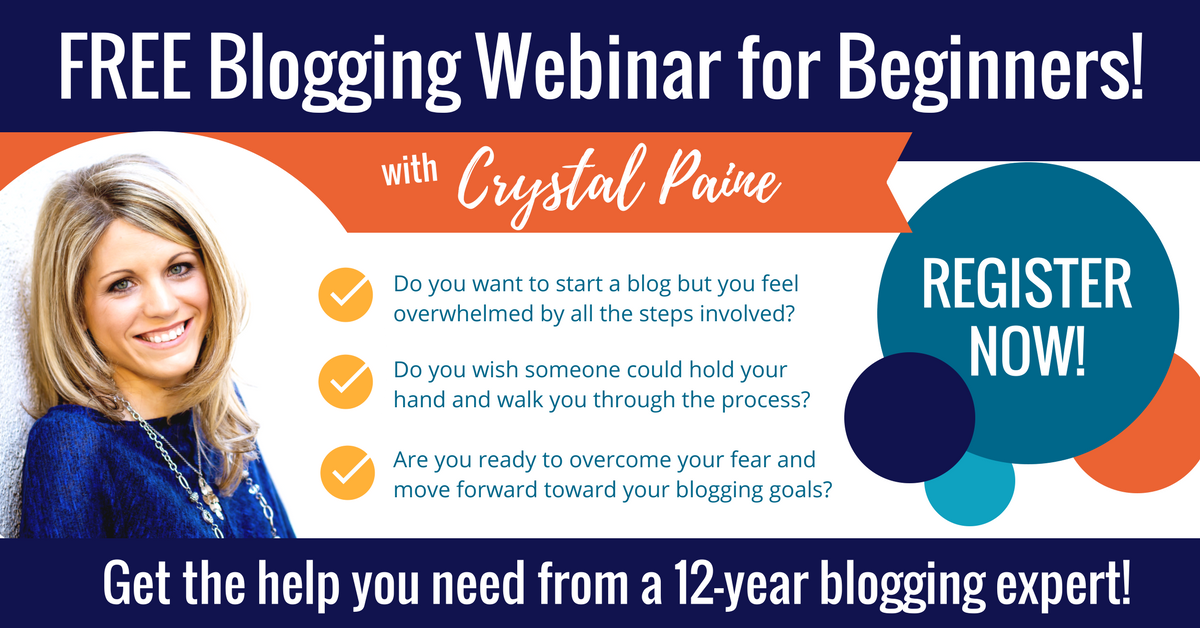 Read a book about blogging
Ruth Soukup's book How to Blog for Profit Without Selling Your Soul is excellent. I read it once but really need to go back and read it a little more slowly because it's is PACKED with information.
Ruth also offers a very popular blogging course, something I would love to take someday (but when I have the money as it's a little pricey!)
There are a lot of other blogging books out there too. I can't recommend any particular ones as I haven't read any others (yet) but I'd love to hear from you if there's one you'd recommend!
Gather advice for FREE from the internet
Type anything about blogging into Google or Pinterest and you'll come up with way more information than you'll ever be able to make it through. Not sure where to start or what will be the most helpful? Check out this post where I share ten super helpful articles for the beginning blogger.
What next?
Ok, so you've got your site set up, you have a great plan thanks to your blog planner, and you've studied and read up on how to blog! What should you focus on next? (Besides the obvious – WRITING!)
There is so much I could touch on but I don't want to make this post tooo long, so I'll just mention two things: your email list and Pinterest.
With all the social media options now days, email may seem a little antiquated or unimportant. However, it remains one of the best tools a blogger has and I wish I would've started working on my email list sooner! (Speaking of that, are you on my list yet??)
For lots of helpful information about setting up your email list check out any of Kristin's posts over at Sweet Tea LLC. She's my go-to for anything email related!
A big part of blogging is marketing yourself and one of the best ways to do that is through Pinterest. There are whole courses out there just devoted to Pinterest and I'm certainly not going to try to tackle that whole topic right now. A quick search on Google will give you loads of info on how to get pinning!
And there you have it!
For lots more blogging advice go check out my blogging board on Pinterest. And don't forget to pin this post if you found it helpful. 🙂
What do you consider to be essentials for the beginning blogger? Did I miss anything? Let me know in the comments below!
Thanks for stopping by today!
Save
Save
Save
Save
Save
Save
Save