Are you a new mom or do you know one who needs some encouragement? Here are 10 things every new mom needs to hear and know.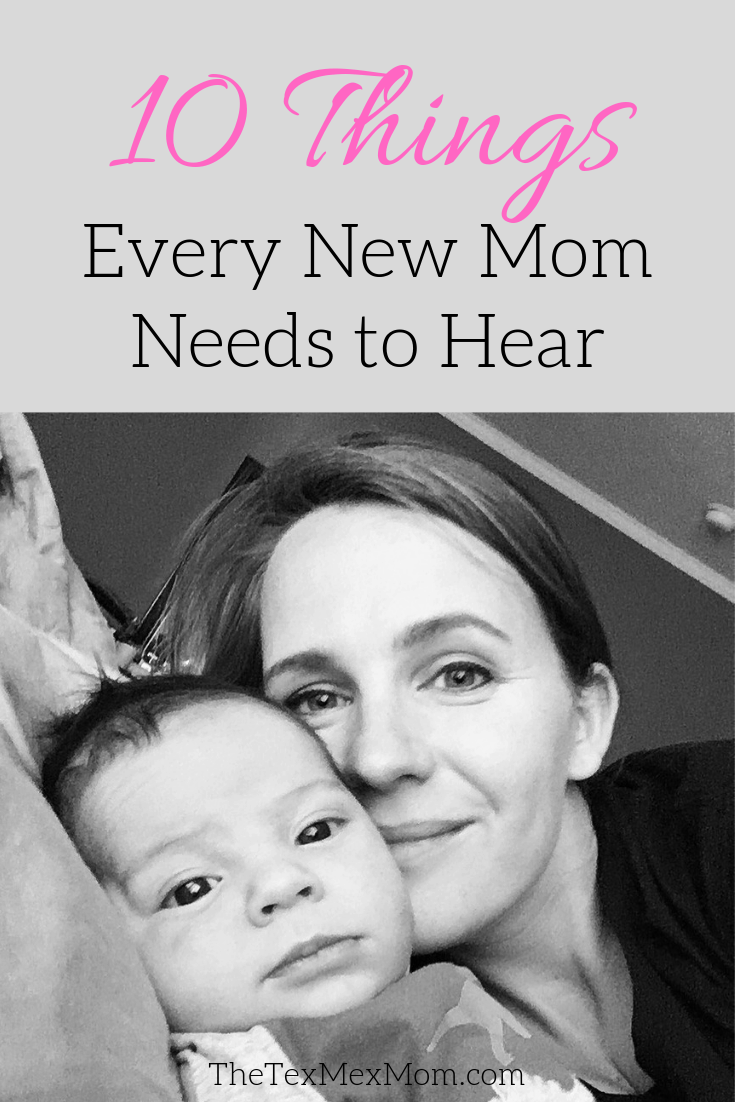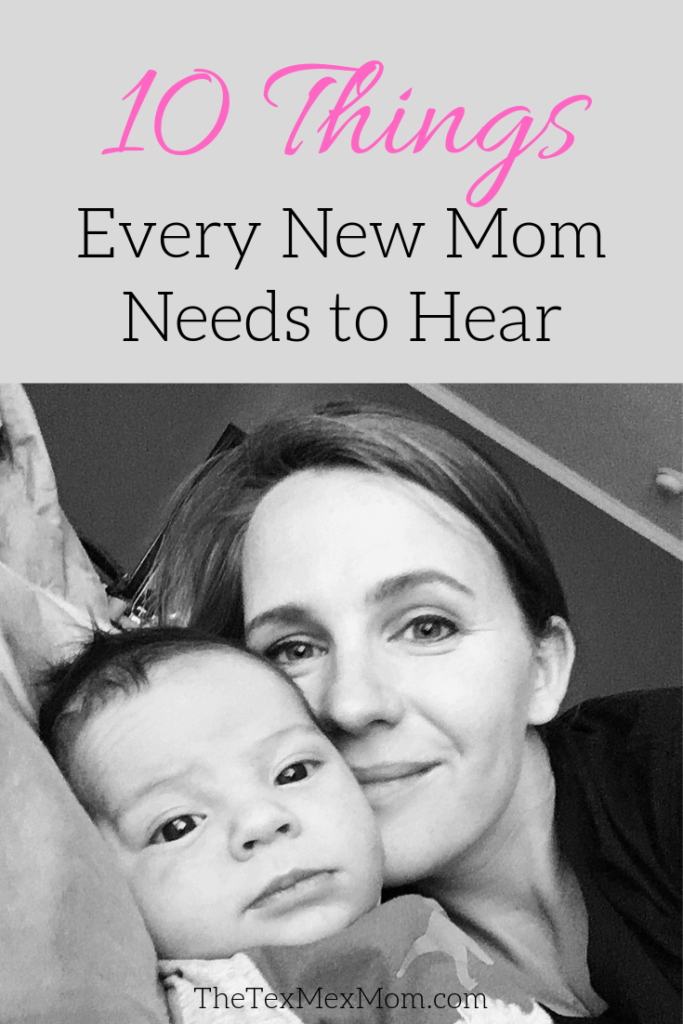 Hey there new mama!
This blog post today is for you. I was in your place seven years ago, but in some ways it seems like just yesterday. That moment you've been waiting and waiting and waiting for has finally arrived. Your baby is here. You are officially a mom.
I know that you're busy, and sleep deprived, and probably not on the internet right now to read a whole book. So, I'll keep this blog post short and to the point. Here are 10 things that I think every new mom should know.
(Not a new mom yourself but wondering what to say to a new mom? This post is for you too!)
10 Things Every New Mom Needs to Hear
1. Know that it's okay to be sad if your birth experience wasn't what you expected.
You tell yourself that you should just be glad that baby is here, but you feel sad about your birth experience. It's okay to feel those emotions. Birth is HARD, know matter how "according to plan" it may or may not go.
My first baby's birth went smoothly but it still felt traumatic to me and for the first month or so I just wanted to cry when I thought back about it. It's okay to feel that way.
2. Know that nothing is wrong with you if you don't immediately feel a close bond with your baby.
Remember, although you've been carrying your baby around for nine months, you've only really just met him/her. There is nothing wrong with you if you don't feel a close bond right away.
The process of bonding with your baby may take time, but it will happen I promise.
3. Know that it's okay to do nothing all day but hold your baby.
I remember some days after Caleb (my first) was born where I barely did anything but hold him because he slept so much better in my arms. I didn't get much done on those days but who cares – I got a lot of baby snuggles! And I watched a lot of Netflix.
4. Know that it's also okay to hand baby to someone else and take a break.
Yes, it's okay to hold baby all day if you want to, but it's also okay to acknowledge that you need a break and pass him off to someone else. And if you don't have any help and your baby won't stop fussing, it is also absolutely okay to lay him down in his crib or another safe spot and take a break.
5. Know that it's normal to feel ALL the emotions.
The baby blues are real y'all. And of course they are, your body is going through massive hormonal changes! It's okay to feel happy and sad and excited and terrified all at once. Know your limits and communicate with your husband about how you're feeling. For me, I know that I can't have a lot of people over during the first couple weeks unless I want to end up in my bedroom crying, ha!
6. Know that it's okay to miss your pre-baby body.
Your body just did an incredible thing – and you know that – but it's still easy to feel a bit of dismay at your postpartum body. That is normal. But give yourself grace. One of the important things that every new mom needs to hear and be reminded of is that it took nine plus months to grow your baby – give yourself at least that much time to get back to "normal".
7. Know that nothing is wrong with you if parenting doesn't "come naturally".
I remember crying in the car as I drove Caleb home from a doctor's appointment early on, overwhelmed by the responsibility of being a parent and needing to make decisions for my child. Parenting felt scary then – and let's be honest, it will probably always feel that way to some extent. As a mom you won't always know what to do. At the beginning you may feel like you don't have a clue! That's where prayer comes in, and lots of calls to your own mom or a trusted mom friend.
8. Know that God has equipped you for this task – and He'll be with you every step of the way.
I absolutely love this verse and how it shows us God's tender heart towards mothers.
He tends his flock like a shepherd: He gathers the lambs in his arms and carries them close to his heart; He gently leads those that have young. (Isaiah 40:11)

9. Know that you will find yourself capable of more love than you ever imagined.
There is just something about a mother's love that I think you can't quite know until you experience. It's gentle but strong, tender but fierce and protective. That baby in your arms is going to steal your heart and you will do anything and everything to keep him safe.
10. Know that life will never be the same again – and you wouldn't wish it to be.
That little person you just met? Soon you will not being able to imagine life without him or her. Life will be different for sure – most likely involving a whole lot less sleep – but soon you wouldn't change it for the world.
And now, go cuddle your new baby . . . or pace back and forth with him; babies tend to want the maximum amount of effort, ha!
You've got this mama!
You may also be interested in reading: Encouragement For the Mom of a Toddler and a Newborn
What do you think are some of the things every new mom needs to hear? Feel free to share in the comments!