Is your baby officially ready for baby food but you're frugal and don't want to go way over your grocery budget? No worries! Here's how to save money on baby food.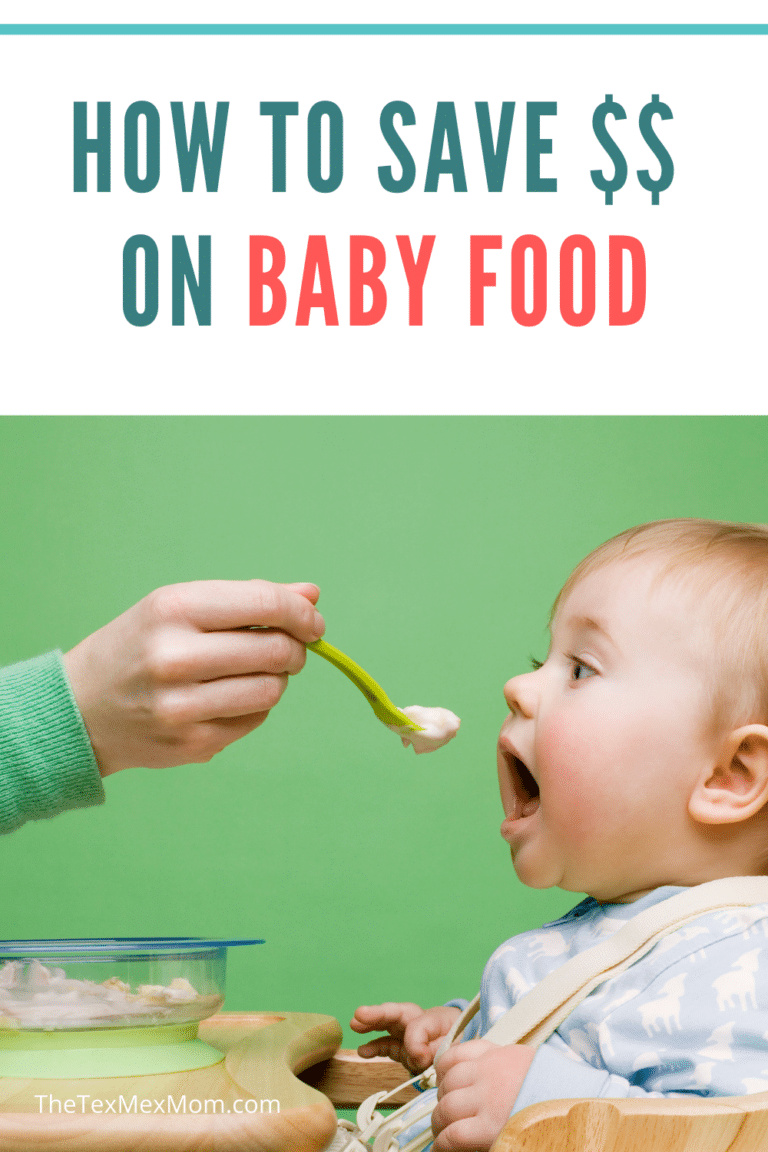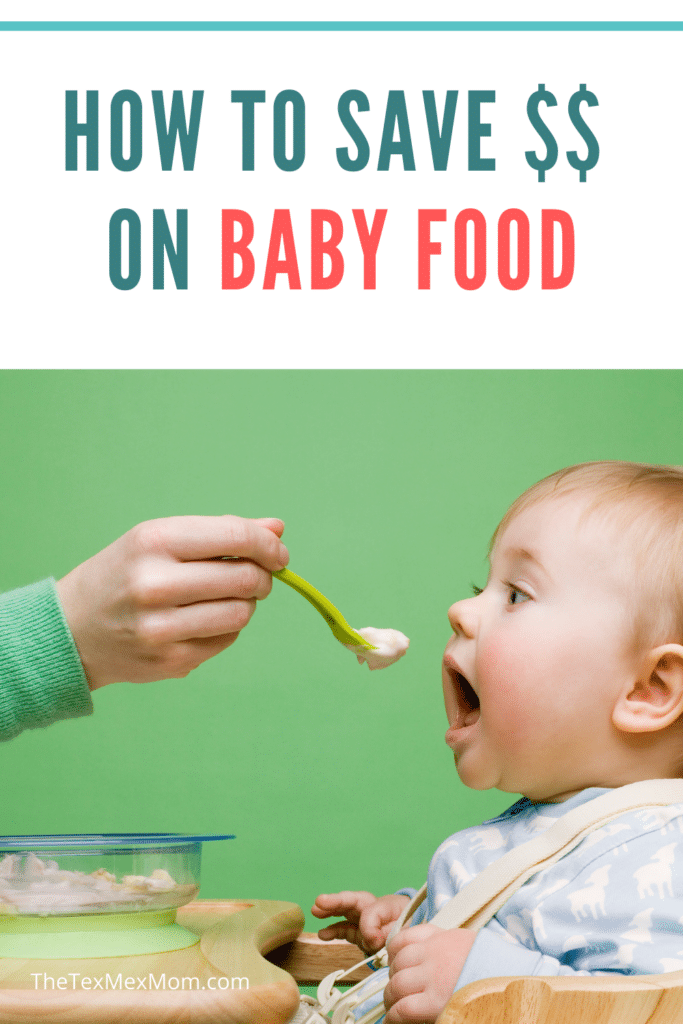 [This blog post contains affiliate links]
As you know, I'm always looking for ways to save money when I can. Why spend a lot when you don't have to?
Babies come with a lot of expenses: baby clothes, baby gear, diapers, baby food, etc. but you can always find ways to save.
Side note: I do put my foot down for some things – I am NOT interested in cloth diapering for instance. Props to those of you who save money that way though!
I have figured out some good ways to save money on baby food (and we're right in the middle of baby-food season over here with Alex) so that's what I want to talk about today!
Here's how I like to save money on baby food:
1. Save Money by Making Your Own Baby Food
You knew I was going to say this right? Now, I know you may feel like it's way too much work, but hear me out! I do not have time to make my babies fancy baby food (nor do I want to spend money on a fancy baby food maker) but there are some things that take hardly any time at all.
Sweet potatoes/Butternut Squash
This is the main baby food that I make at home! Throw the sweet potatoes (or the squash) in your crockpot and cook on high until tender. Then just let it cool a bit, remove the skins, and mash!
If you want a really nice purée you can stick it all in the blender and add a bit of water until you get to the consistency you want. Or just mash it all with a fork (still adding a bit of water) and call it good (guess which option I go for these days?)
A really great way to store your homemade baby food is in ice cube trays. Let it freeze and then store all the little frozen baby food cubes in a freezer bag. It's so easy to grab a couple and pop them in the microwave for a minute or less.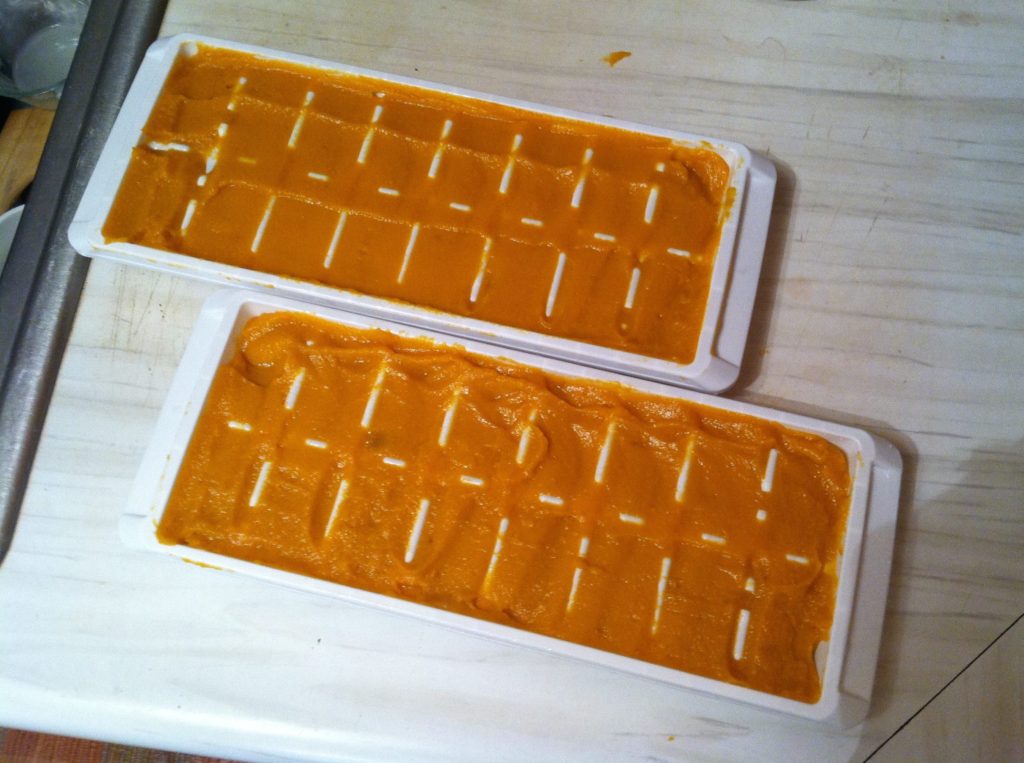 I will often take the homemade baby food that I've made and mix it with something else like store-bought applesauce or even another veggie baby-food that isn't quite so tasty on it's own.
This is just one example of what I like to do but you can find tons of other ideas for homemade baby food online!
2. Save Money by Buying "Regular" Food Instead of Baby Food
You don't just have to buy food that's labeled "baby food". There are lots of great options that work just as well as baby food and are considerably cheaper. The one I buy most often is unsweetened applesauce.
Unsweetened Applesauce
I never buy apple baby food because it's just a more expensive and slightly more pureed version of unsweetened applesauce. (And by the way, the same thing goes for apple juice – just buy the regular stuff and skip the "baby" version!)
I already buy unsweetened applesauce almost every week anyway because my kids love it so I buy a little extra and it makes a great baby-food option.
These re-usable pouches are a really great option for things like applesauce and definitely help you to save money on baby food.
Other Easy "Regular" Foods
Bananas – definitely a great, cheap option and as baby grows you can just break of small pieces of banana to serve as a finger food instead of mashing.
Avocados – a great option when you can find them on sale! You can mash them up and freeze some for later!
Plain yogurt – another a great baby food if you're doing dairy (make your own yogurt to save even more money!) Yogurt is another easy food to feed your baby using a reusable pouch.
Cottage cheese – great once baby is ready for a bit more texture.
You can also make almost any food into baby food buy pureeing it in the blender or using a little hand-held baby food grinder.
3. Save Money by Finding Deals on Store-Bought Baby Food
As far as actual baby food goes, I do buy it regularly because it's convenient and I have a life, ha! I have found that at least in my area Kroger has one of the best deals for baby food pouches. These 12-pack boxes of baby food pouches (pictured below) come out to about 67 cents a pouch (even less when they're on sale) and they have a great variety of fruit and veggie combos.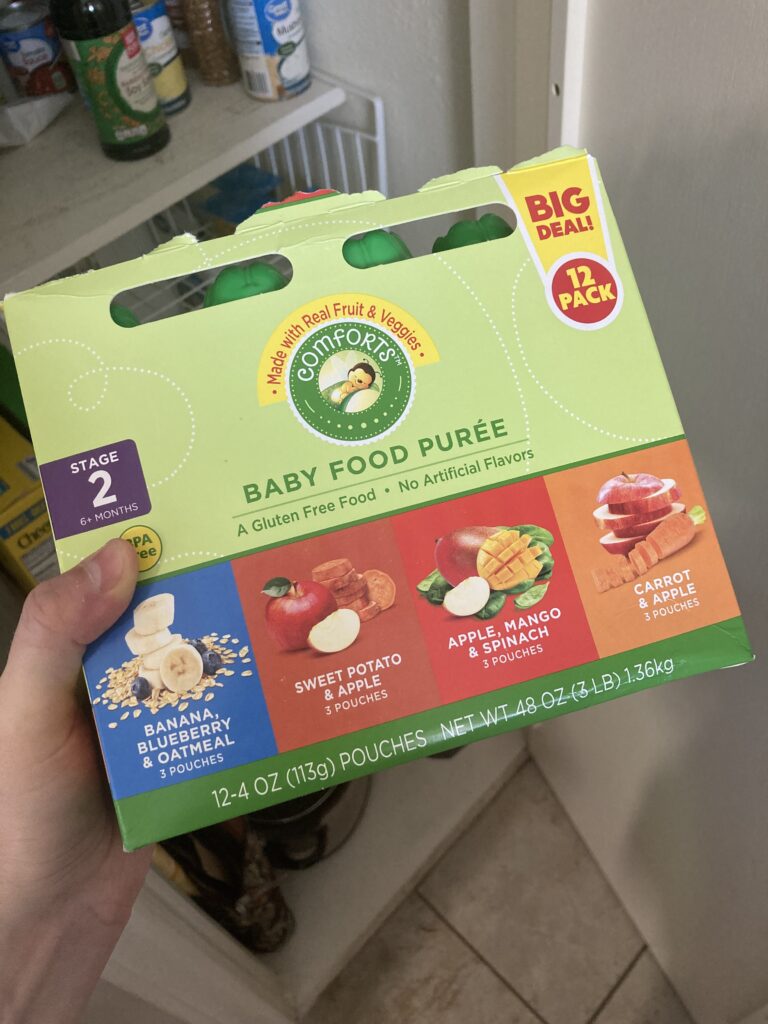 Kroger will also run sales and promotions – a recent one in my area was $10 off of a $40 baby purchase and baby food was included. They also have digital coupons fairly often so make sure to check your Kroger app for those.
I will also buy some of the store-brand 2-packs of baby food at Walmart. I try to purchase the baby foods that I know I won't want to mess with making myself – especially the ones with green veggies. My mottos is make the easy baby food, buy the harder stuff!
4. Save Money by Choosing Simple and Cheap First Finger Foods
I usually start my babies on some simple finger foods at around 7 months old. I always start out with puffs. On-brand puffs can be kind of pricey for the amount you're getting, but if you can find off-brand at Walmart or Aldi they're not too bad.
Once my babies are super comfortable eating puffs we move on to Cheerios (or the equivalent off-brand) which are much cheaper than puffs. Veggie straws are another easy first finger food option, though not quite as cheap as Cherrios.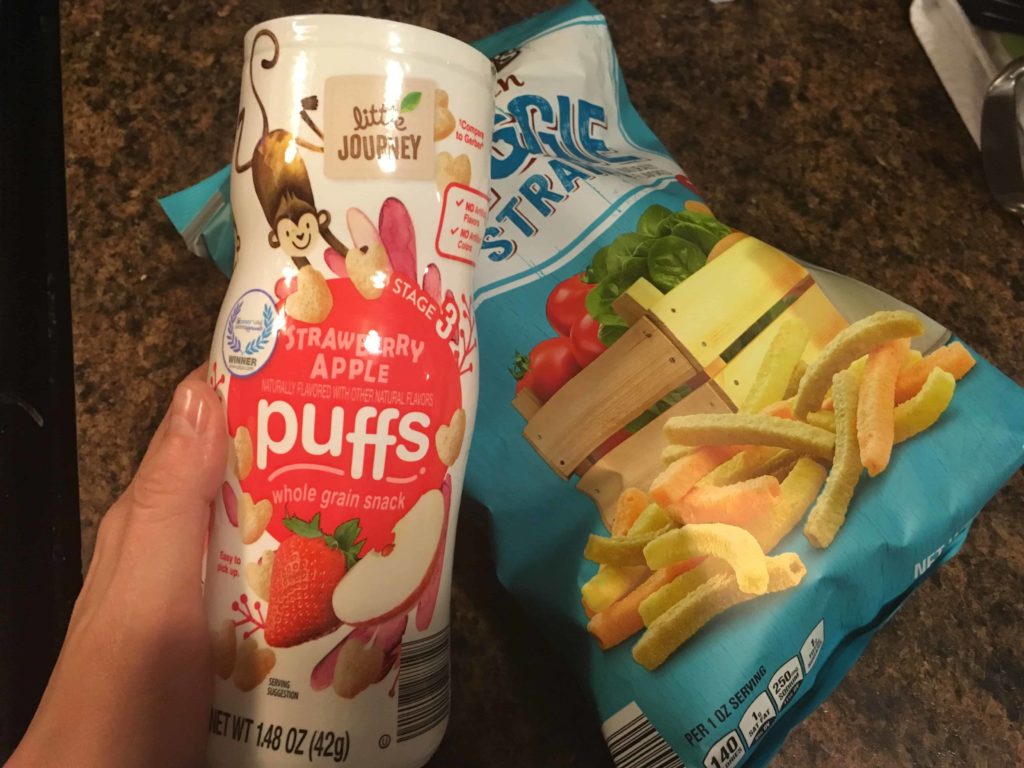 Graham crackers are also great for your little teethers (just keep an eye that they don't break off big chunks!)
Some other inexpensive first finger food options for baby include:
cooked beans (canned or cook your own)
tiny bites of cheese
canned peaches/pears (unsweetened)
steamed carrots (canned work well too)
These mesh teethers are also a great way to let you baby chew on an apple slice or something similar without worrying that they'll bite off a big chunk!
How do you like to save money on baby food? What would you add to this post? Let me know in the comments!