Do you have regular one-on-one time with your kids? Let's talk about why it's important and how to make it happen!
Depending how many kids you have and how busy you are one-on-one time with each child can be hard to come by often. But I'm convinced that it's important enough that you should make it a priority. Let's talk a little bit about why one-on-one time with your kids is important and then how to make it happen!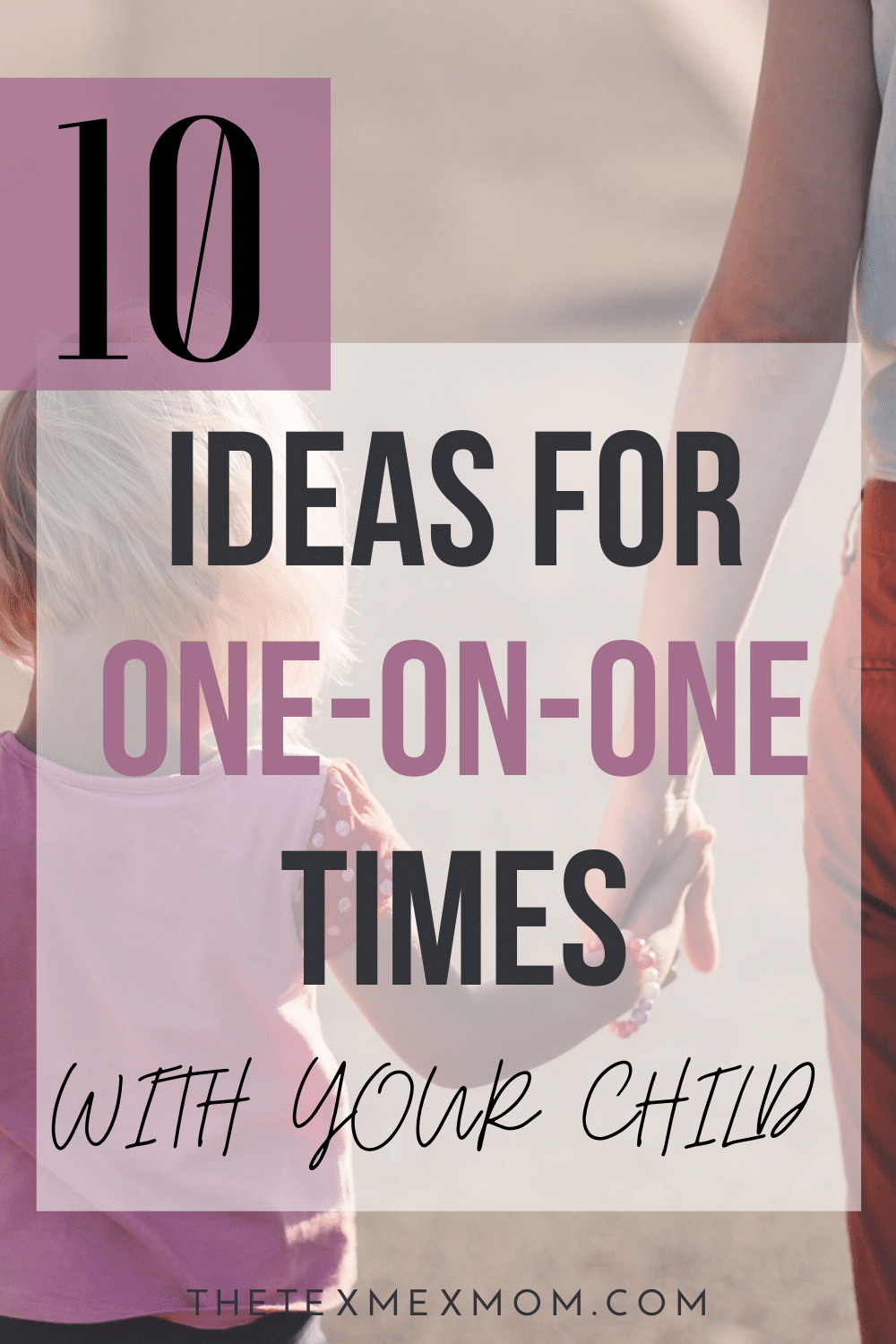 Why it's important to have one-on-one time with your kids
I will always have fond memories of one time when I was a kid, maybe about eight years old, when my dad took just me to the mall. I still remember how we walked around a bit and then he bought me two cookies, one of which was a huge sandwich cookie with lots of icing in the middle. Wow I felt special!
I also loved it when my mom (mother of thirteen by the way) would lie down in bed with me for a little at bedtime. I'm sure she had loads of things to do or just wanted some blessed kid-free time, but her taking the time to lie down with me meant so much to me.
Why am I sharing these memories with you? Because these memories are why one-on-one time with your child is important. It's not the presents or cool activities you signed them up for that they'll remember some day as much as it is the time that you spent with them.
Do you want to be close with your child when they're a teenager? It's not going to work to start building a relationship at thirteen. Start spending intentional time now.
Susanna Wesley (mother of nineteen children and now known as the "mother of Methodism") purposely planned out her week in order to spend individual time with each of her children. If she could manage that we definitely don't have an excuse, right?
How often should you have one-on-one time with your kids?
There's not a magic amount for how often you should spend individual time with your child. We all have different sized families and different schedules, so what works for me may not work for you. But, we can all work to make one-on-one time with our kids a regular occurrence.
You may also be interested in: 9 Ways to Enjoy Your Kids More
Ideas for one-on-one times with your kids
One-on-one time with your child doesn't need to mean going somewhere special (although that's fun!) It doesn't need to cost money and it doesn't even need to take a ton of time.
On my first day home after a recent trip I set the timer and spent 20 minutes one-on-one with each of my kids. It wasn't a ton of time, but it was doable and it helped "fill their tanks" with some needed mommy time.
Here are 10 simple ideas:
Schedule a weekly "one hour mom date". I've been trying to do this with one child a week, usually after dinner on Tuesday or Wednesday. One of our favorite things to do is to get ice cream and then sit in the car and just talk or share jokes.
Get your child up after bedtime for a surprise "late night" snack and time with you.
Choose one child to run errands with you. (And maybe grab a treat while you're at it!)
Give your undivided attention to your child who wakes up first from nap time. Put away what you were doing and spend a few moments with just them.
Make time to do what they enjoy with them. It may not be your thing, but it is their thing, so show an interest and they will love you for it.
Include them in what you're doing, even if that will make it take longer. (Baking together is always fun!)
Spend a few minutes giving your child a back scratch or massage at bedtime. (Pablo does this regularly and the kids love it!)
Set a timer and play whatever they want for that amount of time. Speaking from experience, setting a timer can make playing pretend feel much more doable, haha.
Wake your child early for a morning walk or special breakfast before the rest of the family is up.
Choose a special book to read together. Pablo has spent a lot of one-on-one time reading the Narnia books to Caleb and it's so special to see.
Most importantly, do this!
Even if one-on-one times don't happen as often as you would like, you can and should make sure these two things happen every day:
Eye contact
How often do you listen to your child while looking at your phone? I know, I do it too, but we can do better. Let's work to regularly stop and show our kids that we value them by giving them our full attention, eye contact and all.
Loving touch
I'm not a super touchy person – and probably a lot of you are better at this than me – but giving our kids loving touches is so important. A pat on the shoulder, a hug, a back scratch, massages at bedtime. Kids need loving touch.
One final thing: when you start spending one-on-one time with your kids you may be surprised at how different they act when they're alone with you, when there's no competing for your time with siblings. They can really come out of their shell and it's so fun to see.
Do you have memories of individual time with your parents as a kid? How are you being intentional to make one-on-one time happen with your children? Let's chat in the comments!