Whether you celebrate Advent or just need some more Christmas activity ideas, here are ways that you can celebrate Christmas with your kids all month long.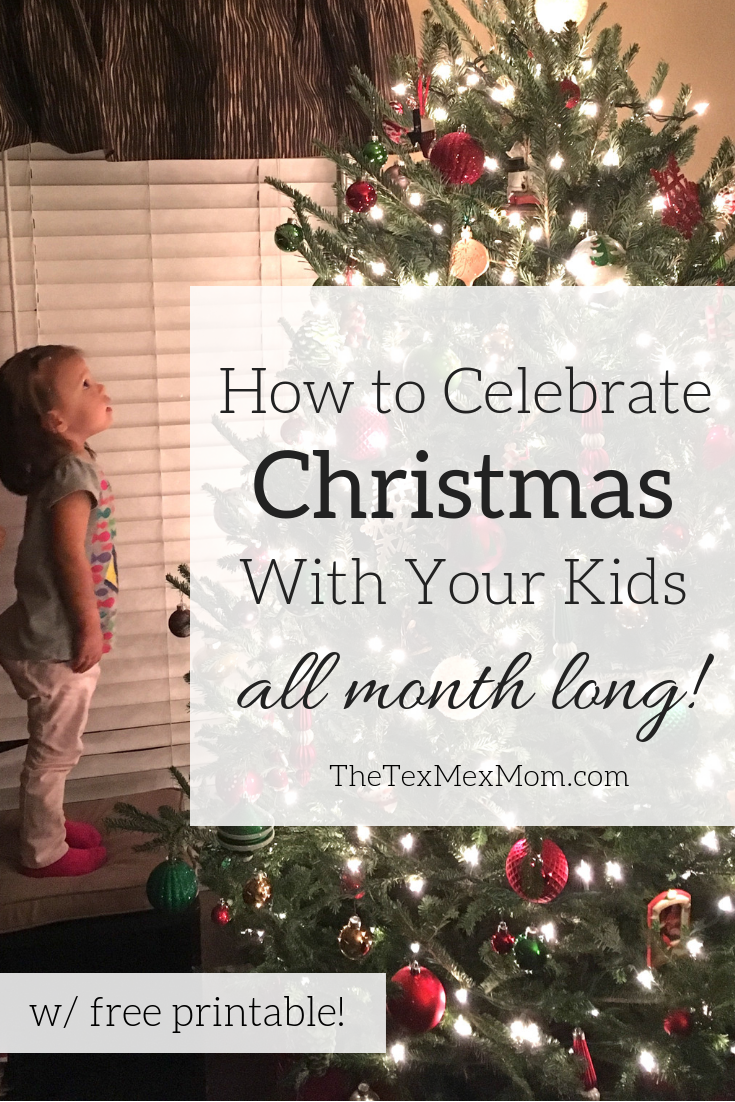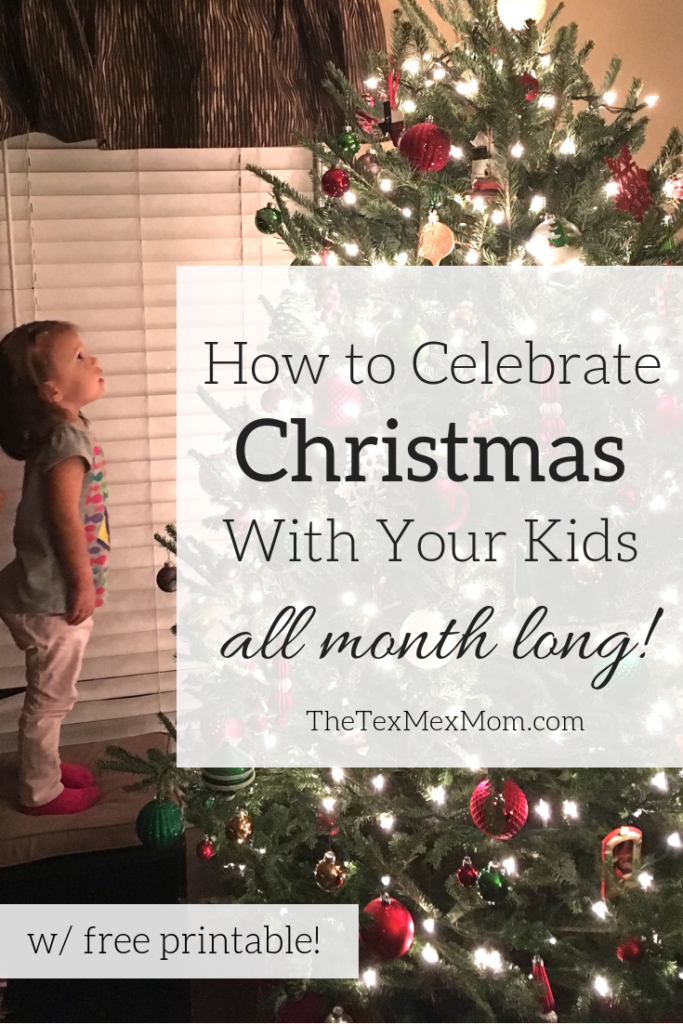 [This blog post contains affiliate links]
I am SO excited for Christmas this year! There's something about having kids that adds a little extra magic to the holidays. I love experiencing the whole month leading up to Christmas – and then Christmas day itself – through the eyes of my kids.
At this time last year I was smack dab in the middle of my first trimester with Lucas, so I wasn't feeling the greatest. I still had a wonderful Christmas with my family, but I definitely didn't do everything that I would have liked (including basically no Christmas baking – so sad!!)
Anyway, this year I'm about 5 months postpartum, feeling good, and ready to make this the best Christmas ever! (Until next year of course!) 😉
SO, I thought it would be fun to write a post with ideas for how you can celebrate Christmas with your kids all month long. You have to stretch the season out as long as possible, right??
Whether you like to doing some special things specifically for Advent, or you just want some fun, Christmas-y activity ideas, here you go:
Ways to Celebrate Christmas With Your Kids All Month Long
Local Christmas events
Christmas parades, The Nutcracker, caroling, visiting a Christmas light display, watching a live Nativity scene, attending a Christmas Eve service . . . there are always so many great Christmas events!
I would suggest getting out your calendar now and planning out everything you want to do in the next month. Don't feel like you have to do EVERYTHING – no one wants a stressed out mom! Just choose the events that you think will be the most meaningful as you celebrate Christmas with your kids all month long.
I created a handy printable for you to write down some of your planned activities. Post it up on your fridge or in another central location to remind your kids of some of the fun events that they have to look forward to!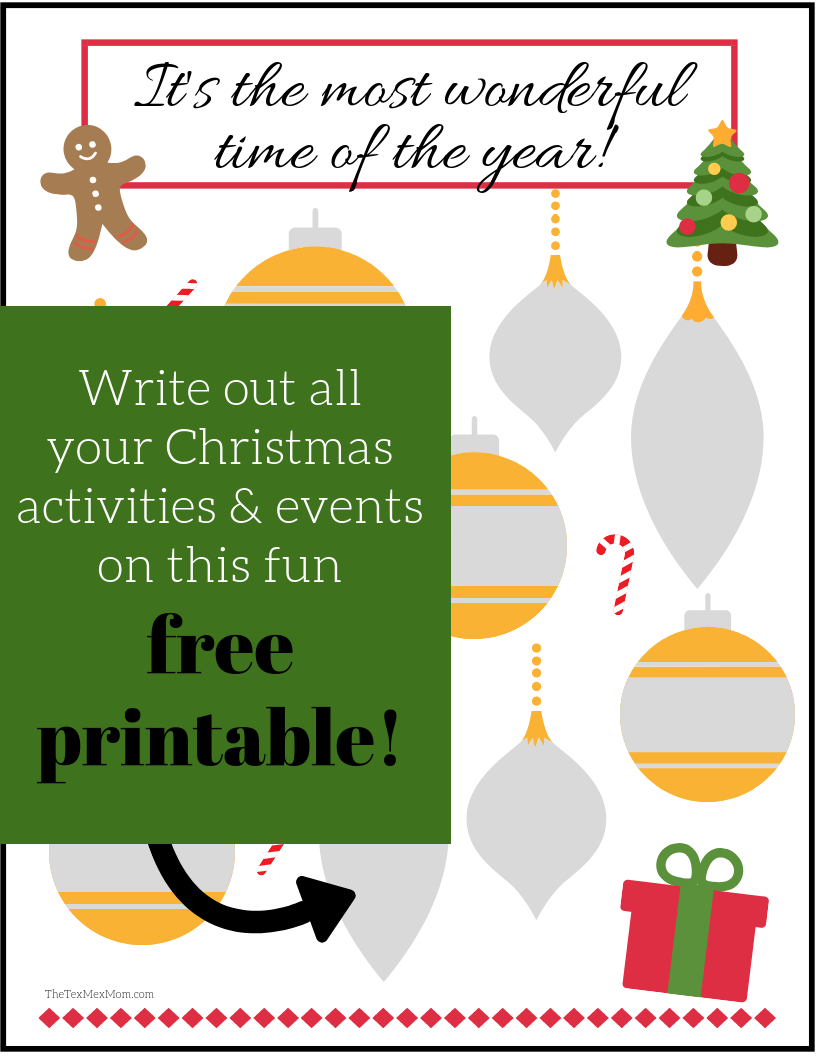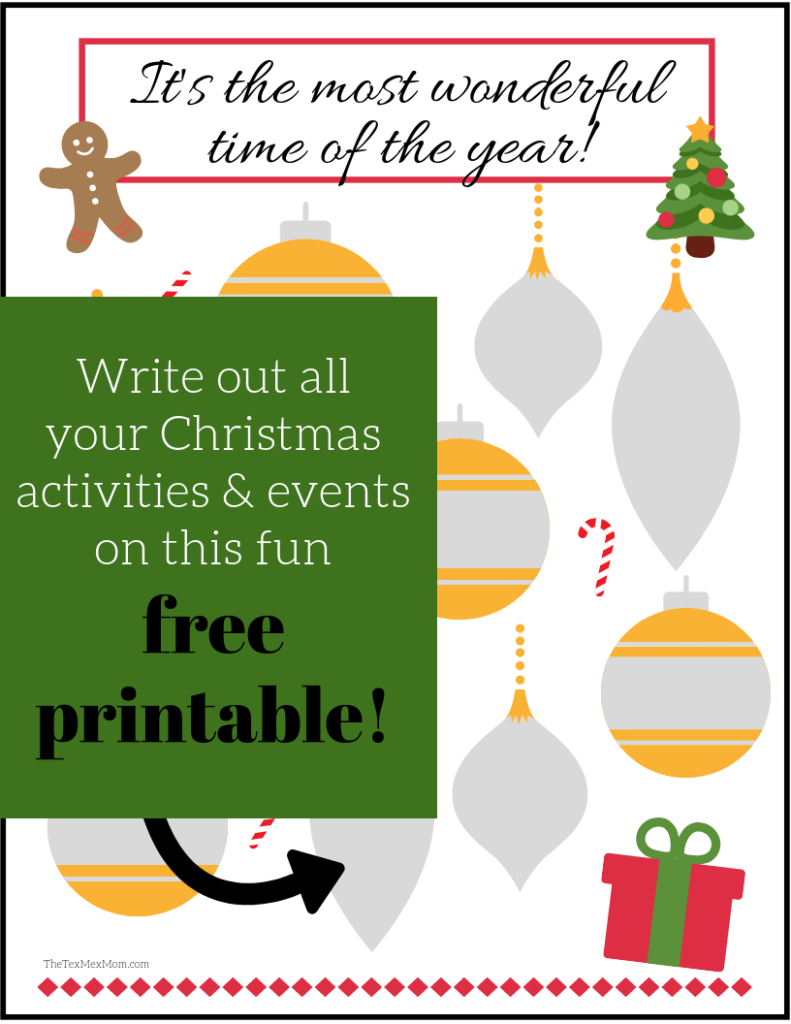 Advent readings
I love everything Christmas, but as a Christian, Christmas is first and foremost about the birth of Jesus!
One thing we'll be using this year with our kids to focus on Christ's birth is the Jesus Storybook Bible. If you read one story a day, starting December 1st, you'll be reading the story of Christ's birth and the events surrounding it on the 22nd, 23rd, and 24th. (Then we plan to read straight from Luke 2 on Christmas day!) Isn't that fun? And so easy if you already have the Jesus Storybook Bible! (If not you can grab it on Amazon – it's on sale right now!)
Christmas baking and crafts
I'm so excited to do some Christmas baking this year!!!
On my list: regular cut-out Christmas cookies (I'll let the kids "help" with these), fudge, saltine toffee, and maybe one or two new cookie recipes.
You may be interested in: 5 Yummy Christmas Treats to Make This Year
Now when it comes to crafts, let's just say I'm not a huge craft person. BUT, what kid doesn't love getting creative with paper and colored pencils and glue and stickers and everything else? I know mine do! So we'll definitely be doing some crafts, just SIMPLE ones because that's what I can handle ha ha.
I love the look of some of the Christmas craft kits from Melissa and Doug, and of course I always love Pinterest for good easy craft ideas!
Star from Afar
I just heard of Star from Afar this year and I think it's such a fun way to celebrate Christmas with your kids all month long! As an alternative to Elf on the Shelf, Star from Afar reminds your kids of the true Christmas story. Every day (or how ever often you choose) you move the star and the kids have to find it and move the wise men to the same spot. On Christmas morning, they'll find the star over the manger scene. (No, not quite Biblically accurate timing-wise, but you can explain that to your kids and still have fun with it!)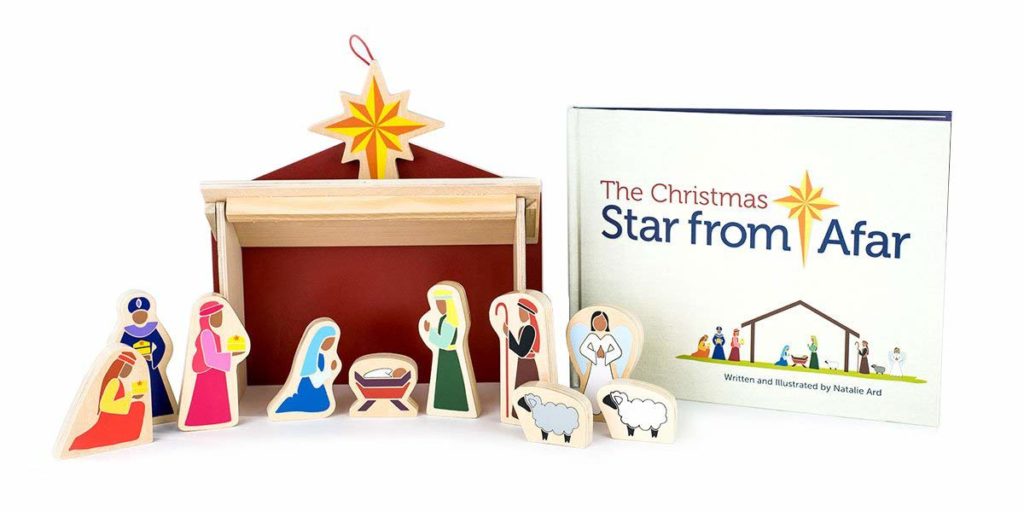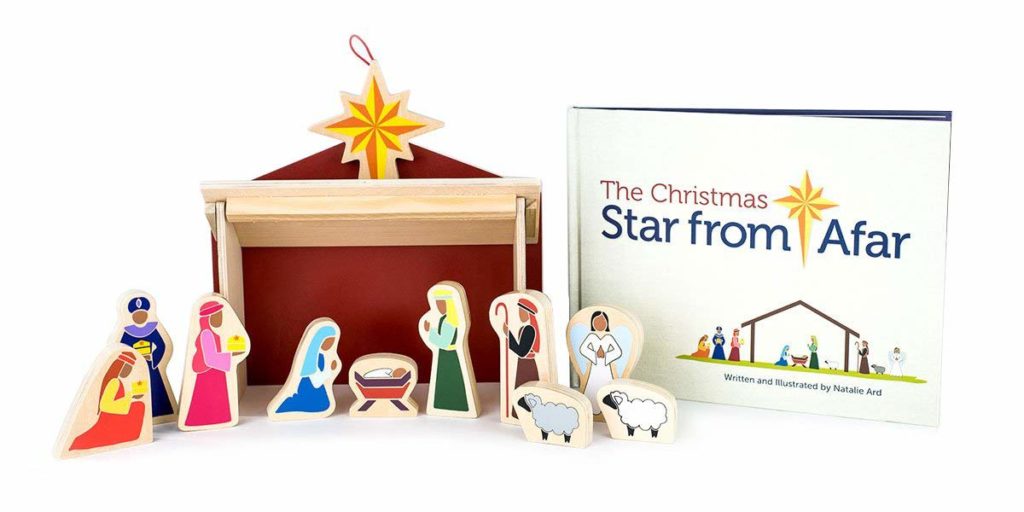 All. The. Christmas books

Yay for Christmas books!! I love reading to my kids (and they love books!) so having some Christmas themed books is really fun and a great way to celebrate Christmas with your kids all month long.
I love the idea of wrapping up Christmas books and letting your kids unwrap (and read) one each day. I've heard 25 but wow, that's a lot. I'm thinking that 12 books for the 12 days of Christmas might be a more doable number.
I of course like to have books about the real Christmas story, along with some other fun Christmas or just winter-related books. While we don't actually "do Santa" in our home we still enjoy the story for sure.
You may be interested in: 25 of the Best Christmas Books for Your Family
Here are a few fun book ideas:


That's all I have for you today! Don't forget to snag my handy Christmas printable to use as you choose ways to celebrate Christmas with your kids all month long!