Wondering what to get for the frugal person in your life? No worries! Today I'm sharing lots of gift ideas perfect for your frugal friend.
What kind of gifts should you get for someone who is very frugal? Do they appreciate something more expensive since they're not buying it? Or will that feel like a waste of money to them?
Should you stick with something practical? Can you get gift cards for the thrift store? (I'm joking. Sort of.)
What DO you buy someone who is very frugal? Here are some of my best gift ideas for your frugal friend.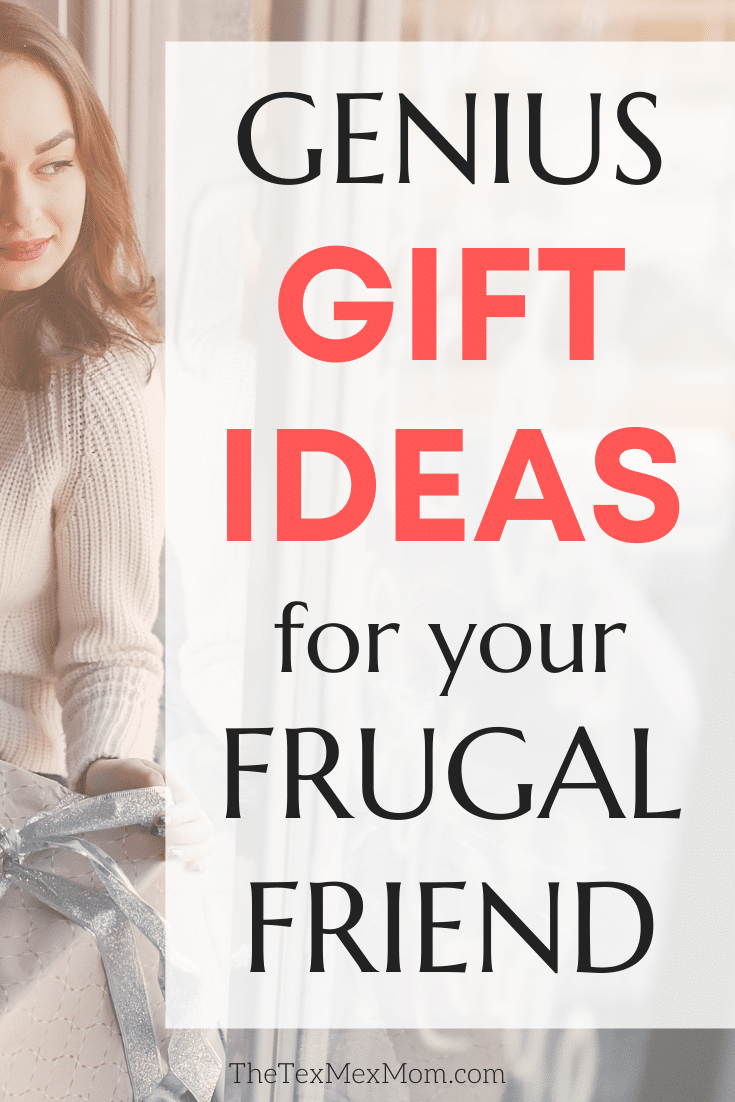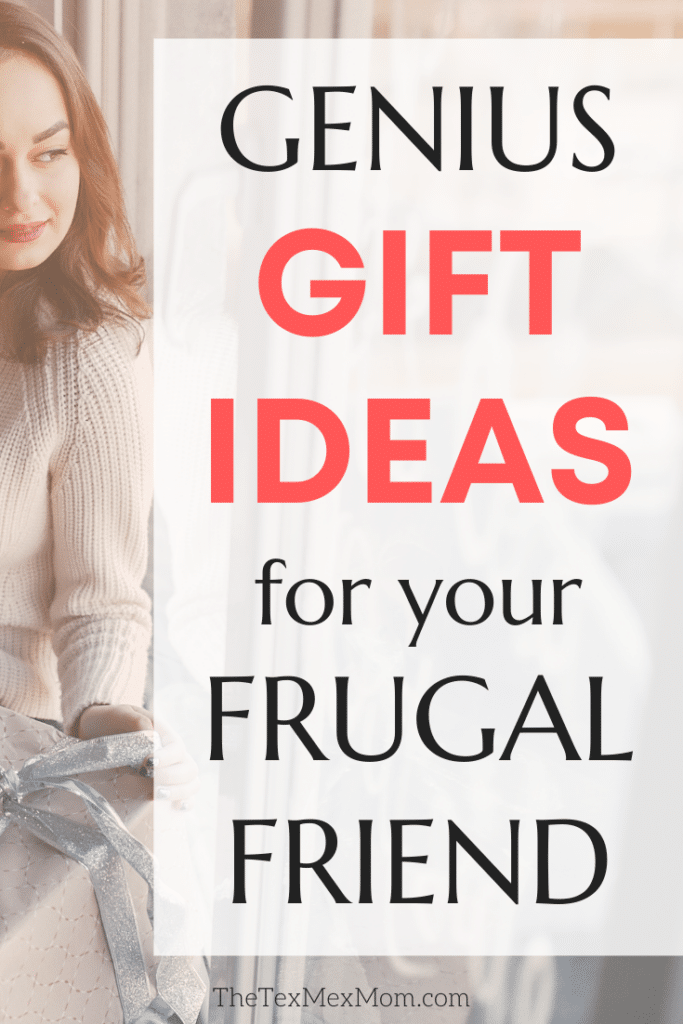 Practical Gift Ideas for Your Frugal Friend
Frugal people often love practical gifts; things that are really useful or that solve a problem for them.
Here are some practical gift ideas to consider:
1. A gift that helps them learn something
Books related to their interests/job
My husband loves getting new books about business. This is a current favorite!
Other ideas include:
a book about calligraphy for your friend who's into that
a book about blogging for your blogger friend
a budgeting book for your frugal friend who's perfecting their money saving skills
Subscription to a website like SkillShare
This is such a fun and practical gift idea for someone who is trying to learn a new skill such as, well, anything! Writing, art, photography, business, web development, public speaking, knitting . . . you name it and there's probably a course for it online!
2. A gift that helps them make money
Canva is an amazing design resource online and their paid subscription is the perfect gift for anyone who does design work online. This is the perfect gift for website owners and bloggers, Etsy sellers, and many others.
Similiar to Canva, a stock photo subscription could be a very valuable and appreciated gift for someone who works online.
My life is much more organized with my planner (LOVE my Happy Planner!) Planner stickers are always a great add-on!
My Meal Planner and Recipe Binder Kit would also be a great gift to put together as a gift with all your favorite recipes and meal ideas!
Something related to their side hustle
What does your friend need to help them with their job or side hustle? Tools? Photography equipment? Craft supplies? Ring light?
3. Classic clothing pieces
A frugal person appreciates practicality in clothing. They also appreciate quality, but may not always be willing to pay for it. This makes good quality, classic clothing pieces a great gift choice.
The key here is to choose classic, quality pieces that your frugal friend can wear again and again. Merrick's Art is one of my favorite bloggers to follow for quality clothing ideas! 
4. Nice food storage
Food storage is a super practical gift and perfect for your frugal mom friend.
5. A subscription that makes their life easier
Everyone loves a gift that makes their life easier! Why not gift your frugal friend with a subscription that they can benefit from all year?
You may also be interested in: My Top 10 Gifts For Young Moms
Fun Gift Ideas for Your Frugal Friend
Not feeling too inspired by practical gifts and want to get your frugal friend something more exciting? I have lots more fun ideas, don't worry!
The key here is to get a gift that you know your friend would love but that they wouldn't want to spend the money on themselves since yes, they're super frugal.
Do you have a frugal mom friend in your life who never spends on herself? Think of something that you KNOW she'd like but would never spend the money on.
Or maybe you have a frugal dad. Spoil him by getting him something he'd love but would feel bad buying for himself.
Ultimately you know your frugal family member or friend best, but here are some fun ideas!
1. Buy them an experience
A concert
A show
A kid-free date night
2. Pay for family pictures
Every woman wants more pictures of her family!
Prove me wrong.
3. Gift card
For fancy coffee
For a nice restaurant
For getting a mani/pedi (This one is good only if your frugal friend likes that kind of thing. Otherwise a nice at-home nail set would be nice instead.)
4. Nice wreath that they can change up each season
A wreath like this one is nice and neutral and can easily be changed up depending on the season.
5. Fun snacks that you know they wouldn't normally splurge on
I know as a frugal person myself that there are certain snacks I enjoy but rarely buy because they're pretty pricey. Find out what snacks your friend loves to occasionally splurge on and gift them a nice supply!
You may also be interested in: $50 and Under Gift Ideas for Dads
6. A house plant
A potted plant is always a fun gift idea because unlike cut flowers it can last for a long time!
7. Something sentimental
A photo book or other photo gift
A personalized piece of jewelry (Etsy has lots of great options!)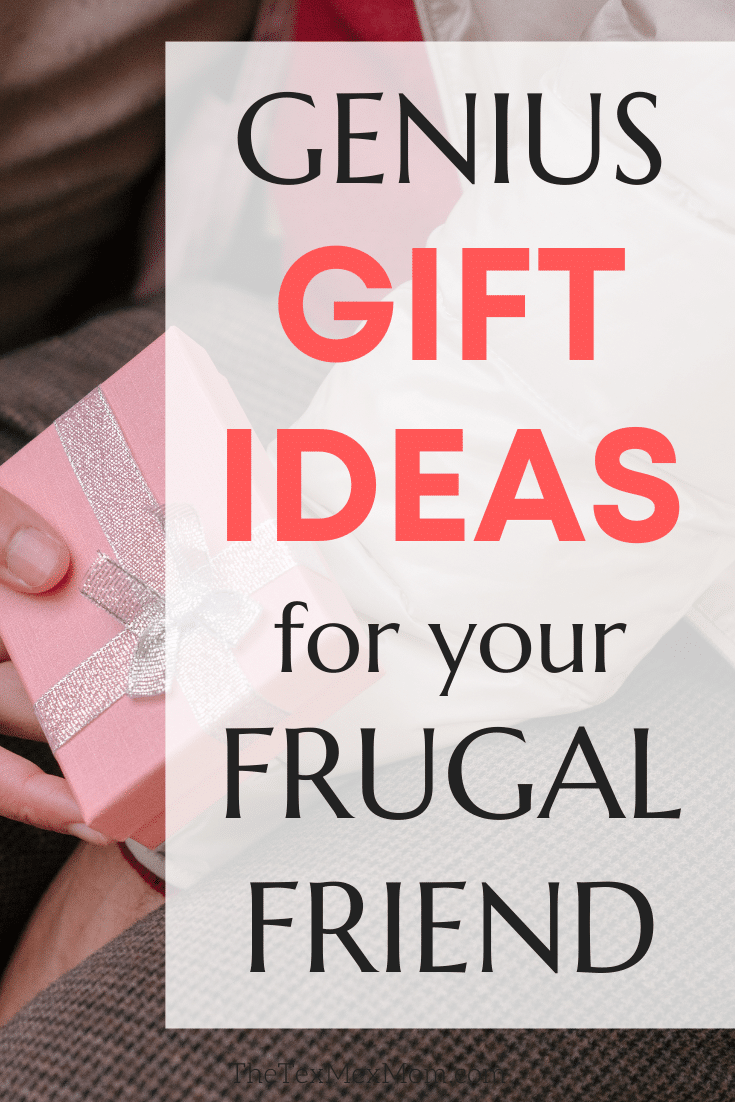 What do YOU buy someone who is frugal? Or if that frugal person is you, what are some of your favorite gifts to receive? Let's chat in the comments!