What can you give your family for Christmas without breaking the bank? Here are my top cheap ideas for Christmas gifts for family on a budget!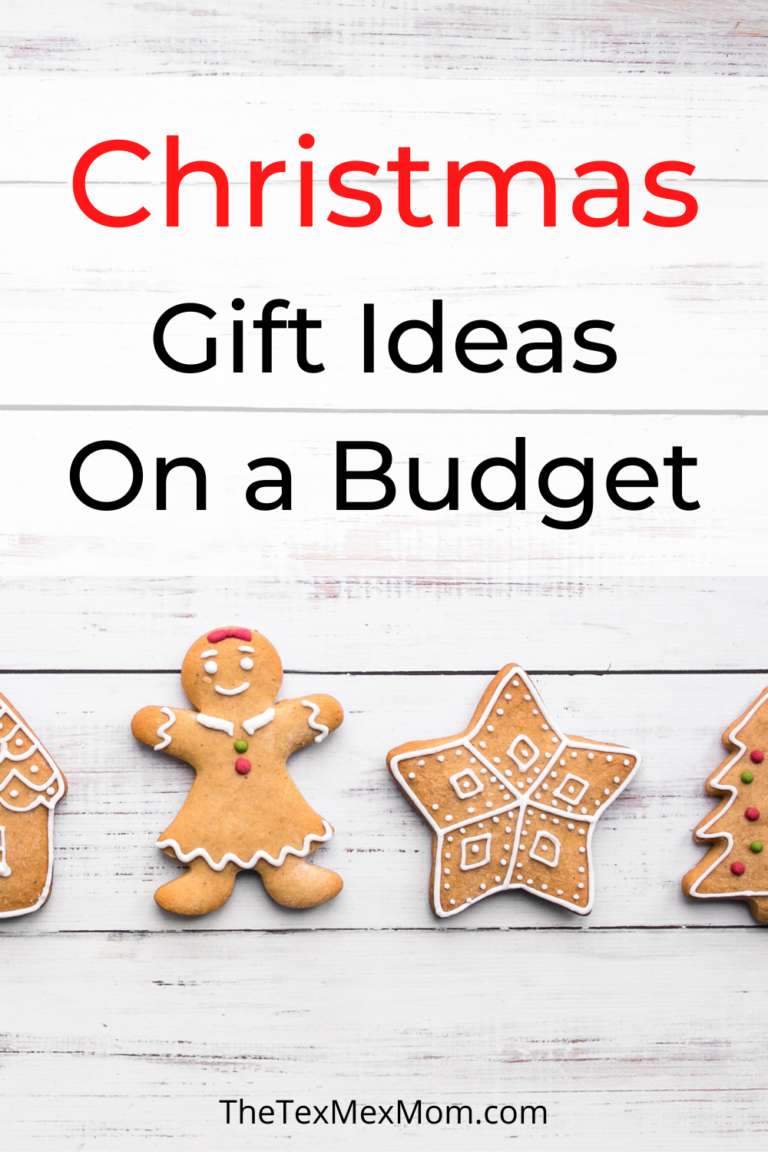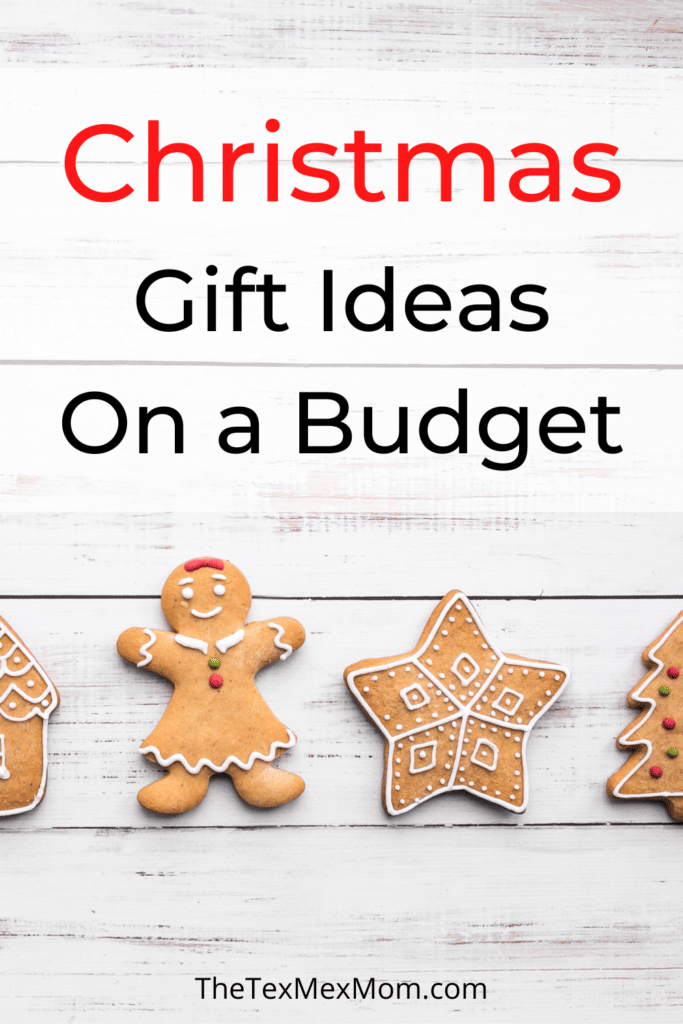 I seems like I blinked and we're nearing the end of October which means that Christmas is practically right around the corner. (Why DOES the second half of the year always fly by so fast?!)
With the crazy gas prices and inflation that we're all dealing with this year, I know that many of us are asking – what do you give your family for Christmas without breaking the bank? What are good inexpensive Christmas gifts? HOW do you shop for Christmas on a budget?
Today I want to dive into this topic and answer those questions as well as I can!
You may also be interested in: 12 Tips to Save Money on Groceries During the Holidays
First I'll share my favorite places to shop for Christmas gifts on a budget. Next, I've come up with a list of cheap but thoughtful Christmas gifts for family . I'll also share some great cheap DIY gift ideas, and finally I'll share some fun non-gift ideas for you to consider as well.
If you're wanting to spend less on Christmas but still spoil the people in your life, this article about Christmas gifts for family on a budget is for you. Let's get started!
The Best Places to Shop for Christmas Gifts on a Budget
1. Buy used
Have you ever given a gift that you bought second-hand? I know some of you may be cringing, but used things can still make fantastic, thoughtful gifts. I have found some really great deals on toys and books for my kids by purchasing them used on Facebook marketplace. And you know what? The kids do. not. care. that they're second hand.
While Facebook marketplace is probably my favorite place to search for deals and cheap Christmas gifts, other great options are thrift stores (some are better than others), consignment sales, and Ebay. For used books I like both ThriftBooks.com and Half Price Books.
2. Shop bargain stores
While I'm a fan of buying used when I can, there are a lot of times when buying new makes more sense, and that's when bargain stores are really nice.
The Dollar Tree and 5 Below are great stores in my area to find budget-friendly gifts for the whole family. For clothes my husband loves our local Burkes (similar to TJ Maxx) where he always finds great brands at a discount.
3. Shop the sales
This goes without saying but I still had to include it. Sales can be great around the holidays, but you need to keep your eye out and know what is actually a good sale and what isn't.
Certain things like slippers, cozy blankets, and sweaters are basically guaranteed to on sale for great prices around Black Friday and leading up to Christmas.
4. Use cashback apps/websites
The holidays are the perfect time to use a cashback app or website to easily get money back on your purchases.
A great way to do this and earn extra money without thinking this holiday season is to install a browser extension that pops up and remind you to use it while you're shopping.
I use Rakuten and I've enjoyed the "big fat checks" they send me periodically with the cash back that I've earned. If you've not used them before, sign up now and get $30 back after your first $30 online purchase!
Ibotta is another great one that can also be used for online shopping, though I use it more often for grocery store purchases.
Favorite Cheap Gift Ideas for the Whole Family (that won't break the budget!)
Here are some of my best budget-friendly gift ideas; a budget-friendly gift guide if you want to call it that. Some are just ideas for you to run with and some I've linked. No matter what your Christmas budget is, you should be able to find some great ideas here for gifts for all your family members.
You may also be interested in: 10 Ways to Prepare for Christmas Early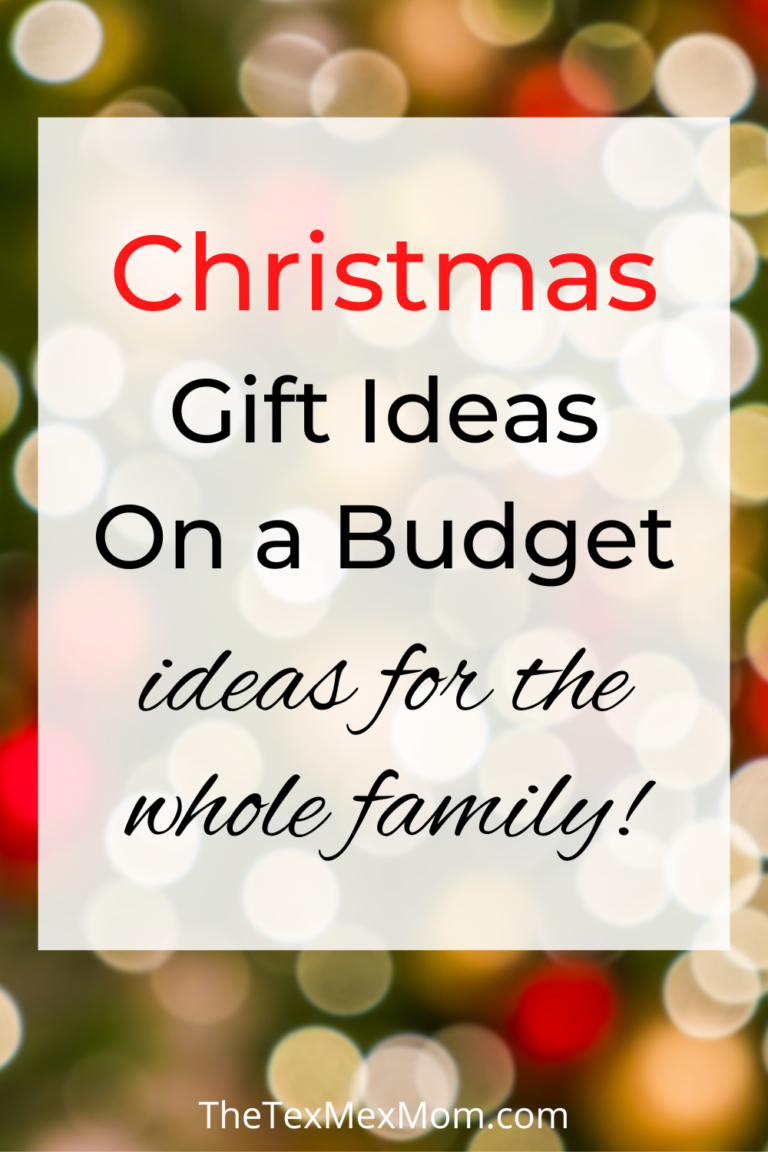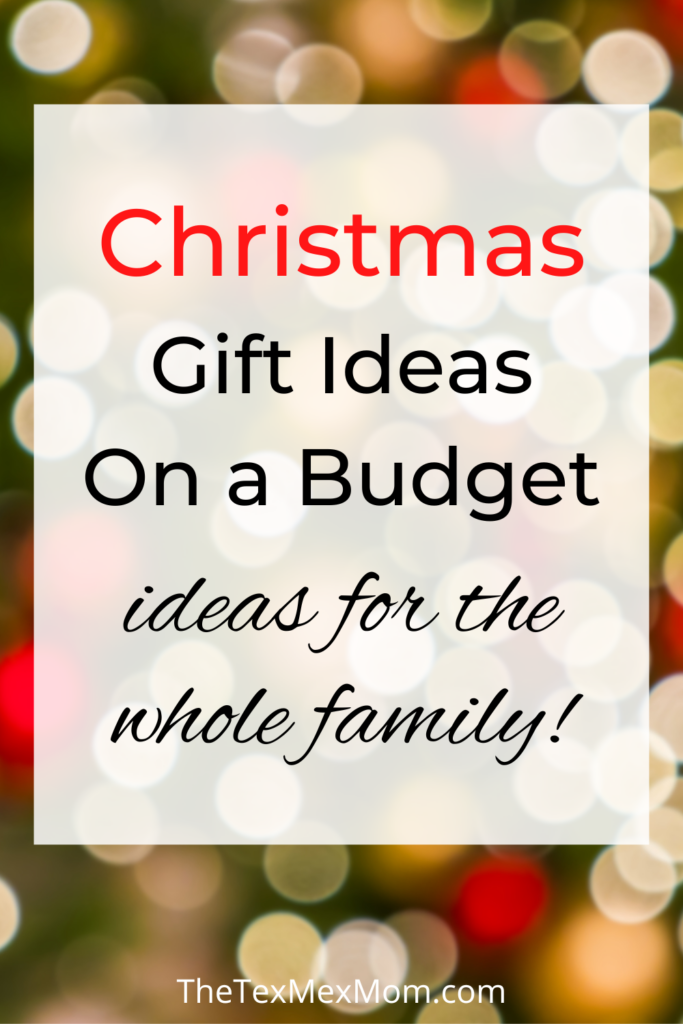 Cheap Gift Ideas for Men
Coffee and accessories (mug, frother, etc.) I bought Pablo this spreadsheet mug haha!
Tools and gadgets – these are often on sale around Black Friday!
Gloves/hat
Slippers – Basically guaranteed to be on sale during the holidays!
Stainless Steel Tumbler – We like RTIC tumblers.
Electronics accessories
A book related to their business/hobby – Amazon often has a sale on books around the holidays. You can also find like-new books at both ThriftBooks.com and Half Price Books.
Neck and shoulder massager – Pablo says this massager is one of the best gifts I've given him and it goes on sale often!
Good food – What man (or woman, let's be honest) ever said no to some good Sweet and Salty Snacks?
A fun card game – We recently discovered Taco Cat Goat Cheese Pizza and it's so much fun!
Cheap Gift Ideas for Women
Many of the gifts listed above are perfect gifts for women as well, but here are a few more cheap gift ideas specifically for women.
Cute makeup set – Beauty products are always on sale around the holidays and can make a beautiful gift. (Or grab this highly rated mascara for a great stocking stuffer!)
Cozy blanket – A weighted blanket is a great gift option as well.
Bath and Body Works hand soap – Snag a bunch during their bi-annual sale to save for gifts!
Magazine subscription
Plant – You can never have too many! (Fake plants work too!)
Nice smelling candle
Tea bags – Have a friend who's a heavy tea drinker? Get them this tea – it's amazing!
Jewelry – I own and love these classic gold hoops and have purchased them as a gift as well.
Christmas decorations – It's always fun to get new, cute Christmas decorations to use the following year.
You may also be interested in: My Top 10 Gifts for Young Moms
Cheap Gift Ideas for Kids
Kids are probably the easiest to buy for in my opinion, but as they get older it can get more difficult to buy them gifts without breaking the bank (especially if their favorite things are all LEGOS, ha!)
However, like I mentioned earlier in this article, the best way to get really great deals is to buy second-hand when you can. I've found amazing deals on second-hand toy cars, super hero stuff, bikes, children's books, dress-ups, building toys, doll clothes, and more.
I also like following Money Saving Mom on Instagram because she shares some great deals in her stories especially around the holidays and it saves me the time of looking for deals on my own.
Some of my favorite inexpensive gifts for kids include:
For a bunch of smaller gift ideas for kids, check out this list of 50 Stocking Stuffers for Kids.
Cheap Family Gift Ideas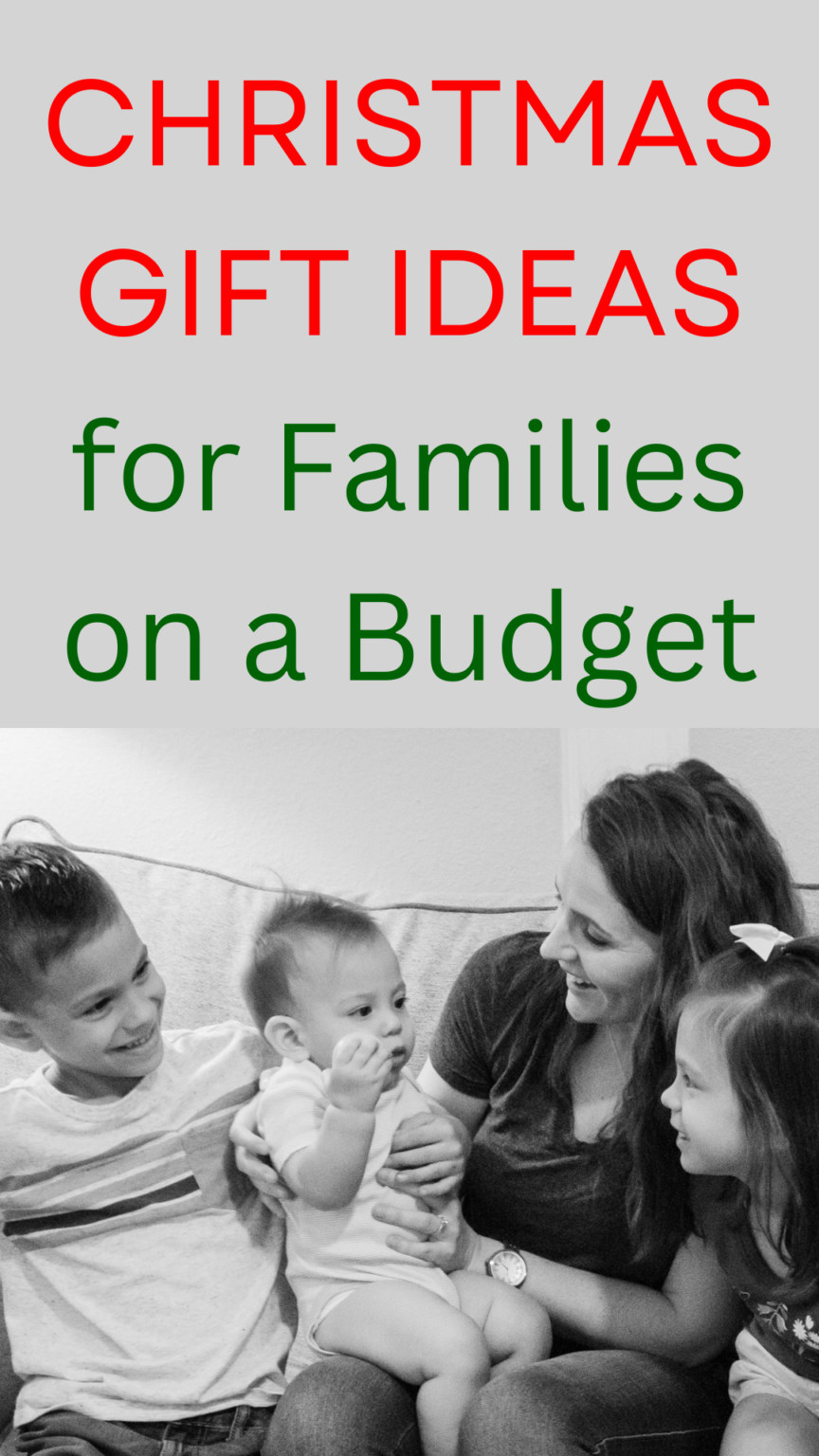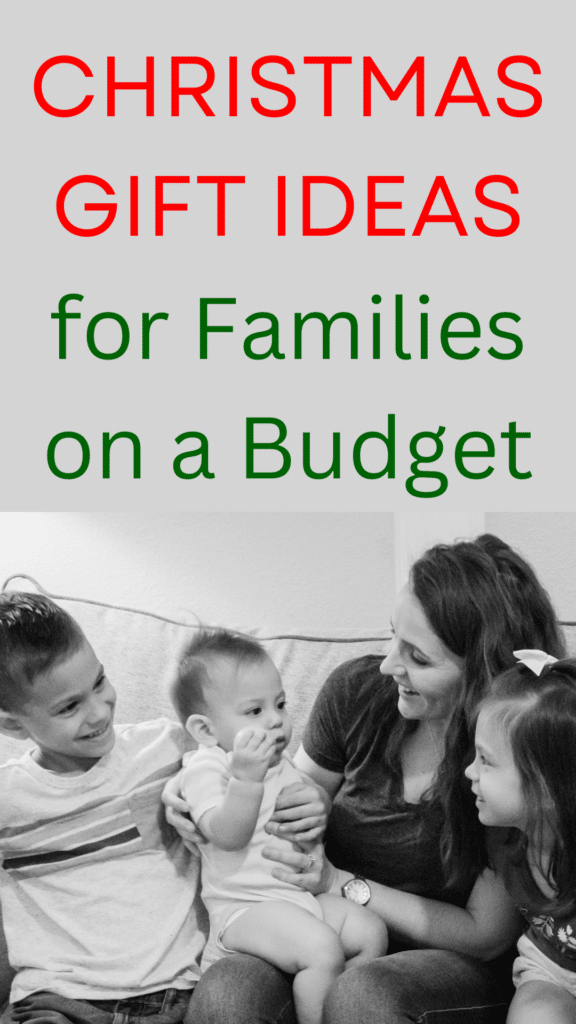 Sometimes it makes more sense to purchase one gift for the whole family. Here are some great Christmas gifts for family on a budget.
Board games/card games – Give them everything they need for a fun family game night!
Membership to local museum / National parks
Family movie night – Candy, popcorn, and a movie – or a membership to a popular streaming service.
Family tree – You can find some really cool, customizable family tree art on Etsy that would make an awesome gift for your own family or a friend's.
Ice cream maker – This one is highly rated on Amazon.
Specialty popcorn
Christmas ornaments – I always find these super cheap at Kohls over black Friday and one year I picked out a unique ornament as a small gift for each extended family member.
Inexpensive DIY Gift Ideas
Some of you probably just read DIY and are ready to stop reading but wait! You don't have to be super crafty to DIY a gift! Keep reading!
1. Make something
I'm totally not a crafty person, but there are things that even I can make!
Personalized recipe book – Grab my meal planner and recipe book printables to easily put together the perfect personalized recipe book to gift to someone (or to use yourself!)
Photo book – I use Shutterfly and always wait til they run their free 8×8 photo book deal.
Dollar tree gift basket – Anyone can put together a cute gift basket! Think mug, candle, chocolate, fuzzy socks, face mask, etc.
Cookie in a jar – Layer cookie ingredients in a mason jar for a pretty and practical gift.
2. Bake something
Make your favorite Christmas cookies, fudge, or other yummy treat and package them up for a delicious and budget friendly gift. Add your own personal twist with a cute personalized gift tag.
Here are some of the treats I like to make (and gift) during the holidays!
3. Gift your talent
Consider how you can use your talents to give a meaningful gift.
Are you good at photography? What about the gift of family photos? I don't know any mom who would reject the gift of a family photo session!
Are you good at hand lettering? Why not create something unique to frame as a gift?
Give the gift of your time
Last, but not least is the gift of your time. Maybe you don't have the extra cash for Christmas gifts this year. That's okay.
Like the Grinch learned in Dr. Suess's popular story, "Maybe Christmas doesn't come from a store. Maybe Christmas, perhaps, means a little bit more."
Gift exchanges, checking off a gift list, purchasing luxurious gifts . . . they're all great things, but the best thing you can give at Christmas (or any time of the year) is your time.
Here are a few suggestions of ways that you can give the wonderful gift of your time:
Babysitting – (A gift my family has generously given us many times!!)
Help a young mom with organization/cleaning
Take your family member or friend out for coffee/lunch and spend time talking
Homemade meal once a month for an elderly friend/grandparent
Make freezer meals with a friend to stock their freezer
Help with yardwork/landscaping or a project around the house
Well, those are the ideas I have for Christmas gifts for family on a budget! What would you add to this list? Let me know in the comments!