How do you keep your active kids happy and occupied when you're stuck indoors? Here are my favorite indoor activities for 5-9 year olds.
I often read in books about summers where kids spend their days outdoors, running and playing and exploring. It all sounds so idyllic and lovely – and HOT haha.
We're a little over halfway through the summer here in Texas and boy is it hot! We currently have an excessive heat warning in our area because with the humidity our 100 degree days are feeling more like 115!
The truth is that while I'd love for my kids to spend as much time as possible outdoors, here in Texas from June through August it's just not much fun to be outside unless you're swimming or playing in water of some sort.
We still get outdoors for sure, but I find myself needing to dream up more indoor activities for my kids when it's really just too hot to be outside much.
A little while back I asked for suggestions on Instagram for indoor activities for my older kids, ages five through nine. I received some great suggestions which got my brain working and I decided to sit down and compile a whole list of indoor activities for five to nine year olds.
I figured this list would help me whenever I'm drawing a blank (I've gone back to my list of indoor activities for toddlers multiple times) and hopefully it'll help you too.
Whether it's too hot (or too cold) to play outside or you need some good rainy day activities, here are my best ideas for indoor activities for 5-9 year olds.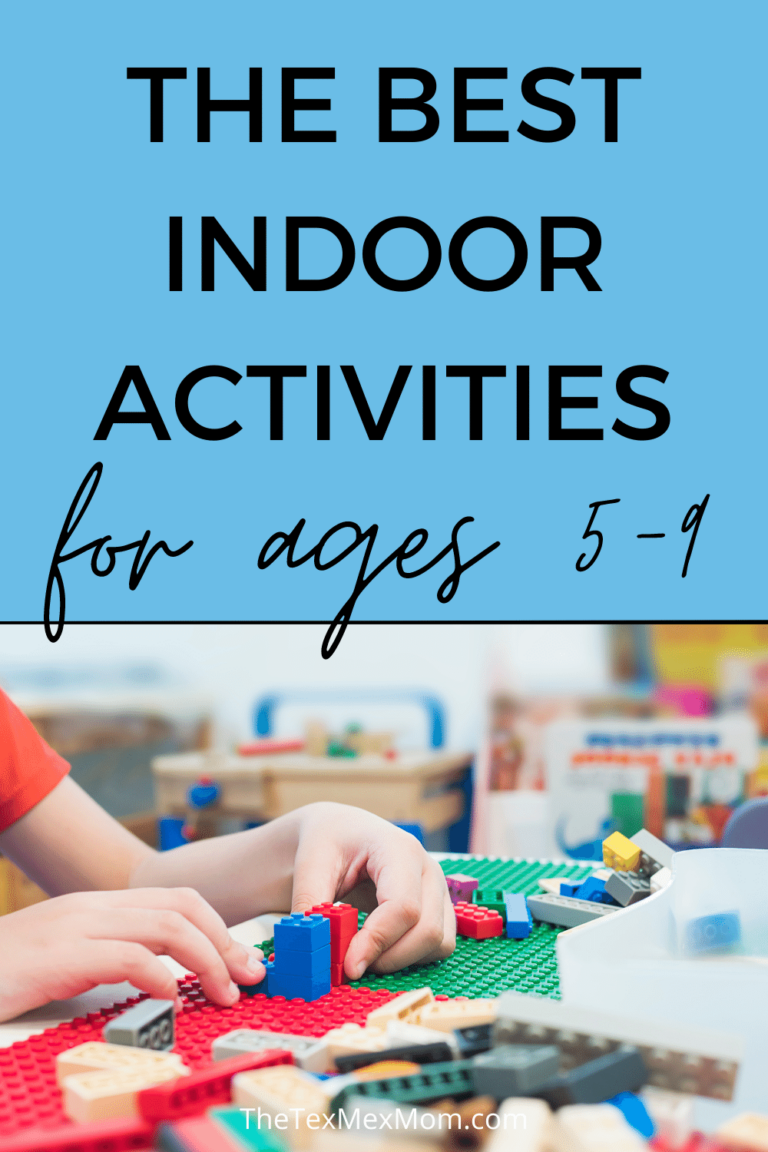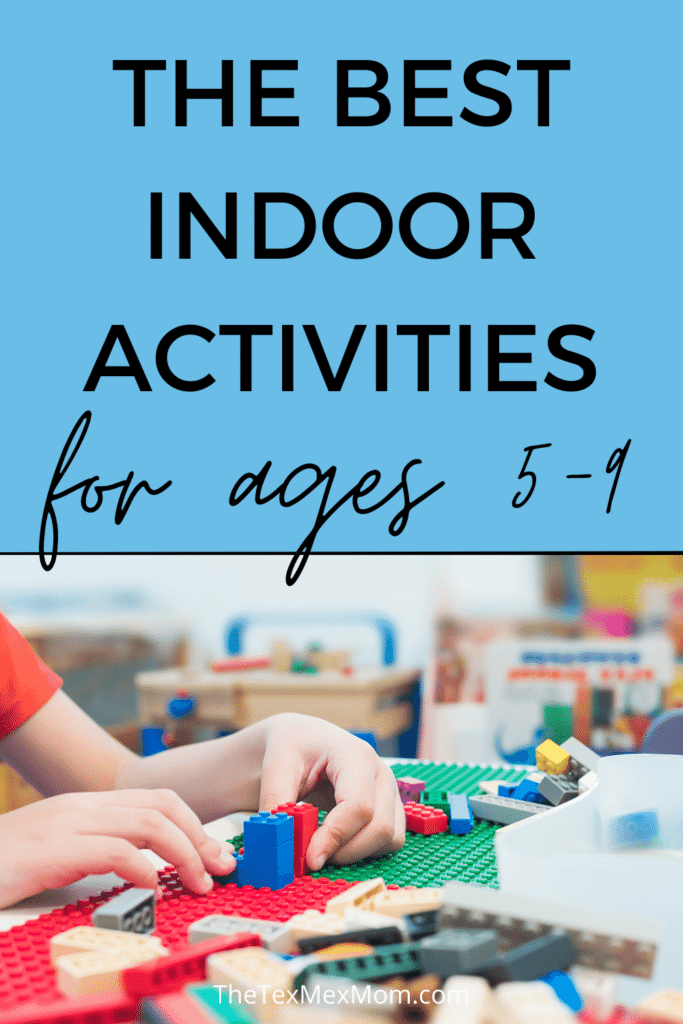 Fun with building toys
Most kids love playing with building toys and if you're a typical family here in the USA you probably own at least some of the following:
Legos / Duplos
Magna-Tiles (or an off brand like PicassoTiles)
K'nex
Wooden blocks / Megablocks
My kids love these kinds of toys, but sometimes it helps to switch things up. Here are a few things that we do in our home to make building toys more fun!
1. Stations
Create different play "stations" in different areas of your home (ie: a Lego station, a Magnatiles station, and a marble run station.) Assign each child to a station for 15 minutes, then rotate.
Something about having only a specific amount of time to play with each toy before rotating makes my kids enjoy their play time more!
2. Building challenges
A few evenings ago the kids needed something to do so I gave each of them a container of Legos (and one for Pablo and I too), set the timer for 10 minutes, and told everyone to see what they could come up with. After 10 minutes we went around and everyone explained what they'd built. It was so fun and everyone was very proud of their creations.
Another fun challenge would be to assign one thing (ie: a car, a dinosaur, etc.) for everyone to try to make with whatever random pieces they have. You could do this with any kind of building toy, not just Legos.
3. LEGO idea book / Online tutorials
If your kids are into Legos a book like this is a great way to spark some new ideas and creativity when they're getting bored.
There are also loads of tutorials on YouTube for how to build all sorts of things with Legos, Duplos, and other building toys.
Easy indoor crafts for 5-9 year olds (and mom too!)
If you know me you know that I'm not really an arts and crafts sort of person, so trust me when I say that if I can do these "crafts" with my kids, so can you. 😉
Paint pasta and string it onto yarn to make a necklace.
Cut out pictures from old magazines and make a collage.
Make some homemade playdoh (a great sensory play idea!)
Make a paper chain to count down the days until something, or just for fun!
Decorate cardboard boxes.
Draw a house on a blank sheet of paper and give your child a sheet of stickers to fill the house.
Make fruit-loop necklaces.
Search Pinterest for more fun craft ideas like egg carton flowers, plastic spoon animals, coffee filter people, and a million other fun ideas.
Ways to burn energy indoors
Elementary age kids have a lot of energy, and sometimes when it's "too wet to go out and too cold to play ball" you need to find some good ways for your kids to get out their energy indoors. Here a few ideas:
1. Have a dance party.
This is much more fun for kids if their parents join in, so turn on some fun music and show off your best dance moves along with your kids! (Trust me, they can't be cringier than mine!)
2. Do a kids' exercise video together.
I'm trying to stay around from screens for most of my activity ideas, but I feel like this one is acceptable since it's exercise. 😉 My kids have enjoyed several different exercise videos on YouTube and it's a great way to get their wiggles out.
3. Make a pile of blankets and pillows to jump in.
My kids love it when I let them do this. We have a rule that only one kid can jump at a time and that usually prevents anyone from getting hurt.
4. Play a game of hide and seek.
Five to nine year olds are always up for a good game of hide and seek. Once again, this one is definitely more fun when Mom or Dad join in.
5. Create an indoor obstacle course.
Let your kids help you create it because that's half the fun! Then video and/or time your kids while they complete it. We did this last week and it made for almost an hour of fun.
6. Set up a game of bowling.
You can use old toilet paper rolls or anything else you think will work that you have on hand.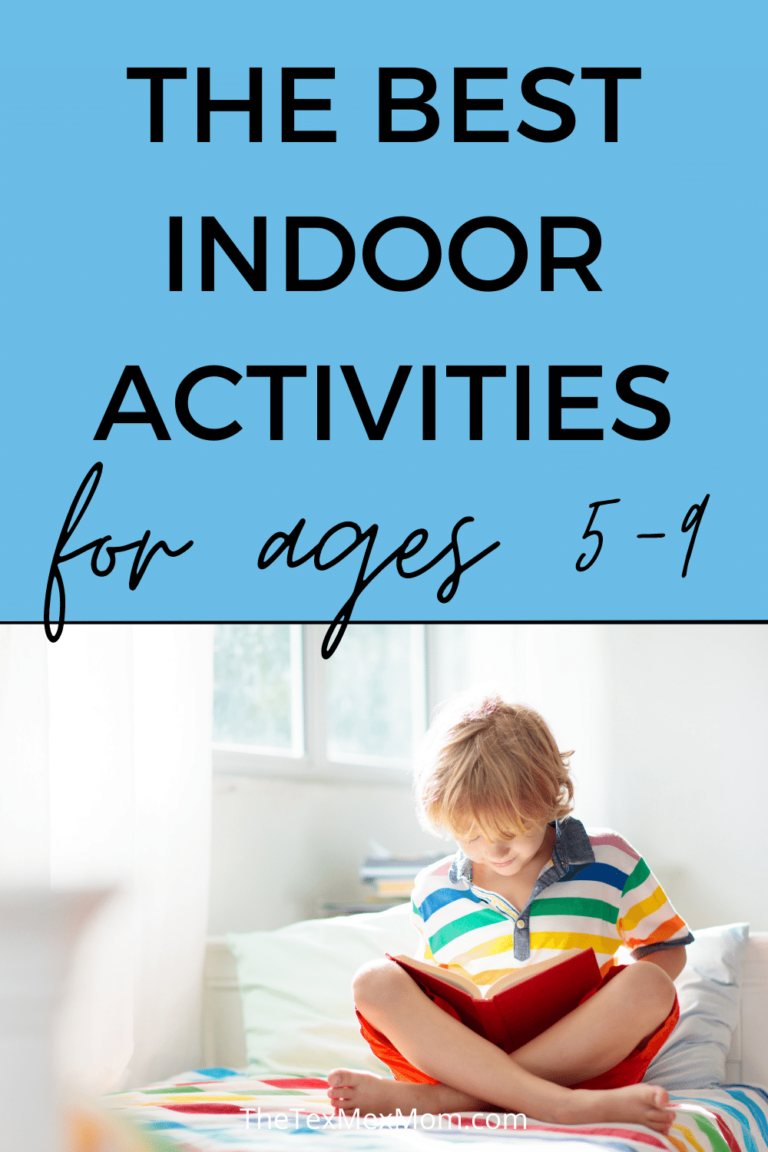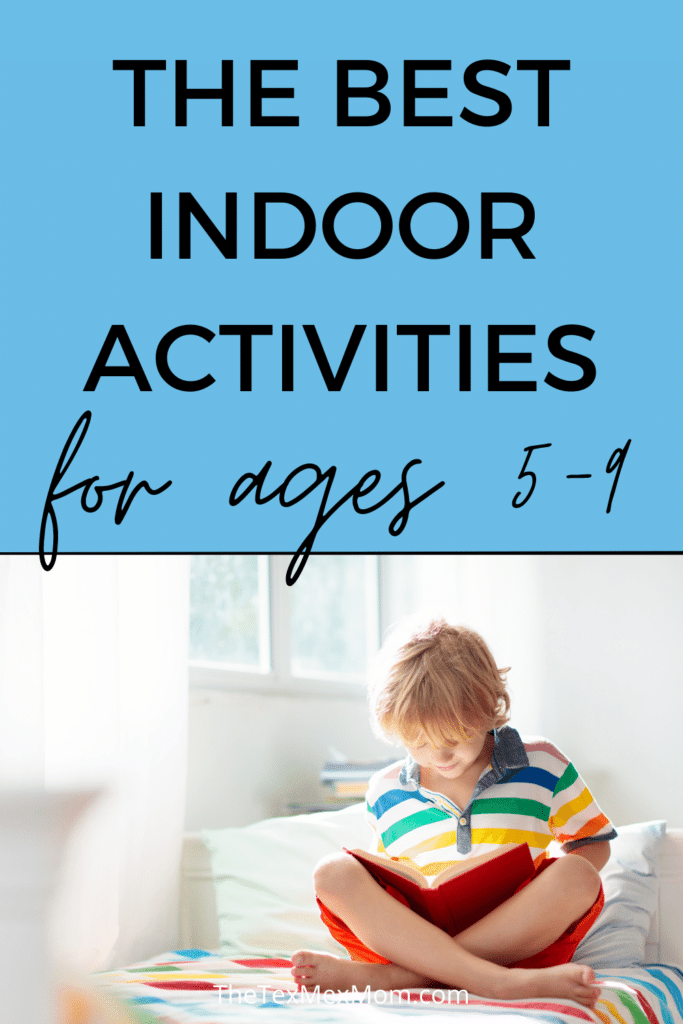 Quiet-time activities
Sometimes you just need everyone to calm down and have a little quiet time, or at least I know I do! Here are a few calmer indoor activity ideas for your five to nine year olds.
1. Books
Book time can include read-alouds with mom, independent reading, audiobooks, or just looking at picture books.
The Wild Robot is a great chapter book for young readers because the chapters are super short. It was the first chapter book that Caleb (eight at the time) really got into! I'll have to write another post soon sharing all our favorite books for this age.
For audiobooks my kids have really enjoyed the Paddington series and The Boxcar Kids series among others (and you'll likely be able to find those particular ones for free through your library!)
2. Draw a picture / make a card for someone
Sometimes when my kids need something to do a great activity is for them to make a card, drawing, or a note for someone. They love sending things in the mail and there's almost always someone we can think of who needs a thank you note or just some fun mail.
3. Work on a big puzzle
If you have a space where you can leave a large puzzle out for awhile, consider getting one to let your kids work on a little bit at a time. This can be a great quiet time activity to do while listening to an audio book or kids' podcast as well.
4. Beads
Beadwork is a great quiet time activity! Basic beads for necklaces or Perler beads are lots of fun, and beads that snap together are a fun option for younger kids that we've recently discovered.
5. Activity books
There are lots of great activity books out there for the five to nine age range. Sticker-by-number books are one great option. I also like to occasionally stop by Dollar Tree to see what kinds of activities book they have in stock. It's nice to get them for cheap since my kids can go through stuff like that quite quickly.
You may also be interested in: Why and How We Have a Daily Quiet Time
More fun indoor activities for 5-9 year olds
Here are just a few more ideas that didn't fit in one particular category!
Video chat with family/friends.
Earn money doing extra jobs around the house.
Sort through stuff to organize and/or donate (I've been doing a lot of this lately and the kids always enjoy rediscovering old treasures haha!)
Make something in the kitchen together. (Energy bites are a great no-bake option!)
Set up an indoor "beach" day.
Have a tea party with dolls and stuffed animals.
Make a tent (and have a read-aloud inside!)
Set up a "store" and let the kids buy stickers (or whatever else you have on hand) for pennies.
Those are all the ideas I have! What would you add to this list of indoor activities for 5-9 year olds? Let me know in the comments!
Be sure to also check out: The Best Indoor Activities for Toddlers