It's time for Christmas shopping!!
I get so excited at this time of year. I love making a list of who I'm buying for and what I want to get for them. But, as I'm sure you know, some people are a harder to buy for than others.
If you're coming up short on gift ideas this year don't worry – today I've got you covered with 15 awesome gift guides for everyone on your list!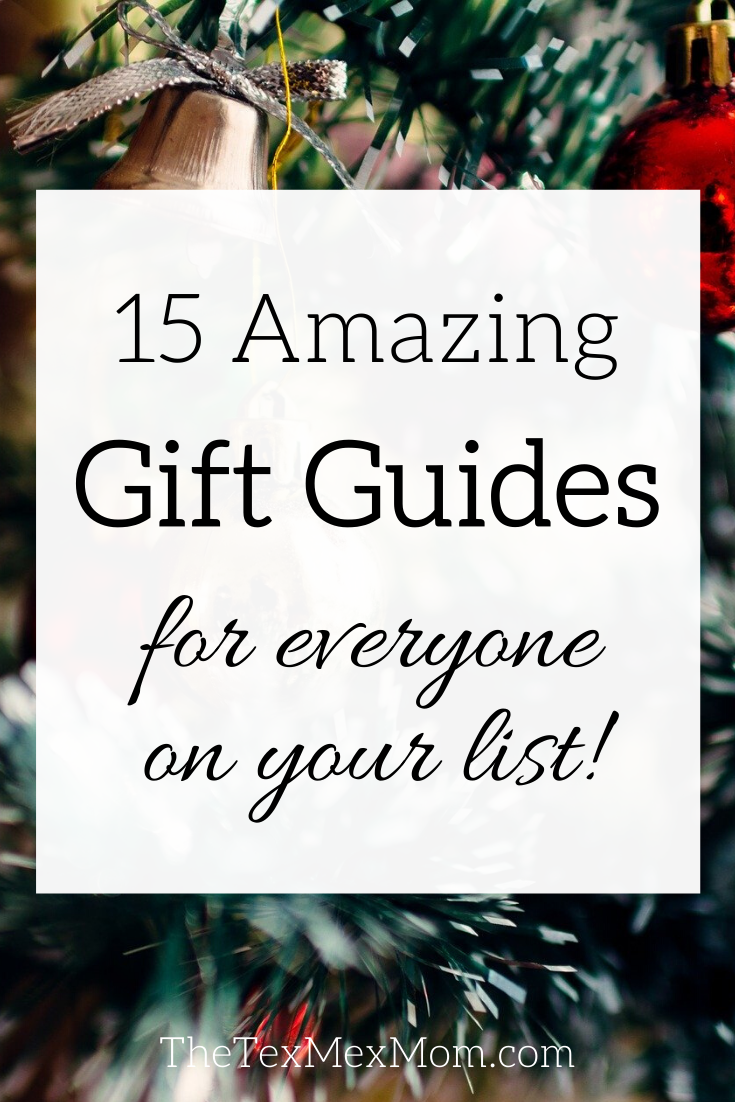 Gift ideas for dads
Let's start with the dads, because dads (and men in general) can be so hard to buy for sometimes! I put together this gift guide for dads with input from my husband, so all the gifts are dad approved. The best part? They're all $50 or less.
Gift ideas for your mom friends
Want to get your mom friend something nice but don't want to break the bank? Everything on this gift guide for your mom tribe is under $25!
I love the planner that's included in this ultimate gift guide for her.
And finally check out this gift guide for young moms that I put together last year. (Yes, I basically made a list of stuff that I would want haha!)
Gift ideas for kids
Kids are so much fun to shop for! It's easy for me to want to go overboard and buy my kids all.the.things haha. However, because I know that 1) I can't blow the budget and 2) we have limited storage space, I know I need to just choose a few gifts.
When I'm trying to narrow things down I love looking at gift guides and recommendations from other mom. Here are lots of specific gift guides to help you as you're shopping for the kids in your life!
Ultimate Gift Guide for Ages 1-3
STEAM and STEM Gift Ideas for Two Year-Olds
The Ultimate Gift Guide for Little Girls
Stocking Stuffer Ideas for Kids
Aaaand even more gift ideas for everyone on your list!
Haven't found what you're looking for yet? Here are some more specific gift guides to help you out.
Go-to Hostess Gifts – I love all of these gift ideas – such cute stuff! (So basically if you're coming to my house you know what to bring! Haha just joking.)
Yoga Lovers Gift Guide – Have a friend that's into yoga (or just exercise in general?) This guide has some great gift options!
Allergy Friendly Christmas Gift Guide – This guide is super helpful if you're shopping for someone with allergies!
White Elephant Gifts Under $20 – If you've ever blanked out when trying to choose a white elephant gift, this gift guide is for you. Some of the gifts are hilarious!
Well that's a wrap! I hope that these gift guides for everyone on your list gave you some good ideas to work with. Happy Christmas shopping!